Is Black the New White in Kitchens?
Discover why black is the hot, new trend in kitchen design.
You've seen our favorite white kitchens, but have you ever considered using black in this room? Like in fashion, black goes with virtually everything. Whether you have a traditional, contemporary or modern design aesthetic, black cabinets, kitchen islands and backsplashes are all pretty versatile.
So, do you think you're ready to move to the dark side? Keep reading for our favorite black kitchens to see why we're completely in love with this dramatic design trend.
Jason Kisner; Design by Steven Miller, 2014, Scripps Networks, LLC. All Rights Reserved
Everything shines in this totally black kitchen. From the enameled cabinetry to the geometric glass tiles, the all-black design is anything but boring.
Who wouldn't want to cook in this stunning kitchen? The smoky gray backsplash complements the vintage black stove for a look that isn't monotonous but still team all-black. If you love a little color, display bright flowers and a colorful table centerpiece.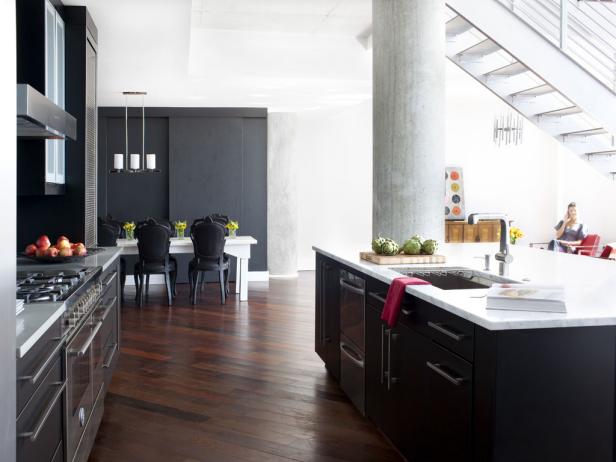 Contemporary Black Open Kitchen With Island
The large black kitchen island with white marble countertop compliments a bank of contemporary cabinets and stainless steel appliances. The stylish black and white island has a built-in sink and pull out drawer dishwasher.
For a dramatic effect, decorate your kitchen in black and white. The contrast between the black kitchen island and white marble countertop is sophisticated yet playful. The black accent wall in the adjacent dining room is an elaborate way to the tie two rooms together.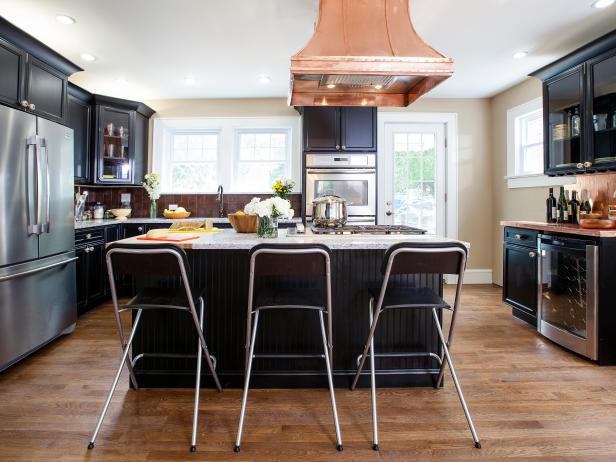 Transitional Kitchen With Black Island and Cabinetry
A black kitchen island and black cabinetry keep this colonial-inspired kitchen feeling sleek and stylish. The range is inset into the island for easy access to the sink and refrigerator, while on the other side of the island is a family-friendly dining area with three metal and black barstools.
This colonial-inspired kitchen gets its pizzazz from the copper range hood while the black cabinetry and kitchen island enhance the look. Throw in some stainless steel appliances, and you've got yourself a gorgeous kitchen design.
If you love the idea of a black kitchen but can't fully commit, try it in smaller amounts. This super sleek sink stands out against the white marble countertop and serves as the kitchen's statement piece. You can get many materials in black these days, including glazed cast iron.
For visual appeal, pair white cabinetry and stainless steel appliances with a patterned black backsplash.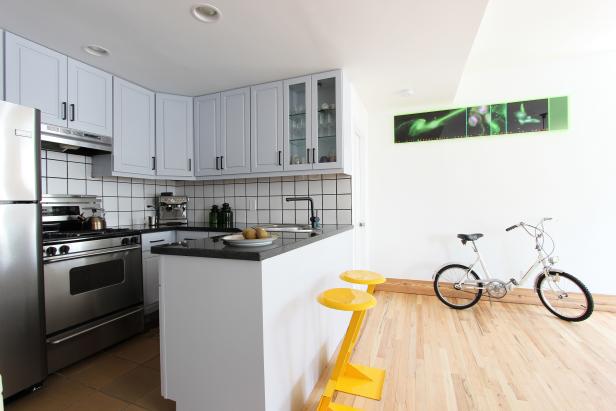 Yellow Stools Pop in Modern Black & White Kitchen
White ceramic tiles with a contrasting black grout set the tone for this modern black and white kitchen. A peninsula helps create space in the small kitchen, and bright yellow stools add a super fun pop of color.
If you're installing new tile flooring or a backsplash, use black grout instead of white. Not only will it make your tiles pop, but it hides the everyday wear and tear that comes with cooking.