Trend Alert: Mood-Boosting Gemstone Surfaces Are the Next Big Thing
It's like jewelry for your home.
Move over, granite and marble — there's a new star in the world of hard surfaces: gemstones. Yep, colorful, semi-precious stones like amethyst, agate and malachite (to name a few) are currently stealing the show in floors, countertops and backsplashes — and we're loving it.
But there's more to these stunning, sparkling slabs than meets the eye. Made from real gems, it's believed that they also possess the metaphysical healing or mood-altering properties associated with semi-precious stones. Basically, your gorgeous new countertop could boost your quality of life.
Oh, and gemstone surfaces are just as durable as granite and are non-porous, which means they're stain, scratch and bacteria resistant. What's not to love? Check out a few of the many insanely pretty options below.
Perfect for a kitchen island or dining table, this soothing gray, brown and white crystal is said to promote progress and generate positive energy.
Not so sure about bold hues? Subtly spice up your neutral space with this serenity-inducing crystal.
Imagine taking a long, hot soak in the tub as your rose quartz bathroom sink alleviates any anger, resentment or jealousy you felt that day.
Thinking about giving your living room or home office a spruce? This gorgeous blue stone clears the mind and encourages thought and communication.
The rich color and texture variations of this mesmerizing purple crystal spark curiosity and promote creativity. They also look pretty great on a countertop.
This intensely saturated stone has got me feeling green with envy. Good thing it absorbs energy and encourages change.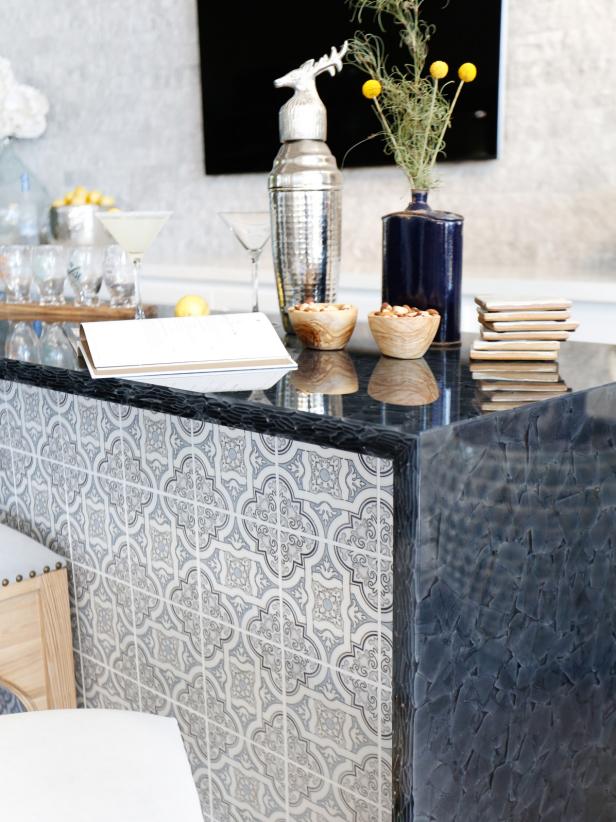 Modern Mediterranean Style Bar
Chunky pieces of stone in the navy blue quartz countertop gives the look of an agate countertop. Blue-and-white hand-stamped tile adds Spanish-style flair to the bar.
Is your kitchen always a mess? Do you find yourself constantly overeating? Installing a blue quartz countertop could help balance your Throat Chakra, which enhances organization, self-discipline and orderliness.
Because who wouldn't want a wall of fossils in their living room?
Variegated and mesmerizing, this blue-tinted stone brings good luck and protection and is thought to inspire courage.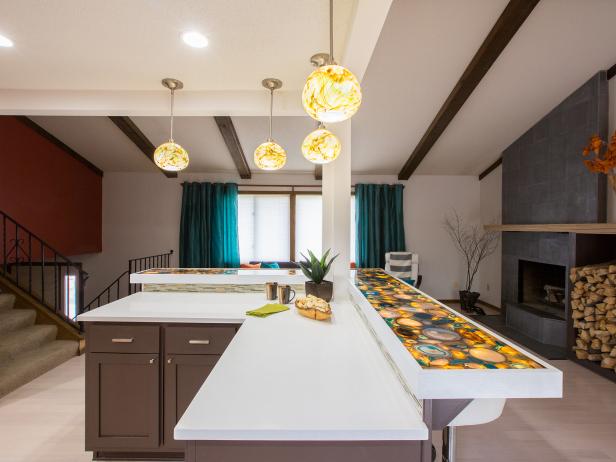 BP_DHMK_607-after-kitchen-bar-wideshot_h
The Bauer's finished kitchen, as seen on DIY Network's original series I Hate My Kitchen, now has a stylish and fun new look. The redesigned space showcases a range of materials from agate to stainless steel and does so with a wide open contemporary design scheme. After # 07 (after)
Steve Niedorf / Getty Images, 2013, DIY Network /Scripps Networks, LLC. All Rights
Want your gemstone surface to really stand out? Many varieties can be purchased with a backlight option.