How to Refresh Your Design Without Spending a Dime
Getting a fresh look at home is simplier than you may think.
When you spend as much time as I do looking at photos and videos of beautiful home interiors, it's easy to want to redecorate your home on a regular basis. But unless you've got a bottomless budget for home decor or have some other sweet design deal worked out, that's not really feasible.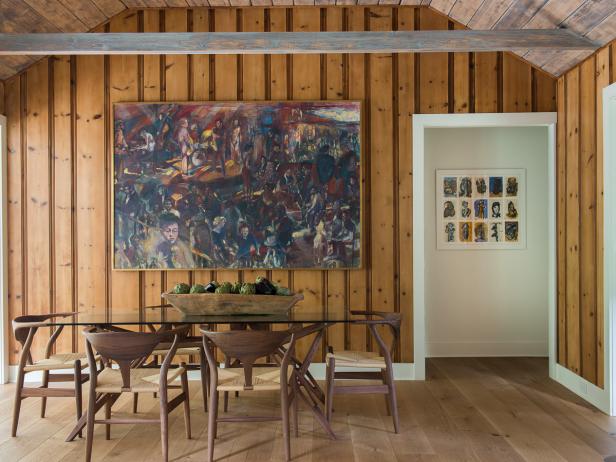 Wood Panel Dining Room
Knotty pine paneling is original to this cottage's living and dining space and was kept natural to maintain the modern country feel. The natural wood provides a backdrop to the owner's colorful artwork depicting a jazz club scene.
When working with clients on interior design projects large and small, Kelly likes to take a look at the items they already have in their homes — items displayed in other rooms or stashed in a basement — to see if there are better ways to use them.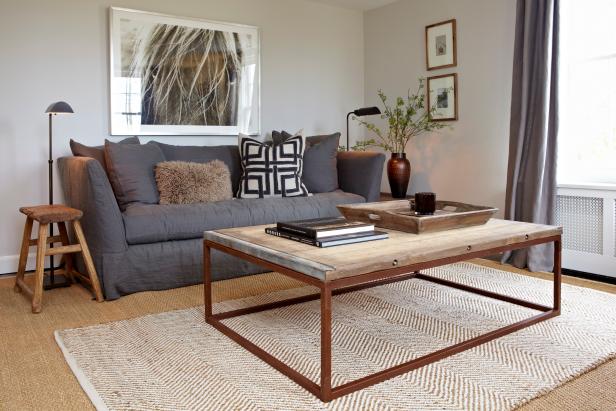 Transitional Living Room is Comfortable, Inviting
The homeowner revamped the guest house for intimate gatherings and music performances. In the main living room, a comfortable gray sofa is paired with an industrial-style coffee table, simple artwork and layered area rugs for lots of texture.
"It's like when you look at your closet every day you see your clothes in the same way, but someone else might see them in a different way," she says. "Your house is the same way. You have tons of cool stuff, but we become creatures of habit, and we don't notice."
Kelly describes one project in which she helped to restore a 1930s Connecticut farmhouse. When it came time to dress the crisp, white walls in the home, she took a look in the property's barn, where they found a cool, rustic pitchfork. In the basement of the main house, she pulled out a colorful painting of a jazz club scene belonging to the homeowner.
In some cases, Kelly finds an item that's almost perfect but just needs a small update, like a pillow needing to be recovered. While it might cost a little bit extra, it's still thriftier than splurging on a brand-new pillow.
Guest Sleeping Area in Entertainment Barn
Even the guests have a place to sleep in this amazing entertainment space designed by Kelly and Co. Folding beds are easily concealed when not in use in this airy loft.
"I don't want people to spend unnecessarily," she says. "You can pare down and be minimalistic in your approach and really have a cool feeling about your space by using what you have."