How to Hide Your TV in Plain Sight + Save on Style
You love your tube, but it doesn't have to dominate the room. 
You know how it goes. Some days, you just want to stretch out on the sofa and binge-watch the latest season of Grey's Anatomy. Other days? You want your home to look like something out of HGTV Magazine, where all eyes gravitate to your stylish setup and not the nearest TV screen.
Luckily, you no longer have to stash your TV in a cabinet to make it seem less conspicuous. Here are 5 design-friendly ways to hide your flat screen in plain sight, so you can dig into Mer's drama without cramping your space's style.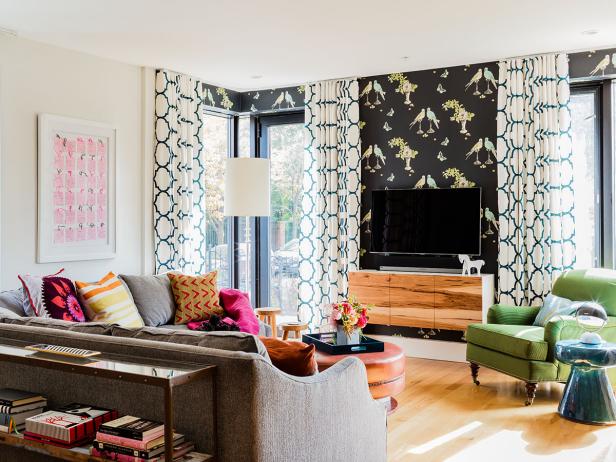 Contemporary Living Room Infused With Cheerful Hues
Stepping inside this condo in Cambridge, Mass., reveals an array of colors and patterns as cheerful as their homeowners. A plush sectional invites the couple to rest after a long day, while thoughtfully-placed furniture leaves plenty of room for their wheelchairs.
Michael J. Lee Photography
One tried-and-true way to disguise your TV? Set the black box against a patterned backdrop. In this colorful condo from designer Kate Maloney Albiani, a length of lovebirds and patterned curtains draw the eye to the walls above, which helps the flat screen fade into its surroundings.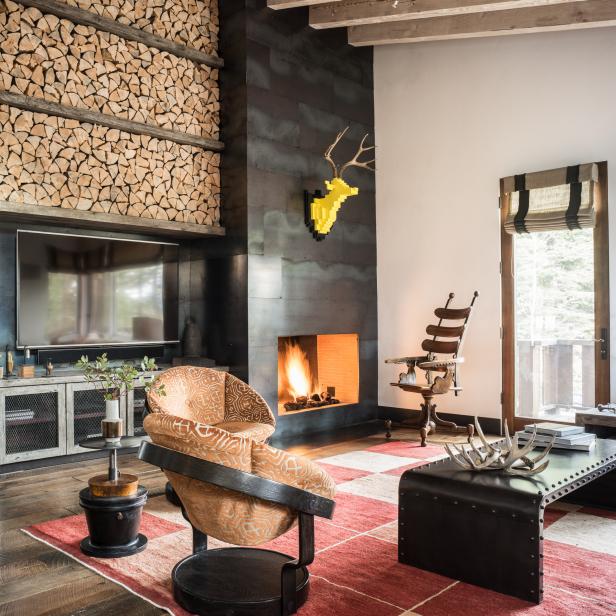 Eclectic Living Room With Stacked Firewood
An eclectic mix of furniture fills the living room with personality. Huge cutouts in the wall near the fireplace turn stacked firewood into a striking visual display.
Talk about camouflage! Rather than contrast your TV screen with crisp white walls, complement its color with darker neutrals like navy, black and charcoal. In this eclectic-chic mountain lodge by designer Antonio Martins, a high-gloss black surround helps the TV blend in, not stand out.
3: Grow Your Gallery Wall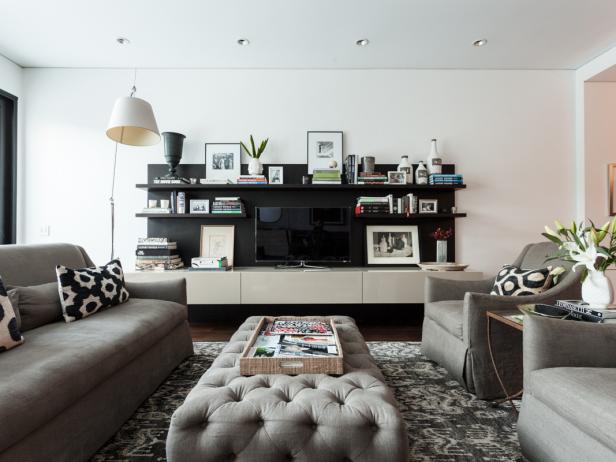 Contemporary Apartment Living Room Is Sleek Yet Personalized
A black, white and gray color scheme keeps with the contemporary feel of this apartment living room while adding sophistication to the space. Sleek shelving surrounding the TV displays carefully curated art and decor, making the room feel personalized and homey.
Thanks to their sleek, square silhouettes, today's tubes fit right in with picture frames and prints. Thus, you can minimize your TV's presence by tucking it into a gallery wall, where the screen will seem like just another piece of art. We love how the TV visually recedes in this contemporary-cool living room from Space Interior Design.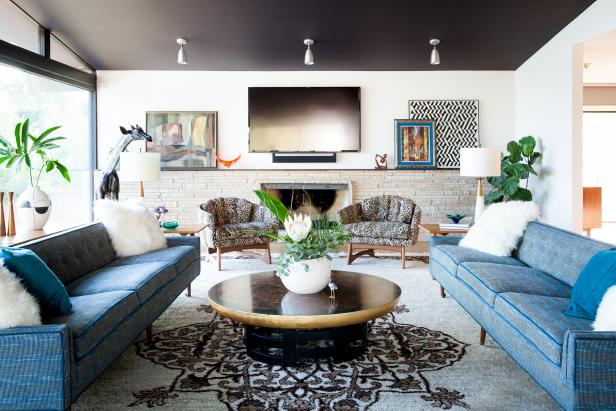 Berber Rug in Midcentury Modern Living Room Ties Space Together
With the large, open plan of this room, designers wanted to make sure it felt like a home instead of an art gallery, so they added a berber rug to soften the space and tie together the furniture and the art.
If you still feel like your tube is dominating the room, try offsetting it with prints in similar shapes and sizes. By anchoring her client's TV with large, colorful pieces of art, designer Erin Williamson helped the wall look more symmetrical and balanced. The result? Attention shifts from the TV in the center of the room to the space as a whole.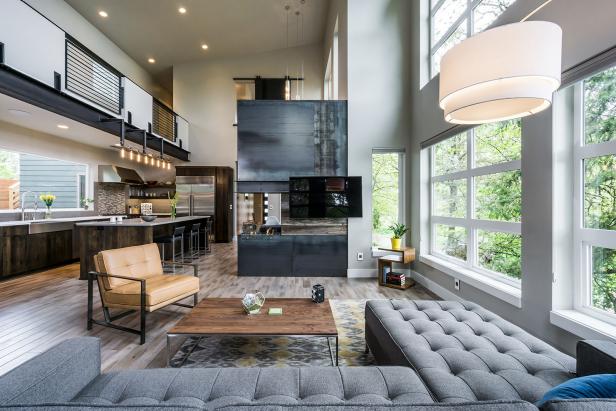 Three-Sided Fireplace Made of Steel, Glass and Reclaimed Wood
The living room area of this expansive, contemporary great room includes a three-sided fireplace made of steel, glass and reclaimed wood that becomes its own art installation. The fireplace wall serves as a sleek backdrop for the flat-screen TV.
And finally, our favorite TV trick comes from designer Jordan Iverson. To ensure that his client's flat screen looked like a natural part of the living room, Iverson surrounded the unit with clean, contemporary furniture. In turn, the TV gets lost in layers of complementary lines, making the piece seem less conspicuous and more cohesive.
Jessica Kensky and Patrick Downes discuss the beauty of universal design, just in time for the 2017 Boston Marathon.