6 Apartment Design Must-Haves That Say "I Have My Life Together"
Learning how to adult? These design musts will make your apartment look all grown up.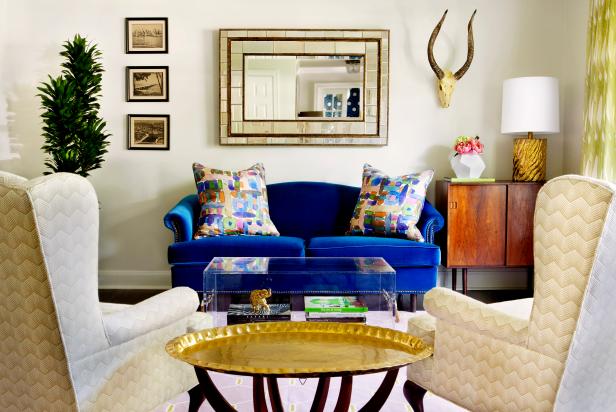 Eclectic Living Space Is Relaxed, Stylish
A family of five needed a relaxed yet beautiful living space using items they already owned and wanted to incorporate into the overall design. Designer Sarah Wittenbraker created this stunning living room doing just that; she achieved a stylish, eclectic design by mixing furniture pieces of contrasting styles.
The adjustment is a tough one to be sure, but you're a grown up! It's time to say "so long!" to prints of dogs playing poker and create a respectable apartment for the respectable adult you are.
But how? As usual, we've got the inside scoop. These six design tips guarantee to achieve an envy-worthy, refined space that you've only ever dreamed about. Bonus: You won't have to spend your life savings to do it.
Adults have rugs everywhere. They've got the real-deal, grown-up, high-quality rugs. And they've got them everywhere. We're talking living room, bedroom, bathroom and even the occasional Persian runner down a galley kitchen. We are dying over the way designer Sarah Wittenbraker used this rose-and-indigo Aztec rug to bring life into this bedroom. Truly, dying. RIP to us.
Rugs epitomize adult-dwelling. A quality rug can run you a nice chunk of change, which probably accounts for the fact that no one born after the year of 1992 is incorporating them in their space like, at all. But friends, it doesn't have to be that way!
For a budget-friendly rug route, we suggest that you get a little creative and seek out a large piece of commercial-grade remnant carpet in a fun pattern or color. Many carpet stores will bind the edges for a nominal fee. Voila! You have yourself a durable, beautiful area rug and still have enough money to pay off your student loans this month.
If you're in the market for a grown-up rug, we suggest skimping on the trendy patterns and investing in a beautiful piece that is durable in both physical-wear and style for years to come. Your feet will be as happy as your space is sophisticated.
And, yes. You need to discard the chevron bathmat that you purchased circa 2012. It's time.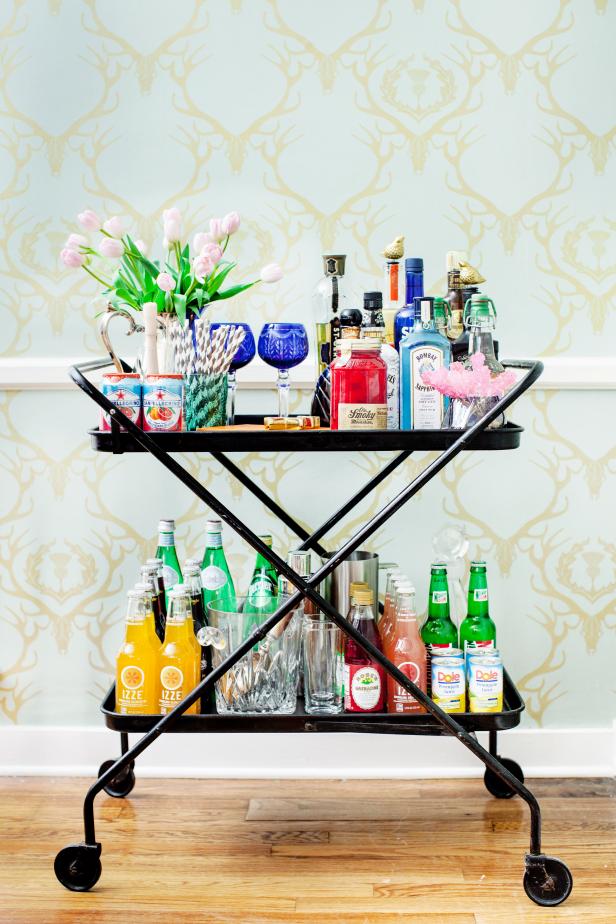 Antique Bar Cart in Vintage Cottage Dining Room
The bar cart in this vintage cottage dining room is the perfect finishing touch. Found at a local Nashville antique mall, this cart gives a classy way to store supplies for a party, while not overpowering the funky Deer Damask wallpaper.
Guys. A stocked bar cart truly cannot be stressed enough. Let's be honest here, adult beverages go along with adult apartments like bread and butter. You never know when you'll need to throw an impromptu celebration, and you'll be glad you have a fully stocked and styled bar cart on hand when you do.
For starters, find a base for your bar! If having a portable piece is important to you, be sure to use a cart with wheels. We can't get enough of the sleek black cart above, styled by designer Kendall Simmons. Want to designate a corner in your space as your full time bar area? Spacious tray tables are just as pretty.
Now for the fun part: styling and sips. An ultra-adult b-cart should be stocked with the host's favorite libations. Think beer, wine, and Champagne and at least two preferred bottles of liquor. Pair with corresponding mixers such as tonic water, cranberry juice and soft drinks.
Lemon and lime garnishes are a must, as are bitters, grenadine and salt. Other essentials? Glassware, ice-bucket and shaker, pretty printed-napkins, bottle stoppers, coasters, straws and decanters. Because, really, does anything say "I'm a grown-up" more than a crystal decanter?
In keeping with the spirit of responsible financial decisions, our number one tip for budget-savvy bar-cart builders: Take your time when stocking your boozy goodies! Rome wasn't built in a day, and your bar doesn't need to be either. Rather than blowing your paycheck on that expensive whiskey that you will never drink, spread out your libation station purchases. If it's looking a little sad and empty, stick a bright bundle of bananas or a bowl of avocados on there as a place holder.
Conversational Coffee Table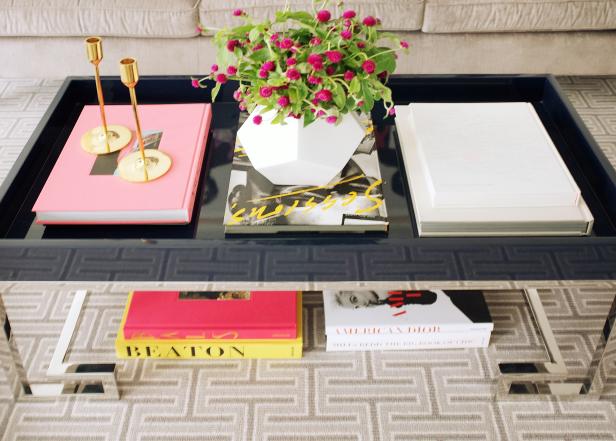 Artfully Styled Coffee Table
The organic shape of the floral arrangement is a refreshing departure from the neatly styled coffee table. The Greek key pattern of the carpet is mimicked in the graphic shape of the coffee table legs.
Yep, that's right friends — coffee tables alone will not do. In an adult space, coffee tables work double time in function and style. Sure, they make a great resting spot for your night-cap or morning cup o' Joe, but the defining characteristic of a grown-up c-table is that it's more than just a spot for cups and coasters.
Our tip for sophisticating your table? Take note from Kapito Muller Interiors and add a stack of beautiful books or magazines on subjects that interest you (I hear HGTV Magazine is pretty good, but what do I know?)
Place a small, off-centered tray filled with interesting decorative pieces, floral arrangements or your favorite scented candle. Adding a few of these delicate (and low-cost) touches to your table will instantly reflect a developed sense of personal style and inspire interesting conversations with guests.
Correlating Cutlery + Dishware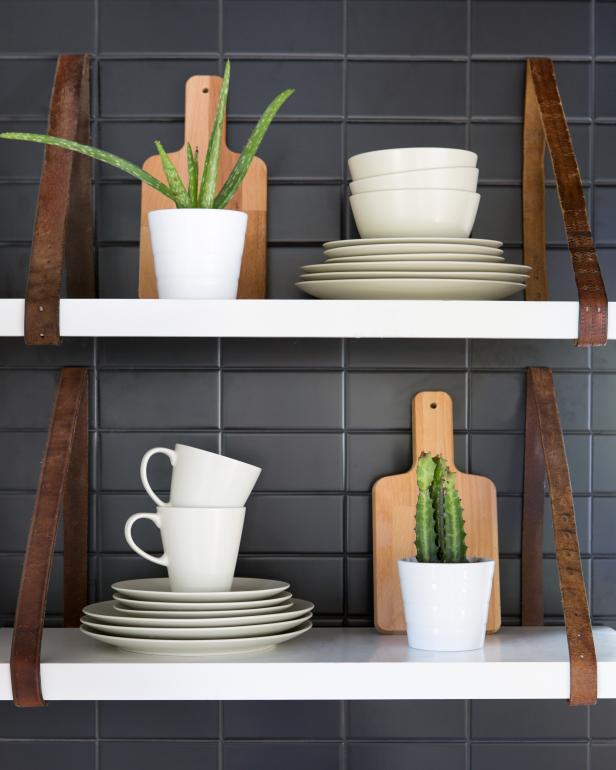 Custom Kitchen Shelves With Vintage Leather Belt Supports
Kim Lewis Designs used vintage leather belts to hold up the shelves in the kitchen.
Molly Winters Photography
This is a big one, guys. Having an adult apartment means it is time to ditch the sad, mismatched dining utensils that have lived in your cabinets since sophomore year of college. We appreciate the nostalgia of your bedazzled mini-kegs and chipped mugs, we really do, but they don't exactly scream "I've got my life together," do they? Let's fix that.
Up your kitchen game with a set of cohesive and beautiful dishware. Kim Lewis delivers major white dishware inspo with that open shelving. It just looks so fresh and clean, right? Pair those sparkling new additions with a set of cutlery that does not come wrapped in plastic with a salt and pepper packet.
The best part about this is you won't have to spend hundreds of dollars for a uniform set of dishware. You can find eight or 16 piece sets at retail stores that won't blow your budget. An even cheaper option? Pick a single color for your dishes, such as white show above. Hit your thrift stores and flea markets for drastically marked down white pieces and build a collection of your own. Do that and you've basically reached Adulting: Level 100.
This. Is. So. Important. Adult apartments stand apart from their less-sophisticated counterparts because of the value that is placed on uniformity. We talked about dishware, but towels and linens are crucial too. While there is definitely something to be said for a funky-patterned beach towel, we find that less is more with these bed and bath staples.
Apartments are generally small spaces and having endless prints and colors in the linen closet, on a bath rack or the even the floor (hey, no judgement here) results in a suffocating, cluttered space. Whether they are the brightest fuchsia on the market or classic white, opting for entirely uniform towels and linens alleviates spaces from a thoughtless or scattered look. Results? Just look at the finished work of designer Jennifer Duneier: This space reflects cleanliness, organization and style.
Artwork: Framed + Forthright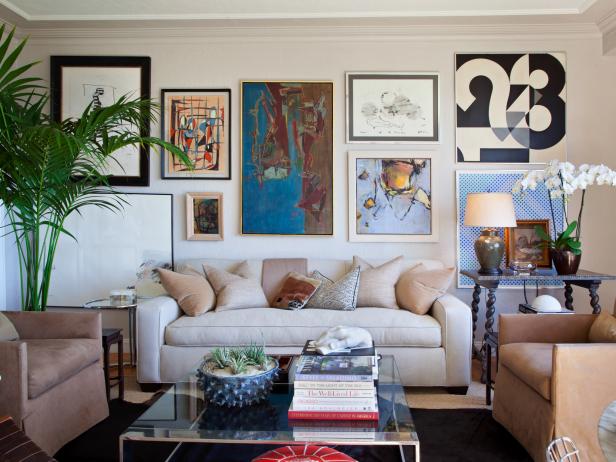 BPF_Original_different-design-tastes_living-room-gallery-wall_h
To merge Scott's style with Alex's style, the couple combined each of their own favorite pieces to create something truly unique. While the traditional-style furniture and modern art collection are from Scott's previous home, Alex's flair for all things mid-century modern makes its way into the room in the form of a chrome Milo Baughman coffee table.
Adult apartments are thoughtful, well executed and have that certain je ne sais quoi that screams "put together." But, how do you replicate that feeling in your own abode? That design finesse is, in part, due to the incorporation of various pieces of complementing artwork in the space.
We realize that maintaining visual interest feels challenging in rentals, where walls are an unrelenting shade of eggshell (or worse, beige).
Rather than succumbing to design defeat and living in bare-wall-squalor, adult apartments take advantage of the space by re-imagining their walls as one big, blank canvas. Whites and beiges are ideal backdrops to display curated collections of colorful paintings, framed prints and personal photographs alike.This is a really easy and cost effective way to achieve a mature vibe in your apartment. The internet offers a plethora of ideas for DIY paintings and surprisingly cheap (like less-than-five-dollars-cheap) and pretty print-offs you can throw on your walls.
If you feel like your art collection is a little too discombobulated, we're here to prove you wrong. Contrasting pieces easily become complements to one another when using matching, classic black framing. Something about correlating frames evokes that a sense of "I hung these pieces together on purpose." Which is exactly what we're aiming for here, right? Right.