How to Give Your Home a Luxe Touch on a Budget
Make your house feel like a chateau with these pro tips from interior designer Colin Griffith.
Even without the vaulted ceilings and crystal chandeliers, your home is your castle and you want it to look elegant. But how can you realistically achieve a luxe design when you're on a budget?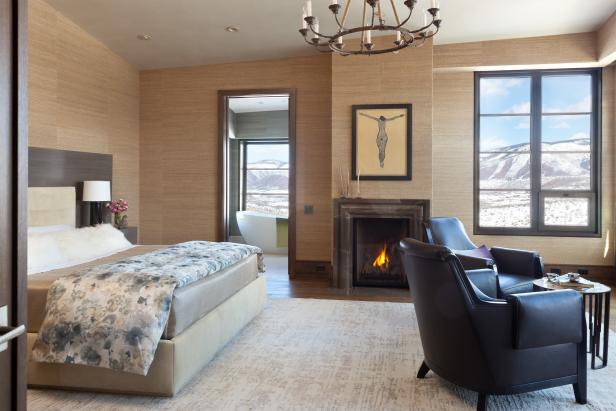 Contemporary Bedroom With Stunning Mountain View
This stylish master bedroom features a contemporary neutral leather platform bed paid with a brown wooden headboard and floral print bed linens. Textured wallpaper adds a fun touch, while brown leather armchairs offer a small spot to relax. Large windows offer a view of the gorgeous mountainside.

From:
Griffith Interior Design LLC
Emily Redfield Photography
HGTV Designer of the Month Colin Griffith has some insider secrets. Though based in Denver, Colin works closely with clients across the country to create spaces that are both timeless and luxurious. While his exact techniques often vary by project and client, the designer reveals that there are a few tried-and-true methods he loves using.
Whether you live in a small loft apartment or a 15,000-square-foot home, giving each person an individual space to relax will ensure that everyone feels comfortable. In turn, small homes will feel more sizable, while larger homes will feel more intimate.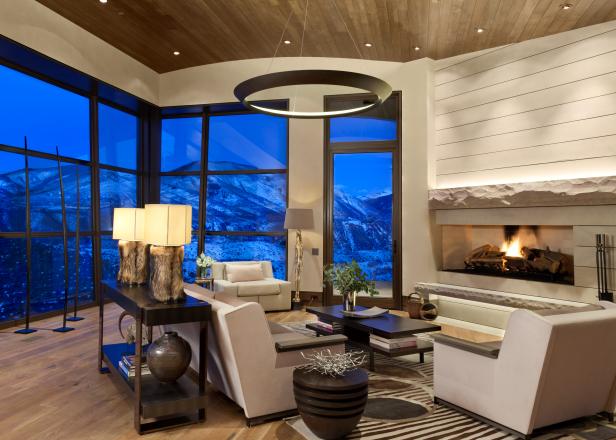 Contemporary Living Room With Stunning Mountain View
This neutral living room features floor-to-ceiling windows that offer a gorgeous mountain view, the perfect sight to take in while cozying up fireside. An ivory leather sofa and armchairs offer spots for relaxing, while a circular metal chandelier hangs from the wood plank ceiling. Faux fur lamps offer a fun touch.

From:
Griffith Interior Design LLC
Emily Redfield Photography
"Luxury is about comfort," says Colin. "I often create enclaves and suites so that people can enjoy their own spaces and feel at ease."
To further that intimate space, Colin draws on materials that will soften hard surfaces and help with acoustics. An area rug across wood floors or organic wall coverings, like grasscloth and wool, are great ways to polish the overall look and feel of a home.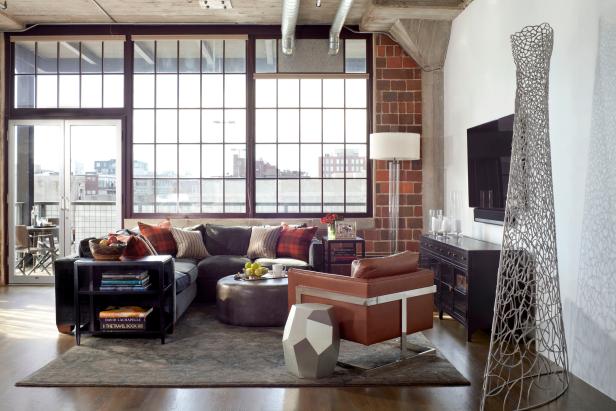 Light and Bright Loft Living Room With a City View
This loft living room blends an industrial exposed ceiling with modern touches, like the gray L-shaped sofa and a metal sculpture that nearly touches the ceiling. A square brown leather chair offers the perfect view through the room's large windows, allowing a peek at the balcony area and city skyline.

From:
Griffith Interior Design LLC
Emily Redfield Photography
"For me, luxury has to do with texture and the way things feel," the designer says. "You never want to hear your footsteps or for a home to seem commercial because of it. Rugs and wall coverings help keep the space soft."
Making use of the powder room is another great, affordable way to add a luxe touch to your home. "It's a room that every guest sees," Colin notes. "It's so small that you might as well make a big statement in it."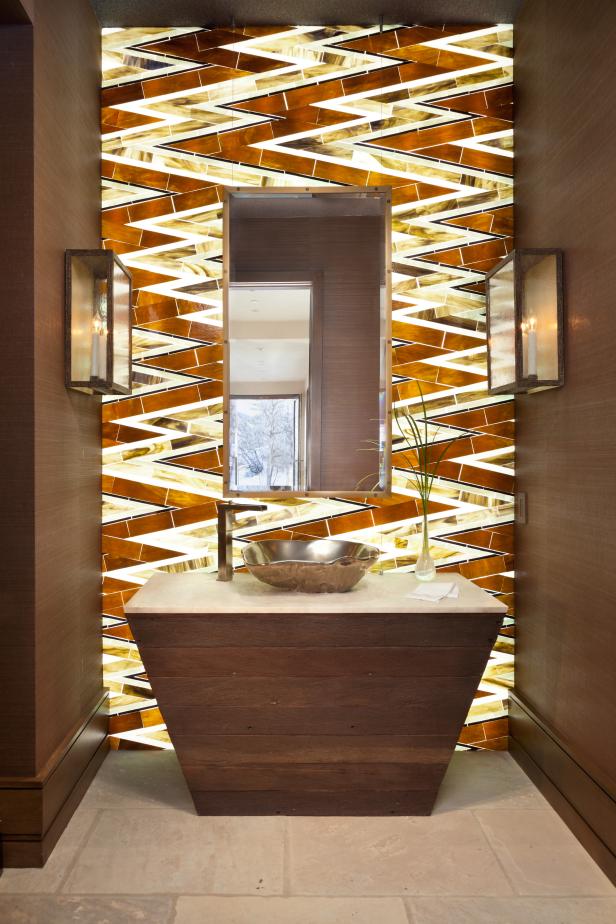 Contemporary Powder Room With Zigzag Patterned Backsplash
This powder room features an eye-catching backsplash with a brown and neutral zigzag designed. A contemporary vanity with a neutral stone countertop and stainless steel sink is positioned in front of the backsplash, while glass enclosed sconces hang on either side.

From:
Griffith Interior Design LLC
Emily Redfield Photography
For this reason, the designer suggests treating the powder room as a focal point of your home. Because the space is so small, you can go all out with unique fixtures, bold patterns or different textures — and still not break the bank.
Treat Light Fixtures Like Art
Lighting, especially, is one of Colin's favorite ways to enhance a space. "I see light fixtures as sculptures," the designer admits. "If you need them in your home anyway, why not make them beautiful?"
Thus the designer frequently chooses artisan pieces that stand out, from glass-blown chandeliers to fur-covered lamps. Adding such a statement piece to a room will easily draw more attention to your home.
That said, Colin insists that the best way to make a client's home feel more luxurious is by dressing the bed in high-end linens. Cashmere blankets, silk sheets, leather welts and wool are just some of the many fine fabrics he uses.
Modern Master Bedroom With Artistic Metal Light Fixture
Gray, white and neutral hues come together to create this serene master bedroom. Two black ottomans with nailhead trim are positioned at the foot of the wool upholstered bed, while a metal sculpted chandelier is featured above. White marble lamps are placed on top of the pair of brown wooden nightstands.

From:
Griffith Interior Design LLC
Emily Redfield Photography
"I learned a long time ago that the thing a guest will appreciate most is the comfort of the bed," he says. "I have everything professionally laundered and make the bed myself when I install each client's home."