How to Design a Backyard That Feels Like a Private Paradise
San Diego-based architect and designer Bill Bocken shares his expert tips for creating a beautiful retreat right in your backyard.
While you could invest in a vacation to the beach or the mountains, there's something to be said for creating paradise right where you live. With space available in your own backyard, why not design the retreat you've always dreamed of, that you can enjoy year-round?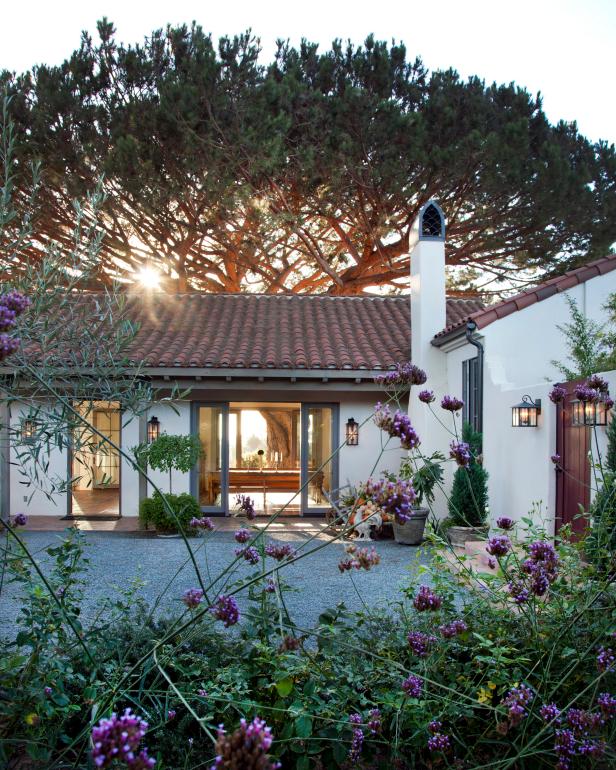 Southwestern-Inspired Courtyard and Home
The Spanish-inspired home consists of several structures including the main house, barn, guest quarters and office clustered around a walled outdoor courtyard. Terracotta roof tiles are paired with stucco exterior walls to create classic southwestern style.
San Diego-based architect and interior designer Bill Bocken is the master of creating outdoor spaces that feel like private getaways. Where each of his warm and organic-inspired homes end, a beautiful backyard begins, thoughtfully designed to respect and reflect the natural landscape. Here are his tips for creating your own stunning escape.
For Bill, a house is more than its interior; it's the lot itself, the experience of moving between the indoors and the out. Thus, the designer suggests first thinking of your yard as an extension of your home and arranging it as you would another room. This approach ensures that the space feels cohesive with the rest of the landscape.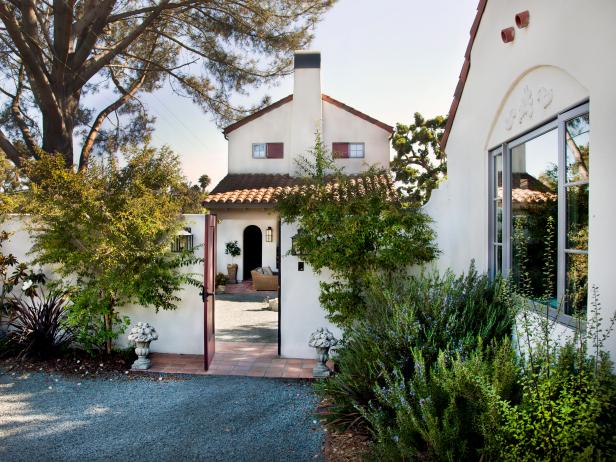 Spanish-Inspired Vineyard Home
The simple and informal Spanish architecture of the home complements the beautiful setting, while an eighty-year-old Italian stone pine provides a majestic canopy. The home consists of several structures including the main house, barn, guest quarters and office clustered around a walled outdoor courtyard. The vineyard produces the owners own award-winning Syrah varietal.
"It's really about the bigger picture," he explains. "I'm not a landscaping architect, but before I build a home, I'll draw a floor plan showing where everything goes, a hedge here or a tree there. All of it comes together to create the house."
Though most people build homes in the middle of their lots, Bill suggests building towards the edge instead. You'll enjoy the same space within your house, but you'll also have more land to work with in the back.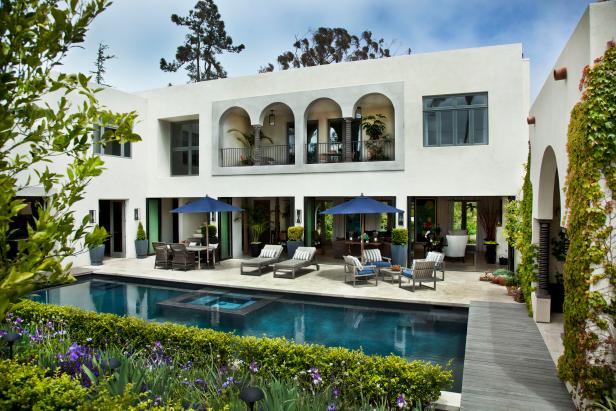 A Villa Courtyard Terrace is Decorated With Subtle Pool Furnishings
The garden courtyard terrace of this Point Lorna, California, villa home is decorated with subtle pool furniture in neutral tones that complement the property's minimalist design and allow the natural surroundings of the lush garden, with its verdant floral and topiary features, to color to the space. Wicker chairs and chaise longues feature plush striped cushions which highlight the earth tones of the building's facade while blue umbrellas reflect the daytime sky and swimming pool below.
"Some of the neighbors thought we were crazy for building so close to the street," he recalls of one project. "But doing this actually creates the illusion of a bigger backyard. It really maximizes the space available."
Rather than remove pre-existing trees and plants to make way for your retreat, incorporate them into the design. They'll protect your yard from the harsh sun and provide shelter for local wildlife.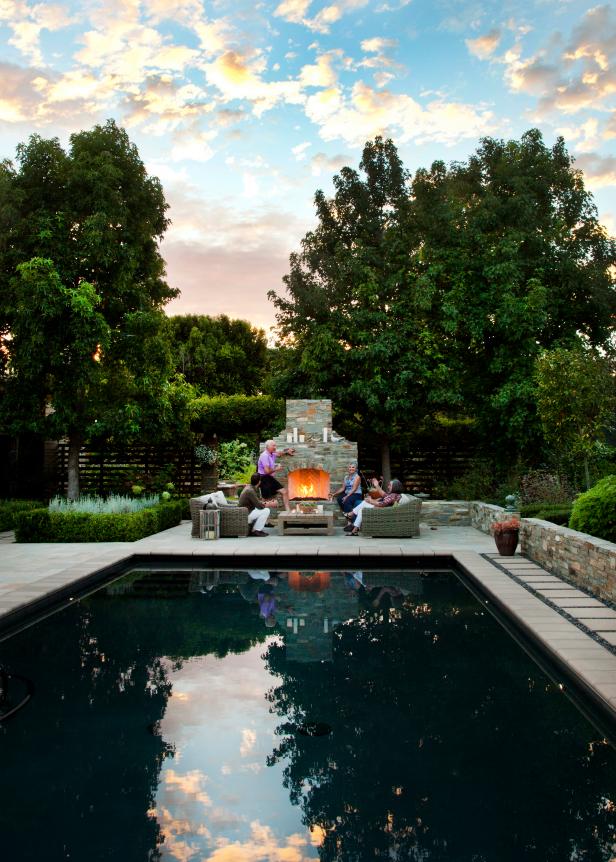 A Reflective Outdoor Swimming Provides This La Jolla Garden With Added Depth
A reflective swimming pool is bordered by a multicolored stone wall in the garden of this La Jolla, California, home. At its foot, a matching stone fireplace is situated to warm guests as they lounge on oversized wicker sofas. A trellis canopied with classically styled shrubs is a natural barrier offering additional privacy.
"They also give the house an instant sense of history and permanence that you just can't buy anywhere," Bill says.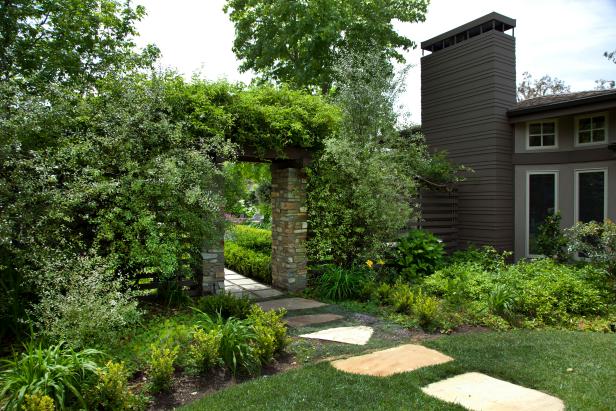 A Stacked Stone Pillar Entryway to a La Jolla Garden
Oversized odd-shaped stones make for an eye-catching garden pathway on the grounds of this La Jolla, California, home. The path leads through the stonework archway of a trellis canopied and consumed by an overgrowth of wildflowers and topiary features. The multicolored stonework columns complement the textured walls of the home.
To further the idea of a private getaway, Bill suggests planting hedges, shrubs and trees along the edges of your yard, like walls. Not only will these natural boundaries absorb intrusive noise and prevent neighbors from peering in, but they'll also add gorgeous greenery to the setting.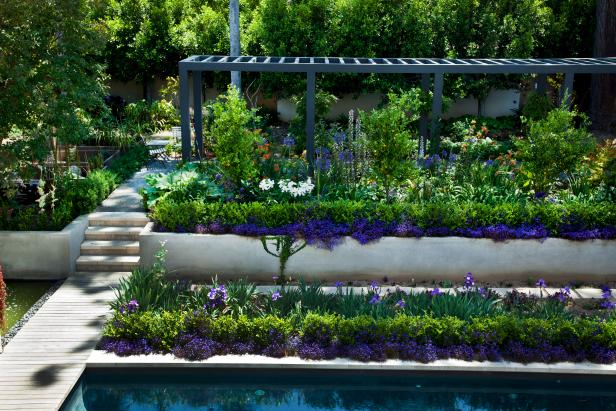 A Split Level Garden Courtyard Overlooks a Swimming Pool
The garden courtyard of this Point Lorna, California, villa home takes on greater depth spilling out over two levels. A footbridge designed to traverse a sunken swimming pool leads to stairs which continue the journey into lush topiary features.
"It's a process that evolves sometimes, and it's important to be open to that," Bill explains. "You have to be willing to take suggestions and see challenges as new opportunities."
Feeling uninspired by your space? Designer Ryan Brown reveals how to rearrange and refresh your home using what you already own.