Is Bolder Better? Here's How to Add More Color + Pattern
If your mantra is 'more is more,' these tips are for you. 
Simple white interiors have been everywhere for a few years, and it's no surprise why. It's hard to dislike a clean, easy color palette, and a white space is considered more timeless than a more colorful or pattern-heavy one. But what if it just doesn't feel right for YOUR space?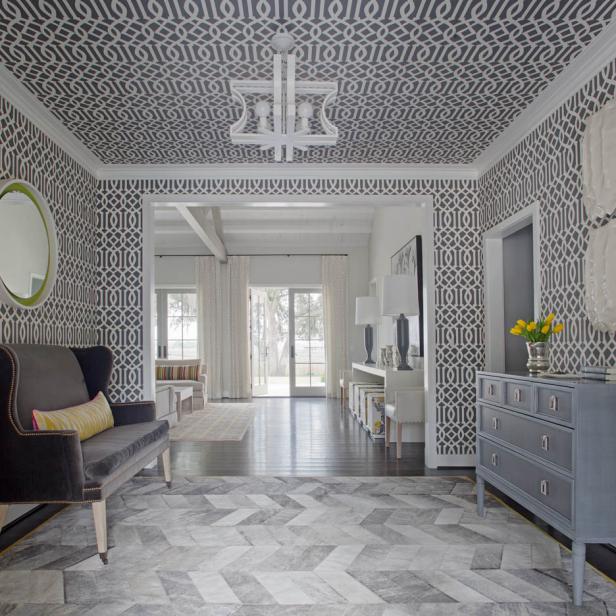 Gray Contemporary Foyer With Sofa
In a smaller space, try graphic patterned wallpaper on the walls and ceiling. It can give the room a cozy, intimate feel as seen in this contemporary foyer.
Joel Snayd, principal at interior architecture firm Rethink Design Studio in Savannah, Ga., like to push the boundaries on color and pattern in the homes they design. They also know it's not the right choice for everyone.

"When you step out the door, are you somebody who wears black and white, or are you somebody who dresses with color," Joel asks. "What do you gravitate to? It will tell you a lot about your personality."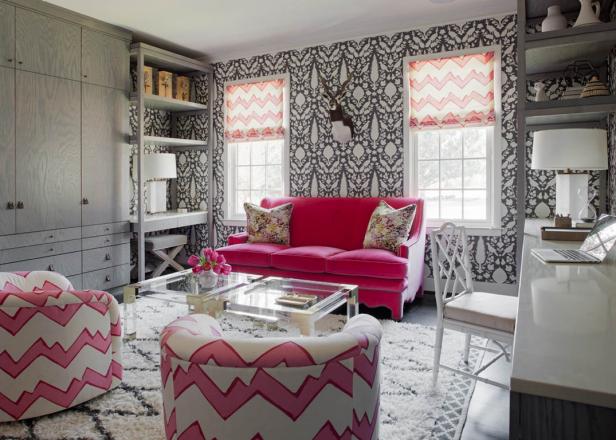 Gray Contemporary Sitting Room With Pink Sofa
A charmingly eclectic mix of whitewashed furnishings, vintage accessories and a wallpapered accent wall makes this bedroom into an inviting retreat. An ocean blue rug anchors the space and unifies the look.
If someone has a bubbly personality or loves colorful clothing or blingy jewelry, chances are they'll feel more comfortable with bolder design choices, Joel says. If they tend to dress more conservatively, then large doses of pattern and color may be more of a risk.


Budget restrictions can also put a damper on the desire to up the drama in a space. In those cases, pay attention to colors and patterns that you never seem to tire of. If you've always felt drawn to fuchsia, then a hot pink sofa may be a sound investment, Joel says.
And if bold colors and patterns speak to you, but you still feel hesitant to go all in for your home design -- start small, Joel says. Try out colorful accessories like pillows or curtains. After a while of living with them, your comfort level with bolder choices might grow.
Another way to test out your commitment to bolder design is to try it in a smaller space like a powder room or closet. The impact of striking patterns or blasts of color in smaller areas aren't as overwhelming as they are in larger spaces, and if it doesn't work out, it's often more affordable to change.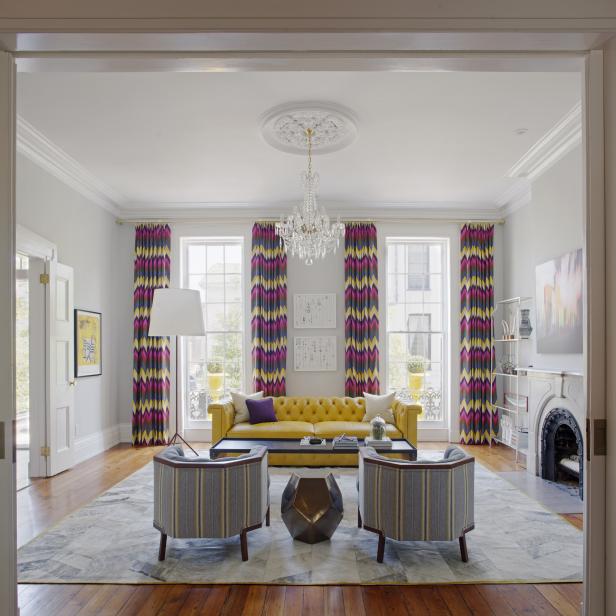 White Living Room With Yellow Sofa
A buttery yellow sofa and gorgeous striped curtains take this living room from sedate to smashing. Large windows brighten the space with natural light and a crystal chandelier gives luxurious panache overhead.
Artwork is another smart way to play with color and pattern, Joel says.
"You can have an all-white home, but with art it can instantly look like it has 60 shades of color, and it brings personality in," he says.