Take a Peek Inside This Stunning, Fully-Stocked Party Barn
Architectural designer Kevin Transue transformed an ordinary utility barn into a stunning, fully-stocked entertainment space complete with a state-of-the-art wet bar, full catering kitchen and many more drool-worthy amenities.
Have you ever dreamed of turning your outdoor storage building into a luxurious private getaway? One suburban family made this dream a reality when they commissioned architectural designer and certified remodeler, Kevin Transue of CHC Creative Remodeling, to transform their 3,200-square-foot equipment barn into a fully functional entertainment and leisure space. The result? An unbelievably stunning party barn featuring a 24-foot, LED-lit wet bar, fully-stocked liquor shelves, catering kitchen, oversized fireplace, 84-inch TV, 1,200-square-foot patio and much more.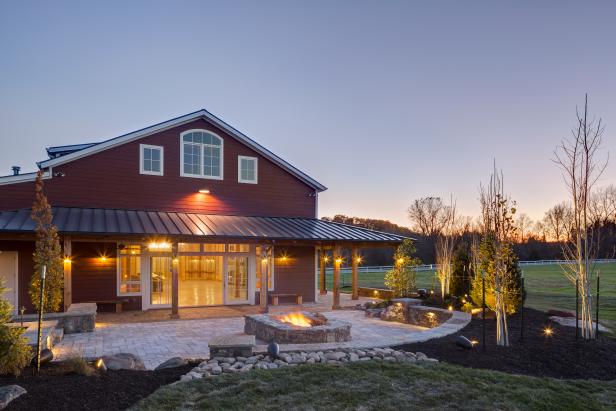 Red Party Barn Exterior With Back Patio With Square Fire Pit
Landscape lighting and mounted sconces illuminate this party barn's back patio area in the evening light. Black roofing extends from the red barn to create a covered patio section that then expands to an open area with a stone fire pit. Mulched sections are planted with short trees leading into the open yard.
An NARI-certified remodeler and passionate craftsman, the Kansas City-based designer oversaw the barn's design from conception to construction. The gorgeous final product was not only a hit with his clients but also caught the attention of HGTV fans, who voted the barn the winner of HGTV's Fresh Faces of Design "Design With a Passion" category.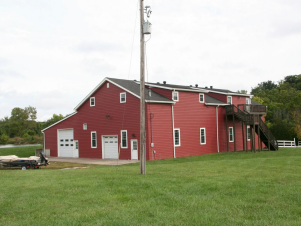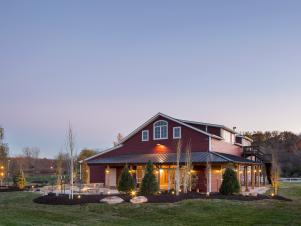 Exterior of Gorgeous Red Party Barn With Open Yard
An open yard with small planted trees and shrubs allows this beautiful red party barn to shine in the evening light. Mulched areas create fluid lines from the house perimeter into the yard. Landscape lighting dotted around the property creates a twinkly look.
Located on 15 acres of land in the middle of a suburban neighborhood, the barn was originally used as a makeshift indoor basketball court and miscellaneous storage unit. "We started with a huge, uninhabitable equipment storage barn and turned it into the go-to place for all family events," says Kevin. "[It's] a barn on the outside, a party on the inside with everything — and I do mean everything — that they need to make it a success."
Kevin added a modern metal wrap-around awning to the exterior to provide protection from inclement weather and give the structure much-needed curb appeal.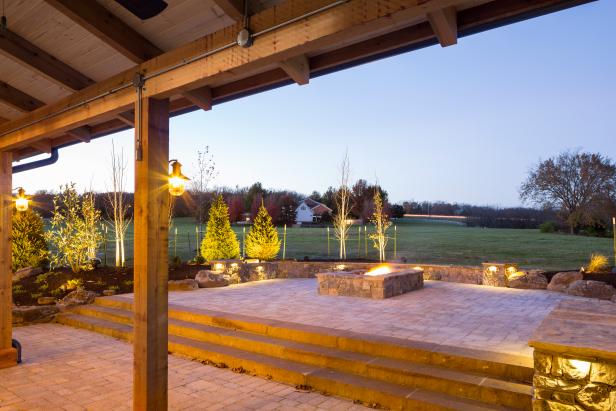 Paver Patio With Stone Steps and Square Fire Pit
Yellow light shines from the lanterns mounted on wood columns as evening sets in around this cozy country patio. Three stone steps lead from the covered section to an open-air patio with a stone fire pit. A stone wall surrounds the patio and is bordered by a mulched section of trees and shrubs.
A few feet away, a 2,200-square-foot, multi-tiered patio offers ample outdoor seating, an integrated sound system and a cozy fire pit for year-round outdoor entertaining.
Inside, Kevin faced the challenge of creating a cozy, inviting atmosphere out of a drafty, 3,200-square-foot room. "[The barn] has a ceiling constructed of 40-foot steel bar joists, producing a completely open floor space with no visible support other than the 14-foot walls themselves," says Kevin. "As a basketball court, that's great. But in a living space? That's just too open." So, he installed wood columns in each corner of the room and behind the bar to add charm and give the illusion of a smaller, more intimate space.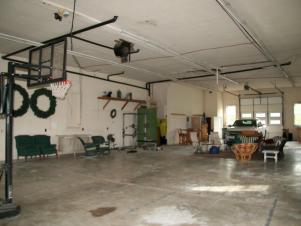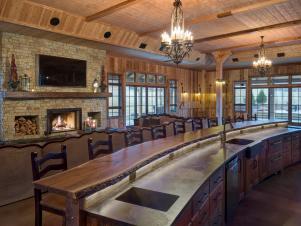 Long Bar With Wood Barstools in Rustic Great Room
A long, curved bar with a natural wood countertop creates tons of dining space while fitting with the flow of this great room. A large sofa sets a perimeter for the adjacent living area, which features a stone accent wall surrounding the fireplace and wall-mounted TV. A pair of wrought-iron chandeliers with candle lighting adds a decorative touch to the room.
Kevin was able to focus his energies on the fine details of the barn's modern-rustic design, cutting no corners when it came to choosing materials and technology. The 24-foot bar, clad in a single slab of live-edge black walnut wood, is accented by custom cabinets made from reclaimed barn wood. A gorgeous, oversized natural stone fireplace makes a bold statement in the adjacent sitting area and boasts an 84-inch TV, perfect for game days or movie nights.
Three 150-pound antique iron and bronze chandeliers, which can be raised and lowered by built-in chandelier lifts, provide gorgeous soft lighting throughout the warm, rustic space while color-changing LED strips add pops of fun color under the counter and behind the bar.
Kevin's favorite feature is "the dual staircase, serving as a backdrop to the bar and ceiling to the kitchen, climbing 26 treads and landings from two separate starts. Not only is it cool, it was a huge challenge to pull off!"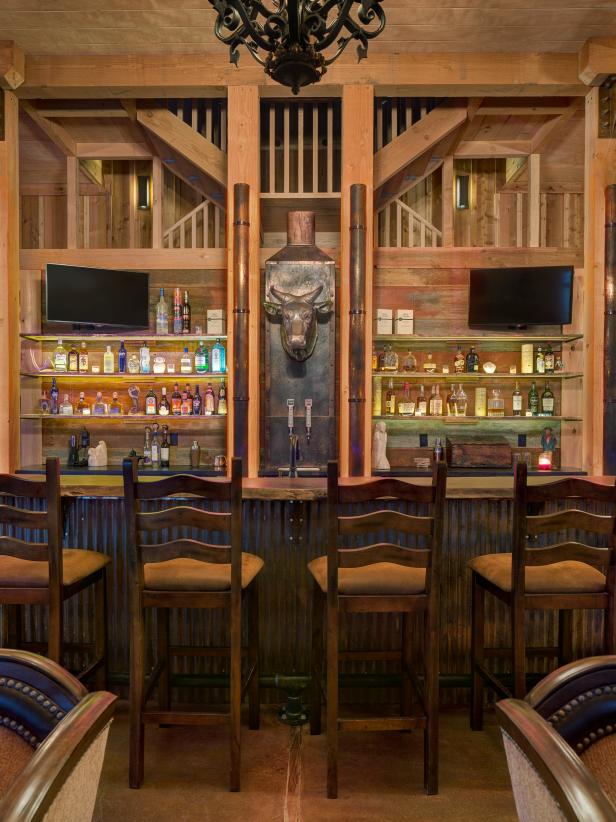 Rustic Wet Bar With Bronze Cow Head Decoration
Wood pieces move in different directions to create a decorative design in the structure of this rustic bar area. A bronze centerpiece with a cow head sits between two sets of open shelf storage with built-in lighting. Wood barstools with leather seat cushions pull up to the washboard bottom of the bar.
This gorgeous party barn is a true testament to Kevin's skill and passion for design. "Passion is a great motivator," he says. "If you're truly passionate, you're recognizing ideas, concepts and examples in everything you experience. Trust yourself and let your passion be your guide."