See How This Elevated Coastal Cottage Takes Home Design to a Whole New Level
Architect Darryl Cobb thought beyond the stilts to give this elevated coastal home in the heart of South Carolina's Lowcountry all the charm and curb appeal of its inland counterparts.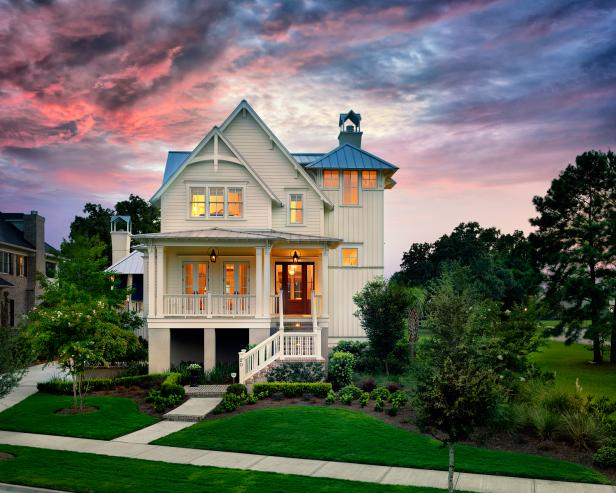 Coastal Home Is Raised for Flood Protection
One of Cobb Architects' goals was to make this home feel as connected and low to the ground as possible while still achieving the appropriate level of protection above the high flood zones in Charleston, S.C. The home achieves this with a unique yet beautiful proportion that keeps it safe and protected.
The key to Cobb Architects' success lies in their unique hands-on approach to home design. "I like to be involved in a project from the first conceptual sketch through the construction process," Darryl says. "Every detail matters and my firm is passionate about designing to the highest possible quality." For the Daniel Island project, Darryl's firm worked closely with a local home builder, Structures Building Company, to ensure every detail of the home — from the dramatic rooflines to the shiplap paneling in the stair tower — was true to the original plans. The result is a home that is as functional and well-built as it is beautiful and unique.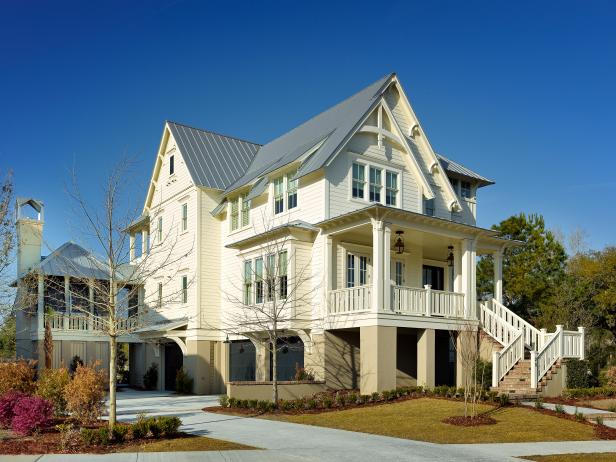 Coastal Home With Elevated Front Porch
The garage is tucked neatly under the home, with the garage doors on the side. A beautiful stairway leads to the appropriately elevated front porch, which is raised above flood zones.
Designing a home for the high flood zones of the South Carolina Lowcountry presented Darryl with the unusual architectural challenge of balancing safety with aesthetics. "Scale is critical. We designed and manipulated many details to make sure it did not look like a house on piles," Darryl says. "The stair, handrail, trim, soffit, rooflines and many other details help this home relate to the human scale." In addition, the team raised the landscape grade and flanked the home with lush coastal trees and shrubs to make it look and feel more connected to the ground.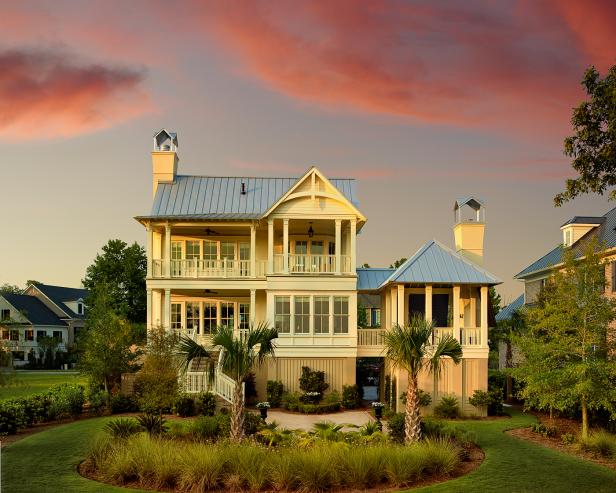 Charming Coastal House at Twilight
A cotton-candy sky serves as a stunning backdrop for this coastal cottage located in the picturesque city of Charleston, S.C. The beautiful backyard features low country landscaping.
Darryl also aimed to create a home that spoke to its coastal surroundings without compromising comfort or functionality. "Open spaces (but not too open) with natural light and interior detailing was extremely important," Darryl says. "We were trying to achieve a balance with space, light, materials and color. Everything must work together." This is evident in the home's roomy, sophisticated entryway where rich wood floors and accents create warmth and offer a bold contrast to the bright shiplap paneling.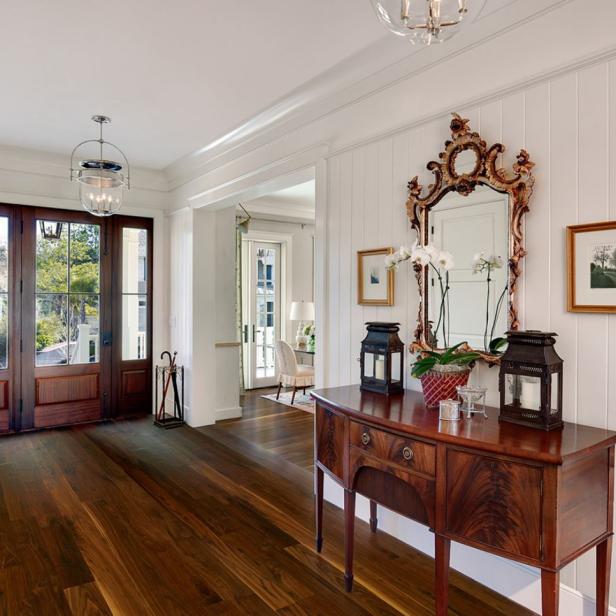 Traditional Foyer Is Bright Yet Warm
Rich woods — in the front door, floors and entryway console — create immediate warmth upon entering this gorgeous home. White paneled walls speak to the home's coastal undertones and ensure a bright, airy first impression.
A few feet away, a steady supply of sunlight streams in from a gallery of large windows lining the shiplap-clad stair tower.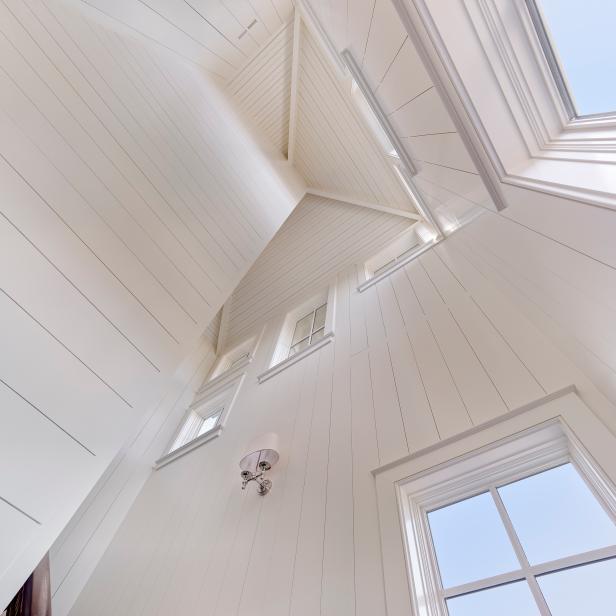 Floor-to-Ceiling Paneling in Bright White
Crisp white paneling stretches from the floor to the very highest ceiling in this coastal home. The clean shade of white works beautifully with natural light to create a bright, breezy atmosphere.
But what truly sets the home apart is its fully functional, livable outdoor spaces. In addition to three large porches attached to the main structure, a short breezeway leads to a bonus covered porch that boasts luxurious amenities such as a fireplace lounge, vaulted ceiling and stunning views of the nearby golf course that can be enjoyed year round.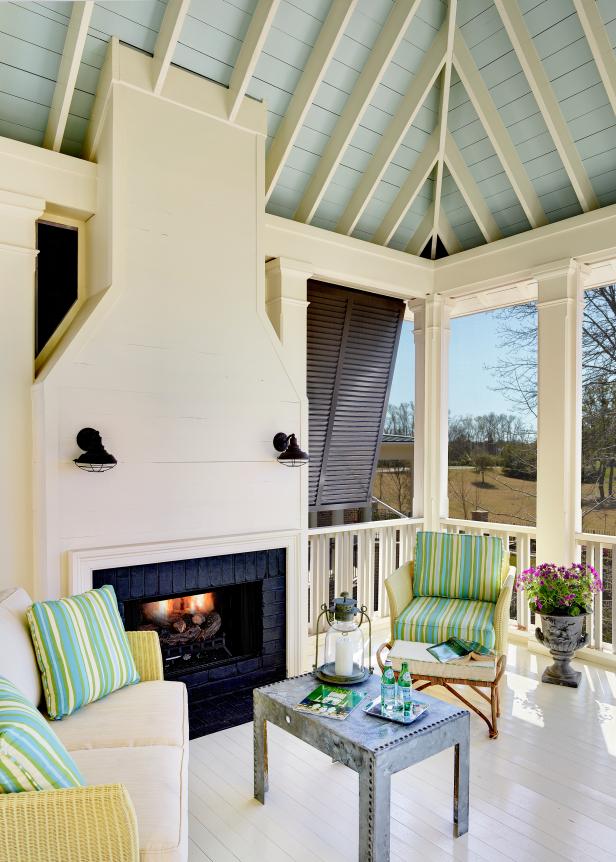 Coastal Gazebo Is Cheery, Cozy
A classic fireplace creates a cozy, intimate setting for this coastal-style gazebo. The soft blue paneled ceiling drives home the coastal feel, and colorful striped pillows and cushions add a cheery, vibrant touch.
"We strive to make every home and building, whether commercial or residential, large or small, of the highest quality: one you'll enjoy every day," Darryl says.