5 Quick Tips for Energizing Your Home for the New Year
Learn easy ways you can bring a fresh new look to your home from feng shui expert Nancy Canestaro.
As the new year starts, you may already be well on your way to a newer, better you. But what about your home? It could be time to freshen up your interior, and you can do this on a tight budget through feng shui.
Nancy Canestaro, D. Arch, is a certified astro feng shui practitioner and believes feng shui promotes wealth, good health and peace of mind.
Feng shui is an ancient art and science developed more than 2,000 years ago that helps align living spaces to a natural energy field to promote this wealth. If you've ever felt at peace as soon as you walk into a tranquil garden or sitting next to crystal clear water, that's feng shui at work. Nancy shares ways you can bring this practice into your own home.
Start at the Front Entrance
Natural Stone and Wood Covered Front Porch With Wood Rocking Chairs, Sconce Lighting and Potted Plants
Black metal outdoor sconces and plants in bright red pots bring a hint of updated design to the original stone and wood of this front porch, while rocking chairs welcome family and friends to sit and enjoy the view.
Sarah Wilson/ Getty Images
The front entrance to your home should be inviting. "Rocking chairs are great because of movement," Nancy says. "The image of rocking on a porch brings a smile to everyone's face and consciousness." To enhance a welcoming impression, keep the area around your front door clear, bright and uncluttered. Plant flowers, specificially white, along the pathway to your door.
Keep Your Landscape in Check
Choose your favorite plants, but be sure they're scaled to the size of your house. Some shrubbery can grow too tall and wide, and some trees and evergreens have prickly branches. Prune them, and don't let them block the entrance to your house.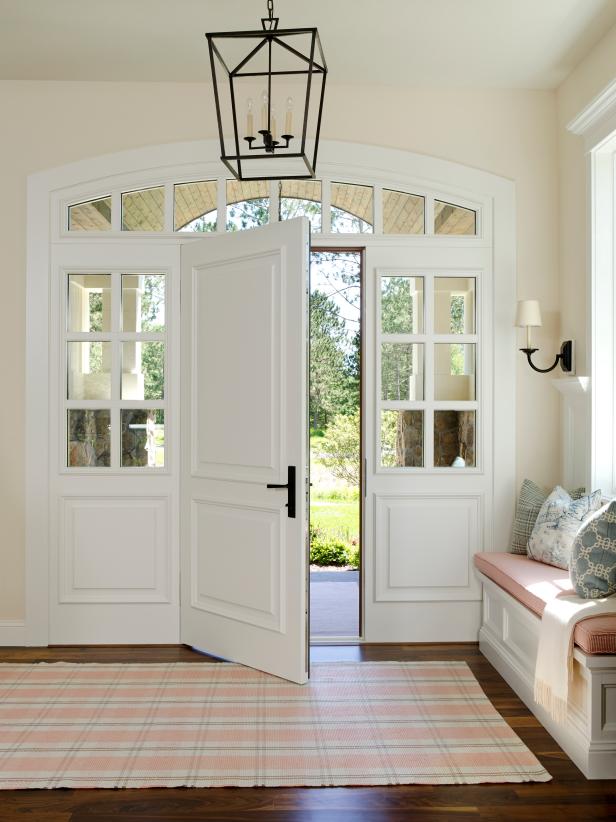 White, Contemporary Foyer with Window-surrounded Front Door and Plaid Rug
This gorgeous foyer provides a bright and cheerful first impression for large groups of family and friends that feels open and welcoming. The pink rug and upholstered bench cushion add a touch of color and whimsy. The hanging lamp gives a rustic touch to the space.
Gridley + Graves Photographers
Spend time decluttering the entryway of your home all the way to the living area. You and your guests will feel more relaxed with less stuff to clutter your mind.
Create a Peaceful Bedroom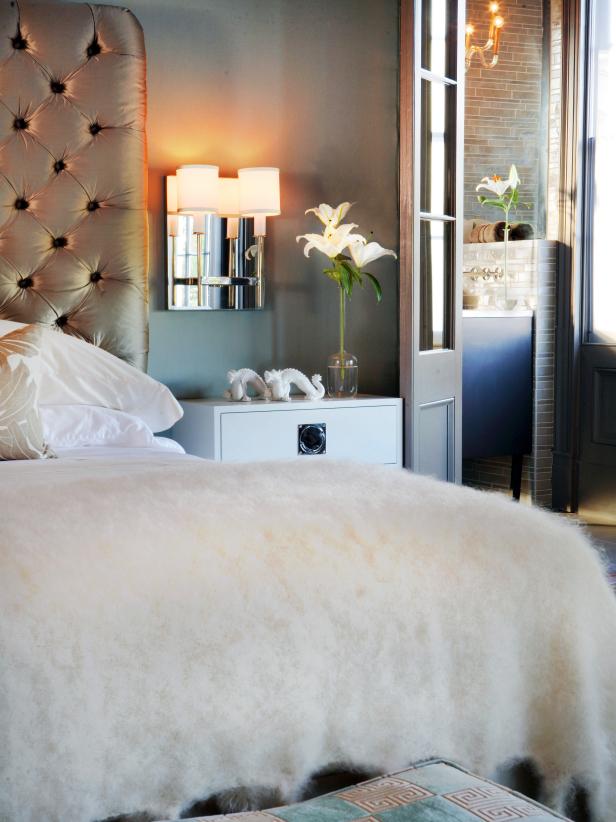 Art Deco Gray Bedroom With Mirrored Sconces
"I have a go-to trick I love to help make any space feel instantly luxe. While I love the look of fur blankets and throws, I don't love the price and prefer to go faux anyway. So, one of my favorite tricks is to buy 2 or 3 faux fur throws and get them sewn together at my local dry cleaners. Then, voila! You have a custom fur blanket to drape over your bed." -Erica Reitman, Design Blahg
Soft, monochromatic color schemes in gray tones add tranquility to any room. Make sure your bedroom doesn't have any contrasting colors and that your sleep area is completely decluttered. Don't bring any electronic devices into the bedroom.
Paint the main rooms in your home colors that support their function. The kitchen should include food-related colors, the bedroom neutral and work areas in contrasting colors to promote energy.