Emily Henderson Shares Her Top Kitchen Design Tips
Give your kitchen the makeover it needs with these expert ideas.
This post is sponsored by LG, written by me, and owned by HGTV.
Designer and blogger Emily Henderson knows how to help clients bring personal style to their homes. From the living room to the kitchen, she creates rooms that are as stylish as they are functional. Follow her easy tips below on how to make a chic, family-friendly kitchen.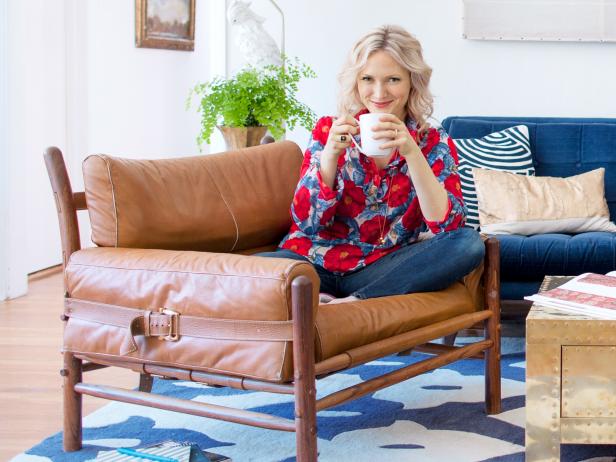 Emily Henderson Sitting on Brown Leather Chair
This '70s leather safari chair is just one of Emily Henderson's, the host of HGTV's Secrets From a Stylist, amazing finds.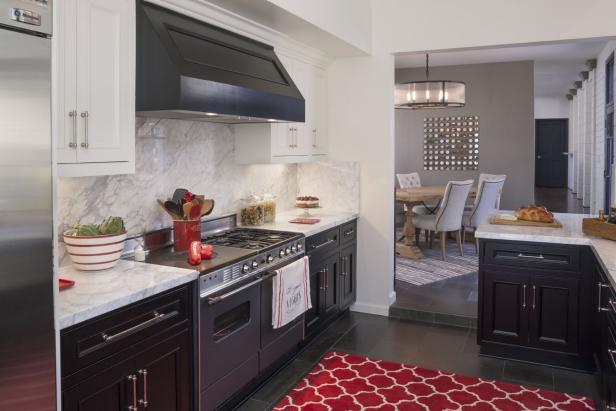 Black and White Kitchen With Red Accents
Make a strong first impression in your kitchen with a bold color palette. In this space, a mix of red accessories, matte black cabinets and white marble create a striking look.
"Every room in the house should have some elements of black, which is true even for the kitchen. If the existing kitchen is light and airy, black stainless steel appliances still work. It's an investment that will last, not a trend that will go out of style."
Force Yourself to Stay Organized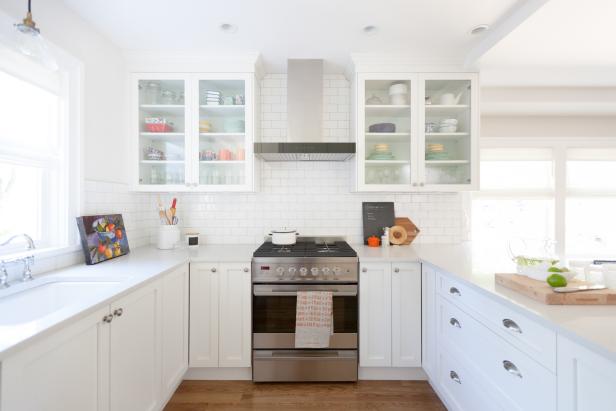 Glass Front Cabinets Create Open Feeling
As seen on Love It or List It, Too, designer Jillian Harris designed an open and modern kitchen for homeowners Emily and Gary, with new cabinetry and applicances. The white cabinets and clear glass doors keep the space feeling open and light.
From:
Love It or List It, Too
David Owen Strongman/Getty Images
The kitchen is where it all comes together when entertaining guests, but it can quickly become messy. A great way to keep the kitchen organized is with open shelving or glass-front cabinets. "They help prevent chaos and clutter since everything will always be on display — not to mention — a way to display all your pretty dishes."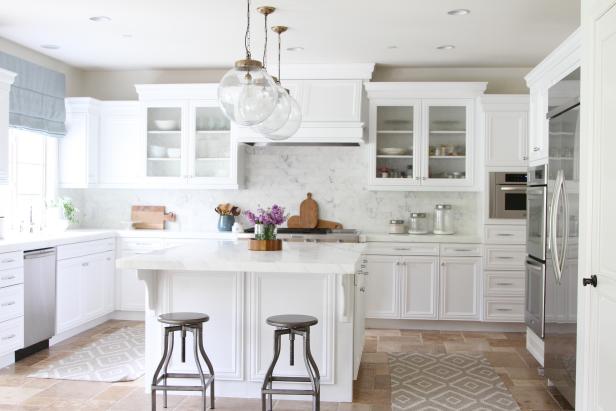 White Coastal Kitchen is Family-Friendly
White, semi-gloss laquer paint is used on the cabinets to freshen up this formerly dark kitchen. To create a light and fresh look, white Calcutta marble is used on the countertops and backsplash. Glass globe pendants light up the large kitchen island, where a pair of metal barstools are perfect for eating breakfast or a quick snack.
When it comes to countertops, always keep them clutter free. Everything should have a place, and you should store items you don't use every day. "Don't be afraid to use decorative accents. The kitchen should feel like the rest of the rooms in your house – lived-in with touches of style and personality.
"I love ceramic utensil holders such as vintage salt and pepper shakers, brass or wooden utensils, glass canisters or wooden bowls for fruit and veggies."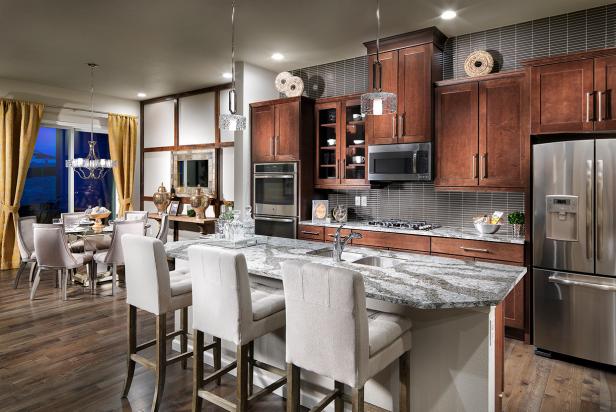 Transitional Kitchen With Rustic Hardwood Floor
A striking tile backsplash highlights this transitional kitchen, with features a stone-topped eat-in island, rich wooden cabinetry, and stainless steel appliances.
So much goes into a kitchen's design and the choices you make can be simple and inexpensive. Some things are worth the splurge though. "Always invest in appliances. With the new design and technology of appliances, they make things so simple for anyone to use, especially someone like me who is a busy-working mom. It's a no-brainer to want to use things when they are easy, visually-appealing and super easy to clean."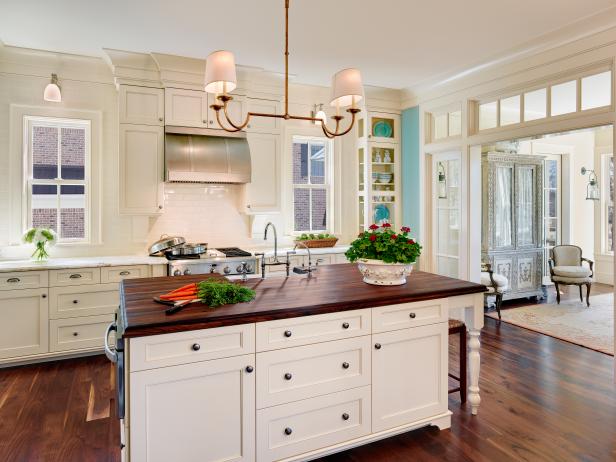 Classic White Kitchen With Coastal Flair
Traditional white cabinetry and gorgeous wood floors combine for a classic, timeless look in this kitchen. A light blue accent wall and bright pops of aqua add coastal flair to the space as a nod to the home's Charleston, S.C., location.
To create a design that will stand the test of time, go with the classics. This includes "black and white, brass, gold and copper and natural wood. These will never tire, and they can be used alone or in combos."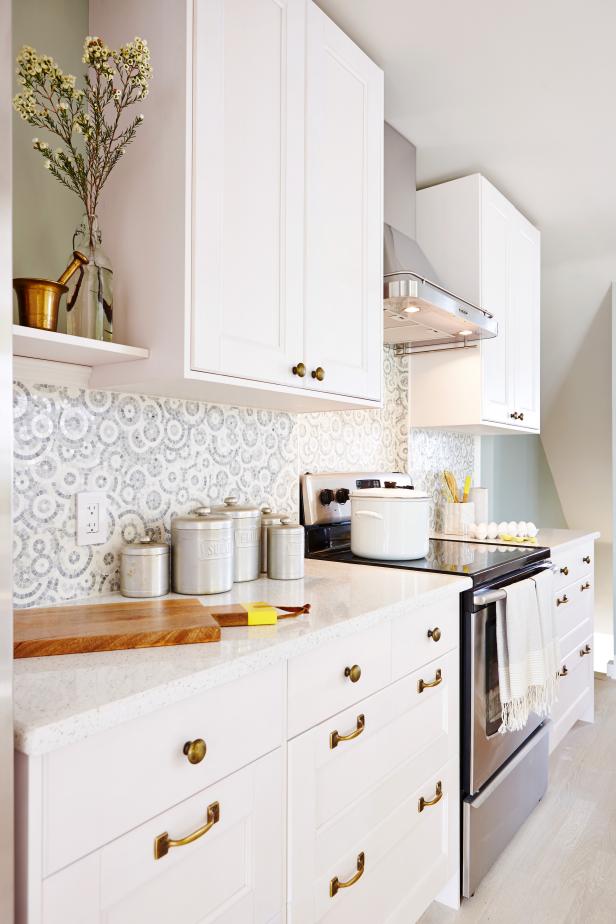 White Gourmet Kitchen From Sarah Sees Potential
As seen on season 1 of Sarah Sees Potential, Sarah transforms a damaged and dated kitchen into a gourmet showpiece with bright white cabinetry, cream wood flooring and stainless steel appliances. To complete the look, a fun mosaic tile backsplash and brass drawer pulls add pops of visual interest to the neutral space.
Stacey Brandford Photography
If you do get tired of your kitchen's design, start with budget-friendly changes. "Paint the existing cabinets and get new hardware. You can't go wrong with some white paint and brass handles and pulls. Swap out your lights for some updated fixtures, and add a rug – it brings in another layer of texture and color."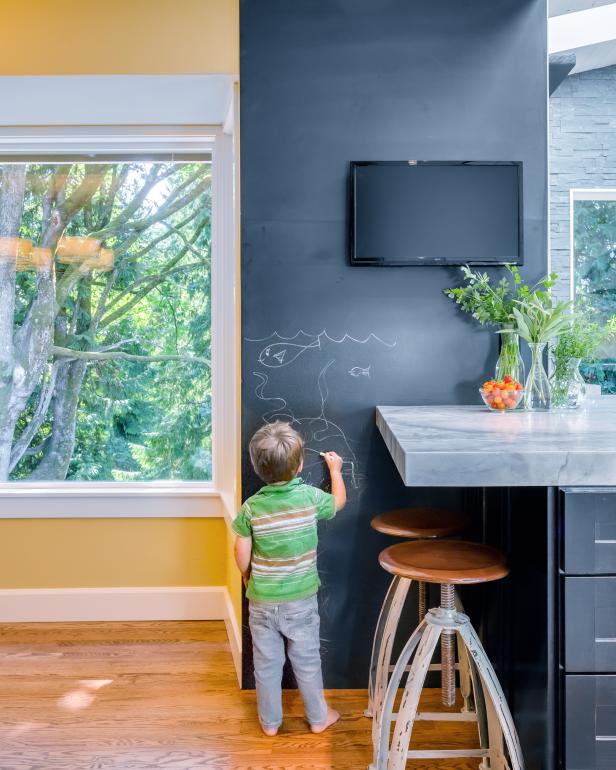 Reclaimed Slate Wall in Contemporary Kitchen
Writing grocery lists or recipes and keeping kids entertained is easy in this kitchen thanks to this reclaimed slate wall, which was fabricated into three panels and professionally installed. The color complements the contemporary space's neutral palette while serving as a fun focal point.
A kid-friendly kitchen is a happy kitchen. You can have both a child-proof and stylish kitchen. Put cleaning supplies and sharp objects where kids can't reach them, and add some fun with a chalkboard. "Not only handy for writing down grocery lists and reminders, but kids can draw on it while mom or dad make dinner."
Have a different point of view for the perfect kitchen? Enter the LG Limitless Design Contest by pinning your dream kitchen and you could win. NO PURCHASE NECESSARY. Ends 1/29/16. To enter and for complete details, visit www.hgtv.com/LGcontest.