Loving Teal? Get 14 Ways to Use This Breezy Hue
Add this deep blue hue to your home in both large and small doses.
When thinking about a color palette for your home, there are some colors that are a comfortable go-to. But for some reason, teal may not necessarily be one of them. This year, we think you should give this bold, fun color a deeper look — it's easier than you think to incorporate into the design of your space.
If you've always been intrigued by the color teal, but also felt waves of panic every time you've thought about using it in your own home, read on.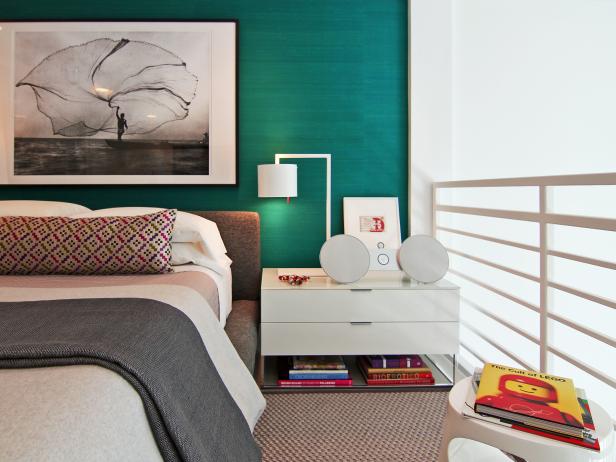 Modern Teal Loft Bedroom
A loft-style bedroom by designer Diego A. Rincon features a teal wall and mid-century modern furniture pieces.
A great solution for "getting your feet wet" with the color teal is to use it on an accent wall. Focus on the most prominent wall in the space (in this case, it's the one the bed is on) and start painting.
Try Accents in Your Kitchen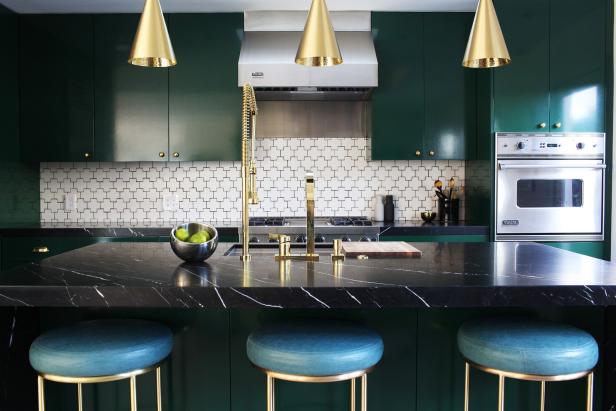 Green and White Eclectic Kitchen With Brass Pendants
With deep hunter green cabinetry and a Swiss cross-tile backsplash, this eclectic kitchen is fresh and imaginative. Brass pendants hang above the Nero Marquina marble island and tie in with the brass faucets.
The kitchen is another great spot to do some color experimenting. In this example, chic teal leather stools are paired with a bold hunter-green color scheme. Love the idea but already have stools? Consider using teal pillows or teal throws that you can drape over the backs of your stools.
If you've been dreaming about teal and you're ready to go all in, it might be time for you to skip the accent wall and consider painting an entire room teal. This chic living room pairs rich teal walls with a modern black-and-white color scheme with pops of pink and apple green.
Another fun way to incorporate this bold color into your home is by painting your front door teal. This is a great option for anyone who doesn't feel like they could easily incorporate teal into their existing design scheme inside but still really love the shade.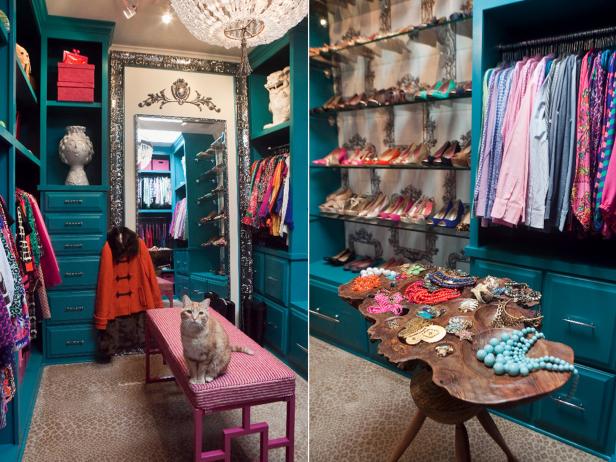 Chic Teal Dressing Room
What was once a bedroom in a Charleston style home is now a chic, teal dressing room/closet, thanks to Nicole Norris, ASID, NCIDQ. A cheery turquoise color was chosen for the built-ins and balanced with a luxurious leopard print carpet. Other glamorous touches include a gorgeous crystal and hemp chandelier, sparkling drawer hardware, an upholstered fabric wall behind the glass shoe shelves and a custom-made full-length mirror.
If you love the color but don't necessarily want it front and center in your own home, consider painting a walk-in closet or dressing area teal. In this example, the owner went super glam and decked out the space with a large full-length mirror, an animal-print rug and a sweet pink bench. This shows how versatile teal is, as it can easily be dressed up or down.
Bring It Into Your Kids' Room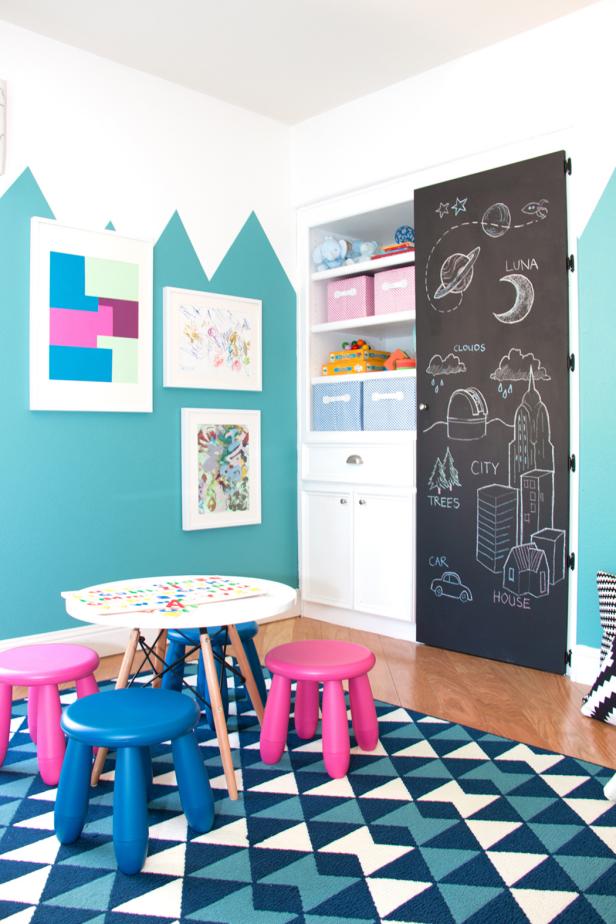 Contemporary Playroom Features Kids Table, Graphic Blue Rug & Chalkboard Door
Your child can pretend to be a mountaineer in this playroom painted with peaks and valleys. Shelves provide ample space for organizing toys and books, and a table with small stools is the perfect spot for kids to create art or do puzzles. A door covered with chalkboard paint provides a reusable canvas, and a graphic blue rug hides the inevitable spills.
If you want to amp up the color factor in your kids' room or playroom, teal would also be a great option. It's versatile enough to work well for either a girl or a boy's room, and pairs well with so many other colors. Here, we have pink, medium and dark blue, and black all working seamlessly together.
The easiest way to experiment with teal and easily bring it into your space is through decor. Pillows and throws are always great options, but there's no need to stop there. Think of other spots you can incorporate the color like on a bookshelf, an entry table, coffee table and more.
Try One Piece of Furniture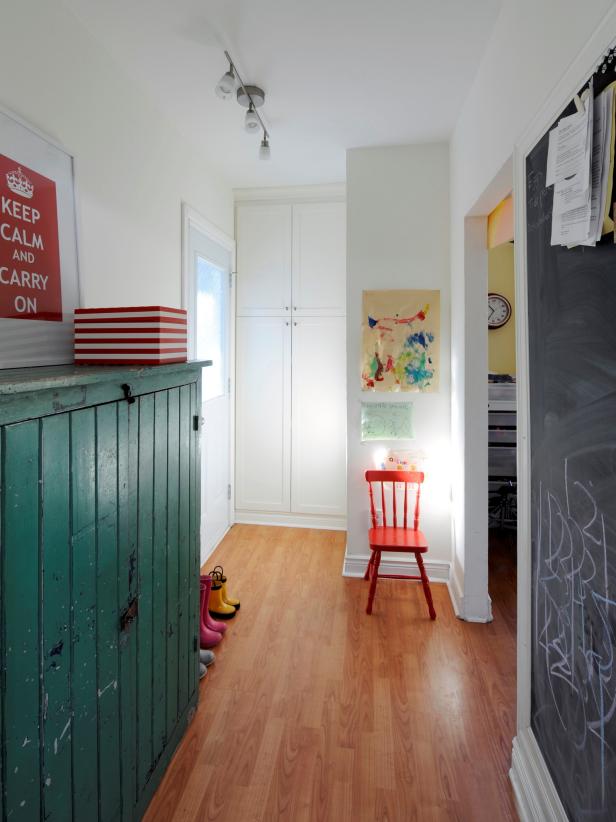 Mudroom With Antique Teal Pine Armoire
In this mudroom from Tanya Collins Design, an antique pine armoire, painted teal, boosts storage and creates a focal point that enlivens the otherwise neutral scheme. The built-in cabinets near the door, big enough to house bulky items, are painted the same shade as the walls so that they blend into the background. A framed chalkboard-paint wall serves as a central spot for memos and messages.
Another great way to get your teal training wheels going is to use one simple piece of teal furniture in a space. A great way to experiment is to take a piece that you already have, paint it teal, then try it out in your space. If you don't love the results, you can always paint it back!
For the die-hard teal lovers, using some beautiful teal tile in your bathroom can really amp up your space. If you love the look of the tile but don't have a bathroom that needs updating, this would work just as well in a kitchen, too.
If you're unsure exactly what shade of teal paint to use, buy smaller samples of several colors and test them out in your space.
If you're feeling anxious about bringing in a lot of teal at once, start off with a few pieces of decor. After you've lived with that for awhile, you may decide you'd like to bring in some more.
Take a look around your closet: do you notice lots of blues and teals already in there? If so, that's a good sign that you are going to love the look of the color in your home.
Artwork is another great way to test out the color in your home. Choose a piece of art with lots of teal in it, hang it in your space and see how it makes you feel.
Remember, you can always change your mind! If you've been itching to experiment with a bold color like teal for a while but have been afraid to try, just go for it! You can always go back and edit as needed.