6 Easy Design Tips for Renters You Can Actually Afford
It's really possible to customize your rental space without a trust fund or lottery win. Here's how.
Living in a rental is convenient; you have an on-call maintenance staff, landscaping is handled, amenities are included and, if you're lucky, water isn't an additional expense. I currently rent a downtown loft, and since it's in a historic building, my restrictions are a bit different. It's difficult to make a "house" a home when you're limited in what you can change. What if you despise the paint color but can't paint? There are plenty of ways to make a temporary space, whether it's an apartment or dorm room, feel settled.
Up-and-coming interior designers Allison Hennessy and Nick Olsen share their top tips for making a rental feel more homey, while still getting back your deposit in the end.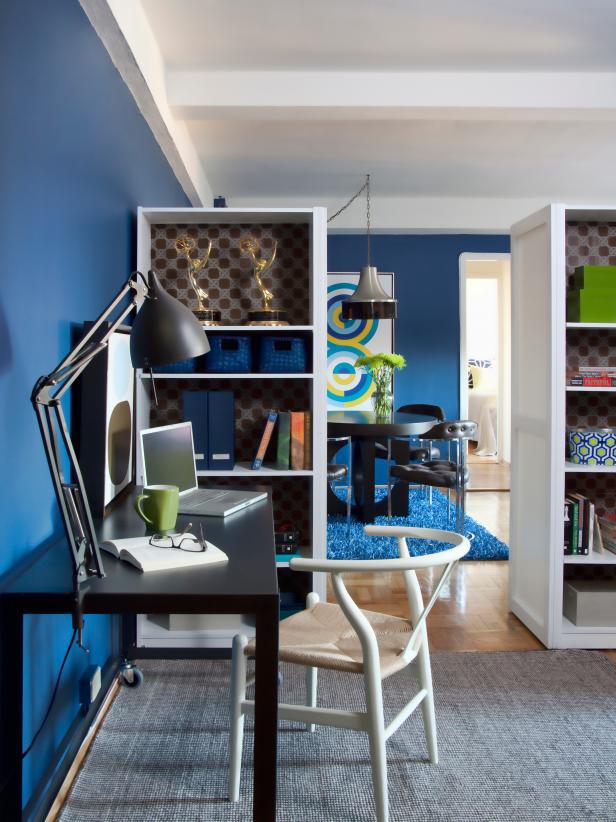 Overview of Multipurpose Room in Peacock Blue
To give the open space just off the entry a purpose, yet keep the center of the area open for traffic flow in and out of this apartment, two pairs of ready-made bookshelves purchased from an office supply store were placed back-to-back to act as room dividers. On one side, a private office is separated from the formal dining space and family room on the other side. The apartment's walls were painted peacock blue, which helps the walls recede so that accents of white and apple green stand out.
Photographer: Christina Wedge
While some apartments come equipped with beautiful built-ins, others can be more lifeless. Olsen says: "To add intrigue and make the space feel like it was built just for you, add your own built-ins without damaging walls." One way to do this, he advises, is by adding two tall bookshelves that reach to nearly the top of the ceiling on either side of a doorway. To make them pop, try painting them in a bold color, such as high-gloss black, burnt orange or Pantone's 2013 Color of the Year, emerald green.
"The simplest and least expensive way to enhance your rental's architecture (or lack of) is by revamping the walls," says Hennesey. One way to make over rental walls is with peel-and-stick wall art.
"As the wall decor isn't permanent, it provides an opportunity to go bold. I particularly like stripes, especially for a foyer or hallway."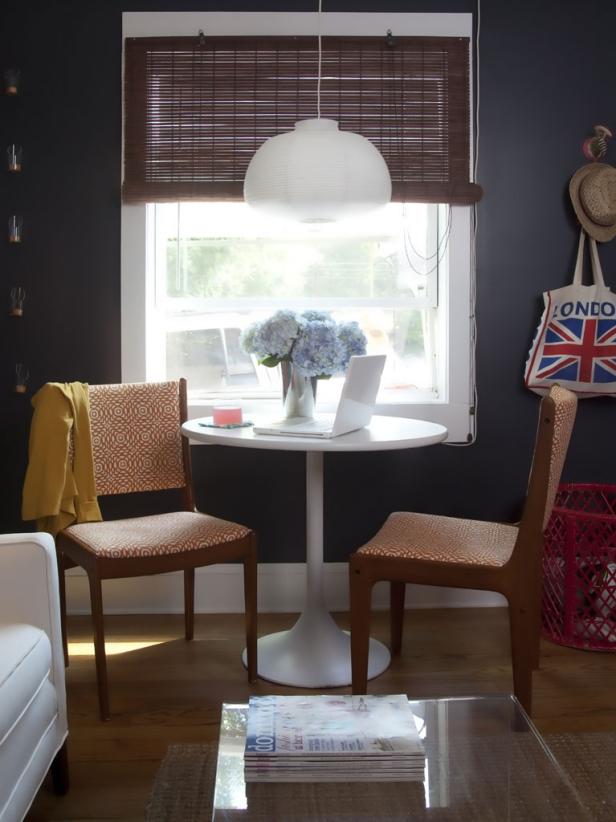 Navy Contemporary Dining Area With White Pedestal Table
Since Kristen likes to watch TV during dinner, it was important she squeeze some dining space into the living room. "I only had about four feet of width to sneak in dining furniture," she explains. "Finding a table to fit the space perfectly was impossible. By purchasing two different flea market tables — one with the perfect top and another with the perfect base — it allowed me to combine the two and create something custom." To create a uniform look, Kristin spray-painted the newly assembled pieces with a high gloss white.
"Most rentals have dreadful, cheap ceiling lights and fans," says Hennesey. She suggests updating these eyesores with inexpensive landlord-friendly fixes. "Swap out current fixtures with new pendants or lampshades that complement your decor. When it's time to move you can easily put back the old fixture and take the new one with you." Additionally, try hanging plug-in wall sconces in hallways or above sofas.
Choose Transitional Items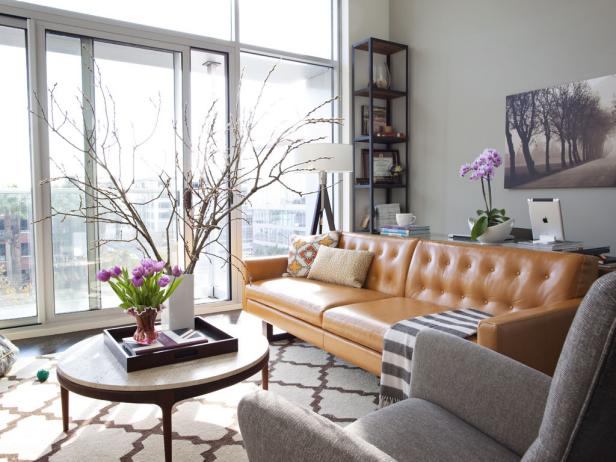 Gray Contemporary Living Room With Orange Leather Sofa
When Erin first moved into her loft, it was packed with clunky furniture and had orange walls that made the space feel busy. In order to make the space open, airy and serene, she came up with clever storage solutions that keep everything well organized and clutter free.
As apartments often provide little space to fill with all of your favorite items, make sure to be particular with the furnishings and accessories you do have in each room. Hennessey says: "Chic Europeans live with less things but they are all very fine. I've adopted this approach in my own life. I live in a small apartment in my favorite neighborhood that doesn't require a lot of furniture, but all the items I have, I love."
To get this look, first get rid of any items that have lost their purpose or are no longer in style. Then, invest in pieces that can easily transition to the next apartment, such as neutral upholstery, chairs, end tables, beautiful bed linens, lamps and art. Olsen agrees: "Even if you're not locked into your current apartment, invest in great items that finish off a room and make it feel cozy, such as area rugs and curtains. When you move you can always cut the rug down if it doesn't fit in the next space. For the curtains, if your next rental's ceilings are shorter you can let in the hem or if ceilings are higher, you can simply let it out. Don't shy away from these details that make a place feel settled into and a real home."
Double the Square Footage
To create architectural interest and to seemingly double the size of the room and welcome more light, add a large leaning mirror to one wall. Find a mirror that's nearly half the size of the wall or place a few medium-size mirrors side by side to visually enlarge the space. Try positioning it or them across from a window that receives natural light so it can be reflected back into the room. If, like some apartments, you don't have a window in a room, Olsen advises to, "add a large-scale oil painting, even in a small space. The painting will bring light and vibrancy into the room."
Contemporary Dining Room With Dark Wood Table and Blue Shag Carpet
A dark wood dining room table with a 42-inch round top allows Matt and Jodi to seat four to six people for meals. Round tables in small spaces are the best solution since there are no hard corners to crowd space needed for chairs. To ground the area and delineate it from the family room and office zones, a shag rug in the same shade of peacock blue was centered in the space.
By incorporating these tips, you'll find that you don't need a mortgage to feel like you really have a home.
Looking for more temporary fixes and small-space inspiration?