Do's + Don'ts of Designer-Worthy Window Treatments
Styling your windows doesn't have to be a pane.
Each time I move into a new apartment, the very first thing I do is hang curtains in the living room. A good set of drapes adds color and warmth and makes the empty space feel instantly like home.
It's a no-brainer that a well-dressed window can make or break a room's aesthetic, but if you don't know the basics, then styling your windows can be a huge challenge. But it doesn't have to be! Follow these simple design rules to turn those boring windows into showstopping focal points.
DO: Hang Curtains High and Wide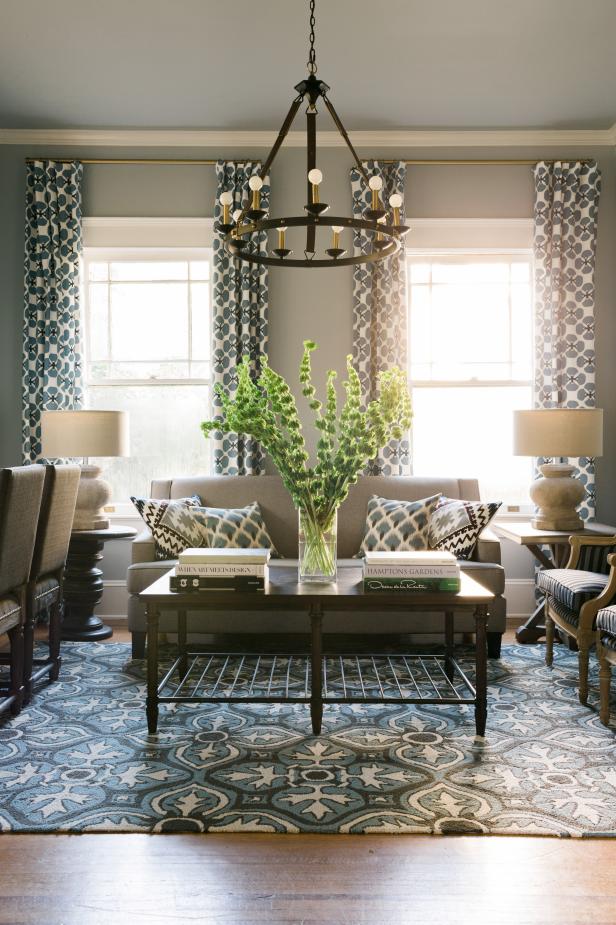 Multipurpose Family Room With Coffee Table and Chandelier
While limited in space, this multipurpose room feels large and layered thanks to a careful selection of double-duty furniture, mixed patterns and airy hues.
Make your space look bigger and more luxurious by hanging drapes at least 12 inches above the window frame or all the way to the ceiling and extending your curtain rod out three to six inches on each side.
DON'T: Hang Them Right Above the Window
Drapes that rest right above the frame not only stunt the window but let in less light, which can give the entire space a crowded look. Keep in mind that, when open, your curtains shouldn't fall more than two inches inside the frame on each side.
DO: Layer Window Treatments
Designer windows almost always sport at least two window treatments — whether it be a matchstick shade framed by drapes, wood blinds paired with a pretty Roman shade or louvered shutters topped with a chic valance. Not only does this rule find its roots in functionality (more window treatments, better insulation), but it boosts style, turning the window into a design focal point. Imagine the window above without the yellow drapes. Boring, right?
Too much of anything is usually a bad thing, and window treatments are no exception. The more fabric you put on a window, the less light will shine through and the smaller your space will look. Try a few different layering styles before you commit.
DO: Take Curtains to the Floor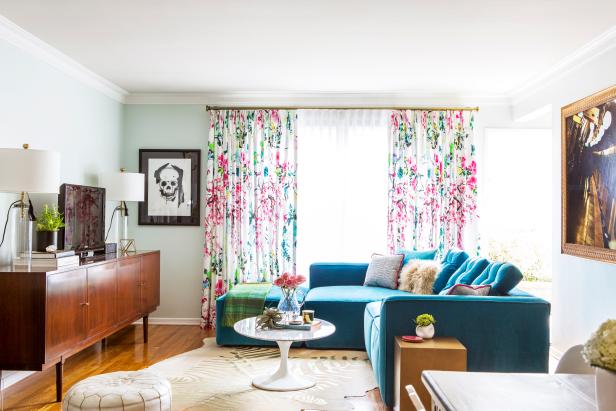 Blue Eclectic Living Room With Floral Curtains
Dramatic artwork and a long wood cabinet keep the colorful style of this eclectic living room from feeling precious. The floral curtains deliver the biggest hit of pattern; a solid blue sofa and aqua walls temper the small, busy print.
A common mistake novice decorators make is purchasing store-bought curtains without first measuring the height of the wall. For a tailored look, drapes should puddle slightly, kiss the floor or hover one half-inch above. The same goes for café curtains on a windowsill.
DON'T: Stop at the Windowsill
High waters weren't cool in high school and they definitely aren't cool in your living room. Imagine the window above dressed with floor-length curtains hung high and wide. It would totally transform look of the space.
DO: Opt for Wide-Slat Blinds or Shutters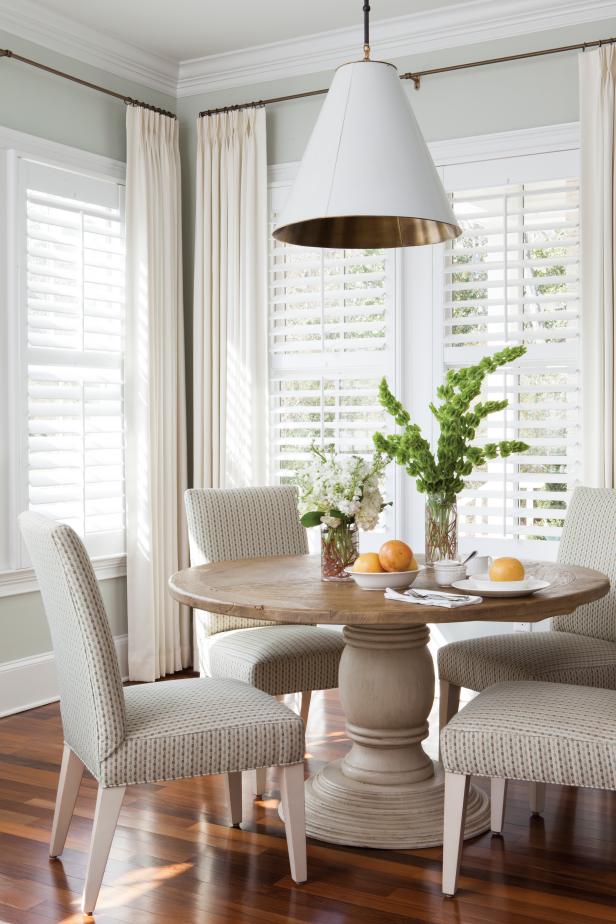 Eclectic, Neutral Breakfast Area
A round weathered table is surrounded by patterned chairs to create a cozy breakfast nook. Hardwood floors ground the space, while simple white curtains and blinds dress the windows.
A good window treatment adds style. But a great window treatment becomes part of your home's architecture. When choosing blinds or indoor shutters, splurge for wood or faux wood varieties with wide slats. These upscale treatments may cost more up front, but they can actually increase the value of your home in the long run.
DON'T: Skimp Out on Good Blinds
This kitten might look cute now, but cuteness doesn't cover the cost of new blinds. Plastic budget blinds break and discolor easily, and they detract from the overall attractiveness of your space.
DO: Use Different Treatments in Each Room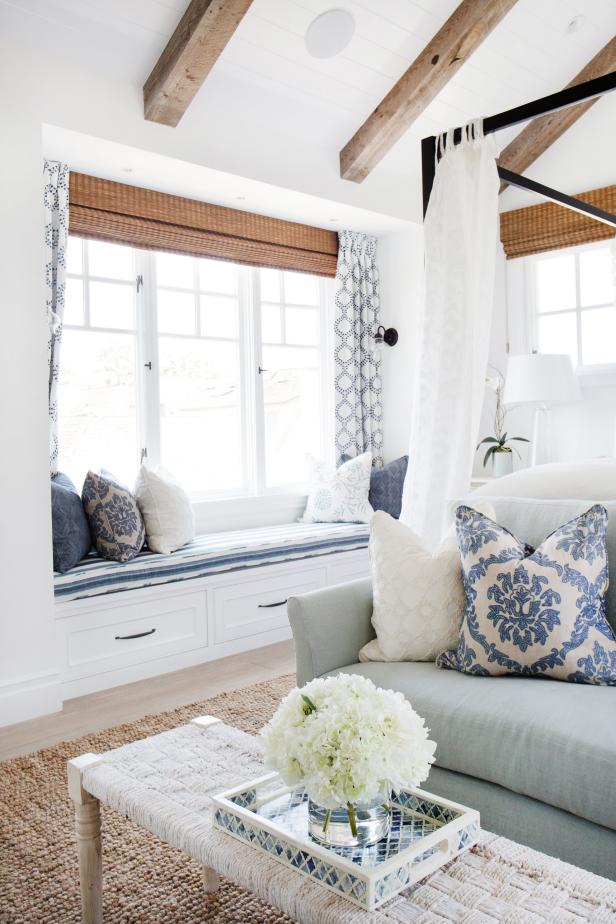 Window Seat Showcases Fun Variety of Patterns
A cushioned window seat provides the perfect spot to enjoy the view in this sea-inspired master bedroom. Adorned with throw pillows and flanked with curtains, the cozy seating area displays a fun assortment of patterns.
Your home tells a story, and every room represents a unique piece of that story. You wouldn't put a bed in the kitchen, so why would you put café curtains in the bedroom?
DON'T: Assume One Size Fits All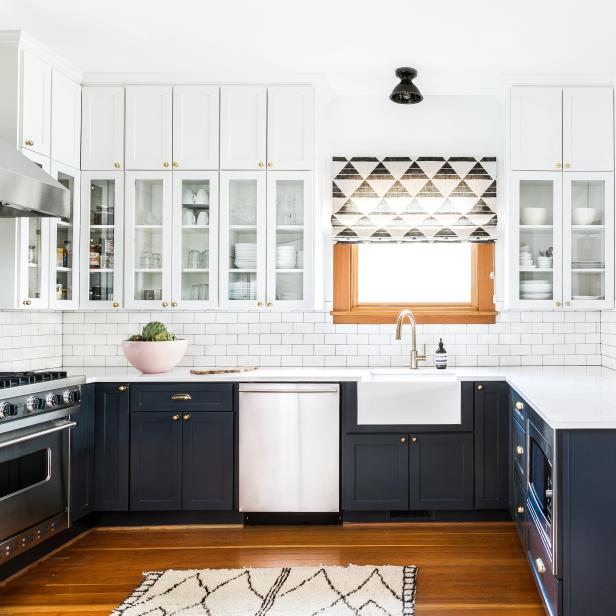 White Contemporary Kitchen With Graphic Shade
Worked with the family to bring light and life to this previously dark and dingy space. Family friendly materials were used throughout and thoughtful consideration for practical storage was important. The kitchen was dated prior to starting the project. We added a row of cabinetry up top to heighten the ceilings and make the space feel larger. We painted the upper cabinets the same color as the wall to create unity and the lowers a nice dark grey for contrast and a more modern feel. New fixtures in brass and a great roman shade complete the kitchen. We worked on the adjoining spaces with a restrained color palette and interesting texture and pattern.
While the rules mentioned above are good to keep in mind when dressing most windows, they aren't hard and fast. Trust your instinct when styling small or tricky spots and remember that, ultimately, a window treatment is meant to treat light, noise or temperature based on the needs of the space.