5 Designer Secrets That Will Help Open Your Home to the Outdoors
Architects Mary Andrulaitis and Dave Mendro reveal unexpected and effective ways to make your home feel like one with the landscape.
When you open your home to the outdoors, you begin to see and experience life differently. Suddenly your floor plan seems larger and more open, you enjoy more natural light and you somehow feel more intimately connected to your surroundings. It's a small change in perception that significantly enhances your reality.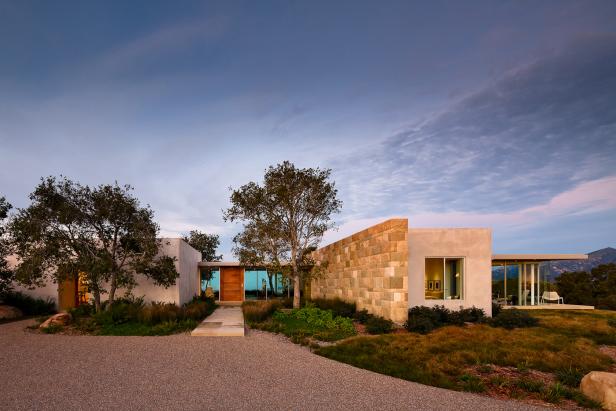 Luxury Modern Style Home's Front Entrance
Boasting tons of refined elegance this luxury modern style ranch home features glass walls that look out on to sea views, along with meticulous stonework and landscaping.
Santa Barbara-based architects and HGTV Designers of the Month Mary Andrulaitis and Dave Mendro know that indoor-outdoor experiences are important, especially to homes in California. That's why each of their designs is artfully integrated with the landscape, featuring covered patios, infinity pools and zen gardens that allow their clients to enjoy the coastal climate.
"That's what draws many of us to live, work and play here," says Dave, Partner of NMA Architects with Mary. "So creating homes for indoor-outdoor living is not only natural, but also essential to what we do."
Modern Style Home's Glass Enclosed Hallway And Stone Outdoor Space
Taking its cue from the beautiful surroundings this modern luxury home does not disappoint even when it comes to a simple hallway. This glass enclosed hall opens out to both the home's elegant foothill views as well as a lushly landscaped back terrace depending on how you wish to enjoy your time outdoors.
But there's more to forging that indoor-outdoor connection than simply putting up walls of windows. Here are a few thoughtful, NMA-approved ways to open your home and make it feel like one with the landscape.
While not every home is designed with indoor-outdoor living in mind, the architects agree that you can build this relationship by creating outdoor areas that are an extension of interior spaces.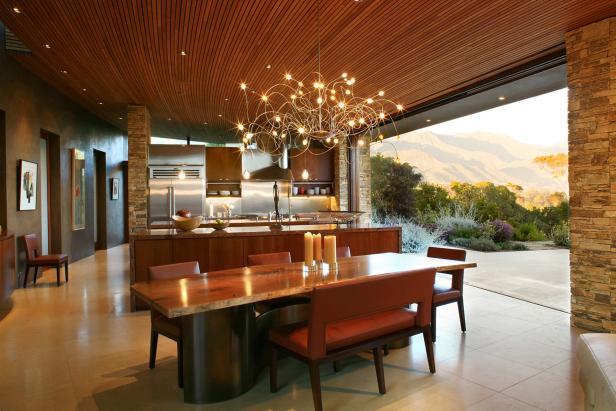 Open Concept Contemporary Dining Room With Mountain View
The only trouble about this spectacular dining room? Keeping conversation going with that view just outside.
"An outdoor barbeque area that's easily accessible from the kitchen, for example, or a private garden off a small bathroom, can do so much to expand your space and increase its functionality," says Dave.
To visually reinforce that connection, Mary and Dave suggest using the same flooring in both spaces. Instead of outfitting your bedroom with hardwood and your patio with flagstone, give them an indentical finish using a durable material, like polished and sealed concrete.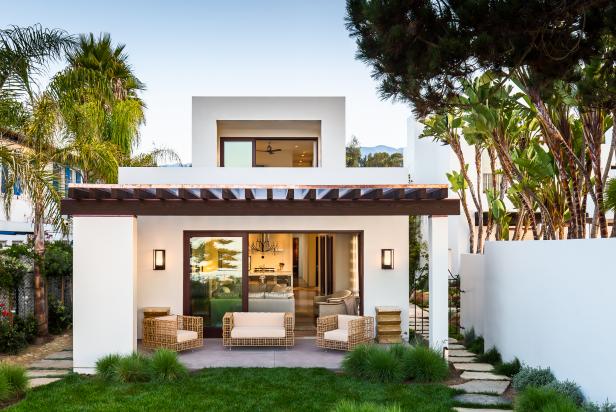 Guest House With Privacy
When designing this guest home, the owner's hoped to complement the main beach house while still maintaining a sense of privacy for both homes. This beautiful guest home shares an intimate walkway and garden with the main house but has it's own outdoor patio and lush green lawn.
Having the same floors across the house will enourage a sense of flow from the inside to the out. The architects note that wall and ceiling finishes often work just as well.
Sliding glass and retractable doors can help further blend the boundaries between a home's interior and exterior. Because they tuck into the walls or fold up, these features provide open access to the outdoors, which allows you to easily view and enjoy both spaces.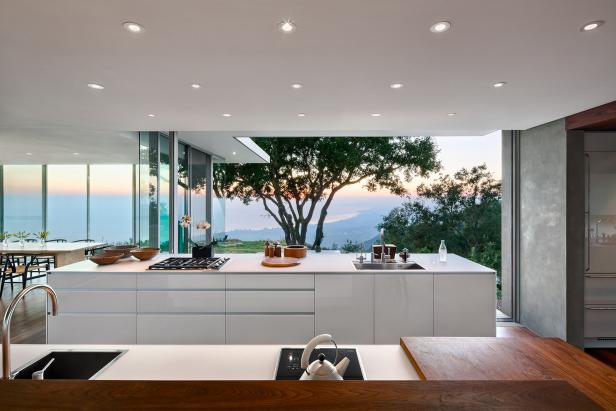 Luxury White Modern Kitchen With Stunning Views
Floor to ceiling windows bring the beauty of the outdoors in. This elegantly modern white kitchen maintains simple clean lines and allows the spectacular view to be the true focus.
"You can see how they completely slide into the wall and disappear," Dave says of the doors above. "And the kitchen itself becomes an indoor-outdoor space."
Frame Natural Focal Points
Modern Style Bathroom With Lavish Soaker Tub
Soak in style in this modern and luxurious bathroom that features hardwood floors, a luxurious soaker tub and offers views of the Carpinteria foothills.
Alternatively, you could choose a smaller approach, such as a carefully placed window. Inspired by traditional Japanese design, this technique involves focusing on a subject, such as a tree or skyline, and framing it within the window. In doing this, you'll create a vignette that naturally draws the eye outside and evokes a sense of place.
Include Features You Can Enjoy Inside + Out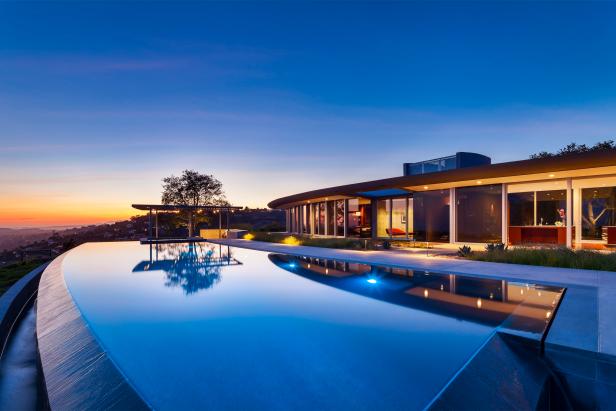 Modern Home Features Stunning Infinity Pool & Quiet Backyard Pergola
A striking infinity pool curves down to the sparkling views of Santa Barbara in the backyard of this stunning modern home. A pergola structure anchors the end of the space, creating a quiet and dream-like place to watch the sunset. A glass perimeter enhances the seamless indoor-outdoor relationship with the home.
Water features, too, can help connect your home to the outdoors. For example, a reflecting pool not only adds to the beauty of your backyard, but also produces a gentle rippling sound that you can enjoy from inside the house. In turn, that feature can be appreciated from both spaces, making the two feel united.
Austin-based architect Hugh Jefferson Randolph shares creative ways to bring more natural light into your home, no matter the architectural challenges.