Metal of the Moment: Copper
We've all heard it before, right? "Find a penny, pick it up. All day long, you'll have good luck." Well folks, the design world is catching on and picking places for pretty penny accents all over the home.
Now, do these gleaming copper accents bring good juju into a space? The jury's still out on that one. Do gleaming copper accents offer a completely divine design "it" factor in a space? Guilty as charged.
Outdoor Space with White Furniture and Sliding Glass Door
If you can't afford a new farmhouse-style table, the same look can be achieved by mixing salvaged pieces to create your own table. Find an old tabletop, then add old or new spindle legs. If you paint the table and other outdoor furniture all white, it creates a modern and sleek look, says Ili Hidalgo-Nilsson, architect and designer with Terracotta Design Build in Atlanta.
From dangling penny pendant lights, foiled French mirrors and fancy faucets galore, copper is taking over every room in the house and I could not love it more.
Here are five copper-covered dreams that we can all learn from. And by that, of course, what I actually mean is: "Here are five copper spaces that we can drool-in-excess over." You're welcome.
We're seeing fancy farmhouse faucets, penny pulls in the pantry and stove hood vents in this shiny rose finish. I'm partial to all three of those penny picks, but my personal favorite way to incorporate copper into the cook space? A set of ultra-polished copper pots and pans out in the open — on full display. So pretty and completely timeless.
Whether you dangle them above an island, secure them on a wall or situate them above your cabinets, copper cookware is guaranteed to add some serious luxe vibes to your kitchen. Added bonus — penny pots are as functional as they are pretty. That's right, folks. You can actually cook with them, and who doesn't love dual-purpose decor?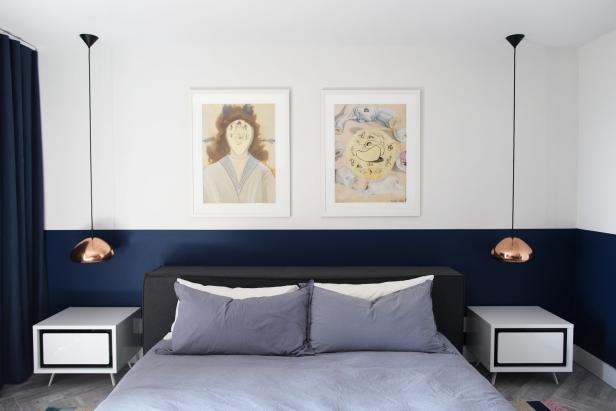 Eclectic Black and Blue Bedroom With Copper Pendants
A mix of blue and black make a handsome statement in this eclectic bedroom, where copper pendants offer bedside lighting and surrealist art decorates the wall.
Pendant light fixtures are another emerging trend right now, and they rock a copper finish like you wouldn't believe! Dangling pendant lights offer a streamlined design that illuminates every nook and cranny in your home with total ease.
Designer Caitlin McCarthy brought a shiny point of interest into this moody room with a pair of copper pendants. The contrast of the light fixtures against the navy wall is attracting me like a moth to a flame, you guys.
Striving to give your space an extra dose of style without overpowering the entire design? Add a couple of glossy candlesticks, copper-lined terrariums or a metallic pillow in the mix. Want to take the beautiful moments in your life and make them even more stunning? Stick those captured memories in a gilded copper frame and see what happens.
Incorporating copper accents into your home is easy, because this gorgeous metallic plays well with others no matter the situation. A vivid and vibrant space relaxes with copper, whereas blacks and navies are enlivened by the shine of copper. Even better —copper complements neutral whites, greys and beige spaces with confidence and ease.
Copper has a completely understated elegance that simply enhances its surroundings without distracting from the beauty around it. Win, win and win.
Copper is a total hot commodity in the hardware department right now. People are living for a reflective, rosy sink and I am no exception. I never knew I could lust after a sink until I saw this copper beauty used by the beloved Joanna Gaines.
Can we take a moment to take in how unreal this sink looks with that marble? Have you seen anything quite like this? I'll just leave you to let it all ~sink in~. (LOL)
I accredit the revival of copper to the trendiest beverage of 2016: the Moscow Mule. In recent months, copper has surpassed its humble beginnings of ginger beer cocktails and has managed to saturate every last inch of the barware family.
We went from copper-clad mugs to martini glasses, glorious gilded corkscrews and rosy decanters. There are so many ways to incorporate copper into your libation station, each as gorgeous as the next.