8 Design Lessons I Learned From Zoolander 2
From fashionable fabrics to "blue steel," Derek Zoolander taught me more than I thought about design.
Non-stop laughs, former models, saving beautiful pop stars — this doesn't exactly seem like the typical formula for great design advice. But believe it or not, we realized that Zoolander 2 can actually teach us quite a bit about home decor, fashion and so much more.
Photo: Brian Ach/Getty Images | Graphic: Erica Reitman
Ben Stiller, Will Ferrell, Owen Wilson and Penelope Cruz star in this long-awaited sequel, and I've soaked up all their hilarity and translated it into some bite-sized design takeaways for you.
Embrace Your Passion for Fashion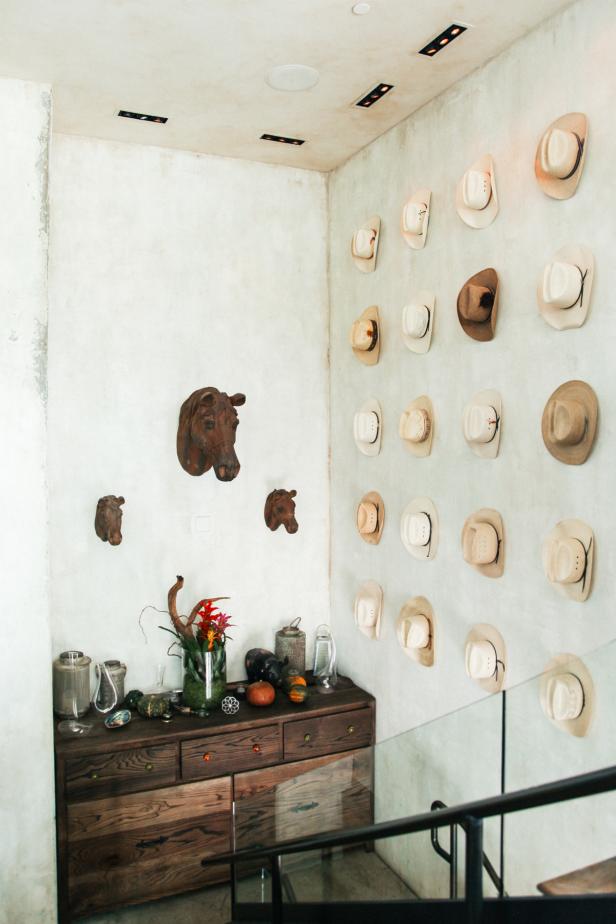 Bracero Hat Display
This installation of vintage Bracero hats hangs in the stairway between the first and second floor of a Mexican-inspired restaurant. The display, paired with a rustic wood dresser and mounted metal horse heads, creates an overwhelming sense of authenticity.
If you, like Derek Zoolander, can't get enough when it comes to fashion — don't fight it. Use your home as a place to show off your favorite collections, like this gorgeous hat display. You can get creative with this idea and show off all sorts of collections: think vintage purses, sunglasses, scarves or even vintage jewelry collections.
"Blue Steel" Is Where It's At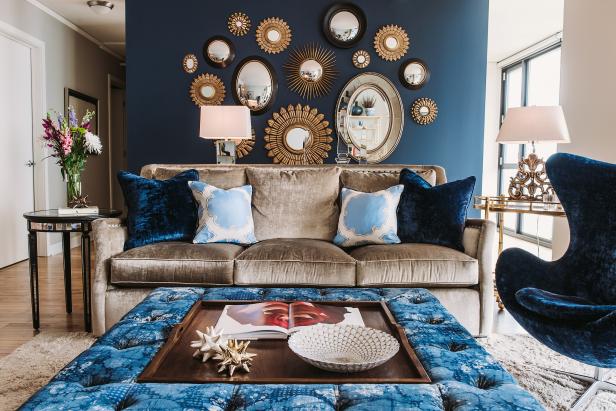 Eclectic Blue Living Room With Velvet Sofa and Chair
Designer SuzAnn Kletzien used striking and harmonious patterns throughout this eclectic blue living room, including neutral and dark navy velvets, subtle gold and blue stripes and a mineral-inspired pattern. A rich blue velvet fabric with a floral pattern was used to cover the custom-made ottoman, complete with a removable wood serving tray.
Zoolander is famous for perfecting his trademark "blue steel" pose. Get inspired by the blue steel color scheme, and try incorporating some of these hues into your home. This chic living room seamlessly combines blues, grays and metallics to create a beautifully pulled-together space.
When It Comes to Color, Go Bright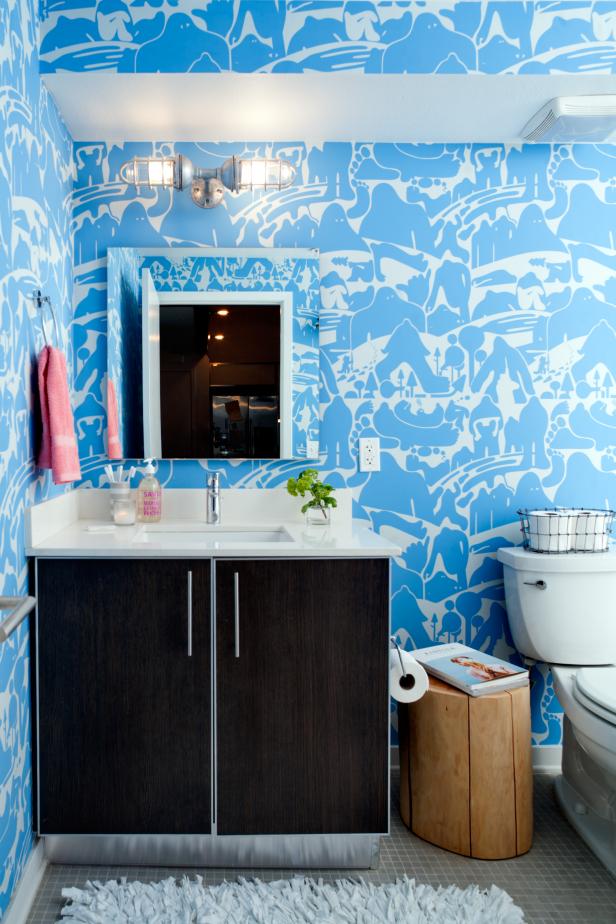 Eclectic Powder Room With Bright Blue Wallpaper
This powder room gets a lively dose of color from a vibrant blue and white patterned wallpaper. A dark brown vanity with a white countertop and metallic accents adds a sleek touch to the space.
Fashion and color truly go hand-in-hand. While color trends change year-to-year, you can almost always count on bright hues to show up on the runways. This light-filled blue and black bathroom manages to pull off the perfect combination of bold and bright. Small spaces (like a guest bathroom, closet or a petite guest bedroom) are a great placr to experiment with color or pattern if you want to try going bright.
Bring Street Style to Your Space
Tea Bar Features Black, Gray and White Design by Graffiti Artist
Rather than use wallpaper to achieve a patterned effect in this San Diego tea and juice bar, designer Corrine Maggio hired a graffiti artist to paint a black-and-charcoal design and tag the wall with the bar's name.
Graffiti art has always been associated with fashion and style and is a great way to bring in some edge to your space. You might want to hire an actual graffiti artist and paint a phrase that is particularly meaningful to your or your family. Or for an easier dive into the graffiti look, consider using a piece of art.
Get Inspired By Fashionable Fabrics
Fashion designers often experiment with unique fabrics and patterns. Try bringing some of this look into your space by using patterned wallpaper. If you're nervous about wallpapering an entire room, try using wallpaper on a single accent wall. Or if you'd rather keep the patterns a bit more undercover, you can even cut pieces of wallpaper to size and use them as drawer liners.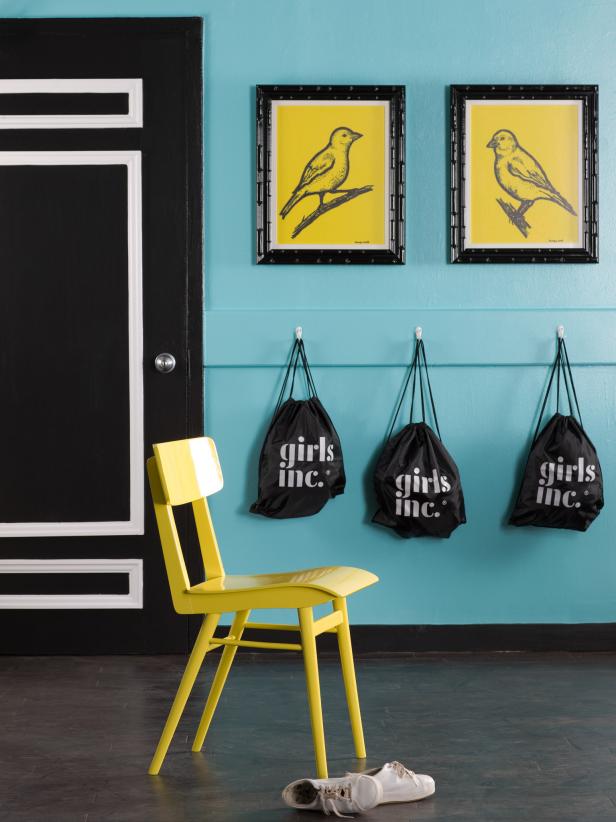 BPF_original_colors_blue-wall-yellow-chair_v
YELLOW - No color epitomizes cheerfulness and high-energy as much as yellow. Stronger shades such as canary yellow are extremely attention-getting which is why the color is used for traffic signs or in advertisements. Although associated with positivity and sunshine, it's also the most optically straining due to how much light it reflects and it's been known to encourage babies to cry. That being said, yellow works best when used in small amounts.
Derek Zoolander is quite a big fan of the Kylie Jenner-perfected duck lips pose. If you're guilty of using this look in some of your own selfies, we promise not to judge. But you may as well go all in and embrace some bird-themed decor in your space, too. You can go for ducks if you'd like, but we also support the more liberal interpretation.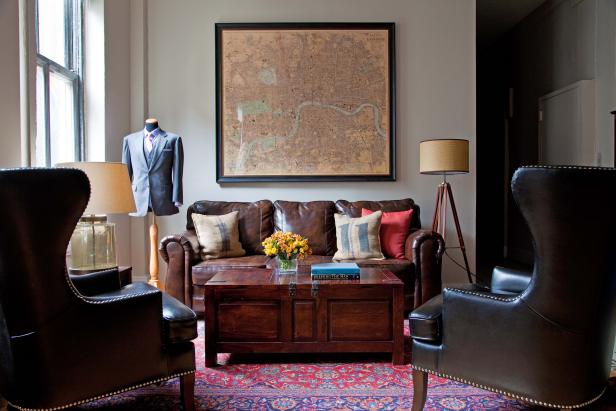 Vintage Tailor Shop is Masculine, Comfortable
A bespoke tailor shop with throwbacks of vintage is the quintessential place to shop a modern market of men's suiting. The lounge area is full of leather furniture, distressed wood furniture and a cool vintage map, creating the perfect masculine vibe for the shop.
You'll see some truly unforgettable suits in Zoolander 2. These suits are so fabulous and trendy, they were a great reminder that you can actually use fashion as decor or art in your own home. A vintage mannequin or valet stand is a great option for displaying your favorite suits. This will also allow you to switch up your displays based on season or color (in case you want to mix things up down the line).
Go All Out With Your Closet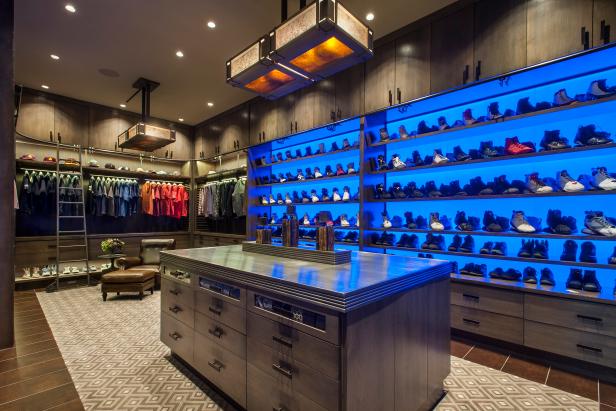 Large Neutral Masculine Walk-In Closet
This massive walk-in closet boasts deep masculine tones and textures. Bright blue LED panels turn an extensive shoe collection into an artful display while custom LED light closet rods illuminate color-coordinated hanging clothes.
One of the best ways to honor your fashion addiction in your home is with a completely tricked-out closet. If you want to go all out (and have the space), you might want to consider turning your closet into more of a dressing room. This would allow you to bring in elements such as seating, art and other small decor items that would help your closet feel more like a living or sitting room.