Creative Ways to Decorate With Branches and Leaves This Fall
Embrace a more rustic approach with your seasonal decor.
With the change of seasons, you might have noticed that you don't quite have the flower selection that you did a couple of months ago. While there are certainly various types of flowers that are available year-round (hello, roses!), we think fall is the perfect time of year to embrace a more rustic approach with branches and leaves.
Depending on what part of the country you're in, you might find some beautiful options right in your own backyard. However, you can also visit your local farmer's market, supermarket or neighborhood flower shop to pick up some interesting branches or leaves to use in your space. Here are some ideas to get you started.
Ditch Flowers for Flowering Branches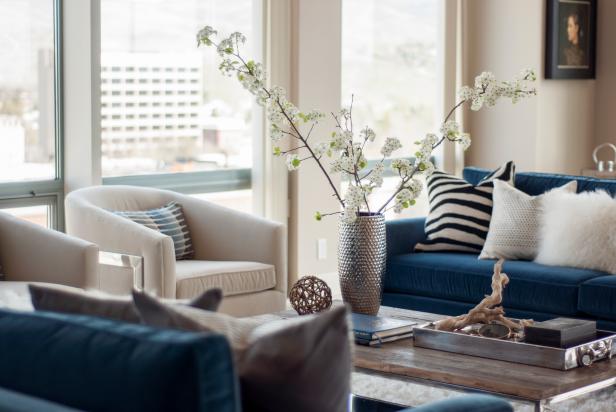 Light, Windowed Room With Blue Velvet Sofas
Light, light and more light! The designer's talent shows through here in ability to make a space that's both formal and relaxed — with aid from those amazing floor-to-ceiling windows. Soothing tones of blue and cream and a flowering branch placed just so echo the great outdoors. A flokati pillow and a zebra print pillow add some modern funk, and simple accessories bring personality without clutter.
Allison Corona Photography
The easiest transition from flowers is to move straight into flowering branches. These make for big impact arrangements and also tend to last much longer than your typical flower arrangements would.
Cherry blossoms, apple blossoms, apricot blossoms and plum tree blossoms are all hearty options along with quince. These types of flowering branches tend to require larger containers, so don't be afraid to move beyond vases that you might typically use for flower arrangements. For an especially tall arrangement, I sometimes put my container on the floor and arrange it from there.
Branches and Leaves Work Well, Too
Beyond flowering branches, there are many options for decorating with leafy branches. Oftentimes these arrangements have the added benefit of smelling amazing, which is certainly the case with eucalyptus or olive branches.
Another great thing about using branches and leaves is that you really only need one big bunch of something. So, while you might mix up a few different kinds of flowers for a typical arrangement, one big bunch of leaves will really do the trick all on its own.
Or Just Embrace the Branches Alone
In fact, you don't even need branches with leaves or flowers! Branches on their own can make for a beautiful, minimal arrangement. These branches have a few leftover flowers on them, but they illustrate the point that branches also look gorgeous all on their own in a beautiful container.
Again, remember to think big when you're putting together these types of arrangements. It's ok if they're taller than what you might be used to. If you don't have larger vases, try using pitchers, planters or taller baskets to house your arrangements.
Incorporate Branches Into Your Decor
While creating arrangements is an easy way to bring branches into your decor, think about using them as part of your holiday decorating schemes, as well.
Christmas is around the corner and these leather stockings hung from a branch are such a fun, unique take on traditional stockings.
Think Outside the Box With Centerpieces
You can also use branches, leaves and other natural decor, like rocks and gourds in centerpieces, for your holiday table.
This fresh centerpiece in a vintage dough bowl is a beautiful focal point on a Thanksgiving table. If you don't have a piece quite as large as this wooden dough bowl, think about using items such as teacups or small bowls to create smaller, individual natural arrangements for each place setting around your table. Or perhaps create a smaller arrangement that you leave on your bathroom countertop or even out on your front porch.