11 Expert Tips for a Colorful, Personality-Filled Kids Room
We asked the kids' space gurus at J&J Design Group to give a girls' room and a boys' room a virtual makeover. Get their tips to copy the look.
We asked our Facebook fans to share their biggest issues with kids room design, and your questions ranged from storage solutions to adding personality to, of course, doing it all on a budget. Then, we brought in the experts — designers Jen & Jo from J&J Design Group — to help. These ladies are known for their colorful, playful kids' spaces, like this stunning shared girls' room. (See more of their latest designs on their HGTV profile page.)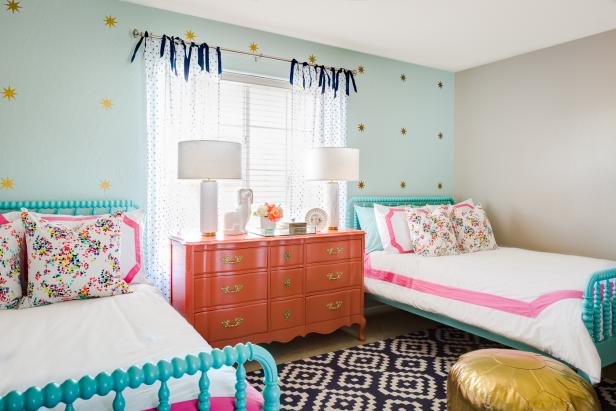 Shared Girl's Room With Aqua Accent Wall and Coral Dresser
A light aqua wall with starburst wall decor brings a beautiful and fun accent to this girl's room. The matching beds feature bright aqua bed frames and white linens with a bold pink border. A coral dresser adds even more color and a unique element to the feminine design.
John Woodcock Photography
To show their tips in action, J&J Design Group gave one HGTV reader's space a virtual makeover, and we chose Facebook fan Sandy L. She's adopting four children — two girls and two boys — ages 4,10, 8 and 9, and also fosters children. "We have four bedrooms all being utilized….we have the space, I just can't pull the look together," Sandy says. Here's a look at her boys' and girls' spaces right now:
Sandy's biggest requests: How to create storage, add color and create spaces that speak to different age groups — all on a budget, of course. Jen and Jo delivered with fun, creative designs for both rooms, and a source list so you can create the look at home!
Start with a focal point. Sometimes, all you need is one inspiration piece as the jumping off point for your design. "We fell in love with the rug and it was our inspiration for the room. It pulls in so many happy colors to play with," say Jen and Jo.
Add a colorful focal point. From there, they recommend painting the room Dunn Edwards Endive, and creating a feature wall using inexpensive gold triangle details. "That will give the room some dimension," Jen and Jo say.
Find fun bedding. Adding a duvet cover is typically more affordable than swapping out a whole comforter. "The coral bedding will pop well off the wall color and keep it girly. The polka dot sheets pull the colors out of the rug and keep it fun," Jen and Jo say. "What little girl doesn't love polka dots, right?!"
Add drapery. Want to make your windows appear large? Here's a tip from Jen and Jo: "Hang your drapery panels at least 12″ above your window and 10″ outside the window. Your draperies should lay about a 1/2″ off of your floor." Here, they've selected a clean, crisp white version that will stand out against the mint green walls — and the tassels add a fun, playful detail.
Find handmade art. "We thought it would be nice to hang a silhouette of each girl above her bed to make her space feel her own," say Jen and Jo. This gold version adds a touch of sparkle to the room.
Just add paint! "Since new furniture isn't in the budget, we thought they could paint their existing dressers either ripe pineapple or polished aqua. The wooden bed in the girls room could be painted a bright white.When it's time to upgrade the dresser, we love this one outfitted with these cute knobs!"
Nod to interests and hobbies — don't create a theme. Sandy mentioned that the boys love University of Kentucky basketball, so that was the jumping off point for this space. "For the boys room we wanted to pull some things that would work around the Kentucky University colors they seem to love so. We wanted to give a nod to basketball but not overdo it," say Jen and Jo.
Build a color palette. From the dark and light blue University of Kentucky Palette, we pulled in some greens and pops of orange. "Paint the room Dunn Edwards Muslin — it's a nice soft gray that the bright colors work well with," say Jen and Jo.
Update existing pieces. A little paint can go a long way! The designer recommend painting the room's existing furniture with Dunn Edwards Luna Pier and adding a fun handle, like these car-inspired knobs.
Then, repeat some of the same elements from the girls' room: Updated coverlets, shams, pillow cases and a basketball accent pillow.
Artwork ties it together. "We think that artwork that pulls all the colors in the room together will bring some life to the walls," say Jen and Jo.
Try a Roman shade for boys' rooms. "We selected a Roman shade for the boys' room because we feel that they are a little more masculine and less fussy" the designers say.
Thanks to Jen and Jo for an amazing design!