A Rainbow of Colorful Christmas Trees So Much Better Than the Real Thing
Bored with the traditional green Christmas tree? Embrace the rainbow with these colorful artificial alternatives.
My HGTV colleagues have elegant, classy tastes when it comes to Christmas decor. I, on the other hand, like the tackiest, most colorful displays possible to match my unrestrained love for the holiday. That includes Christmas trees: we display a real tree each year trimmed with colored lights and mismatched ornaments as well as a fake tree that's bright, bubble gum pink.
Ready to unleash the rainbow on your own Christmas decor? Here are some tips on how to incorporate colorful Christmas trees into your own home.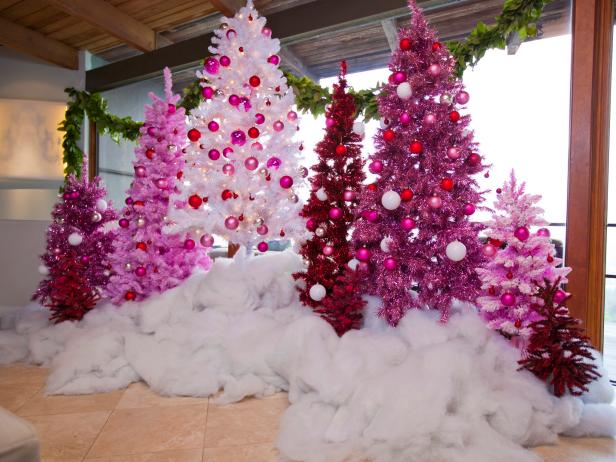 Celebrate Christmas in Shades of Pink
Cheryl Burke, dance coach extraordinaire on Dancing With the Stars, takes her sense of glamor to new heights with a collection of pink Christmas trees that adorned her home over the holidays. The look is a little bit retro, a little bit sweet, and so very Cheryl.
To introduce color without overwhelming, pick a palette of three colors to use in all your decor and stick with it. Designer Emily Henderson selected pink, white and red when decking out dancer Cheryl Burke's home. The white tree and bulbs soften the boldness of the pink while the red ties offers the palette a hit of tradition.
Burl Ives sings of seeing silver and gold on every Christmas tree, but why not make your actual Christmas tree either silver or gold? Metallics are a perfect vehicle for whatever your taste in trimmings is. You can stick to elegant, traditional ornaments for a timeless look or go full-on retro, taking the style back to its original midcentury days of popularity.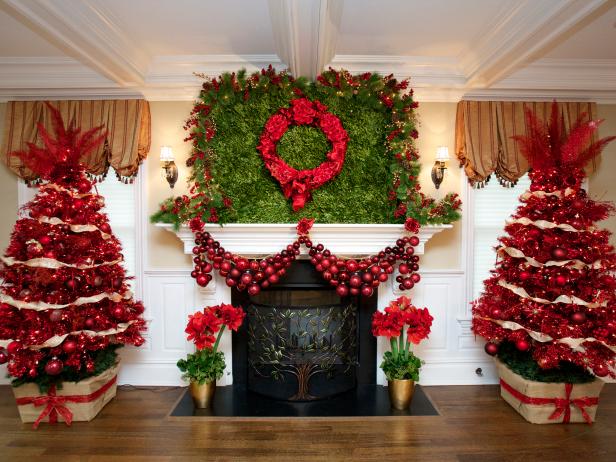 Tiki Barber's Festive Red Christmas Trees and Fireplace Mantel
HGTV's Celebrity Holiday Homes designer Robin Baron transforms the home of ex-NFL star and CBS sports radio host Tiki Barber into a holiday wonderland, featuring two red Christmas trees flanking the fireplace with a boxwood panel over the TV with wreath of red glitter roses.
Anders Krusberg; 2013, HGTV/Scripps Networks, LLC. All Rights Reserved.
Sometimes it only takes using traditional colors in unexpected ways to create a bold effect in design. Designer Robin Baron flipped a green-and-red palette on its head when she brought in a pair of red trees to former NFL star Tiki Barber's home, trimmed them with red ornaments and topped them with big red feathers.
Were you a fan of Pantone's 2016 color(s) of the year selections, Rose Quartz and Serenity? Forget all Christmas color convention and embrace what's current instead. Look to the runway, magazines, the silver screen and color forecasting reports for fresh inspiration on how to create the tree that none of your friends or neighbors can top.
When you opt for a brightly colored tree, sometimes it's best to adorn it with simple white lights as designer Jamie Herzlinger did for this colorful tree display in former NFL star Kurt Warner's home. Ornaments and trimmings can introduce enough extra details to make the look feel like overkill, and a boldly colored tree can easily stand on its own without feeling bare.
Just as it is for everyday design, white is one of the most versatle color choices you can make for Christmas decor. A white tree is somewhat unexpected by virtue of not being green, and a white tree creates a clean backdrop for any kind or color of decor you want. You can keep the tree feeling somewhat traditional with red and green trimmings or you can follow the leads of Brian Patrick Flynn, Hannah Flora Villio and Laurie March and choose colors like purple, pink, blue and neon green for something completely different.