Coldplay or Beyonce and Bruno: Whose Super Bowl 50 Halftime Look Stole the Show?
Coldplay's dreamy display of color or Beyonce and Bruno Mars's bewitching black and gold? Dive deeper into the looks of Super Bowl 50's two halftime acts and decide which one would steal the show in your own home.
When it was announced that Coldplay would team up with Beyonce and Bruno Mars for the Super Bowl 50 halftime show, I immediately wondered how the show would blend the wildly different styles of the performers – and I don't just mean their musical stylings.
About halfway through halftime it became clear that there wouldn't be any blending of the performers' visual styles. Chris Martin and Coldplay performed against a colorful display of peace, love and happiness, while the Bruno/Beyonce sing- and dance-off was decked out in an edgy wardrobe of black with gold bling.
These looks are as powerful as they are polarizing, and both can translate well to home design. So are you Team Colorful Coldplay or Team Bold Bru-Bey? Let's review:
Coldplay started the show on a stage with an ever-changing kaledoscope-style display. Fans in the stands held up colorful banners to create a rainboweque backdrop, and dancers on the field twirled colorful umbrella-like flowers. The look matched the band's ethereal sound and is a nod to the vibrant cover on Coldplay's new album, A Head Full of Dreams. So what does that look like when you bring it home?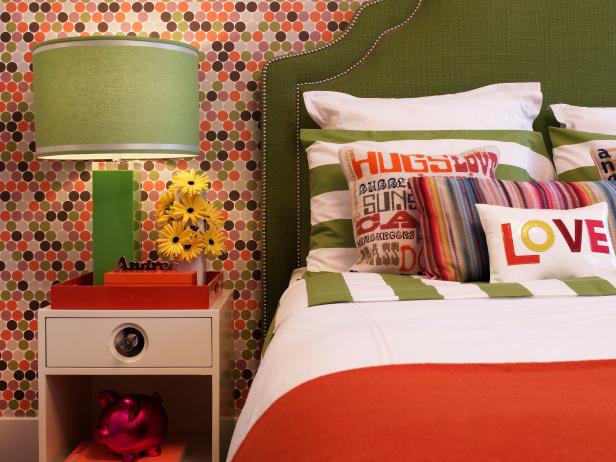 Multicolored Bedroom with Green Headboard
Multicolored honeycomb-patterned wallpaper and green-and-white striped bedding give a geometric feel to this cheerful bedroom space. A collection of rainbow-hued accent pillows merrily adds to the mix.
Design by: Deborah Wecselman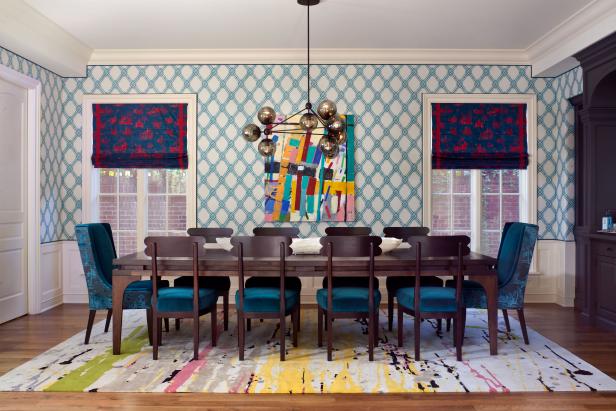 Blue Contemporary Dining Room With Blue Chairs
Fill a space with pieces and patterns you love, even if they seem wildly different. Keeping one or two similar colors between them will help to pull the look together.
Design by: Andrea Schumacher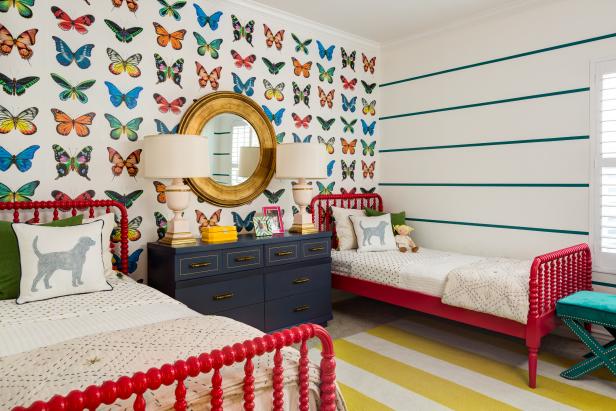 Colorful Girl's Bedroom With Butterfly Applique Accent Wall
A full wall of butterflies is a beautiful, feminine accent wall that draws you into this colorful girl's room. Two red-framed twin beds are separated by a navy dresser with matching table lamps. A white and yellow striped rug covers the majority of the floor space.
John Woodcock Photography
Design by: J&J Design Group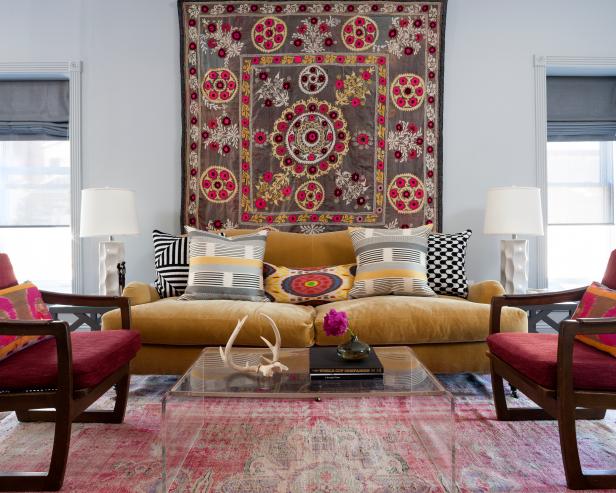 Eclectic Living Room With Mustard Yellow Sofa, Patterned Wall Tapestry and Mixed Decorative Throw Pillows
A gorgeous wall tapestry featuring fuchsia and burgundy flowers sets a colorful backdrop for the mix of patterns and rich hues in this eclectic living room. A mustard yellow sofa is decorated with a collection of throw pillows. A pair of chairs with deep red cushions surround a clear coffee table over the faded rug.
Design by: Breeze Giannasio
Beyonce, Bruno Mars and their collective posse showed up midway through in smart leather gear studded with gold details to match their sharp dance moves. Flames surrounding the stage ignited, spotlights flashed and Beyonce carried a bedazzled gold microphone as she belted out her new song, "Formation." Check out these rooms that are fit for a Queen Bey: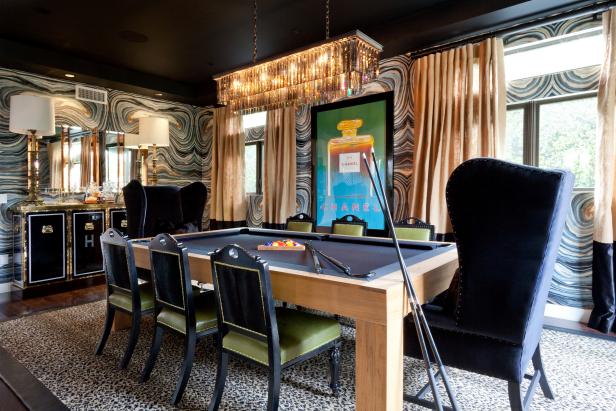 Eclectic Masculine Dining Room With Pool Table
Wallpaper featuring a swirl and circular design adds drama to the intriguing style of this unique space. A black felt pool table is surrounded with chairs allowing it to second as a dining or sitting space. Upholstery from the side chairs adds a pop of green color to the neutral and black design, while large black wingback chairs are statement pieces capping off the table. An animal print rug anchors the eclectic space.
Design by: Kelly Sutton Design
Jason Kisner; Design by Steven Miller, 2014, Scripps Networks, LLC. All Rights Reserved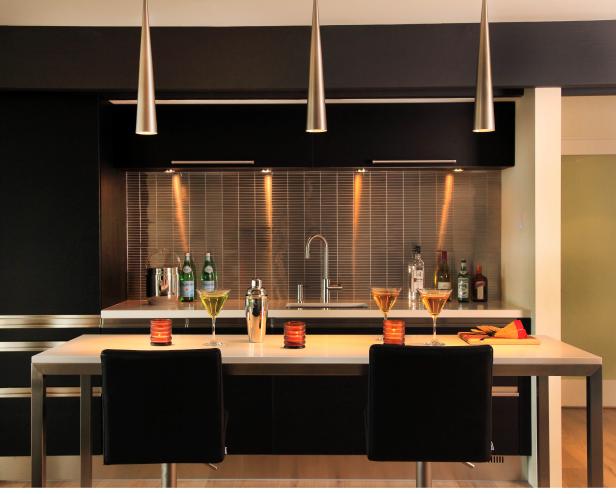 Black-and-White Contemporary Basement Kitchenette
The basement kitchenette uses a black-and-white color palette combined with stainless steel to create a chic, contemporary design. A trio of pendant lights hangs above a sleek bar-height table and black barstools, while a stainless steel backsplash provides a chic setting for the sink and cabinet area.