Forget Basic Beige — Give Bold Bathroom Colors a Shot
It's time to stop playing it safe!
When it comes to decorating a home, bathrooms aren't usually the top priority. They frequently end up forgotten all together, or put on the back burner while more high profile rooms — bedrooms, living rooms, kitchens, etc. — get all the attention. So most bathrooms are relegated to a life of beige walls and half-hearted designs.
But why? We spend a considerable amount of time in our bathrooms, and their small size makes them a breeze to update. All you really need to transform the space is a pop of color on the walls — but no, I'm not talking about painting those beige walls off-white or ivory, I'm talking about something a little more daring. Read on for 8 bold bathroom color ideas to try this year.
Unapologetically girly, fun and bright...what's not to love?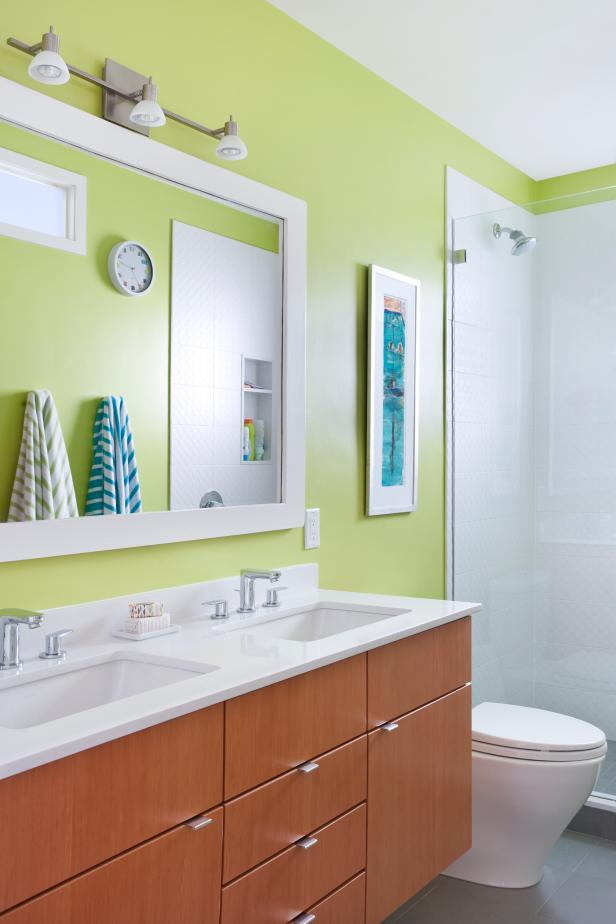 Green Contemporary Bathroom With Striped Towels
Lime green walls bring a beachy, fresh feel to this double-vanity bathroom. Striped towels on hooks tie in with the casual, friendly mood.
If you're looking to add a relaxing summery shade to your home, look no further.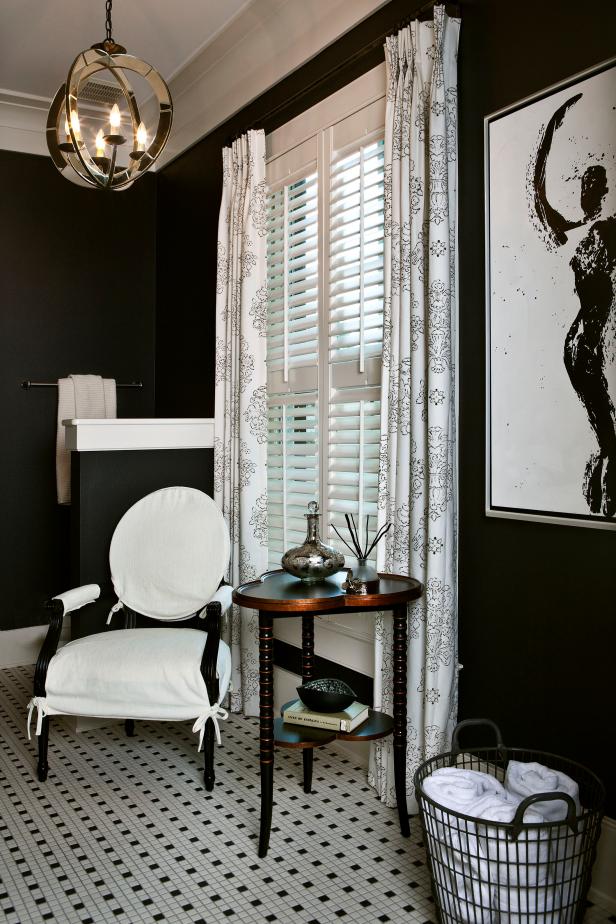 Classic Black Bathroom with Chair
Black doesn't have to be used sparingly. Although it's dark, it can often be used in the same way as a neutral but with a more dramatic flair. This classic bathroom is timeless and beautiful.
Nothing makes a statement quite like jet black walls, especially when paired with classic white accessories.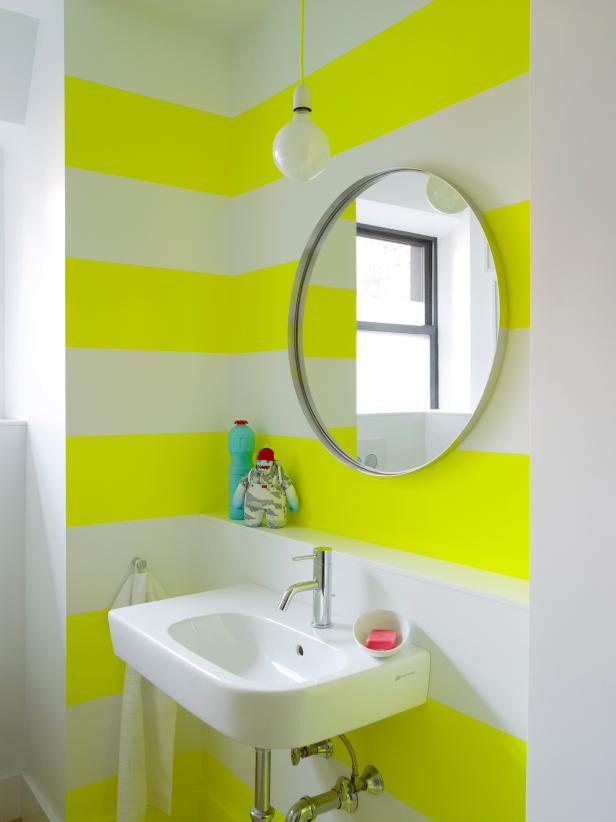 Neon Stripes Energize Small Bathroom
In the bathroom, neon stripes invigorate the simple fixtures and pared-down accessories. A narrow ledge offers much-needed shelf space behind the mounted sink.
Ghislaine Viñas Interior Design
This highlighter-inspired shade is not for the faint of heart — but it's perfect if you're craving a truly daring design scheme.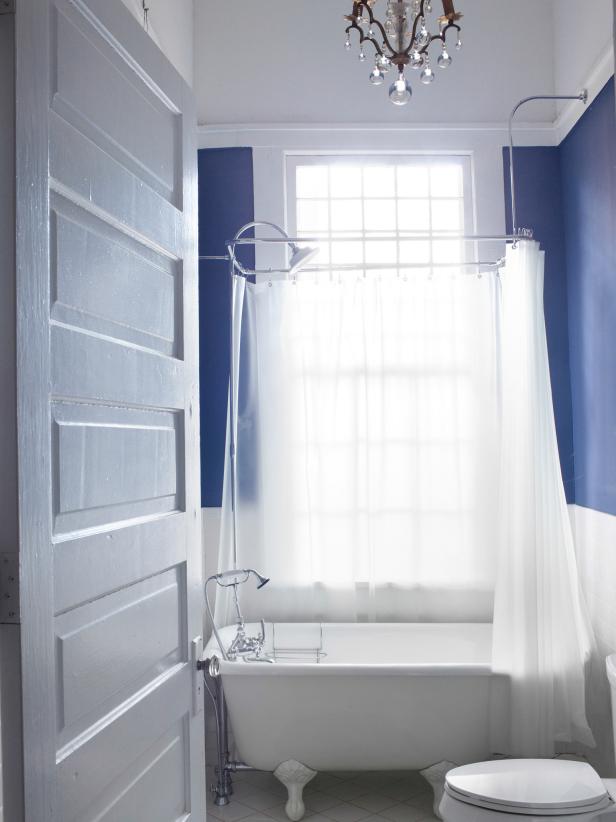 BPF_original_colors_blue-white-bathroom_v
BLUE - Studies have shown that blue tends to be the most beloved color. This is due in part to the fact that seeing the color blue causes the body to produce chemicals which calm the nerves. Wisdom and loyalty are often associated with blue which is the reason many uniforms sport different shades of this color. Since blue is the color of water and sky, it's a popular designer choice for bathrooms and spas.
Blue may not seem like the boldest choice, but this deep, saturated shade is high-impact without being over-the-top.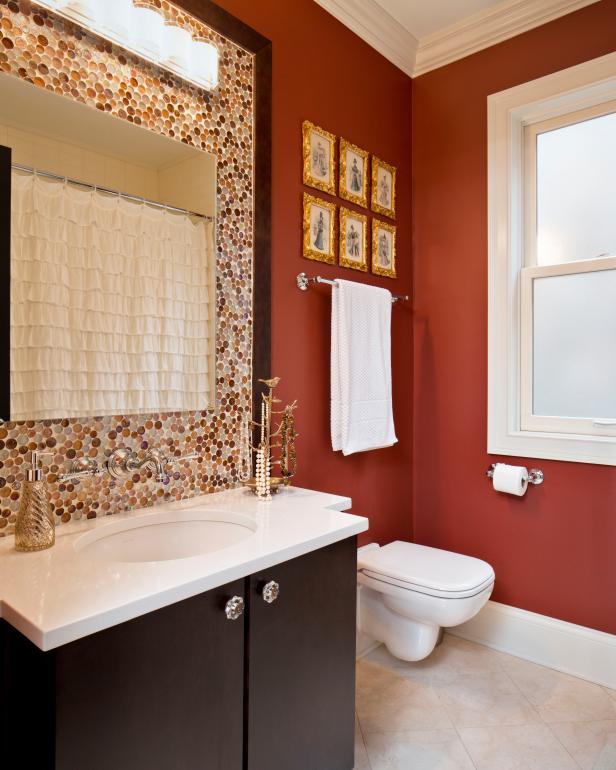 Rust Orange Bathroom Features Dotted Mosaic Tile Backsplash
Rust orange and brown dominate the color scheme in this single vanity bathroom. Touches of gold in the accessories add some glam to the space. Designed by Emily Mackie of Inspired Interiors.
A dark reddish-orange feels unexpected, but instantly adds warmth and comfort to the space.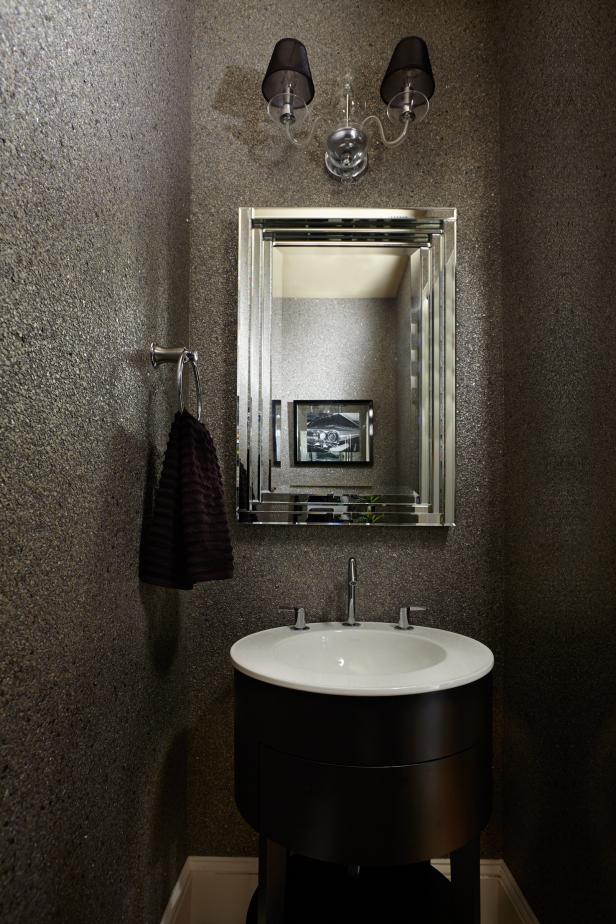 Sparkling Contemporary Bathroom With Glittering Walls, Circular Vanity and Black Shaded Sconce
Silver glitter creates a unique and gorgeous design in this small bathroom space. A circular black vanity is complimented with a black hand towel and black lamp shade sconce. A tray mirror finishes off the shining look and adds depth.
Emily Jenkins Followill Photography
Ready to go glam? A moody metallic silver is the ideal choice — bonus points if it's glittery too.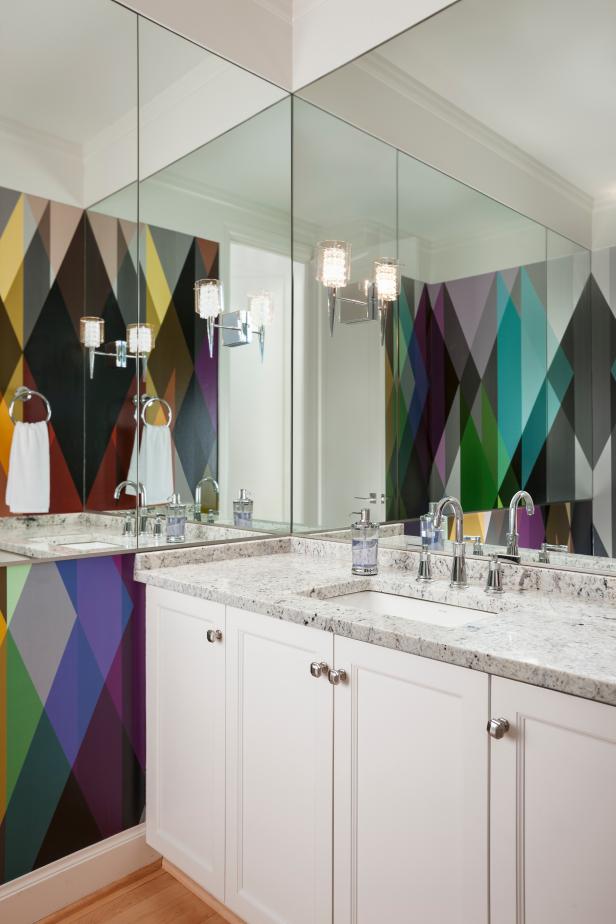 Bold Multicolor Wallpaper in Modern Powder Room
Geometric, multicolor wallpaper makes a bold statement in this modern, white powder room. Granite countertops and fresh white cabinets add to the clean, modern look.
And if you still can't decide on a color, why not combine all your favorites into a graphic multicolor pattern?
Now, go forth and be bold friends!