Everything We Know About Beyonce's Nursery + Chic Design Tips for Twins
You can bet Bey's baby room is gonna be flawless.
The stars have aligned and promised us not one, but two sets of new Gemini! This week, celebrities George and Amal Clooney welcomed twins Ella and Alexander, and rumor has it that Jay Z and Beyonce's babes may already be well on their way.
While we eagerly await official word from the Hive, we have to wonder: How did Queen Bey style her twins' nursery? Not just any space would do for her royal duo. Read on for all the details, then check out our doubly-cute nursery ideas that her twins would totally love.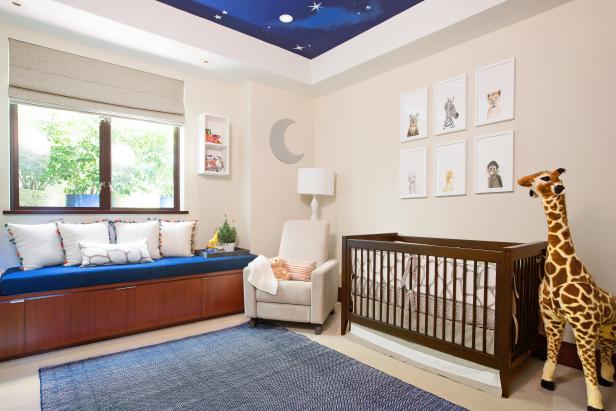 Contemporary Neutral Nursery With Window Seat
Designer Naomi Alon of Little Crown Interiors was ahead of the curve when she added a celestial ceiling to this gender-neutral nursery. 
Full Spectrum Photography
Designer Naomi Alon of Little Crown Interiors was ahead of the curve when she added a celestial ceiling to this gender-neutral nursery. 
What better way to welcome your little ones to the world than with a beautiful space-themed mural? Several sources report that Beyonce and husband Jay Z commissioned an extra-special suite for their new sweets, complete with a gender-neutral color scheme of cream and gold, as well as a painted galaxy over the twins' matching cribs.
Some say the space even includes a kitchen, mini-movie theater, state-of-the-art sound system and a custom fireplace. Only the best for Beyonce's babes!
Plus, Chic Styling Tips for Twins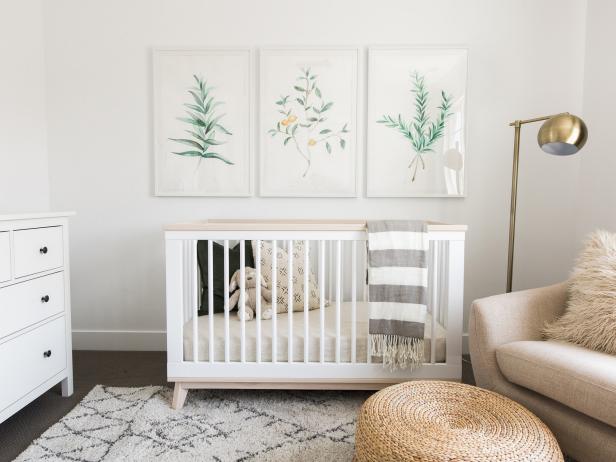 Botanical Prints
A nursery design should calm baby and parents alike. A soft, neutral color palette accented with botanical artwork does just that. Hang framed prints symmetrically above the crib for a look that feels both clean and organic. This is also a great idea for the perpetual houseplant killer – you get the color of nature without the upkeep.
1: Opt for Neutral Essentials: While we love nurseries with poppy color palettes, decorating for two can lead to a double dose of color. Rather than overwhelm the room with matching pink or blue cribs, keep things soft and understated with neutral furnishings. In this nursery from Akin Design Group, a white crib is smart and sophisticated.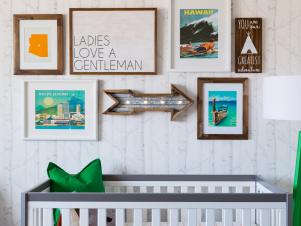 John Woodcock Photography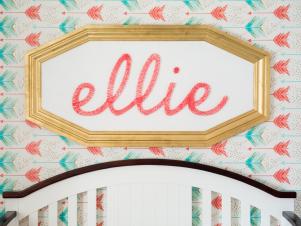 John Woodcock Photography
Cool Print Gallery Wall
Above the crib in the nursery, designers added a gallery wall of cool prints to give the space some personality.
Elegant Monogram in Contemporary Girl's Nursery
Teal-and-coral wallpaper featuring arrows and feathers makes an of-the-moment statement in this adorable girl's nursery. In the place of honor above the crib is a beautifully framed monogram.
2: Showcase Their Unique Personalities: They may look identical, but nothing says yours little ones' need to match in every way possible. In lieu of coordinating down to the drawer, leave room for unique accents and toys. Above, Jen and Jo of J&J Design Group show how to use the space over the crib to celebrate your babes' distinct styles.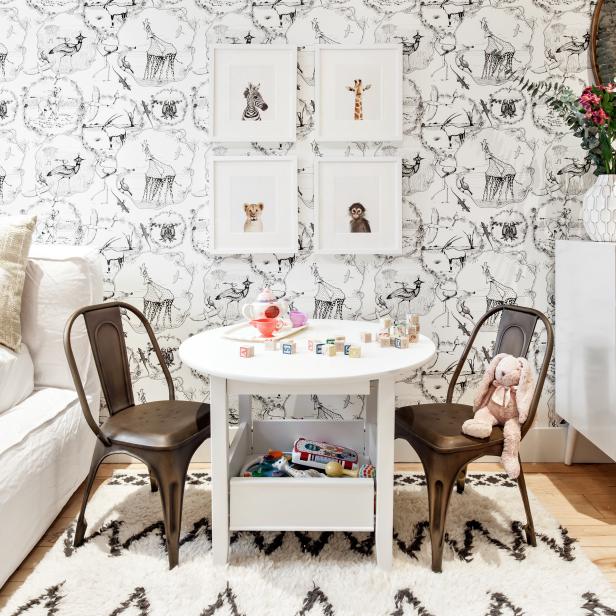 Contemporary Nursery With Animal Wallpaper
When a spare bedroom needed to quickly be turned into a nursery fit for a little modern princess, all it took was the perfect mix of contemporary, sweet and playful. This sitting area features a small round table with storage underneath as well as a plush rug.
3: Make Room for Two: Every nursery should include a comfy corner, but for twins especially, you'll want to invest in plenty of seating. A large sofa, paired armchairs and even a table with two stools will keep you and your loved ones comfortable during late night changes and feedings. This adorable set up from Allison Lind is just perfect for twin girls.
Expecting a Sweet New Addition? Read On