This Luxury Basement Was Custom-Designed for Savoring Football, Beer and Wine
We're one week into college football season, and this week marks the first round of NFL games. Do you know where you'll be spending all of your Saturdays and Sundays for the next few month? I know if I had my choice, I'd probably be in this sweet basement family room designed by Leslie Lamarre.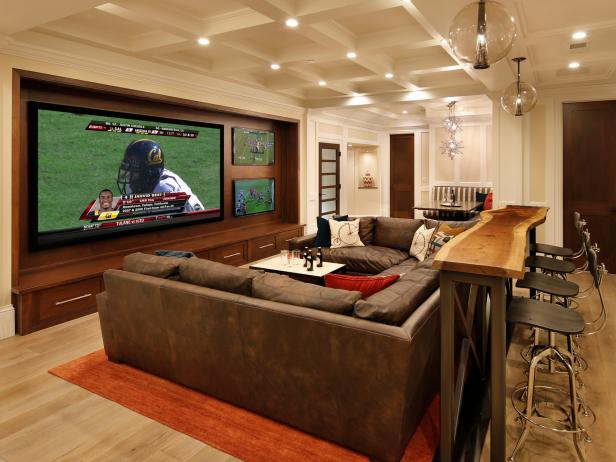 Supersized Media Room
Love sports? Love movies? Watch both - at once - in this supersized media room, which includes a bar and dining area.
What was once a dark basement with beat-up furniture is now a bright space comfortable for watching the game and having a beer with friends. The homeowners' request was for a space that both served as a spot to watch sports and movies that was a bit more sophisticated than your average sports bar or rec room.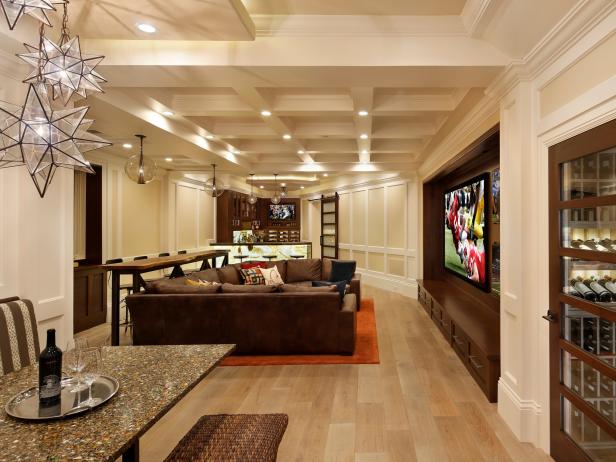 Finished Basement With Coffered Ceiling
By separating this large space into sections, Dad can enjoy the game with his buddies, while Mom relaxes at the table, enjoying a glass of wine with friends. A waffled ceiling and dramatic glass pendant lights add visual interest to the space.
Bay Area designer Leslie Lamarre created zones within the basement to accommodate different activities. The central area features a large sectional, coffee table and bar-height console table to create plenty of room for the gang and their food and beverages. A banquette and table in the foreground is perfect for family game night or homework time.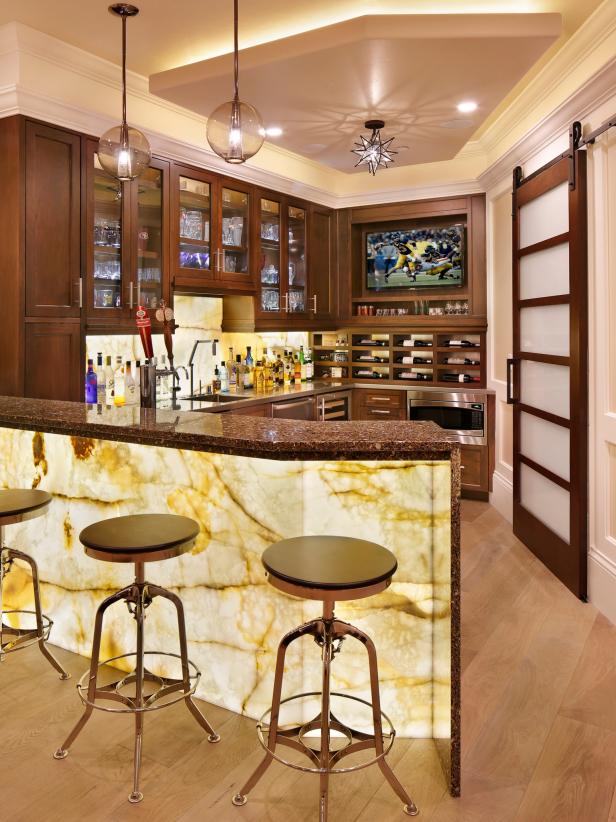 Sports Bar With a Sophisticated Spin
For a redesign that could please both mom and dad, dad got the sports bar he craved, wrapped in the sophisticated style mom desired for the space. Traditional wood cabinetry provides ample storage space, while a gorgeous onyx bar provides ample seating space.
At the far end is an expansive bar area wrapped in beautiful onyx. The bar provides plenty of storage for the homeowners' beverage collection and kegerators and features a small flat-screen TV so you don't have to miss a single play of the game while you're up grabbing a beer.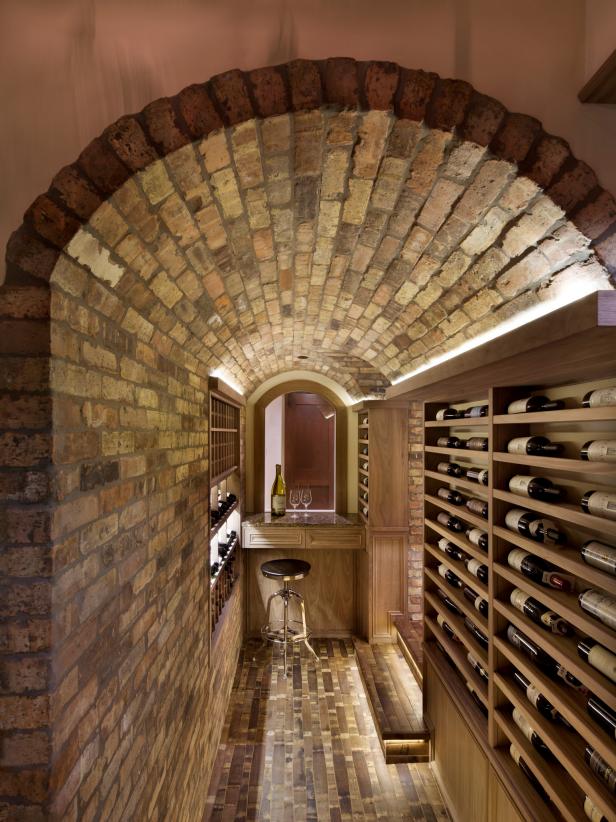 Elegant Wine Cellar Entrance
Who needs Napa or France when you've got this stunning wine cellar right inside your home? Barrel staves line the floor, and a quaint seating area ensures you can spend all the time you want in this charming escape.
Speaking of, there's also an expansive wine cellar that houses the homeowners' extensive collection of wine and features a small counter for tastings. The flooring is even made from salvaged wine barrel staves!