The Easiest Way to Update Your Kitchen Without Remodeling
Breathe new life into dated cabinets with a fresh coat of paint.
While I don't think the pristine, white kitchen will ever truly go out of style, it definitely seems like colorful kitchens are having a bit of moment right now. Kitchen design seems to moving more toward unique, bold styles and colors with touches that were often reserved for other areas of the home. Enter: painted cabinets.
If you're looking to update the look of your kitchen without diving into a full-on renovation, painting your kitchen cabinets might be the easiest, most impactful option you could go for. And even if you're planning a full-scale kitchen renovation, it might be time to get painted cabinets on your radar.
Here's a roundup of some of our favorite painted kitchen cabinet ideas to help get your design wheels spinning.
Go Bold With Unexpected Color
If you're looking to make a big, bold statement, consider going for a color that you don't often see in a kitchen like this happy aqua color. This space went all in on aqua (even incorporating the color into the shelf decor, art and furniture selection), and while on paper it might seem like an approach like this one would be a bit much, it really ended up working beautifully.
Keep It Neutral (But Not White)
If you love the look of a white kitchen but want to mix it up just a bit, why not try a light gray? This still gives you the same overall light, clean effect, but feels a bit more sophisticated and purposeful than the common white paint treatment. Since gray is a simple neutral, it also goes well with almost all countertop and backsplash options (as well as stainless steel appliances).
If you've ever chosen a paint color before, you've likely had the experience of feeling victorious after you've managed to narrow things down to the exact color you'd like, only to realize that you then need to choose your finish or sheen. Matte, eggshell, sateen — the choices sometimes seem endless. However, I want to encourage you to consider going super glossy when you're thinking of painting your cabinets.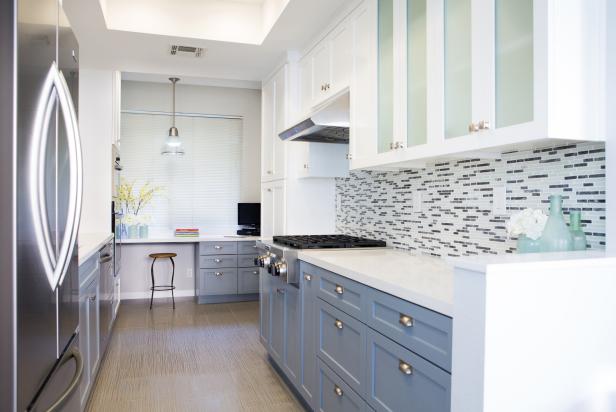 Sleek Midcentury Modern Kitchen With Two-Toned Cabinets
With an eye-catching gray-and-white glass tile backsplash, two-toned cabinets, stainless steel appliances and a unique floor pattern, this midcentury modern kitchen stays sleek and stylish. Countertops are mostly bare for a clutter-free look.
When thinking about what color you might like to paint your cabinets, don't think you have to pick just one. Two-toned kitchens are showing up more and more and are a great choice for a space where you want to create a bit more depth with your look. You can choose to go with two complementary colors, or go a bit bolder and choose two contrasting colors (such as black and white or light gray and hunter green).
Cool tones tend to work particularly well in kitchen spaces, and as such, blue is one of the easiest colors to pull off. Here, a very traditional kitchen is given a surprisingly fresh update with the use of the deep blue color on shaker cabinets. A fun backsplash, chic window shade and stainless appliances complete the look perfectly.
Pair a Pop of Color With Wallpaper
Wallpaper can work as a fab alternative to a traditional tile backsplash if you're going for a truly unique look in your kitchen. This fairly simple floral-patterned wallpaper pairs perfectly with the zesty green color used on the lower cabinets. Since the bright color was limited to the island (and white was used on the remaining cabinets), the look really manages to balance itself out perfectly. The rich wood tone of the butcher-block counter and stools also work really well. This space is proof that you can combine a variety of textures, patterns and colors and still have your space turn out looking purposeful.
Consider Rich Jewel Tones
Deep red is another example of a color you don't often find on your kitchen design radar, but this space makes me think, "OMG, WHY NOT??" Paired with brass hardware and a light gray backsplash, this space looks sophisticated and cool. And this is another great example of why you shouldn't be afraid to mix metals; the stainless steel fridge looks great in the space, even with all the brass.