8 Questions With Designer Jamie Herzlinger
Get to know this master of high-end, contemporary spaces.
If you've scoured HGTV.com, it's highly likely you've come across interior designer Jamie Herzlinger's designs. She's all about functionality, and believes you don't have to skimp on style to achieve that. As part of our designer interview series, we asked Jamie eight questions — here's what she had to say.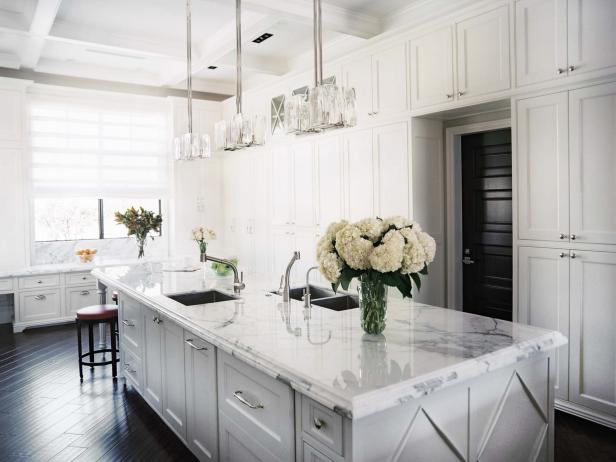 Traditional White Kitchen Featuring Floor-to-Ceiling Cabinets
Statuary marble counters top the cabinets in this elegant gourmet kitchen.
I Heart HGTV: How would you describe your overall aesthetic?
JH: My designs are all irresistibly comfortable. I have a deep love for luxury, but no design is done correctly if it is not functional.
IHH: Where do you source inspiration?
JH: I find inspiration everywhere I go. Most times, when I am not looking — like when I am running around Manhattan checking out a new exhibit at one of my favorite museums. Art, music, history and traveling around the world are main forms of inspiration.
IHH: What's your favorite space/room to decorate in a home?
JH: I love designing bedrooms because that is a person's personal space. I love taking my time to design the perfect sanctuary for a client — listening to every detail of what their lifestyle is.
IHH: What is your current color obsession?
JH: Right now, I can't get enough lavender! Often times, when people think of lavender, they think of a feminine color, but I love it mixed in with grays and charcoals and turning it into an almost masculine color that is still soft and delicate. It's the perfect balance.
IHH: What is your favorite space that you've designed?
JH: My favorite space ever is my bathroom. A woman spends a lot of time in her bathroom, so it needs to be perfect. I wanted to make my bathroom a quiet place where I could enjoy a nice hot bath and relax.
IHH: If you could re-do any space in your home, what would it be?
JH: I have a gorgeous white kitchen that I have loved for years and will always love. But as of late, I have been obsessing over black kitchens. I would love nothing more than to have a black kitchen with brass cabinetry pulls and fixtures. I have designed it out in my head — it's rocking chic.
IHH: What design faux pas absolutely makes you cringe?
JH: Oh, there are so many choices! What first comes to mind is the accent wall. Yes, accent walls do work and can look fabulous. However, a white room with a red accent wall, for example, makes me cringe. More times than not.
IHH: What design trend can you not stop using?
JH: I am in love with graphic floors. The possibilities are endless and look chic in any home. I love graphic floors because you can do whatever you dream of. From tone-on-tone wood floors to black-and-white marble cut into various sizes, you can create a show stopping look.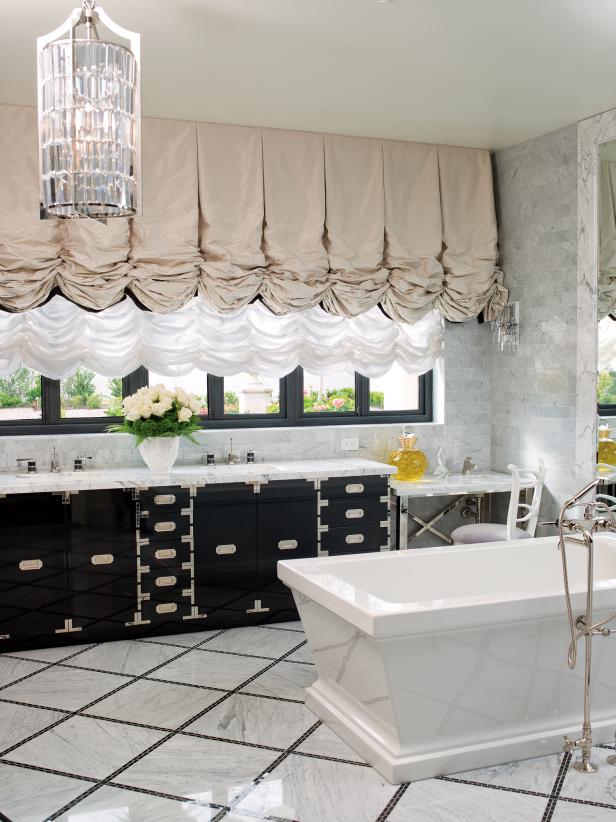 Dazzling Master Bathroom in Black and White
Campaign-style cabinetry in a black lacquer topped with Carrara marble is just one of the stunning elements in this master bathroom. Carrara marble also covers the walls and floors surrounding the standalone tub.