8 Ottomans You Didn't Know You Needed
Kick off your heels and take a seat, because things are about to get comfy. 
In my opinion, few pieces of furniture can compete with an ottoman. Comfortable enough to sit on, stylish enough to complete a room and versatile enough to provide extra storage, this Little Seat That Could is the ultimate addition to any space. (Did I mention that it's comfortable? That's a huge bonus.)
At the end of the day, all you want to do is put your feet up and relax. Now there's an ottoman for that. Here are 8 you didn't know you needed until now.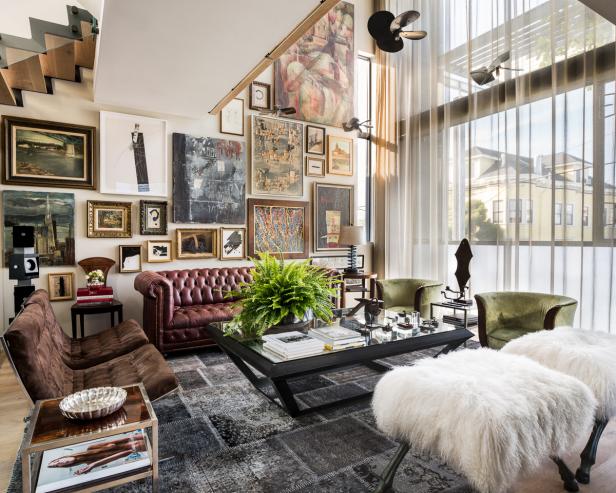 Eclectic Living Room With Leather Sofa
This eclectic living room mixes styles, textures and patterns. A chesterfield leather sofa is among the many seating options along with Art Deco chairs. The ottomans with animal legs and faux fur add a unique touch to the space.
To add texture to your space, choose an ottoman with a stylish faux-fur cover like these two from Antonio Martins. Your guests will be eager to take a seat on something so soft and cozy.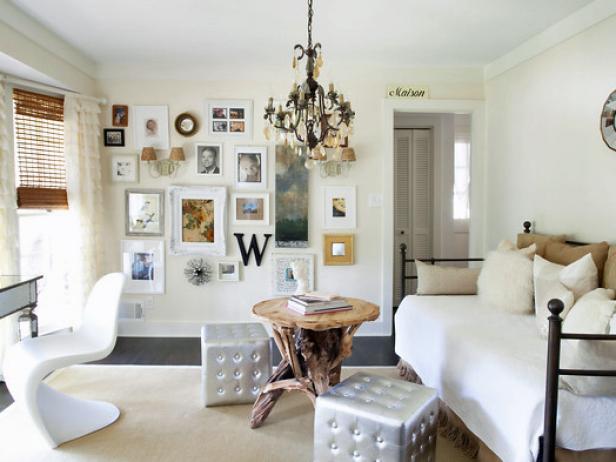 Formal Dining Room Converts to Eclectic Home Office and Kids' Hangout
This rarely-used formal dining room had no real purpose for this family, but once it was transformed to usable space, the room took on new life as a home office and lounging area. There is even space for out-of-town guests should the need arise. The white walls and furnishings offer a unified, clean decor and allow the eclectic group of photographs and art on the wall to become the focal point for the room.
In a bedroom with white walls, furniture and accents, a metallic ottoman shines and makes a big statement. For an even bolder look, go with an ottoman that has a surprising design, like these two dice-shaped pieces.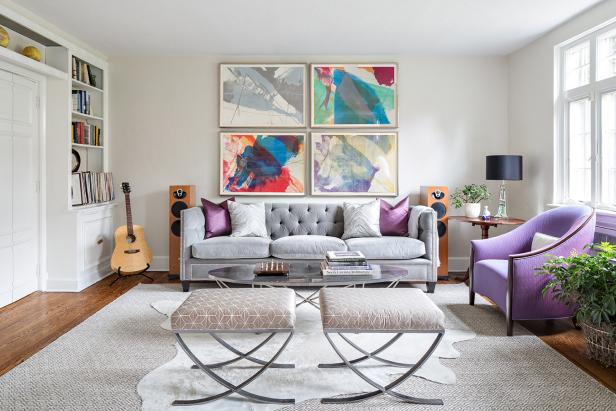 The Power of Abstract
Artwork is just as much the focal point as the mix of furniture styles in this eclectic seating area. A quadrant of bright abstract art coordinates with the dove gray sofa and lavender occasional chair without being matchy-matchy. A scattering of details personalizes the space: a collection of favorite vinyl records and an acoustic guitar.
Why choose one ottoman when you could have two? Take a page out of designer Claire Paquin's book and pair identical pillow-topped pieces to balance your living room and tie the space together.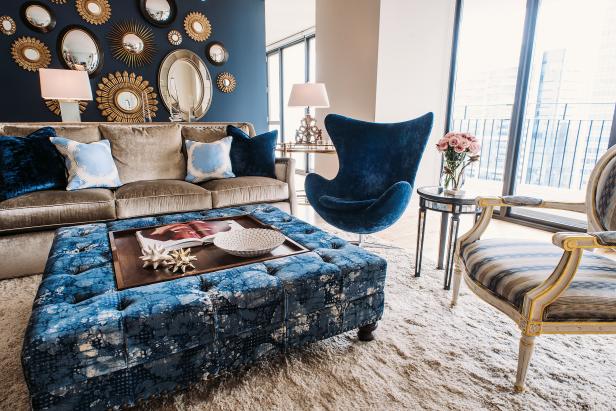 Eclectic Navy Blue Living Room with Mirror Collage
Designer SuzAnn Kletzien's client requested a starburst mirror in the design plan, so Kletzien positioned a starburst mirror collage on a navy accent wall in the living room. She also reupholstered an egg chair in a deep blue velvet fabric and had a custom ottoman built with a removable tray in the center for drinks and snacks.
The ottoman's versatile nature doesn't stop there, either; this functional piece of furniture can also conveniently serve as a coffee table. SuzAnn Kletzien's design comes with a removable tray for carrying drinks and other necessities.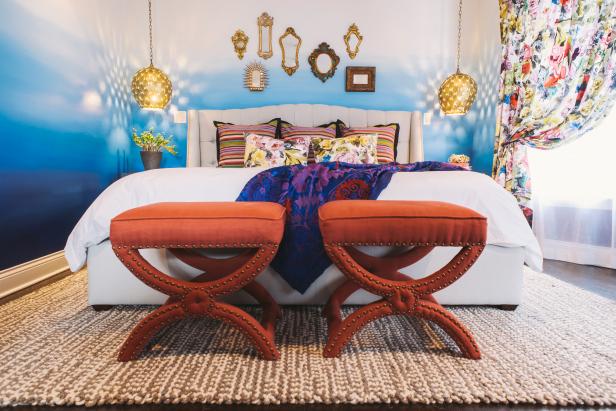 Bright Master Bedroom With Bohemian Design Features
This master bedroom benefits from hand-painted blue and white ombré walls features an ethereal design scheme, including chic, Bohemian features like the floral curtains and brass pendant lights. Vintage mirrors hang above the neutral tufted headboard, while two plush orange upholstered ottomans sit at the foot of the bed.
Whether you dwell in a Craftsman or a tiny apartment, you'll definitely want this clever design by SuzAnn Kletzien in your bedroom. Place two plush ottomans at the foot of the bed and instantly make your space feel large and luxurious.
6: The Simply Sophisticated
If simple is more your style, choose a minimalist-friendly piece like this round ottoman from designer Andreas Charalambous. Oversized and covered in durable black leather, an ottoman like this is perfect for lounging.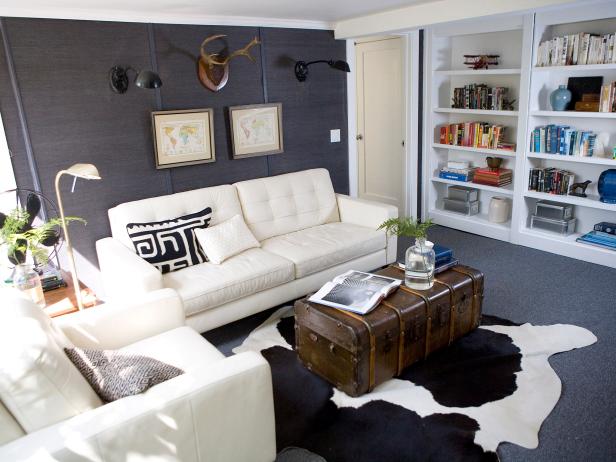 Contemporary Living Room With Cowhide Rug
Grey grasscloth wallpaper adds texture to the walls of this contemporary living room, as seen on HGTV's Secrets From a Stylist. The floor color was matched to the walls, allowing the white sofas and bookcase to pop along with a matching cowhide rug.
To give your living room a carefully collected look, repurpose an antique trunk into a new, nontraditional ottoman. Bonus: the piece comes with built-in storage space.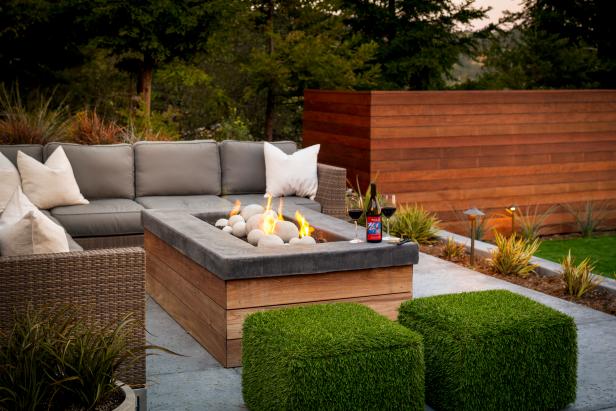 Contemporary Patio With Green Ottomans
On this chic patio, green shag ottomans are a playful nod to the lush grass lawn nearby. Pull one up to the fire pit and toast the start of cocktail hour.
Need more seating on the patio? Want to inch closer to the firepit without moving the whole sofa? With two weatherproof ottomans like these lush accents from designer Holly Bender, your life will become much easier.