8 Designer Ways to Store Firewood
Prepare for the colder months with these chic and clever firewood storage ideas.
Believe it or not, there are some really cute and convenient ways to store your firewood. And yes — you have more than one option. Whether you're prepping for a cookout, a bonfire or a cozy indoor get-together, we have a design idea to fit every scenario. Look to these firewood storage ideas to inspire your next design.
Hosting a cookout and bonfire has never looked easier. This outdoor grilling station includes room to chill and serve food and also features a place to store firewood. All you need is a nearby fire pit to make this the perfect outdoor hangout.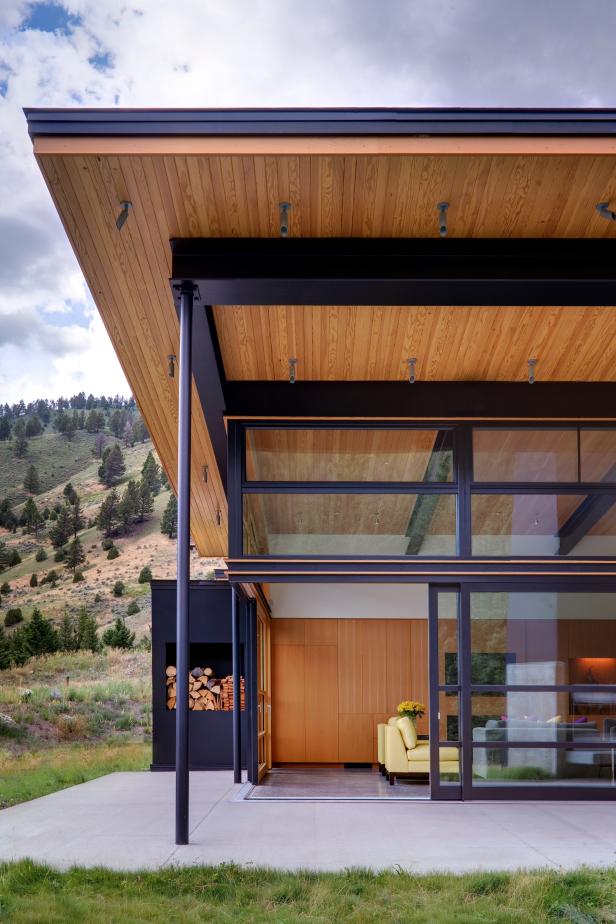 Contemporary Montana Home Embraces the Outdoors
Nestled in Big Sky, Mont., the contemporary meets rustic home is designed for homeowners who love to entertain. The house is set up to create an open and casual atmosphere with a strong connection to the outdoors. The living room features sliding doors that open directly to the patio and yard, creating a seamless transition between indoors and out.
Just steps away from the open-concept living area, a contemporary-style box connected to the home provides a spacious place to hold firewood. With its convenient location, you don't have to bear the cold too long before you're back inside warming up by the fireplace.
Stock up for the winter with a double round rack that is elevated from the ground, stacks up your firewood and keeps the wood dry thanks to a waterproof cover. This firewood rack would be a great addition next to your fire pit.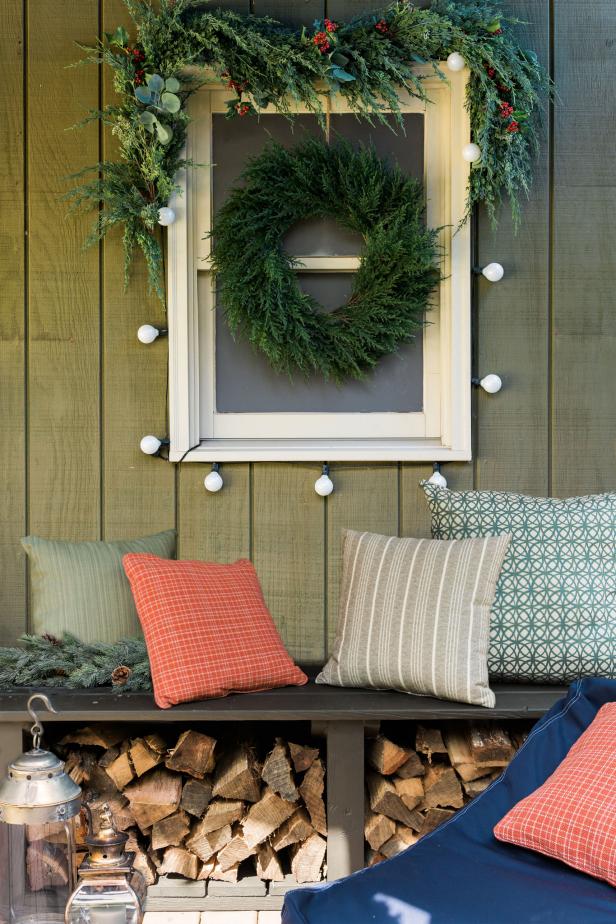 13 Ways to Add Holiday Flair to Your Front Porch in Ten Minutes: Dress Up Your Bench
Transform your bench for the holidays with a quick change of coordination pillows. If you've got open space below, fill it with wintry elements like firewood or even tree cuttings and/or winter boots and snowshoes.
Dress up your front porch for the season. A comfy, custom bench covered with decorative pillows offers a place to sit and doubles as storage for firewood.
As part of the deck design, designers Anthony Carrino and John Colaneria built a small nook beside the steps to store firewood and give plenty of room for seating and planters. That's what we call a smart storage solution.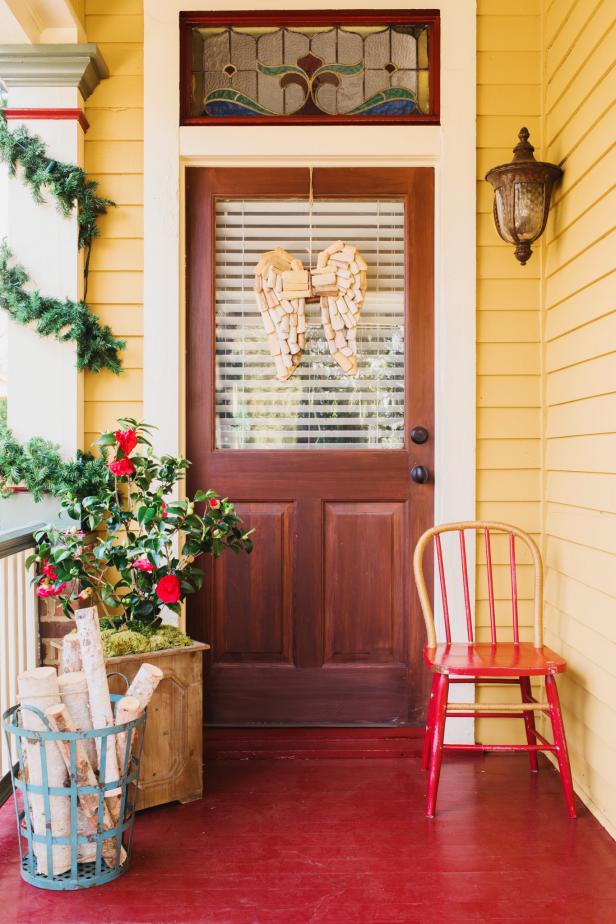 Side and Back Doors
Don't forget to dress up your side and back doors! The side entrance of the porch was dressed up with garland, a do-it-yourself angel, winter-proof greenery and a vessel full of birch firewood.
Flynnside Out Productions
Turn your firewood into a holiday decoration. This Christmas-themed porch showcases a wire basket full of birch firewood that complements the festive planter and handmade angel wreath.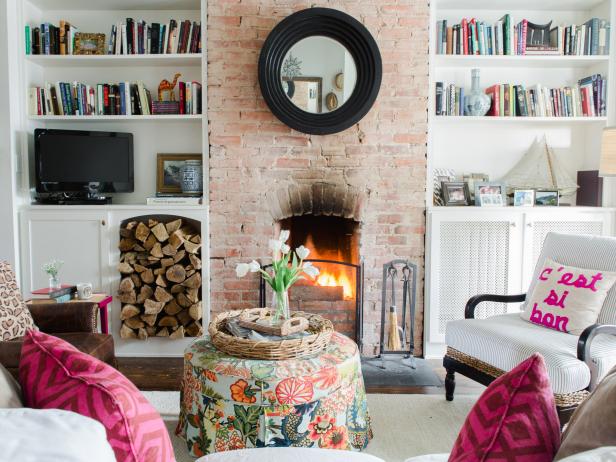 Pink Eclectic Living Room With Fireplace
Natural light fills this bright, eclectic living room that combines Hollywood Regency elements. The brick wall with fireplace and mirror become a focal point when flanked by custom built in bookcases and space for firewood.
A custom built-in nook beside the fireplace is extra convenient when the temperature starts to drop. Storing firewood indoors may bring in bugs, so be sure to check the firewood before bringing it inside. Besides being convenient, storing your wood indoors also means the firewood is protected from the unpredictable weather conditions.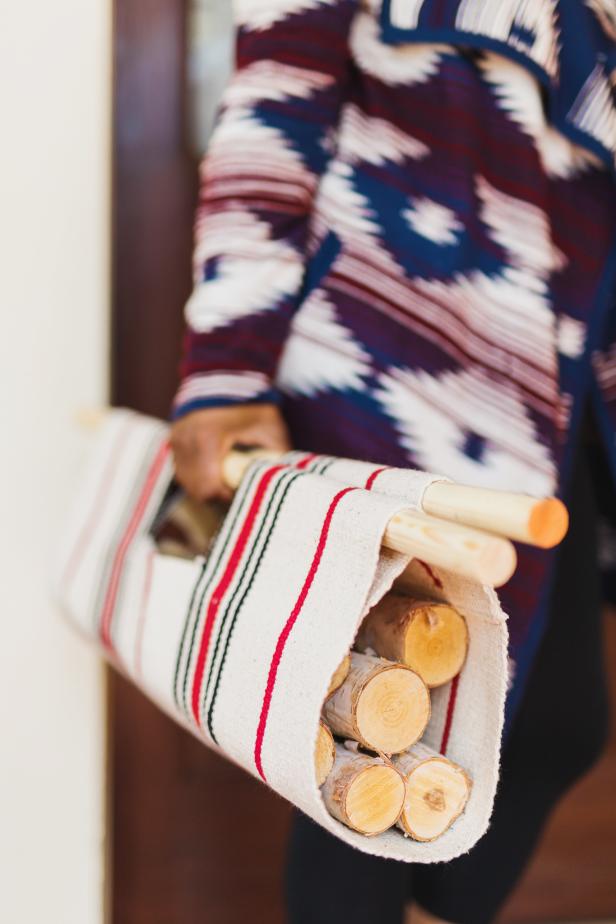 DIY Firewood Tote
Create a cozy DIY firewood tote that's as stylish as it is functional.
Flynnside Out Productions
If designing a place to store firewood is out of your budget, don't worry. You can easily make this no-sew DIY firewood tote that's both functional and stylish. Carrying firewood never looked so fashionable.