7 Stylish Spots to Kick Off Muddy Fall Boots (Plus Design Tips to Steal!)
With fall comes boots, crunchy leaves and mud. Having a place to keep your dingy outerwear away from the rest of your pristine house would be great, right? Cue the mudroom. Take this utility room to the next level with our inspiring decluttering and design ideas. Don't have a mudroom in your home? No worries! We have ideas for makeshift ones, too!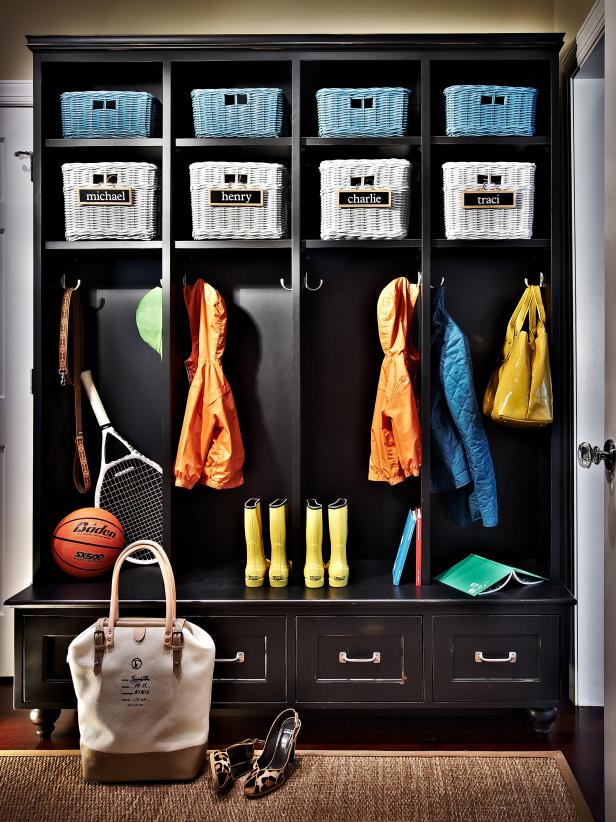 Traditional Mudroom with Labeled Storage
An open locker system keeps jackets, baskets and other essentials handy in this mudroom. Chalkboard labels identify each locker, while drawers and baskets provide convenient, hidden storage for each family member.
The last thing you want in your mudroom is clutter, but we all have stuff we don't know what to do with. To make the most of your space, install floor-to-ceiling cabinetry so you can keep your things out of sight. To add a personal touch, incorporate pillows or wallpaper in your favorite pattern.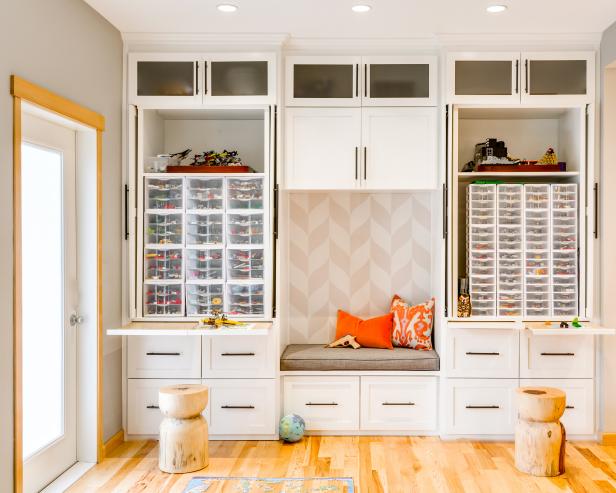 Gray and White Entry Way With Cabinets and Bench
The family owning this home needed organized storage for toys, including oodles of Legos. These floor-to-ceiling cabinets with see-through bins were the perfect solution.
If you don't have a designated mudroom, add storage to a hallway closest to an exterior door. In this hallway-turned-utility space, each family member has their own storage compartment, complete with labeled baskets and chair cushions.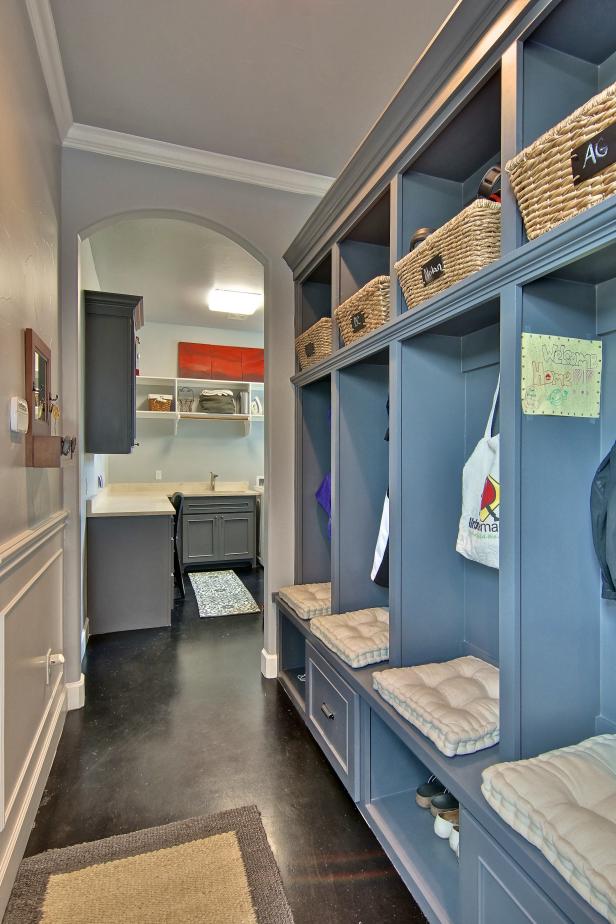 Country Mudroom With Blue Cubbies
This stylish yet functional mudroom is equipped with individual storage space for each family member. The utility room helps a growing family stay neat and organized.
The best way to keep dirt out of your house is to have a place to leave muddy clothing outside. This covered outdoor room is equipped with mudroom necessities, including wall storage, coat hooks, a seating area and sink — not to mention the fun, quirky patterns seen throughout.
If you love color, you can add bold hues without making your mudroom look cluttered. Paint storage compartments in a bright color, and keep baskets and cabinetry neutral for balance.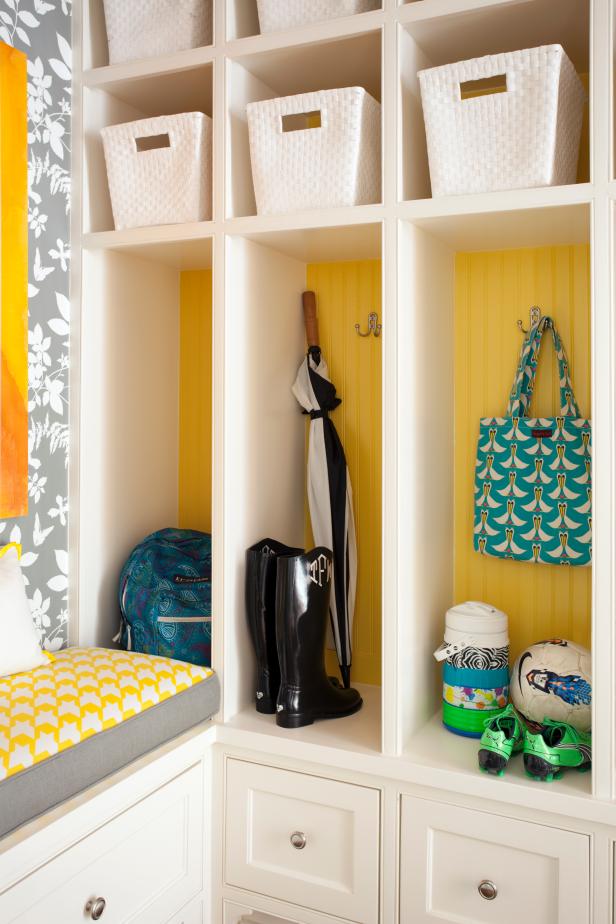 Yellow and White Contemporary Mudroom With Baskets
A place for everything and everything in its place: This contemporary mudroom carries out that motto in colorful style. White baskets easily organize smaller items while sunshine yellow paint brightens up the interior of the shelf's lower compartments.
On a budget? Turn an unused space near your door into an on-the-go area by upcycling empty, clean paint cans into wall storage for hats, gloves and scarves. Place a bench right underneath for a convenient place to put on and take off boots.
Make your mudroom feel like the rest of your home with furnishings like artwork and a small area rug. You'll feel right at home as soon as you walk in the door.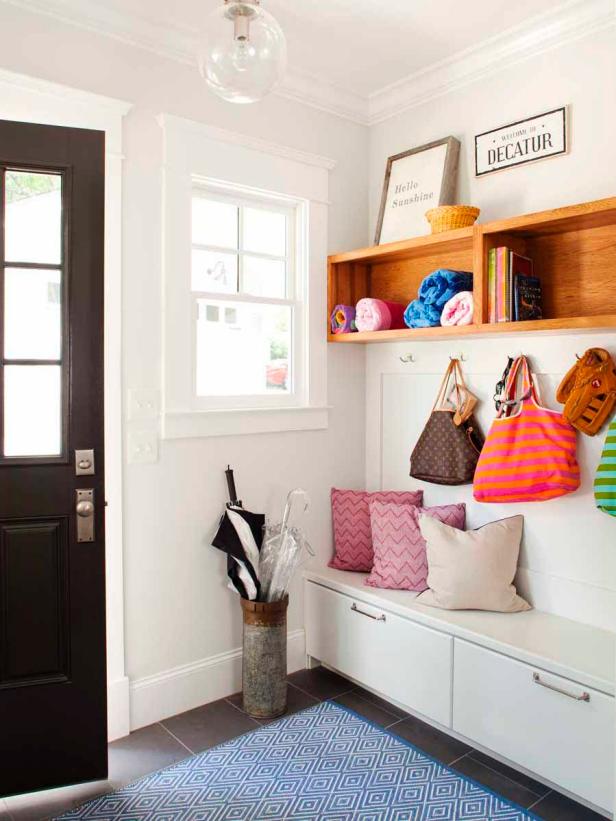 Eclectic Mudroom With Bench Storage
This eclectic white entryway houses a functional mudroom featuring a contemporary storage bench. Wooden shelving is situated above the bench, creating additional storage options. Colorful geometric patterns are used to keep the space feeling lively and trendy.
Create a Smooth Transition
Often times, mudrooms are breezeways that transition from your outdoor space to your indoor. For a cohesive look, incorporate outdoor elements, such as stone or wood, into your mudroom's design.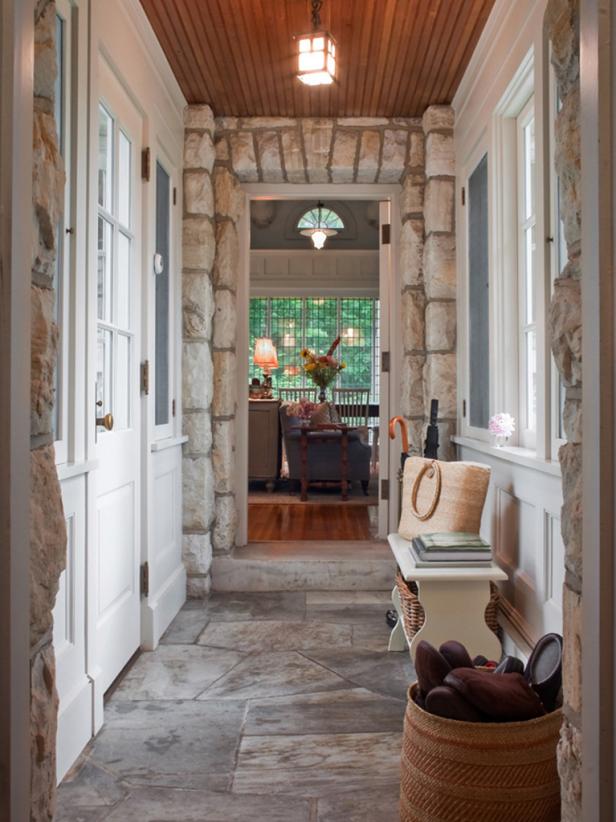 Rustic Cottage-style Mudroom
This rustic, cottage-style mudroom is a true indoor/outdoor breezeway that flows from one room to the next. In room-to-room mudroom pathways, be sure to incorporate elements from both indoor and outdoor surroundings to create a successful movement. Architect Don Giambastiani of Solomon+Bauer+Giambastiani Architects says, "Mudrooms are usually the transition between the interior and exterior, so choose materials, both functionally and visually, based on the overall design of the home and landscape." Here, stone floors and walls pull in outdoor elements that also coordinate with the rest of the interior.
Design by Solomon+Bauer+Giambastiani Architects; photography by Bradley M. Jones