7 Office Ideas for Any Space
Turn your WFH routine into a stylish one.
If you work remotely, an inspiring home office can make all the difference for your creativity and productivity levels. Plus, it can save you from countless days working at your local cafe. At HGTV Smart Home 2017, a small space is designated as a workspace and also houses the brains of the home. I like to call it the tech closet.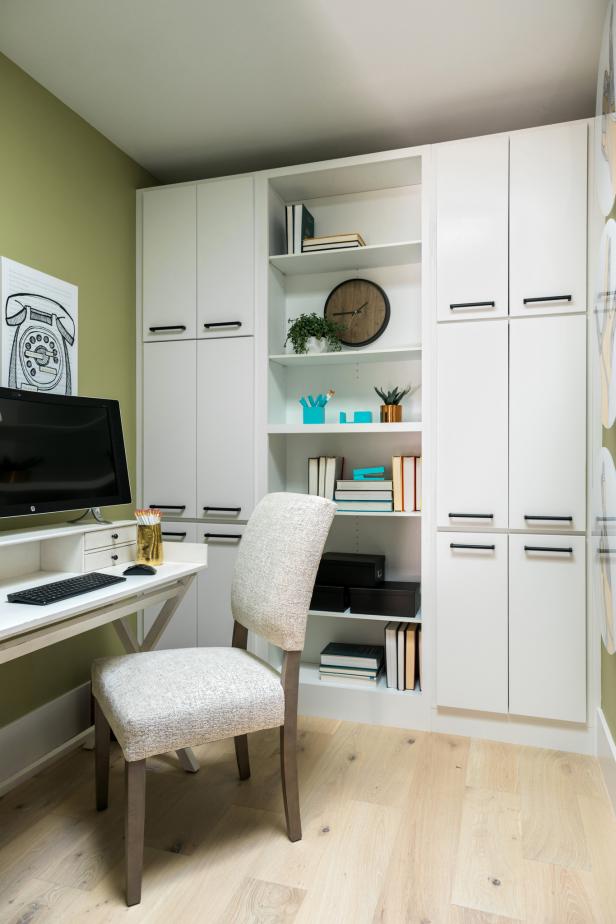 Neutral Floor
The European oak plank floor with a UV urethane finish and modern rustic feel provides a neutral base and contrast for the colorful walls of this home office.
Robert Peterson; Rustic White Photography
Although it's a small space off the hallway that leads to the guest bedrooms, it's big on storage and style.
Having a designated workspace is not only smart for tax purposes (hello, deductions!), it also helps you to mentally shift gears so you're in work mode as soon as you step into the space. You don't even need to have an entire room designated as your home office.
Check out these genius layouts that you can use to create an office in your home.
HGTV Smart Home 2017 has a bright small space and tons of storage. It's a multifunctional room that also houses the home's tech closet, but the all-in-one computer with a super-wide, curved display means business.
Need a lot of space to spread things out while you work? Choose a room in your house that's not used during the day and make it easily convertible to office mode. Put a printer and other supplies in a cabinet or console so you can access them easily and get to work.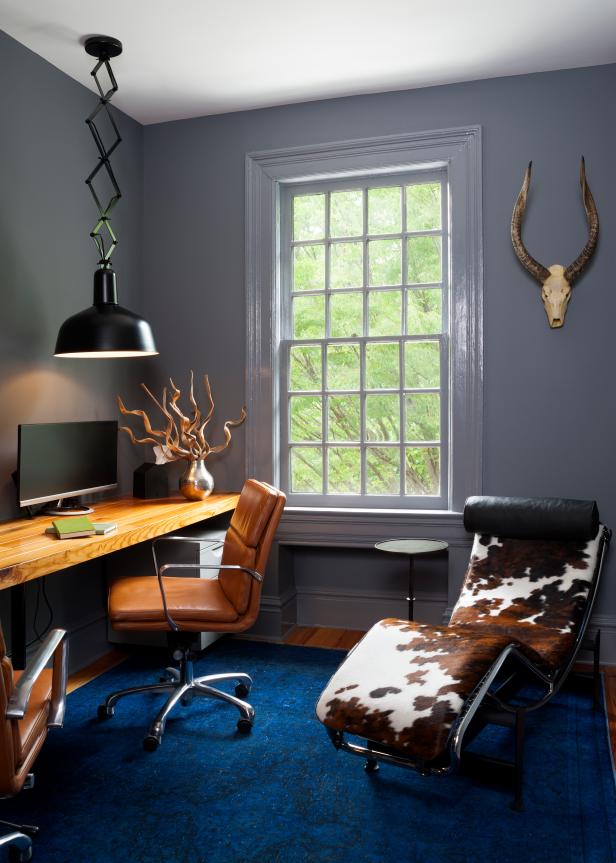 Home Office for Two
A cowhide chase, industrial light and antlers are just a few details that make this home office feel masculine. A stunning wood desk for two, paired with leather armchairs and metal frames. The cool gray wall paint finishes off the design.
If you do have an extra room that can be used as a home office, try making it a warm, livable workspace with comfy seating. Bonus: If you're feeling stressed, you can just kick your feet up for a quick snooze.
It's no secret that color affects our mood. Bright hues like this one are great for keeping you creative, alert and visually designate the space for work.
You may be thinking you have absolutely no space for a home office, but imagine your house layout for a second — is there any small closet or bookshelf you wouldn't miss? If so, reimagine it as a work nook. Take out the bottom shelves to make a desk, stock the upper shelves with your work supplies, add some simple lighting and pull up a chair.
If you're lucky enough to have a killer view, let it inspire you while you work. A desk next to a window is as good as filling your walls with inspiring quotes and photos.
Harry Potter references aside, the amount of space you have doesn't matter as long as you're willing to get creative — and that includes the wall under the stairs. Installing a sturdy shelf desk and custom, oversized corkboard adds instant value to a space that would otherwise go unused.
Browse More Must-See Spaces
From HGTV Smart Home 2017