5 Small Space-Friendly Home Bar Ideas
(Tiny) happy hour for all!
Bar carts have quickly become must-have home items. Seriously, you can't open up Instagram without seeing at least five of them in a row, and for good reason: Yhey're as stylish as they are functional. Unfortunately for some of us, though, they also need a dedicated spot in your home. And when living in a small space, it can be pretty impossible to find even a sliver of free space.
Fear not, small-space dwellers! Even if you can't buy the bar cart of your dreams, you can still create an entirely on-trend home bar. The key is to focus on creating a multipurpose area or to carve out a little extra space in furniture you already have. Dare I say the results can be even more Instagrammable than store bought carts?
Read on for five ideas that will help you craft the perfect home bar.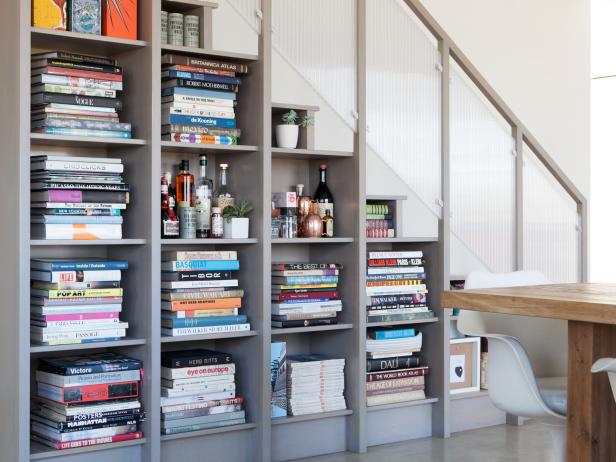 Under-the-Stairs Bookshelves and Bar
Just because space is tight doesn't mean you have to forgo the convenience of a bar area. This compact example, tucked into spare shelves beneath a staircase, is a perfect example. Says designer Leanne Ford: "You do not need to have an actual 'bar' in your place, just get creative with your space. Save a little bit of room on a bookshelf and let the bottles mix in with other treasures and books."
Okay, so you probably won't find this gorgeous staircase bookshelf in most small spaces, but you can still recreate the idea in your own home. Instead of filling every shelf with books, reserve one to store your bottles and cocktail glasses.
Niche Creates Modern Home Bar
A sleek, modern chest doubles as a bar and perfectly fills out a niche in this neutral, clean-lined home. Colorful artwork pops against the pale walls, while loads of windows bring in streaming sunlight.
If you already have a dresser or chest of drawers that sits at a lower height, why not use the empty space on top to create a bar? It looks sleek, stylish and puts wasted space to good use.
Meet the barmoire, aka the best part of my apartment, aka a super cool portmanteau word people should add to their vocabularies. When my roommate and I moved into our new apartment, my parents graciously gave us this armoire they no longer needed, and we decided to transform it into our own mini bar. It keeps everything neat and out of sight, and the bottom two drawers add essential extra storage.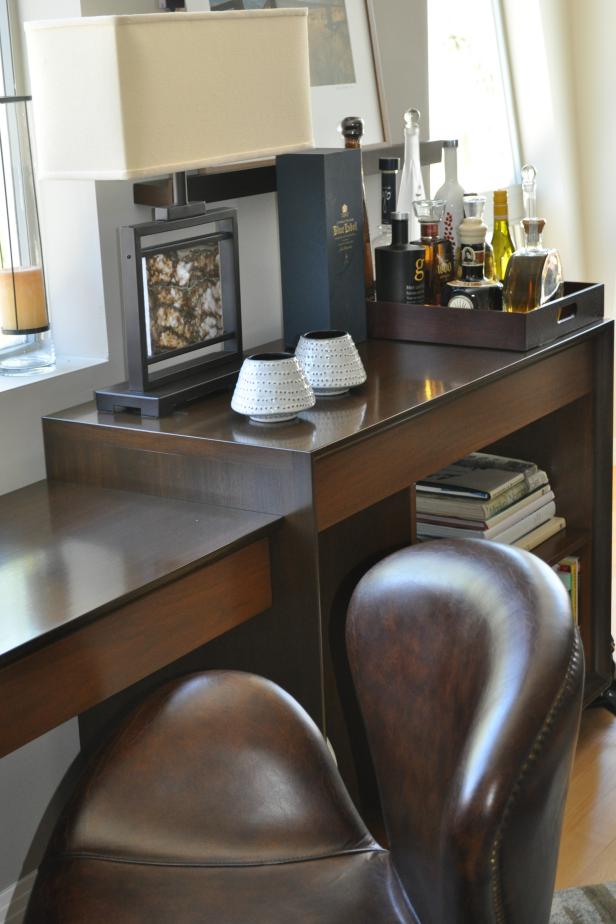 Contemporary Masculine Desk With Bar Tray
Extra shelf space is utilized for a bar tray to store liquor and other cocktail accessories. A leather chair adds a masculine touch to this multipurpose desk and shelf unit.
If you only need a few items to stock your bar, this could be the idea for you! Keeping everything on a stylish tray means you can set up your bar wherever it's most convenient, and change its location on a whim.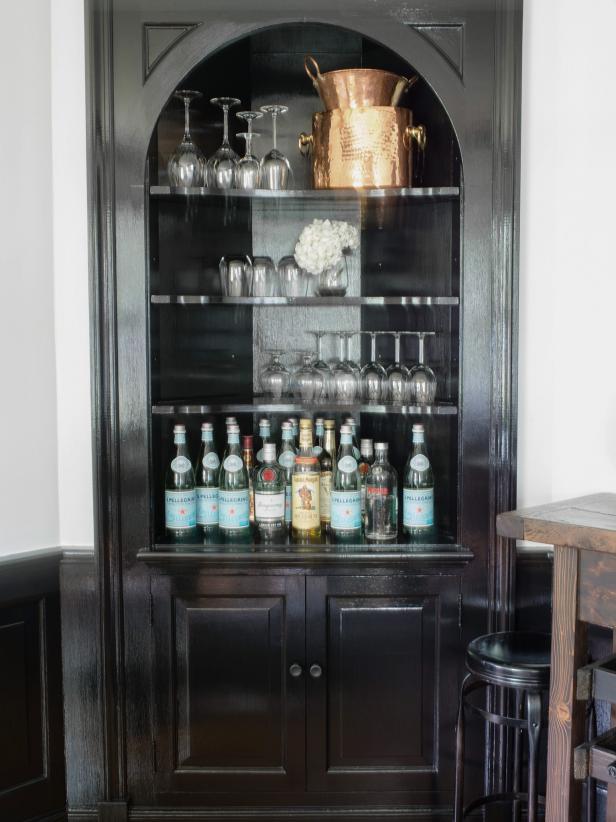 Corner Cabinet Transformed Into Small Bar
If you really want a bar but don't have space to spare, consider using existing architecture elements to corral your spirits and glassware. An example from designer Leanne Ford: "A lot of older houses have corner cabinets in the dining rooms," she says. "If you have one, take advantage of it. This is a great place to stash your prettiest glassware and liquor bottles. Paint the cabinet high-gloss black to modernize the space and give it an extra shine."
If you're lucky enough to have nabbed a small space that has its own built-in storage, this is the solution for you. Instead of filling the shelves with random tchotchkes, stock up on your favorite spirits and drinkware to display. Also: Color me very, very jealous.