12 Ways to Step Up Your Dining Room Decor for the Holidays
Because the decor should be just as fabulous as the food.
The holiday season is officially upon us, and that means one thing for entertainers and non-entertainers, alike. It's time to revive the dining room! Even those who detest dinner parties and survive on takeout alone are likely to have a guest or two stop by during the holiday season, and we all know the hub of the holidays is the grub. Now, I'm not suggesting takeout survivalists must learn how to cook. No, it's perfectly acceptable to order your holiday grub, if that's your style. BUT — make your display case pretty, my friends. That is, whether you're cooking or not this holiday season, make sure your dining room is ready to welcome family and friends.
Check out these 12 simple ways to step up your dining room decor this year.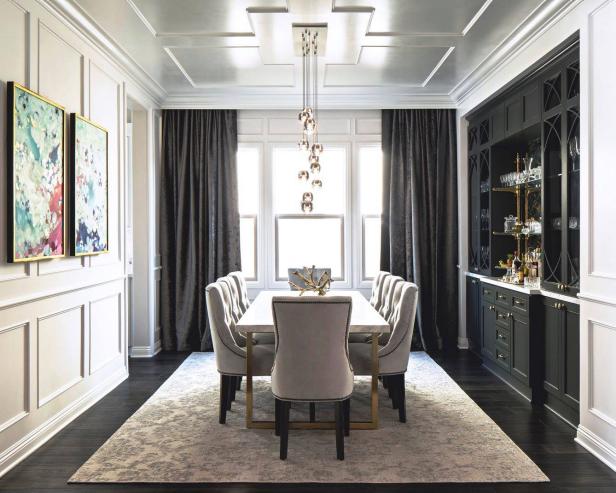 Black and White Transitional Dining Room With Gray Curtains
This elegant formal dining room is a study in contrasts: white paneling on one side of the room, a black built-in cabinet on the other. Gray velvet curtains split the difference along the back windows and help to unify the look.
Are your dining room windows bare? Now is the time to pick out curtains or shades to dress them. Don't be afraid to choose deep, rich colors — the dining room is the perfect space to embrace drama.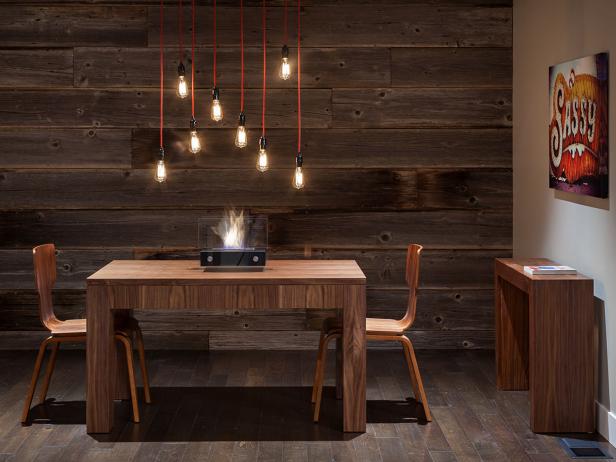 Rustic Dining Room with Modern Pendant Lights
Exposed Edison light bulbs hang from red wire, creating a one-of-a-kind, modern dining light in this rustic, wood-heavy dining room.
While you can easily spend a pretty penny on a new dining room light fixture, you don't have to. Achieve the look pictured above by simply hanging exposed Edison light bulbs from red wire. This inexpensive update works with a variety of design styles. (And how cool is that tabletop fireplace?)
Choose Wall Art That Wows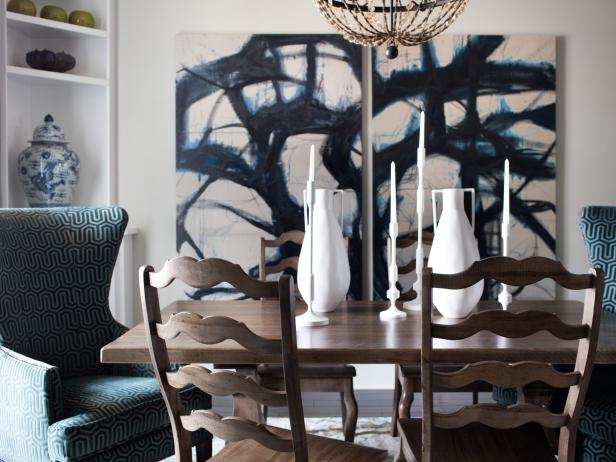 Focal Point
The large blue and taupe artwork creates a focal point and adds just the right amount of drama to the room.
Sarah Dorio/Flynnside Out Productions, 2016, HGTV/Scripps Networks, LLC. All Rights Reserved
Breathe life into your space by incorporating plants. Here, potted succulents and fern fronds grace the dining table for an organically stylish look.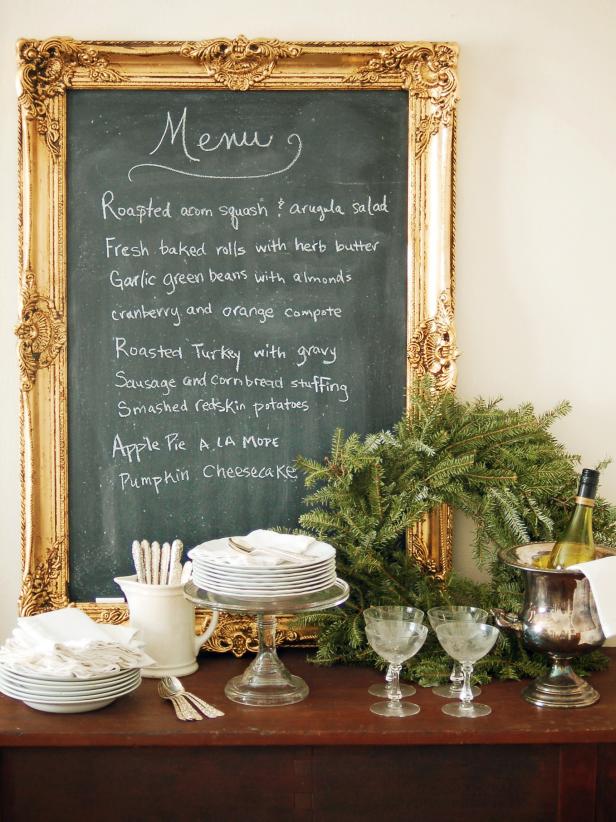 Menu On Gold Framed Chalkboard
Elegant meets humble when a sophisticated gilt frame surrounds an inexpensive DIY chalkboard. Place it in the dining room with a thoughtful greeting for dinner guests, or use it to announce the evening's festivities.
Fill an empty wall and let guests know what's for dinner by displaying your menu on a framed chalkboard.
Set the table with metallic accents for an instantly glamorous feel. Here, florist frog pins are spray painted gold to serve as name card holders.
Opt for a Tree Branch Centerpiece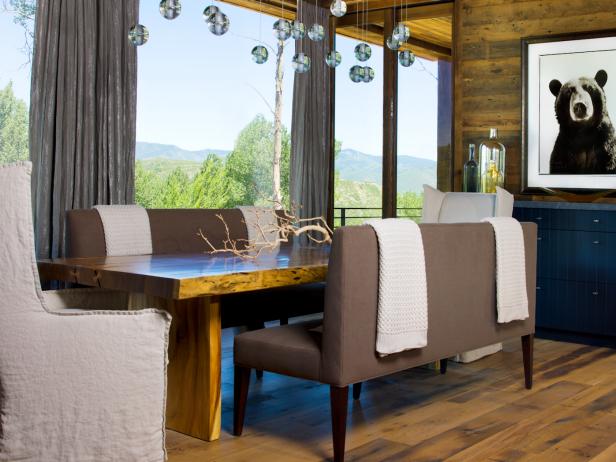 Eclectic Dining Room With Beautiful Colorado Views
Long gray benches and slipcovered armchairs are paired with a streamlined, rustic wood table. A contemporary chandelier brings a touch of glam to the space, which overlooks beautiful views of Snowmass, Colo., through picturesque windows.
Forage your centerpiece from your backyard to achieve a rustic, woodsy vibe.
Line the surface of a plain, black serving tray with gold leaf to create a makeshift bar that's elegant and portable. Set it atop your sideboard or buffet for holiday charm.
Cozy Up Chairs With Faux Fur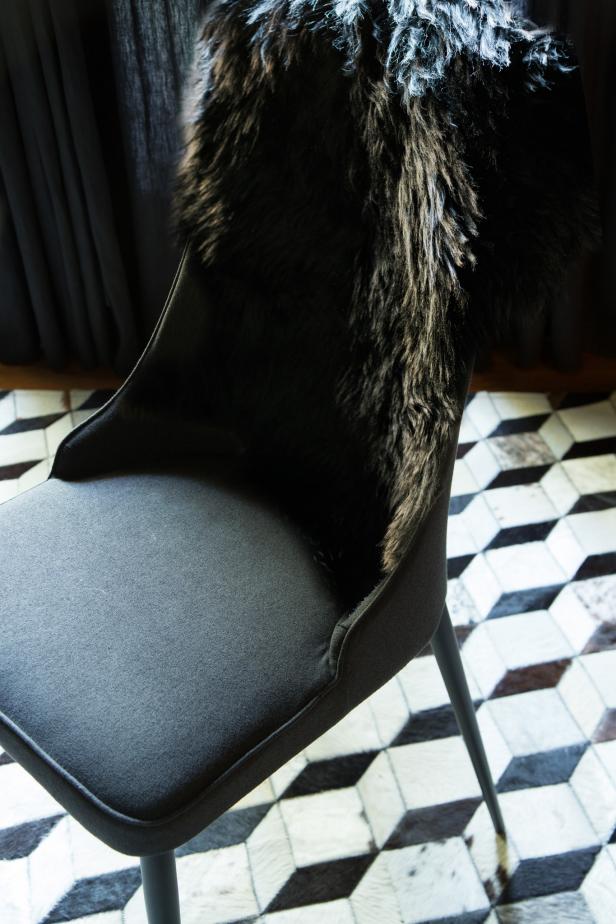 Creating a Wintry Luxe Holiday Dining Space: Dark Faux Fur
If your dining room chairs aren't necessarily dark or moody, give them a simple update for the holiday season by draping faux sheepskin over the back. While black is often the most effective, charcoal and dark brown work just as well.
Drape dark faux fur over your dining room chairs to give them a cozy, seasonal update.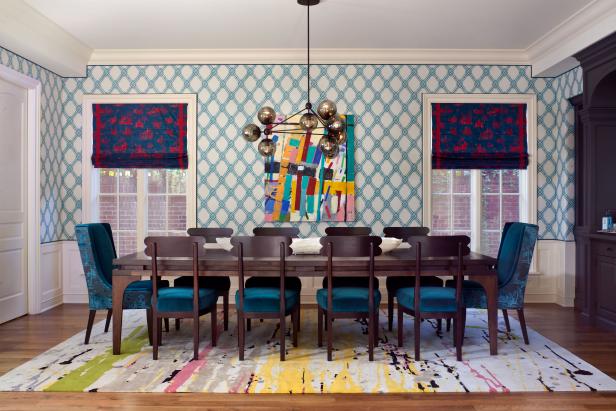 Blue Contemporary Dining Room With Blue Chairs
Fill a space with pieces and patterns you love, even if they seem wildly different. Keeping one or two similar colors between them will help to pull the look together.
Ground your space and pull your design together with a patterned area rug. Choose a rug that complements your existing color palette.
Design a Textured Table Setting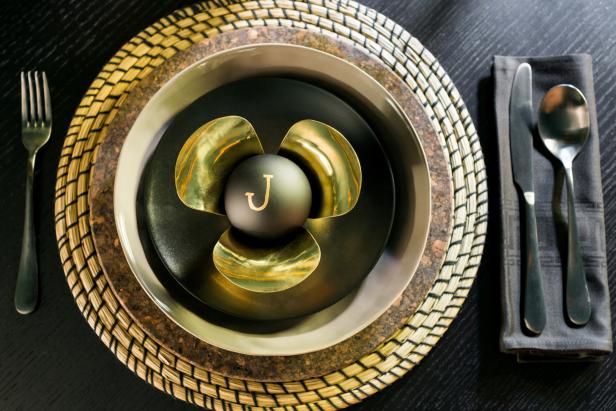 Creating a Wintry Luxe Holiday Dining Space: Texture Play
As you're putting together your tablescape, pay attention to how the textures of each element play together. Too many shiny elements can come across stark or flat. If you introduce too many work and faded elements, the look can come across rustic or country. Here, the perfect balance of refined wood, soft fabrics, a mix of metallics in faded brass and rich gold along with layered chargers in cork and seagrass strike the perfect combination.
Create a table setting using a combination of unexpected materials. Just be sure the textures in your tablescape achieve harmony. Here, seagrass and cork pair with soft fabrics, refined wood and mixed metallics for a look that's balanced and beautiful.
Create Ambiance With Candles
If you're pressed for time, candles will do just the trick. Group a collection of them on your dining table or buffet to create instant warmth and ambiance.
Don't forget to deck out your breakfast nook in holiday style, too.