10 Neutral Bedrooms That Are Far From Boring
Create the getaway you deserve.
It's always a challenge to come up with color palettes for any room in your home, but since we spend so much time in our bedrooms, those color picks are often even more difficult to nail down.
Lately, I've been loving the idea of keeping the bedroom neutral and serene. Neutral bedrooms can feel like a sanctuary in your own home. It's also a great direction to go in if you just can't quite make a decision on color. You can set up a neutral color scheme, then add in some color later on.
Here are 12 tips for rocking out a neutral bedroom and keeping it far from boring:
1. Add a Statement Piece Above the Bed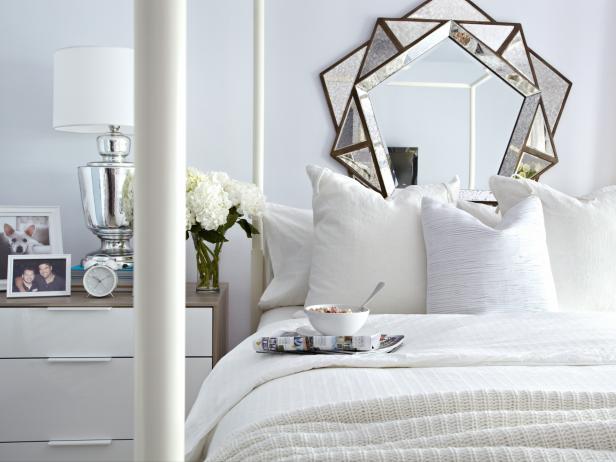 BPF_original_make_all_white_room_work_bed-vignette_h
A four-poster canopy bed that appears pure white on its own, took on a yellow-white appearance once introduced into the room and surrounded by blue-white walls, as well as ultra-white elements including lamp shades, bedding and night stands with glossy drawer fronts.
This approach really works in any bedroom; however, it adds a bit of pop in a neutral space. Whether you choose a mirror, artwork or even a tapestry, make sure your statement piece is properly anchored to the wall so you can avoid any middle-of-the-night mishaps.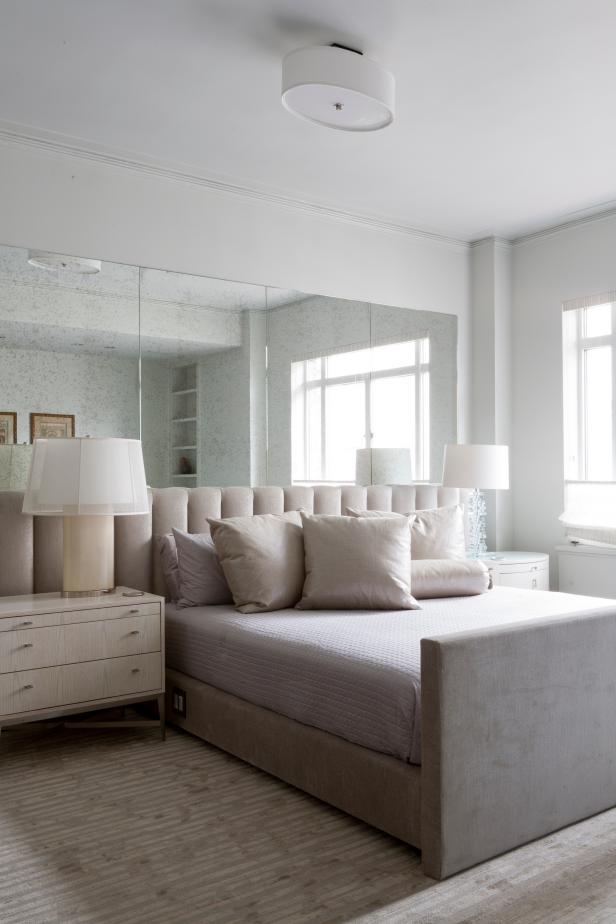 White Bedroom With Mirrored Accent Wall
White walls and a mirrored accent wall work to expand the visual space in this soft, minimalist bedroom.
Choose items such as mirrored furniture or use other large-scale mirrors to reflect the light in your space. You'll add another layer of interest by pairing the mirrors with the lighter colors in your space.
3. Go Neutral in a Small Space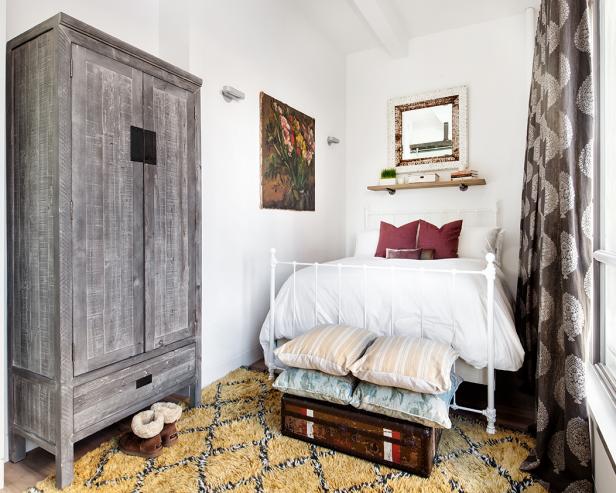 Vintage Meets Modern Bedroom
Although this bedroom space looks small, every bit of it is used. A large vintage wardrobe is perfect for storage space. Burgundy throw pillows adorn a white poster bed.
A neutral palette works especially well for a tiny bedroom like this one. The white walls and bedding help to make the little bedroom feel a bit more open and airy. The pattern and colors of the curtains and throw pillows serve as the perfect accent pieces for the neutral backdrop.
4. Create a Serene Guest Bedroom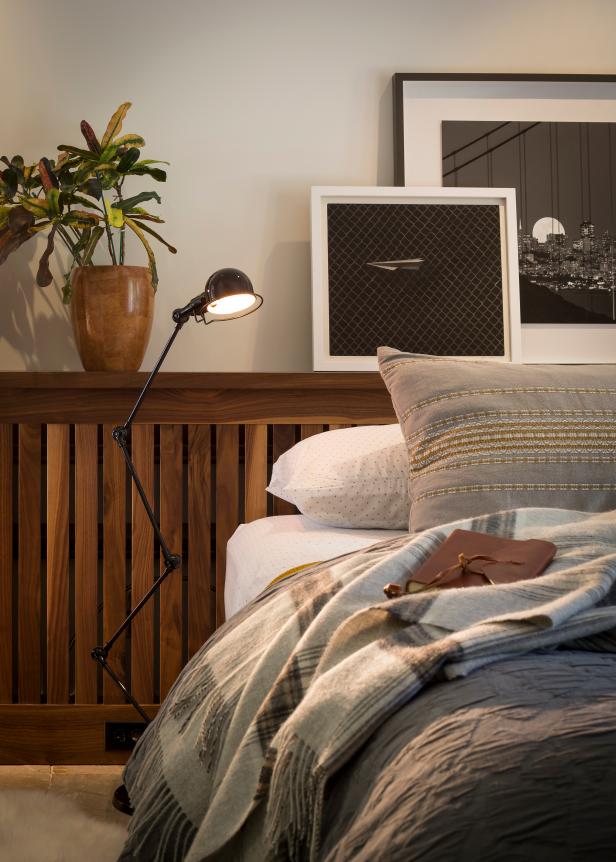 Mid-Century Modern Wooden Headboard With Framed Prints
Warm, muted hues create a dramatic, cozy atmosphere in this guest bedroom. A black task floor lamp adds an industrial element to the eclectic space. Framed black and white prints sit atop the mid-century modern headboard for a casual, unstudied look.
If you want to give the neutral bedroom a try, consider using a this soft color palette in your guest bedroom. This chic bedroom uses a beige color scheme to create a space that feels like a chic boutique hotel. The tonal approach pulls everything together and makes the bedroom feel super luxe.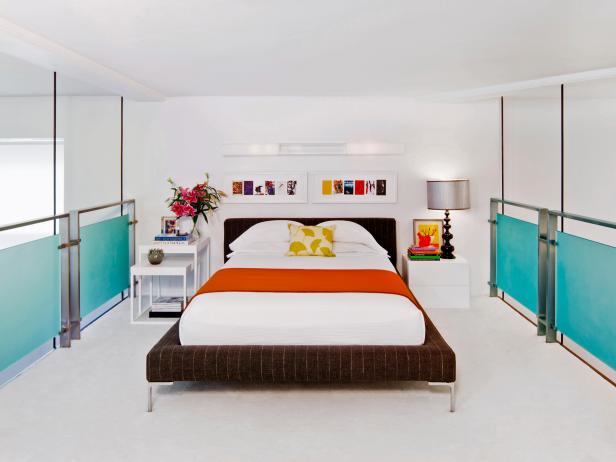 Modern Loft Bedroom
Designer Diego A. Rincon used a platform bed and bold colors to offset this mostly white bedroom.
Photography by ELK Studios
Choosing a neutral palette doesn't mean that you need to give up color altogether. Neutral schemes actually pair quite well with bright hints of color, such as the artwork and blanket in this light, bright space. The bright teal railing finishes off the room with a nice color surprise.
6. Play With Your Palette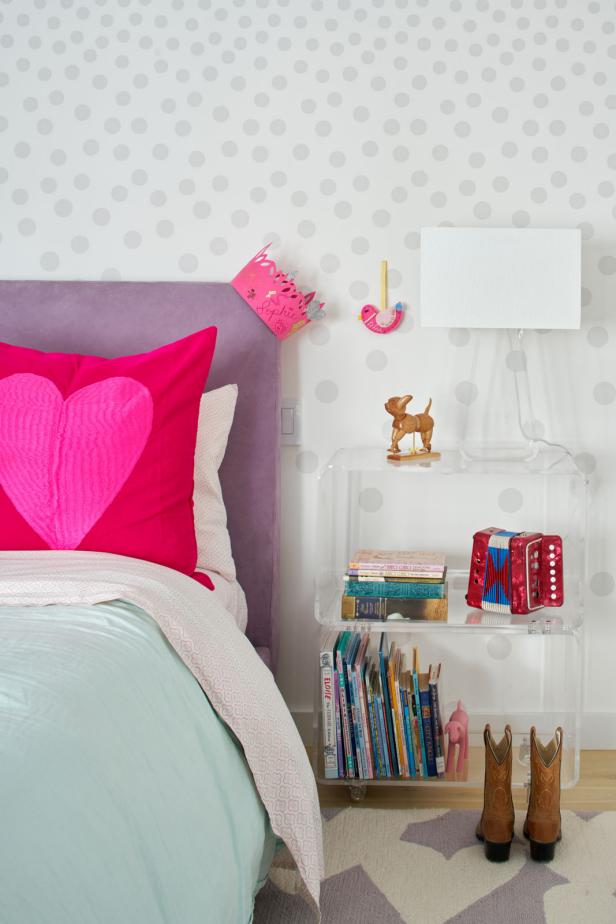 Girl's Bedroom Fit for a Princess
A little princess will love the hot pink and lilac color scheme in this kids bedroom. The room features wallpaper with subtle polka dots and a lucite nightstand that stores her favorite books and toys.
A kid's room is also a great spot to experiment with a neutral bedroom color palette. This gray-and-white girl's room provides the perfect backdrop for fun and colorful decor. The lavender headboard works perfectly and serves as its own neutral in the space.
7. Add Color With Bedding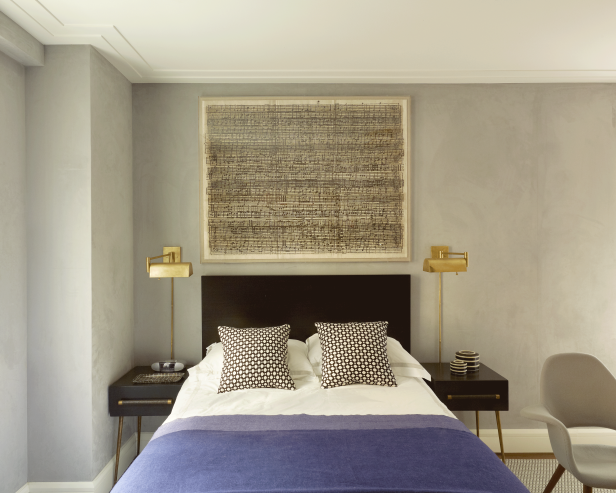 Modern Bedroom Is Chic and Comfortable
In this New York City bedroom, clean lines and a cool color create a sophisticated atmosphere. Midcentury modern nightstands and metallic sconces flank the bed, while the framed print is an interesting focal point above the bed.
Adding colorful bedding is one of the easiest ways to bring in color to a neutral space. The great thing about this approach is that it also gives you some flexibility to change things up. For example, you could use a rich purple for your bedroom in the fall/winter, then switch it to a bright yellow for the spring/summer months.
8. Complement With Wood Accents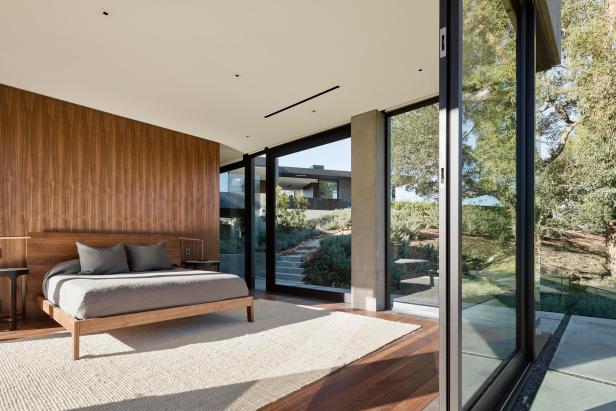 Modern Bedroom Is One With the Outdoors
Walls of sliding glass doors open to give this modern bedroom full access to the outdoors. Even with the doors closed, the beautiful bedroom maintains a harmonious connection to the landscape.
If you want to add an additional layer of interest, wood elements pair really well with neutral schemes. The wood wall in this space pulls the space together and echoes the outdoor vibe that's visible just beyond the glass walls.
9. Let the Sea Do the Talkin'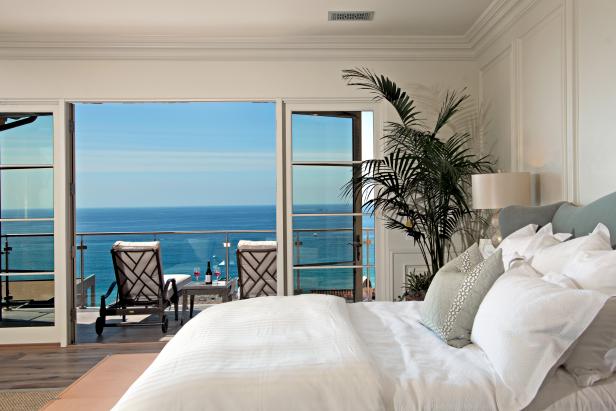 Oceanfront Bedroom is Light and Airy
This tropical bedrooms opens up to a balcony overlooking the Pacific Ocean. A pair of lounge chairs make for the perfect spot to relax, while glass railing allows for an unobstructed view.
Willis Allen Real Estate, a member of Luxury Portfolio International
Neutral schemes also work well if you have a beach-inspired home. In this example, the gorgeous view takes center stage, while the simple, neutral palette of the bedroom takes a back seat.
10. Try On Some Wallpaper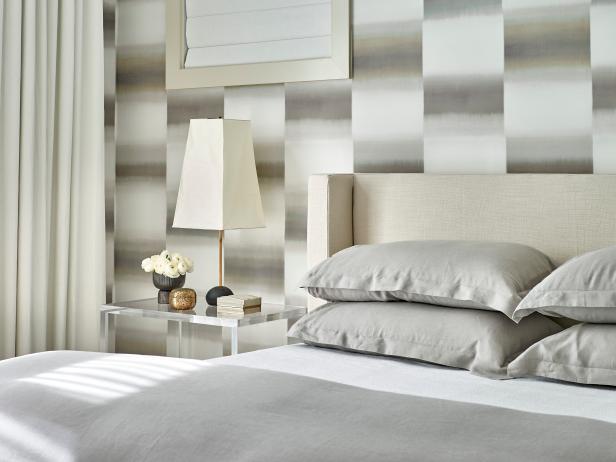 Gray Contemporary Bedroom With Wallpaper
The cool wallpaper in this master bedroom has an almost translucent look, creating a dynamic backdrop which subdued furnishings help to show off.
Neutral wallpapers work just as well as paint when trying to pull together a neutral bedroom. This graphic, ombre print creates the perfect accent wall in the space, allowing the bedding and decor to play off the pattern.