12 Living Room Design Ideas for the Gray Sectional Owner
Learn how to make your sectional shine like the rock star it is.
The classic gray sectional holds a special place in my heart. Besides being ultra-versatile and investment-worthy from a design standpoint, it was the first piece of furniture my husband and I bought for our first home. Since then, I've designed and redesigned our living room around that lovely gray sectional more times than I'll admit.
Along the way, I've spent countless hours searching for living room inspiration. In hopes of sparing my fellow silver fox owners (or aspiring owners!) a few hours of searching, I'm sharing some of my favorite living room design ideas.
Accent with muted pinks or purples and metallics.
Soft pinks and purples, like dusty rose and blush pink, pair beautifully with gray. The muted hues add a touch of femininity without overpowering the design. Metallics often complete this color palette, adding a chic touch of glamour to the overall look.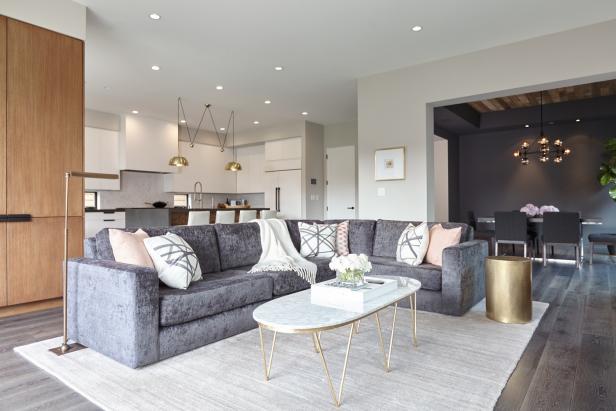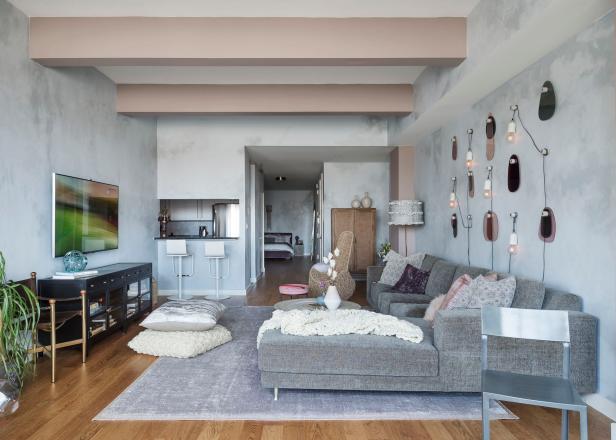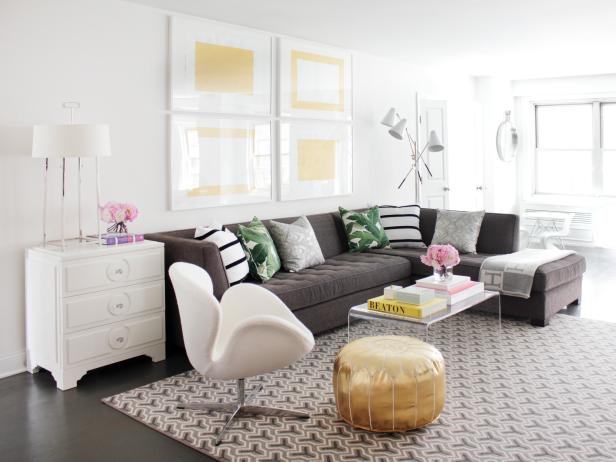 Contemporary Living Room With Gray Sectional
A dove gray velvety sofa sets a stylish scene for lounging and entertaining. Throughout the home, gray-stained hardwood floors are a welcome change of pace, adding depth underfoot.
Contemporary Loft Living Room With Gray Sectional
Dusty pale rose ceiling beams soften this tonal gray living space. A clever arrangement of pendant lights adds visual interest and soft lighting.
Contemporary White Living Room With Charcoal Sectional
Cool, soothing grays provide contrast against fresh white walls and furnishings in this contemporary living room. A charcoal sectional supplies ample seating, and pillows in fun, lively patterns add personality.
Don't underestimate the power of a comfy area rug. Sometimes a little fluff underfoot is the difference between a brilliant design that's welcoming and lived-in and an almost-brilliant design that's cold and lifeless. Rugs in soft, neutral tones, like cream and white, work well with gray sectionals.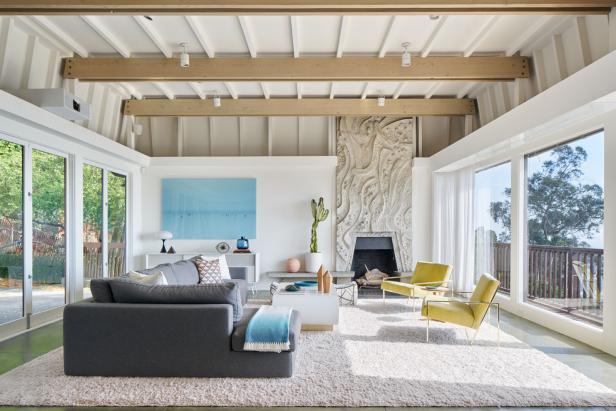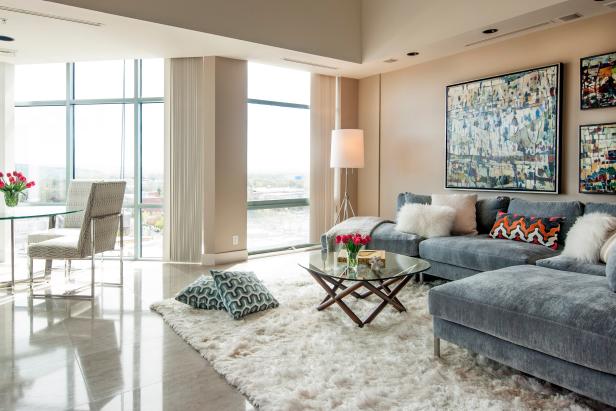 Allison Corona Photography
Mod Living Room Filled With Natural Light
Large windows and glass doors fill the living room with lots of natural lighting. A plush, gray sectional and a pair of cheery yellow armchairs offer comfortable and stylish seating.
Living Room With Gray Velvet Sectional, Modern Art & Flokati Rug
It's hard to tell the more beautiful art in the room: the modern pieces on the wall, or the expansive windows! While this space looks polished, it also feels inviting and comfortable, thanks to the plush flokati rug and the casually placed pillows. The sofa is large enough to lounge with a good book, and the glass-topped coffee table creates utility without overwhelming the clean room.
If you're a fan of pattern play, go for it! Gray is a super-friendly neutral, after all. High-contrast patterns, like the black-and-white wallpaper pictured here, will help to bring out the dark and light tones in your sofa's shade of gray. Just be sure to stick to a general color palette when mixing patterns so your look doesn't feel too chaotic.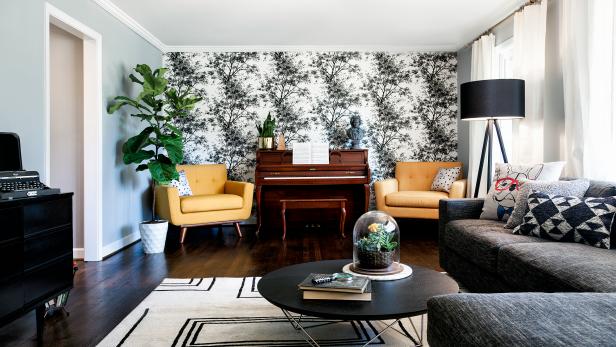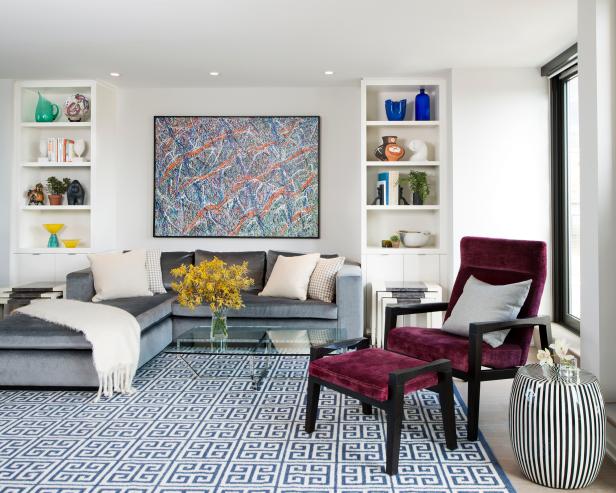 Eclectic Living Room With Midcentury Modern Armchairs and Floral Wallpaper
This lively living room features two bold yellow midcentury modern chairs positioned on either side of a traditional piano. Black and white floral wallpaper provides a backdrop, while potted plants add a touch of natural decor. The cozy gray sectional provides a cozy spot to relax.
Modern Living Room With Maroon Chair and Greek Key Rug
This sleek and modern living room features built-shelving that flanks a comfy gray sectional, while a blue and white Greek key patterned rug anchors the space. A velvet maroon chair and ottoman add a pop of color, pattern and texture to bring the small living room to life.
The warmth of wood helps to balance out the cool tones often found in gray, so embrace wood where you have it. If you have wood paneling or wood beams overhead, install an eye-catching light fixture to draw the eye upward. If you have wood built-ins, style them with colorful, curated accessories to ensure they're a focal point.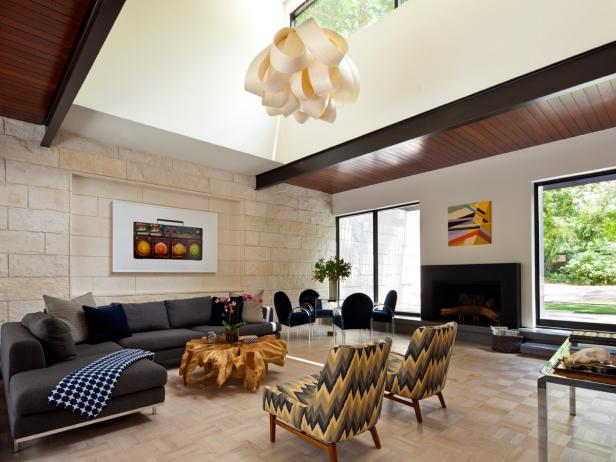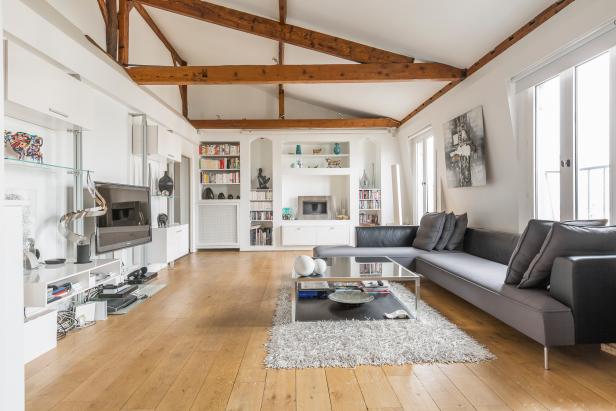 Junot, a member of Luxury Portfolio International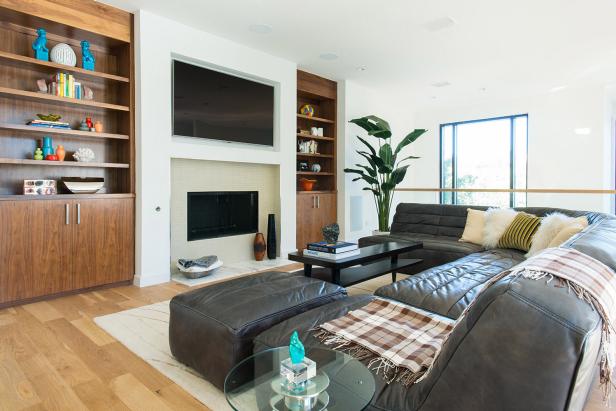 Midcentury Modern Great Room With Neutral Stone Wall
This open plan great room offers ample space for relaxing and entertaining with a gray sectional sofa, funky zigzag print armchairs and a small dining area. A neutral stone wall and parquet flooring keep the look of the room bright, a quality emphasized by the open ceiling with skylight windows that offer natural light.
Urban Living Room in Parisian Apartment
A long gray sectional is paired with a low glass coffee table and hardwood floors for this contemporary living room. Exposed beams bring a touch of rustic to the space, while white walls keep the room light and airy.
Neutral Contemporary Media Room With Leather Sectional
Give the old leather recliner an upgrade by transitioning to this gorgeous gray leather sectional. A matching ottoman offers equal kick-back potential and the whole thing is perfectly positioned to take in game night or the latest flick.
Add vibrant splashes of color.
As I mentioned earlier, gray is an all-star neutral. It serves as the perfect backdrop for bold, vibrant color. Just be sure to balance loud color with understated pieces, like the acrylic coffee table pictured here.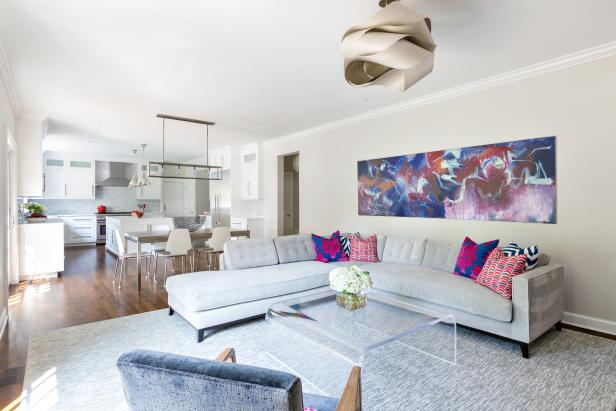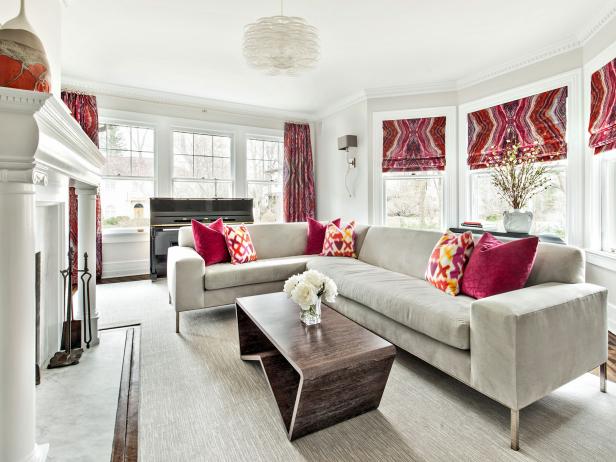 Contemporary Gray Great Room With Large Sectional
This contemporary family room-kitchen combo gets its interest from layered texture and pops of bright color in artwork and accessories. A suspended track light fixture tops the modern dining table, dividing the space and creating distinct areas for lounging, cooking and dining. A large, contemporary modular sofa offers plenty of seating for family and friends.
Contemporary, Gray Living Room With Splashes of Color
Bring texture, color and pattern to the living room with eye-catching window treatments. Here, bold hues from the window treatments are repeated in the throw pillows to inject color into the sleek, gray sectional. A large fireplace with classic moldings acts as the focal point of the room.
Nothing will bring your gray sectional to life quite like a leafy houseplant. A potted tree — like the ever-popular fiddle-leaf fig — is a great way to bring height and texture to an empty corner.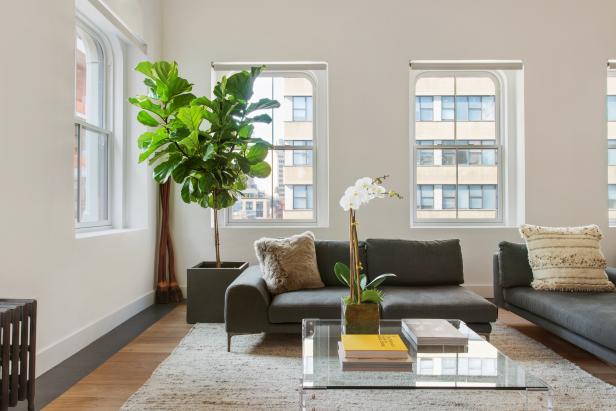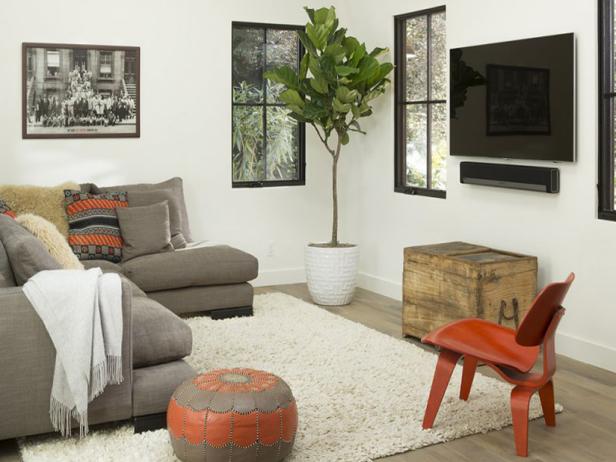 Bright Modern Apartment Living Room With Minimalistic Decor and Textured Throw Pillows
A spare approach to the furnishings in this apartment living room allows the architecture, space and light be the rightful stars. The natural light fills the room and highlights the spacious room. Low-back gray sectionals add a dark color contrast to the white walls and neutral rug. Heavy fabrics on the throw pillows bring pleasing textures to the design, and the tree adds a pop of natural color and warmth.
White, Modern Media Room with Eclectic Accents
A mix of modern and eclectic furnishings gives this space a homey, welcoming vibe, while layered textures add interest. White walls are clean and bright, befitting the home's modern, streamlined aesthetic.
Choose a powerful backdrop for a low-profile sectional.
A sleek, low-profile sectional calls for a striking backdrop. Scan your living space before situating your clean-lined stunner, and choose according to background options. An interesting accent wall or exposed brick does the trick, as does a sweeping view.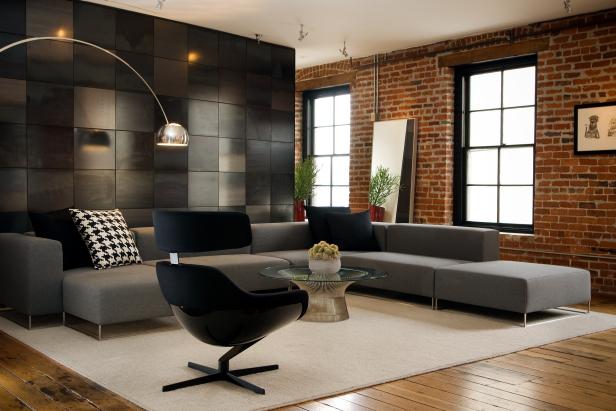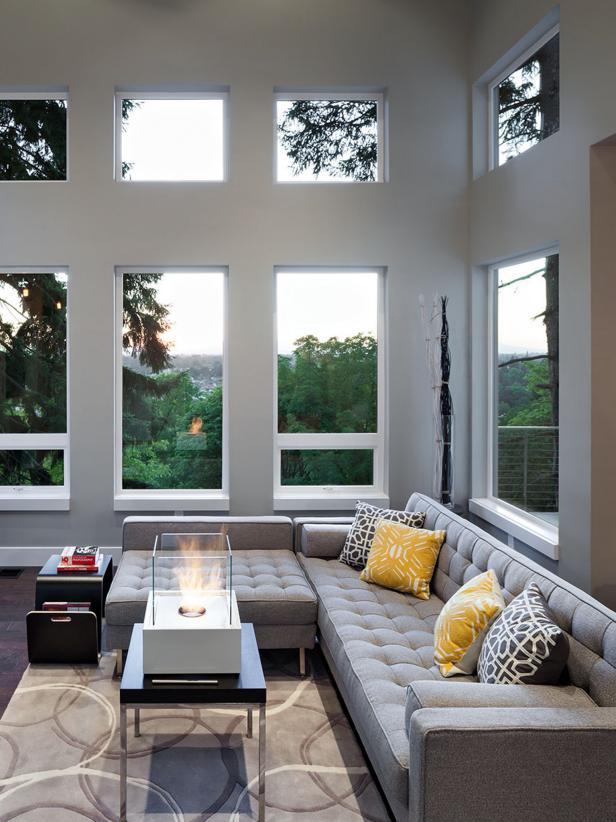 Loft Living Area Features Mod Gray Sectional & Exposed Brick Walls
Modern meets traditional in this urban loft space. A modern accent wall in shades of black and gray creates a separation from the home's other spaces. The structure's existing exposed brick wall brings a historical aura and industrial style. The large sectional sofa is sleek and streamlined, and the coffee table, chair and arc lamp add to the modern theme.
Modern Gray Living Room With Coffee Table-Fire Pit and Sectional
A low-backed modern gray sectional makes room for the views to be enjoyed from all angles. Patterned throw pillows and rug add depth and color to the design. The modern coffee table features a white built-in fire pit.
Pair a charcoal-hued sectional with white.
If you own a charcoal gray sectional, opt for a high-contrast look by surrounding it with bright whites. White walls or crisp, white shelving will achieve the look.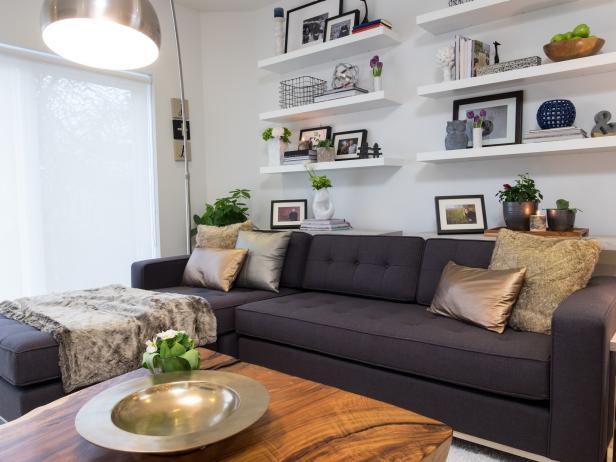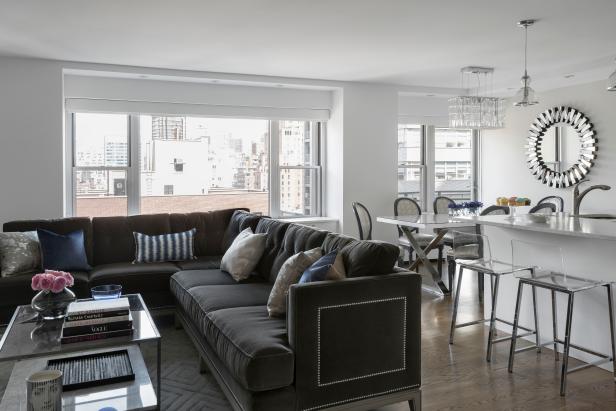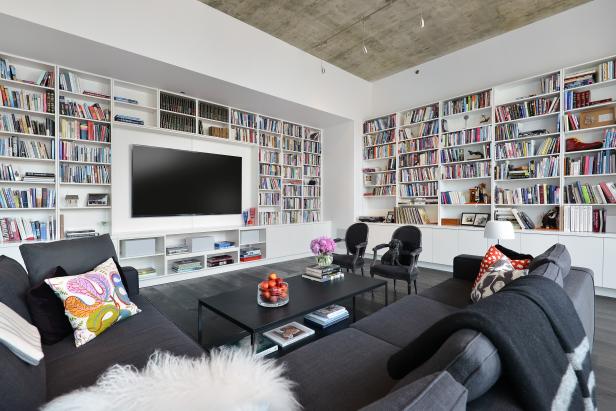 Jim Tschetter, IC36O Images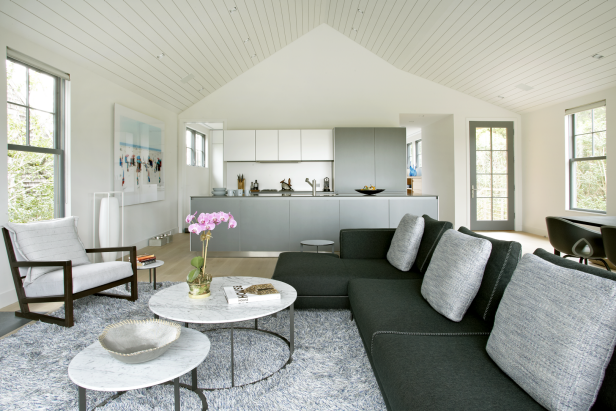 Incorporate modern shapes.
Love a modern aesthetic? Pair your sleek sectional with other sculptural pieces. Search for chairs, ottomans, coffee tables or light fixtures in interesting, modern shapes. By focusing on one or two statement pieces, you'll keep the look clean and fresh.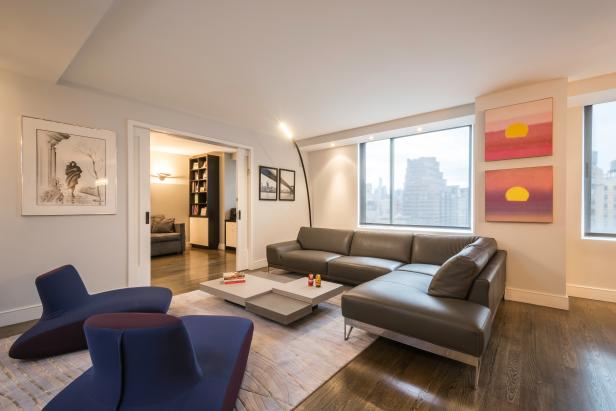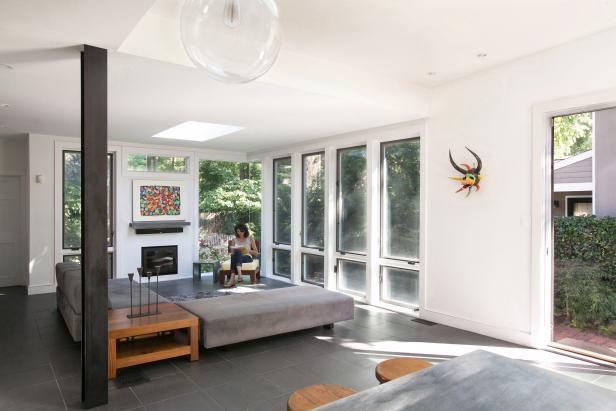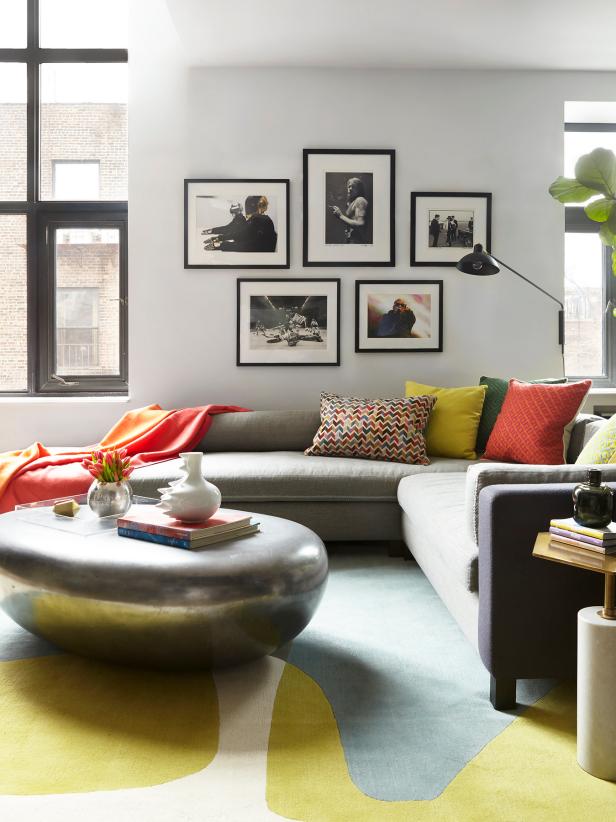 Modern Living Room With Gray Leather Sectional
A modern aesthetic flows through this modern living room complete with a gray leather sectional. Neutral tones are seen throughout and blue chairs provide a splash of color.
Modern Great Room With Floor-to-Ceiling Windows and Gray Sofa
This white modern great room features floor-to-ceiling windows, a fireplace, gray sectional sofa, and large gray floor tiles.
Hip, Midcentury Living Room With Silver Ottoman
Brightly colored pillows and a rug give a vibrant splash of color to the living room, where silver and gray are the backdrop neutrals. The soft curved shapes of both the sectional and ottoman are family-friendly yet totally sophisticated choices.
Make sure you're designing a space that feels homey and comfortable for you and your family. Whether that means kitschy art, funky knickknacks or your favorite throw, stay true to yourself and your lifestyle.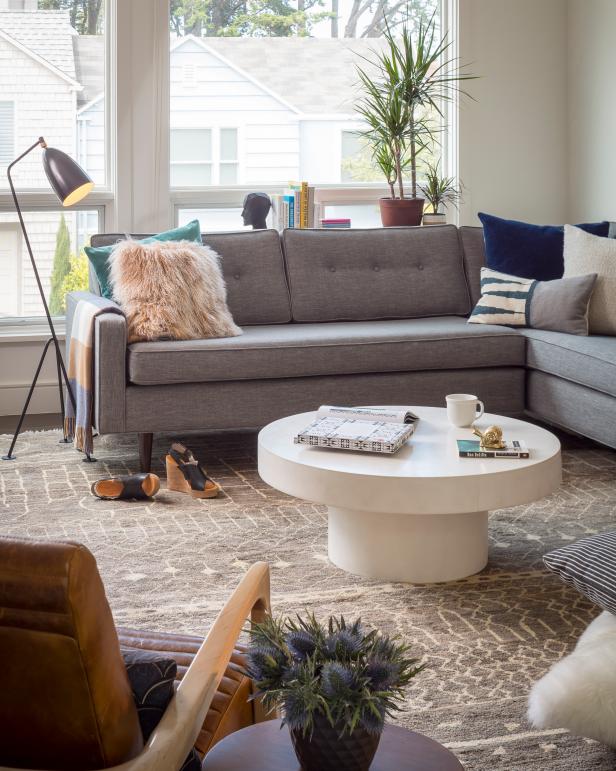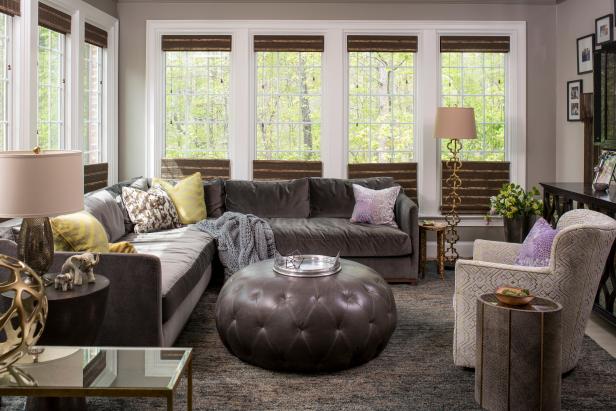 Eclectic Living Room With Contemporary White Coffee Table
The upholstered gray sectional lends itself to effortless entertaining and family movie nights. Mismatched throw pillows in various colors and materials enhance the room's cozy, homey feel.
Chic Living Area Features Gray Sectional & Brown Leather Ottoman
An enclosed sunroom was opened to the rest of the first floor to create a flexible family living area.
Get creative with lighting.
Thanks to its larger size and corner or L-shape, the sectional can balance different types of light fixtures. Below, clustered pendant lights visually fill the gap carved out by a corner sectional. Consider installing a statement light fixture above your sectional.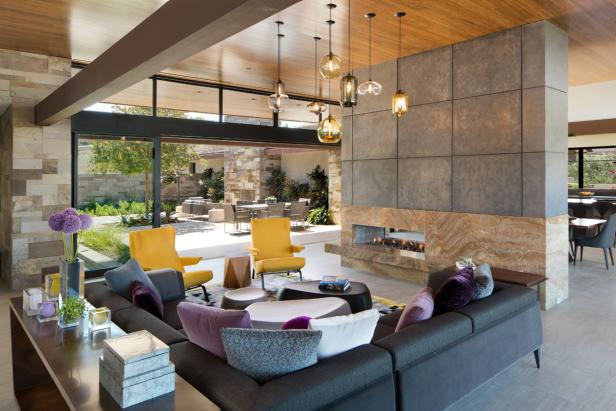 Contemporary Great Room With Gray Sectional
A wooden ceiling adds warmth to this open concept great room with gray floors and tall ceilings. Mismatched glass pendant lights add an eclectic element. The upholstered sectional helps to define the living space.
Dawson Design Group, Inc.
Opt for meaningful artwork.
A gray sectional can serve as the clean backdrop you need to display meaningful artwork or family treasures. The living room, which is often the hub of family gatherings, is a great place to do that.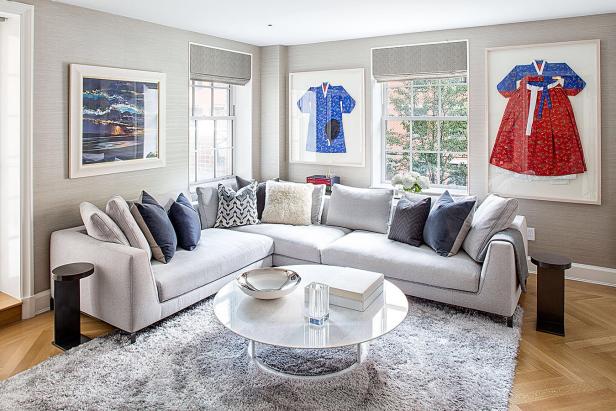 Contemporary Living Room With Large Gray Sectional, Shag Rug, Framed Dress Artwork and Shades of Gray
A gray shag rug adds texture to this sleek contemporary design. A large sectional is topped with a mix of throw pillows featuring gray hues and a touch of pattern. Roman shades let in natural light from the windows. Framed dresses add unique decoration and a pop of color to the room.
You don't have to break the bank to achieve a luxurious living room. These simple tips will help make your space look like a million bucks.