12 Cute Ways to Store + Display Baby Things in Your Nursery
Who says a onesie can't be wall art?
Lately, I've noticed a totally wonderful, super-helpful trend developing in nursery design. Instead of cramming every last baby item in closets and dressers, designers and design-savvy parents alike are displaying their beloved baby things for all to see. I absolutely love the idea behind this. Baby items — clothes, shoes, blankets, toys, books, etc. — are typically so adorable. They're tiny and playful, whimsical even. And, well, you probably picked most of them out, which means you like them. So, why not display them throughout your nursery? You simultaneously free up closet space and decorate the room. Win, win! Check out 12 of my favorite ways to get in on the trend.
My obsession with these racks runs deep. After ogling several pricey, vintage versions on Etsy, I found one at a garage sale for $1! Mine, of course, hangs my own things currently, but I adore baby versions even more.
Mix a little pretty with a little practical. Here, hooks hold baby slings, while triangular shelves hold decorative plants and a tiny pair of shoes. The shelves' shape and the slings' colors keep the display interesting.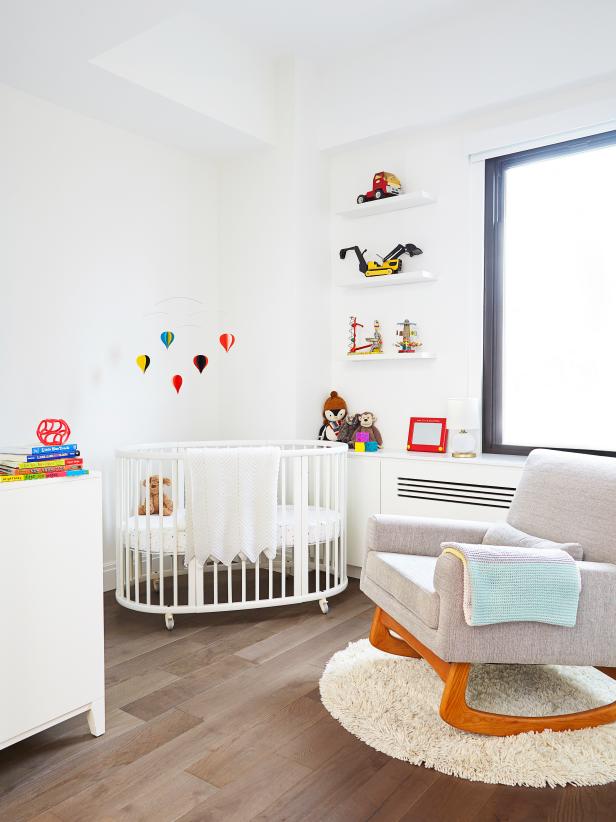 White Contemporary Nursery With Balloon Mobile
The spare, simple backdrop of this nursery's white walls and wood floors is energized with colorful toys and playful details like the hot air balloon mobile. Paint: Benjamin Moore Simply White; Crib: Stokke; Rocking Chair: Giggle
Going for a minimalist look? Opt for sleek, white floating shelves adorned with a curated selection of your favorite toys and books. An excavator has never looked so chic.
Grab a tree branch from your yard and call it a wardrobe. Hey, you can't argue with this degree of rustic cuteness.
While you're at it, grab some greenery from the backyard, too. I love the organic feel of this clothes rack.
Contemporary Boy's Nursery With Art Wall
A gallery wall of transportation prints makes a colorful, fun backdrop to the sleek gray crib in this boy's nursery. Visual texture and tactile appeal is brought in through a mix of patterns from the graphic curtains to the blue-and-white gingham rocking chair and faux fur area rug.
Okay, so maybe Fido isn't necessarily a "baby thing," but I'm sure baby loves the company. And whenever pup goes back to his own digs, this plain basket is a perfect place for often-used items. Consider storing everyday eyesores (ahem, booty paste) in a basket like this, since its contents won't necessarily be on full display.
Don't have space for an actual bookshelf? Opt for a few picture ledges, instead.
8: All the Pretty Pink Things
Unsure what to display and what to stow away? Try using a color palette to guide your selection. Here, a collection of all things pink and frilly creates a lovely, feminine display — while simultaneously freeing up precious closet space.
Keep it ultra-functional, and buy a basic wood clothes rack. Hang the clothes your little one wears most often for easy access.
Single hooks are a great way to display a few, select items — think sentimental gifts or maybe just onesies that match your nursery's color scheme.
Simple but super-cute, the shelf and hook combo can hold just about anything. Be sure to buy one that fits not only the size of your wall but also the amount of items you'd like to display.
While a bookshelf lined with adult shoes would be quite lackluster, a bookshelf lined with baby shoes is absurdly adorable.
Dress your nursery like a creative pro with these adorable, designer-inspired ideas.