11 Budget Ways to Live Luxe in Your Bathroom
Turn your bathroom into a spa-inspired oasis with these quick fixes.
My favorite thing about a luxe hotel room (after the yummy bed and plush bathrobes) has got to be the bathroom. There's nothing quite like a fancy bathroom to make you feel like you're spending the day at a beautiful spa.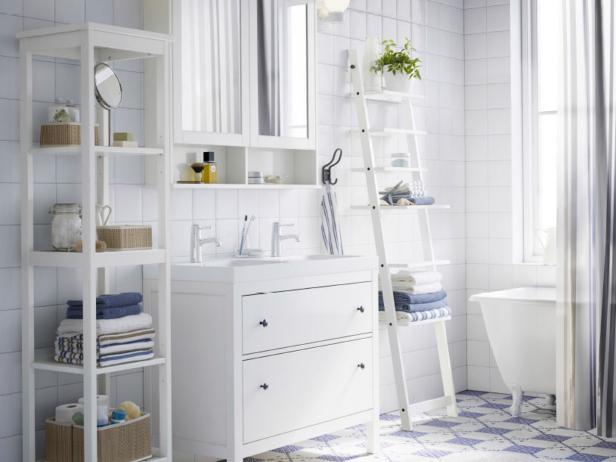 Open Shelving in Airy, White Bathroom
The bathroom is a private place, but open shelving can create the illusion of space in smaller square footage, and with a less weighty wallet hit than cabinets. A few drawers or covered baskets on high shelves can house your private items, and your colorful towels, pretty soaps and washes, and other bathroom decor don't have to hide in a dark closet any longer!
If you're looking for your bathroom to feel a bit more luxe, we have some easy-fix budget ideas for you to try out.
Replace the Light Fixture(s)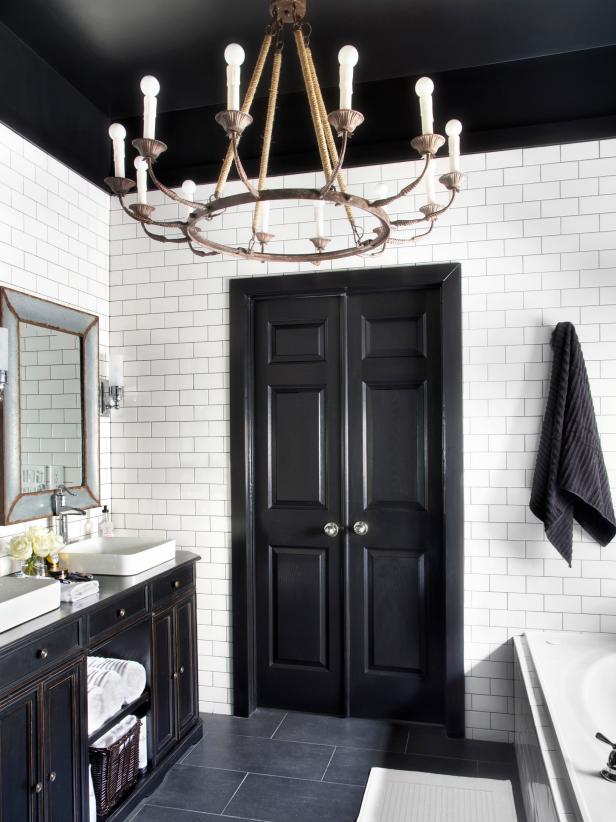 Timeless Bathroom in Black and White
Designer Brian Patrick Flynn transformed this contractor-grade bathroom into an elegant, classic space strictly using shades of black and white. White subway tile walls, black porcelain tile floors and an aged iron chandelier all enhance the room's timeless appeal.
This is an easy fix to help your space immediately feel a bit more luxe whether you're in a rental or own your home. Standard bathroom fixtures almost always tend to be pretty lackluster.
You can add a chandelier if you'd like your space to feel a bit more glam, or go for a more modern pendant for a streamlined look. If you're in a rental, make sure to save the original fixture so you can swap it out before you move out.
Another fun trick I like to use is to add a lamp on the bathroom counter, which also amps up your chic factor.
Replace the Faucet or Showerhead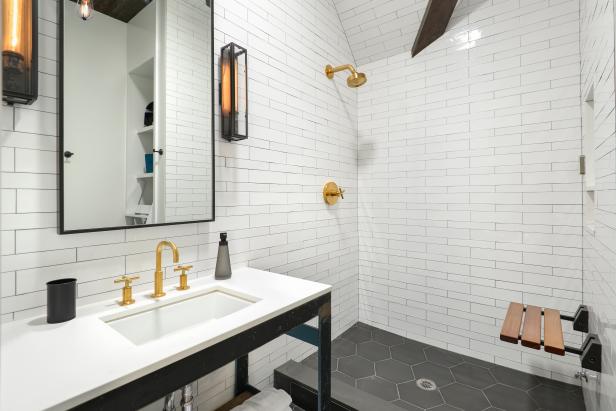 White Bathroom With Subway Tile
White subway tiles deliver crisp freshness to this bathroom that also features a vaulted ceiling and midcentury modern sconces. Brass fixtures in the shower and sink offer a welcome pop of color.
This fix takes a bit more planning but is still a lot easier than you might think and can really make a big impact.
If you're not looking to replace your sink, keep in mind that you will need to choose a replacement faucet that is the same type and set-up as the current faucet that is on your sink. For example, if you currently have a centerset faucet, choose another centerset faucet to replace it.
For showerhead replacements, make sure you're looking for "universal" showerheads if you're not looking to make any other physical changes to your shower or bath set-up. Go for a rainhead showerhead if you want to recreate that same luxe hotel vibe you find in many of the boutique hotel bathrooms.
Use Coordinated Accessories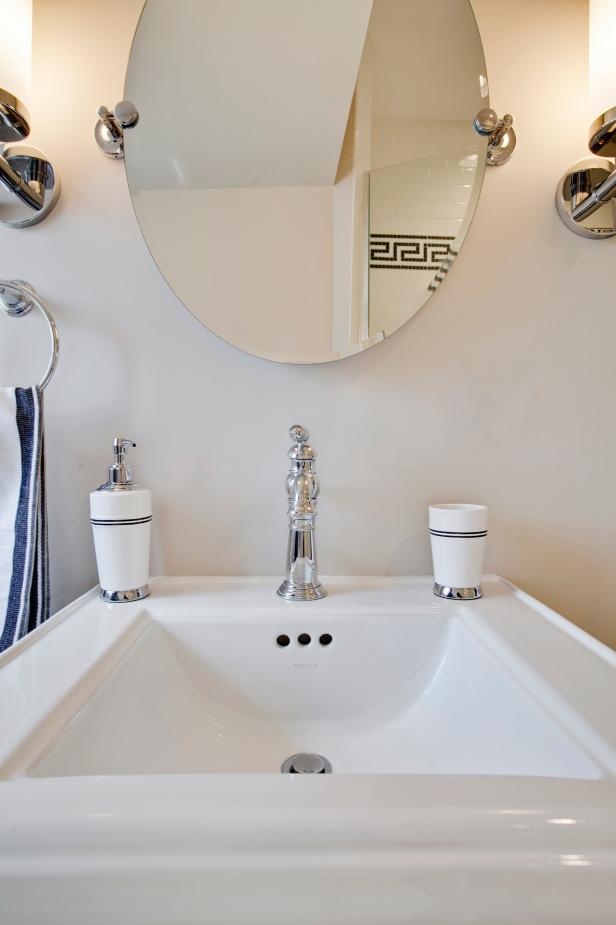 Square Pedestal Sink With Oval Mirror
A square pedestal sink pairs with an oval mirror in this bathroom. Chrome fixtures and simple black and white accessories complete the fresh design.
Rather than using liquid soap in its original container, consider getting a few coordinated bathroom accessories to pull the look of your space together. These can include a soap dispenser, toothbrush holder, a drinking glass and even storage containers.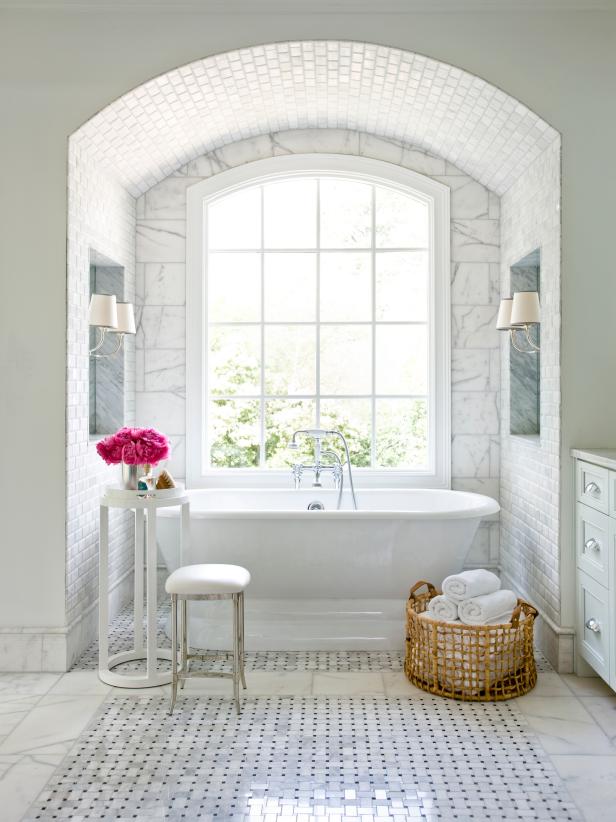 Slipper Tub Surrounded by Marble in an Elegant, Traditional Bathroom
This gorgeous traditional bathroom turns a dormer window into a striking architectural detail by covering the barrel walls in Calacatta marble tile. A slipper tub nestled in the nook is a sunny spot to enjoy a long soak.
Adding fresh flowers is pretty much always a great idea when it comes to design, and it's no different in your bathroom. Based on the size of most bathrooms, you can usually get away with adding smaller arrangements than you might have in other areas of your home. Make sure to keep the flowers in a spot that won't be in anyone's way or get easily knocked over.
Get Creative With Your Towels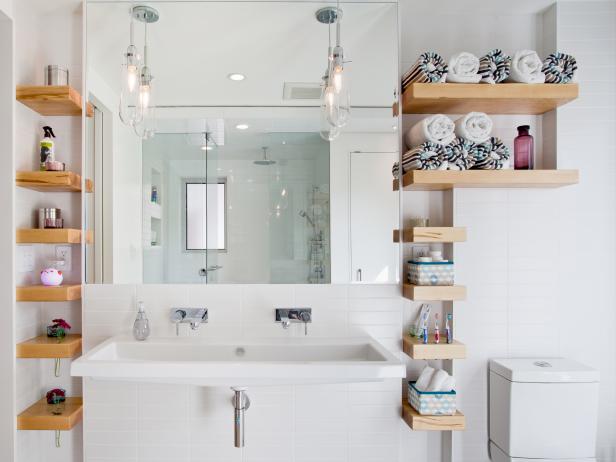 Bathroom With Family Friendly Storage
When designing a bathroom for a busy family of five, Wanda Ely used a wide trough-style sink that lets all three children brush their teeth at once and added clever storage solutions to store everyone's essentials. "The clients wanted a white bathroom with Scandinavian, spa-like feel with open shelving," says Ely. "The floating, rustic maple shelves had holes routed out of them to fit various glass and metal inserts that help hold and organize their belongings. Stainless steel inserts hold toothbrushes, glass test tubes hold flowers, glass cups hold miscellaneous items like hair elastics and cotton balls."
Wanda Ely Architect, Inc.; Scott Norsworthy
Hanging towels on a towel rack is just fine, of course, but you can amp up the luxe factor a bit by rolling up your towels. You can try rolling them up and stacking them on a shelf or even displaying them in a nice basket. This will definitely add a spa vibe to your space.
Speaking of towels, if you're going to splurge anywhere, you might want to consider splurging on some luxurious towels for your bathroom.
When you're shopping for towels, stick to a white palette, if you want to mimic that luxury hotel look. Also consider getting yourself some bath sheets, which are the largest sized bath towels available.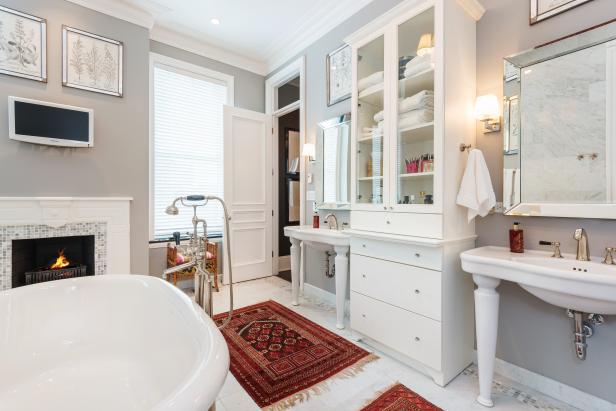 Bright, White Transitional Bathroom With Split Vanities and Red Accent Rugs
Light gray walls and white furniture create a bright transitional design in this Chicago bathroom. A glass door cabinet splits the vanities creating total dual spaces. Red rugs add a warm color accent in front of the large bathtub.
Baird & Warner, a member of Luxury Portfolio International
I always like to use a regular rug in a bathroom, rather than a bath mat, to help amp up the luxe factor. Even if you choose to still use a bath mat in front of your shower or bath, you can still use a standard rug as a centerpiece in your bathroom.
Green and Neutral Bathroom with Mirrors, Patterned Wallpaper and Blue-and-White Rug
This gorgeous green-and-white bathroom features two mirrors and a double vanity to make it easy for a pair of people to prepare for their day. Farmhouse-style fixtures light up the space, while a blue-and-white throw rug provides a bright contrast to the kelly green cabinets and accents.
Allison Corona Photography, Let It Shine Photography, Doug Petersen Photography
This is another big impact idea that people often overlook, but you can easily switch out the cabinet pulls on your bathroom vanity. Again, if you're renter, make sure to choose updated pulls that are the same size as the ones that are currently there, then just save your old ones to switch back before you move out.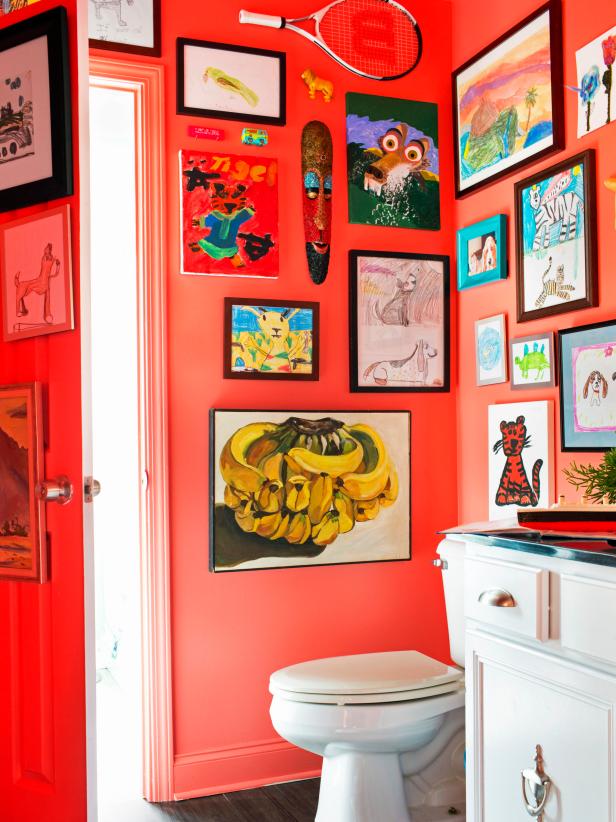 Bathroom Art Gallery
A bright red boy's bathroom becomes an imaginative art gallery with a mix of original children's pictures, prints and even toys. Change out the artwork with new and favorite pieces to keep the display fresh and fun.
This is one of the easiest upgrade ideas on our list; if you don't have art in your bathroom, add some pronto! I prefer to use larger, unexpected pieces in a bathroom, so don't be afraid to step outside the box a bit when choosing yours.
Keep in mind that whatever you hang should either be ok to be around steam or behind glass to avoid getting damaged. And don't feel like you can only have one simple piece of art in your bathroom. Try adding pieces in an unexpected spot, or add multiples and hang a series.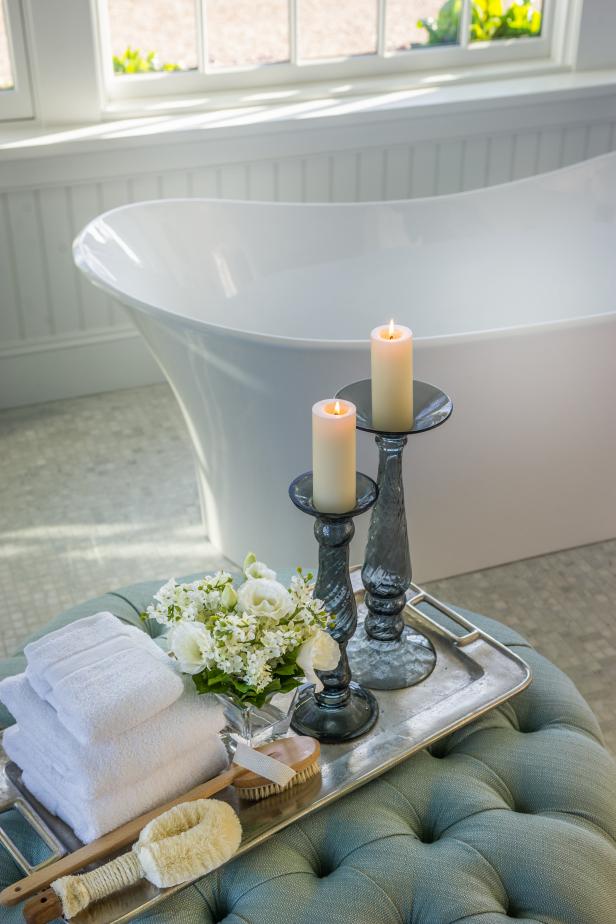 Charming Bathroom With Tufted Ottoman
It's the little details that give the HGTV Dream Home 2015 master bathroom the luxurious touch interior designer Linda Woodrum was hoping for. "Trying to create the sense of a five-star hotel is very important," she says. "I think that's the experience you have when you walk into the space."
Trays are another easy solution that anyone can try. Choose a chic tray, then use it on your bathroom counter to keep all your items such as soap, flowers, candles and makeup together.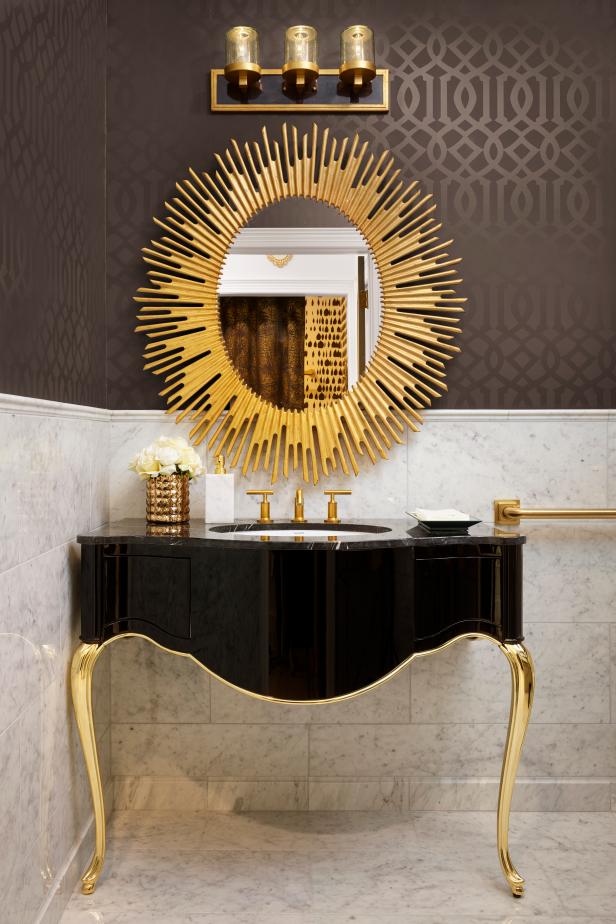 Art Deco Boutique Bathroom
This very glam bathroom incorporated a mix of matte and glossy black throughout with all gold accents and marble floors to brighten up the space.
If storage space is not a challenge for you, consider switching out your medicine cabinet for large, impact mirror.
Once you abandon the medicine cabinet, it opens up your choices greatly in terms of a mirror. Just make sure you remember to consider the dimension of your mirror in relation to your current sink/vanity set-up.