10 Ways Pink Brings Energy to Your Space
It's National Pink Day — incorporate this lighthearted hue into your home's design.
Today is National Pink Day — this hue has been in design and fashion since the 14th century. Acccording to Pantone, different shades convey very different meanings. "Light pinks connote sweetness and tenderness, muted dusty pinks are more sophisticated and upscale and brighter pinks are more whimsical and fun." But every shade "exudes warmth, charm and vitality." Who wouldn't want to incorporate this cheerful color into their interior? To celebrate, we've rounded up our favorite rooms that feature pink in stylish ways.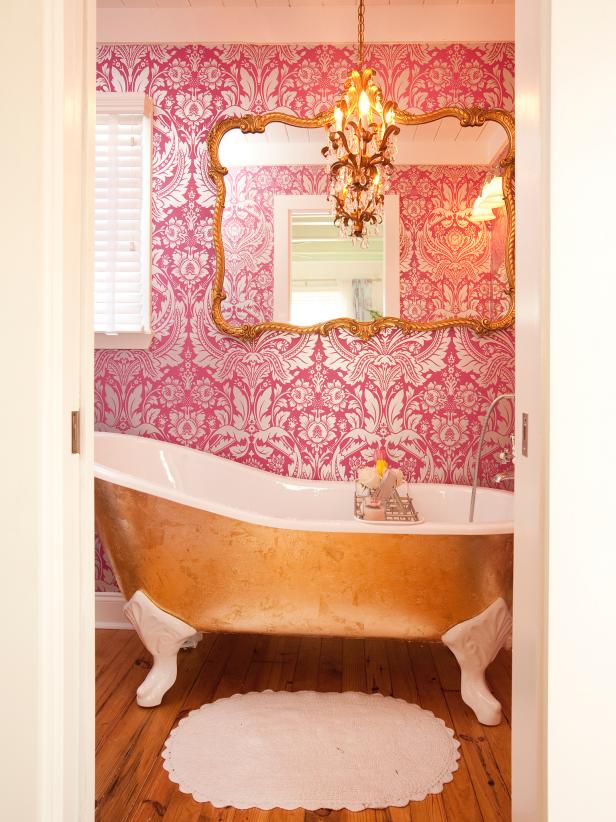 Pink Victorian Bathroom with Clawfoot Tub
A clawfoot tub painted with gold leaf paint is the focal point of this small bathroom designed by HGTV's Property Brothers. The chandelier is also gold-leaf, as is the mirror frame. Pink-and-silver wallpaper give the room a modern, eclectic twist.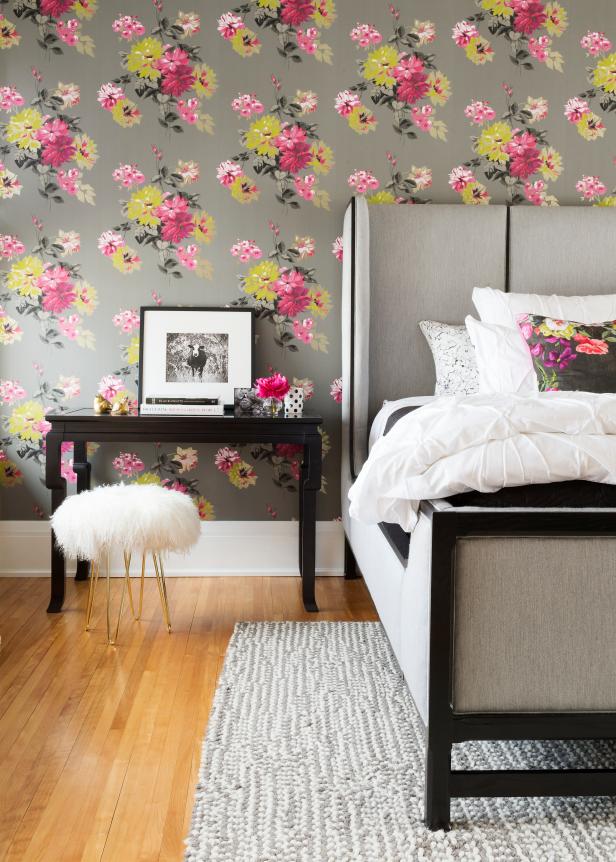 Feminine Bedroom Boasts Fun, Floral Wallpaper
Gray wallpaper with a fun floral print in pink and green sets the tone for this chic, feminine bedroom. Black, white and gray furnishings add lovely contrast and keep the space from appearing too busy.
Susan Gilmore Photography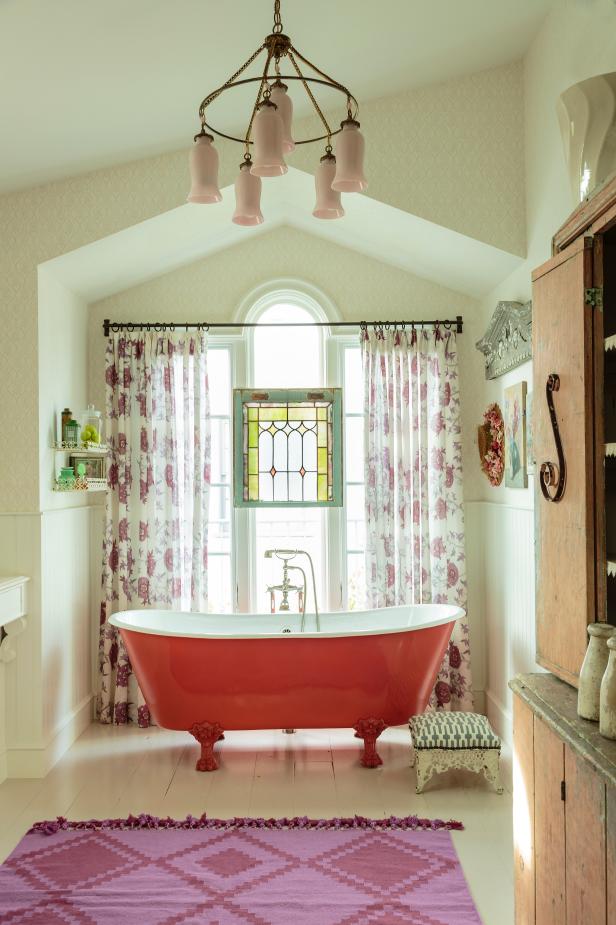 Shades of Pink in this Bathroom Make the Space Pop
In this bathroom, the different hues of pink make the space pop. The chandelier is made from pale pink milk glass, while bolder colors of pink make up the rug. The salmon colored bathtub, which is the statement piece of this space, is accented by pink floral wall curtains that tie all of these shades of pink together.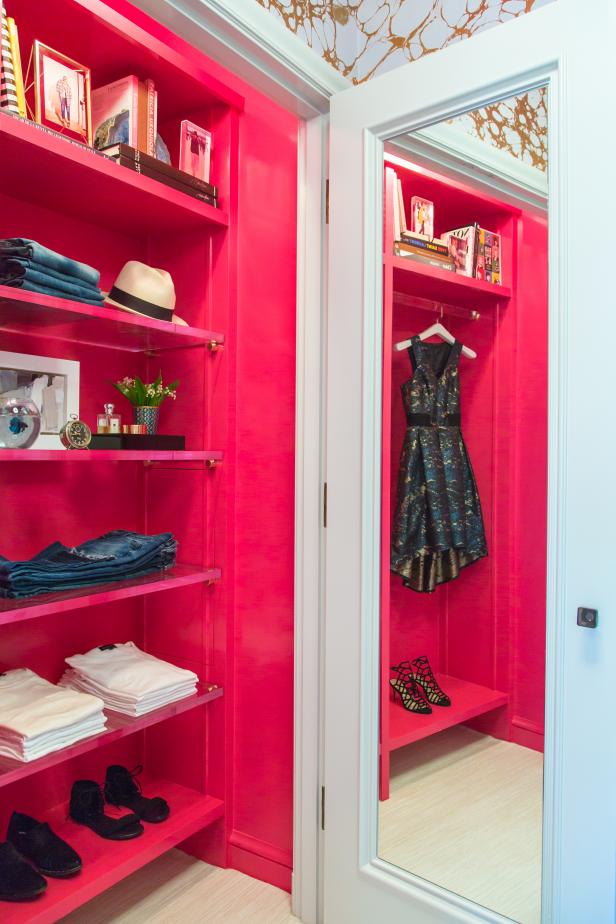 Hot Pink Wardrobe, Marbled Wallpaper Add Sophistication to Dressing Room
Closet doors open to reveal an unexpected hot pink wardrobe with lucite shelves in the dressing room and bath at the 2016 San Francisco Decorator Showcase. Designer Katie Raffetto selected marbled paper for the space's wallcovering to evoke the look of a colorful jewel box.
Anna Alexa Basile Photography; Design by Katie Raffetto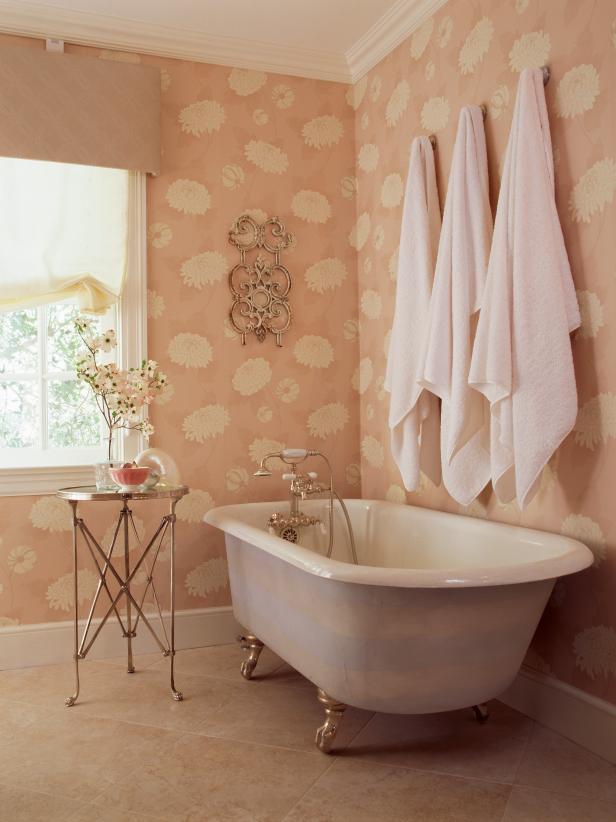 Neutral Cottage Guest Bathroom With Claw Foot Tub
The claw foot tub in this cottage-style bathroom is the perfect place to relax and unwind. A soft blush wallpaper with cream colored flowers adds to the femininity of the space.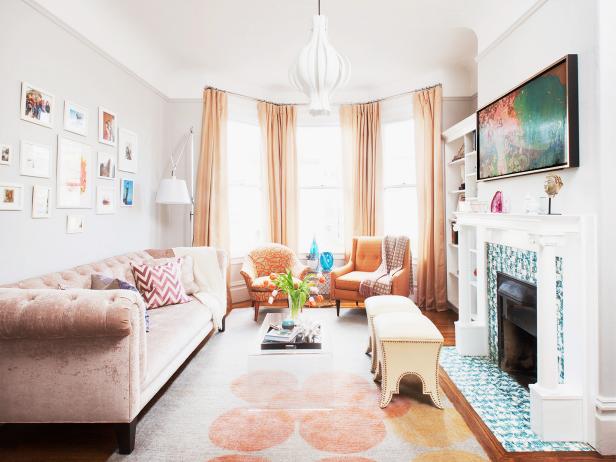 Eclectic Living Room With Velvet Sofa
This modern living room features a custom, pale pink velvet Chesterfield sofa and peach silk drapes. Moroccan ottomans provide additional storage and seating.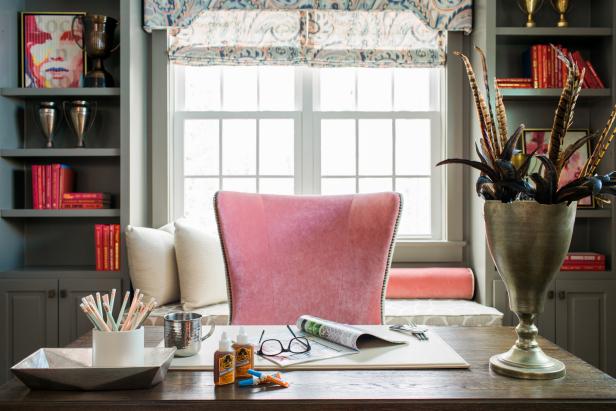 Focal Point
The eye-catching salmon desk chair gives this mostly deep gray space with light ceiling a stylish focal point and pleasing pop of color.
Robert Peterson/Rustic White Photography, 2016, HGTV/Scripps Networks, LLC. All Rights Reserved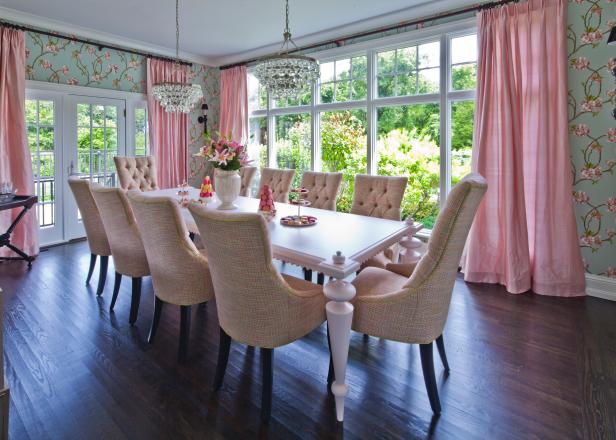 Fun, Feminine Dining Room With Soft Pink & Pastel Green
Incorporating soft pinks and pastel greens, this dining room feels open and full of natural light. The custom pink table seats eight and was inspired by a Chanel piece. Two crystal chandeliers hang above the table, adding elegance and sophistication to the fun, feminine space.