Chic Rugs That Make Having Pets So Much Easier
If you have an adorable kitty or pup, chances are you have a rug that, at some point, has been destroyed by your fluffy friend. After learning my lesson with far too many ruined rugs to itemize, I took a deep dive into the world of pet-friendly rugs. Now, I'm ready to share all my best tips and tricks for all my fellow pet people.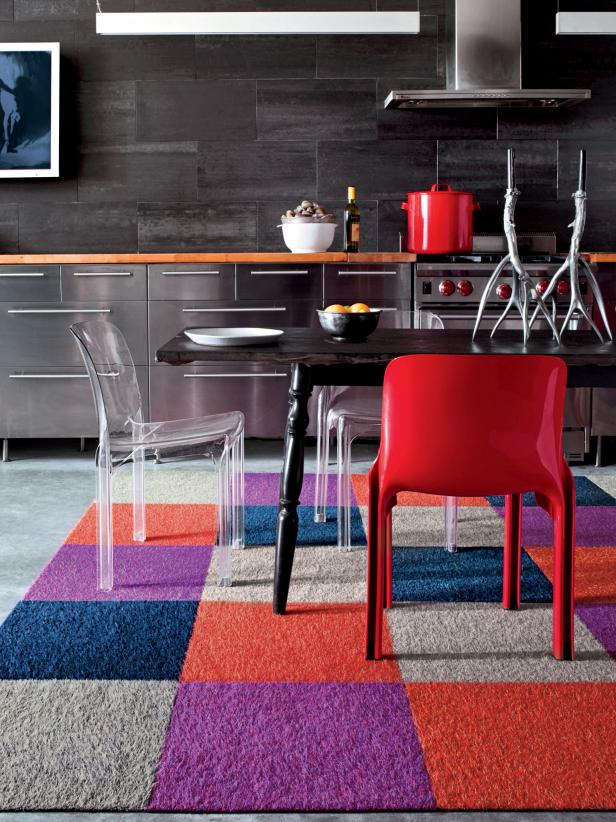 Colorful Carpet Tiles in Kitchen
Instead of searching endlessly for the perfect area rug, create your own colorful look with carpet tiles. You can achieve a big look on a small budget by going modular; just six FLOR® tiles can make a roughly 3' x 5' rug or a narrow 10-foot runner, and the individual tiles can cost as little as $8 apiece. Shown is the FLOR style House Pet, which comes in a rainbow of hues and can stand up to heavy foot traffic.
Using carpet tile is a great way to hope for the best but plan for the worst. The beauty of carpet tile is that should you need to replace a tile or two, no problem! Depending on the size of your "rug," you might want to order a bit more than you'll need and keep your extra carpet tiles in reserve…like a fine bottle of wine.
Our Product Pick: FLOR offers an amazing selection of colors and textures in carpet tile.
Since outdoor rugs are made to withstand sun, rain, heat and wind, they tend to be a great match for most pets. Because of the materials used in these rugs, they are scrubbable and bleachable, so you can wash out almost any stain. Score!
Our Product Pick: Dash & Albert has a gorgeous collection of these indoor/outdoor rugs.
Rugs with busy or intricate patterns can hide a multitude of sins and are a great choice for both dog and cat owners. Vintage rugs are a great choice, and layering them can help create a chic boho vibe.
Finding the perfect rug is only the first step. Even if your pet is a perfectly behaved prince or princess, you will still need a good vacuum cleaner to maintain your pet-friendly rug.
Try using a FURminator or similar brush to help cut down on shedding.
Stay away from sisal, jute or other natural-fiber rugs. Cats will esepcially enjoy scratching them to pieces. And since they're not easy to clean, they're not a great choice for a dog who is constantly trekking dirt into the house.
Make sure you have spot cleaners on hand before any accidents happen. Nature's Miracle is a great choice for any pet stains or odors.