9 Amazing Home Gyms for Fitness Inspiration
Good things come to those who sweat.
While we don't all have space for a gym at home, it never hurts to share a bit of inspiration. And even if you don't quite have enough room for a larger dedicated space, there are so many ideas you could steal to create your own fitness corner…or yoga closet. If you are thinking about adding a home gym, you're in luck. I've rounded up 9 of my favorite ideas for things you can incorporate into your own dream at-home gym setup.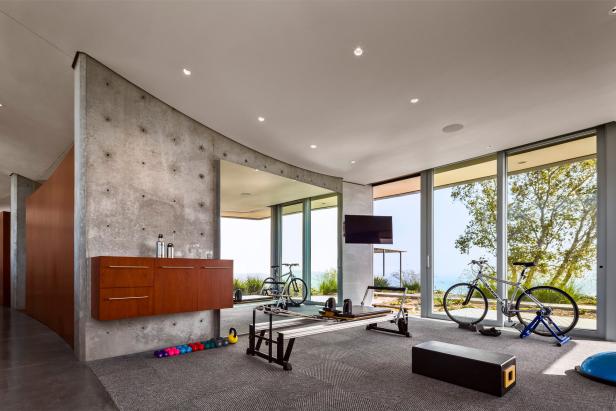 Modern Home Gym Features Natural Light & Floating Storage
The industrial elegance of a cast-in-place structural concrete wall works with large sliding glass doors to create a stylish and sophisticated modern home gym. Floating storage keeps the room feeling open and airy.
This gym makes use of concrete, large glass windows and straight edges to create a completely modern, serene space. It's important to remember to set up your gym in a way that works best for you. The owner of this gym primarily does pilates, so they have a reformer, some weights, a balance ball and that's about it. No need to fill up your space with items you won't use.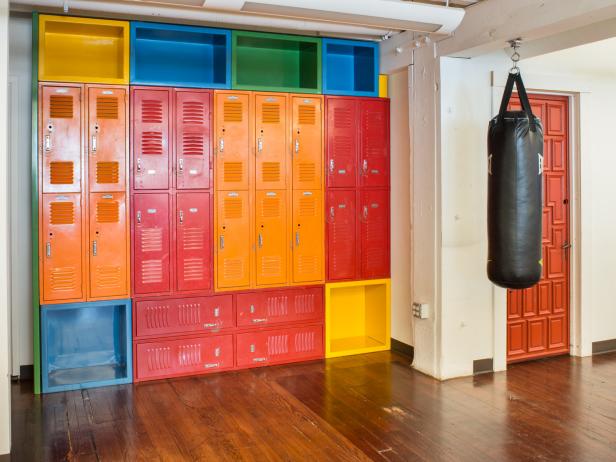 Brightly Colored Lockers at Pereira & O'Dell Athletic Facility
At Pereira & O'Dell, they know that well rounded employees are more productive, so they provide athletic facilities for all of their employees. These brightly colored lockers give employees a place to keep their things while they go work out their bodies after a long day of working out their minds.
These bright lockers are a fun throwback to high school, and add some quirkiness and dimension to the space. If you happen to have a big family, lockers could be a great addition, as each family member could have their own space to store gym clothes, exercise equipment, and anything else they might like to keep on hand.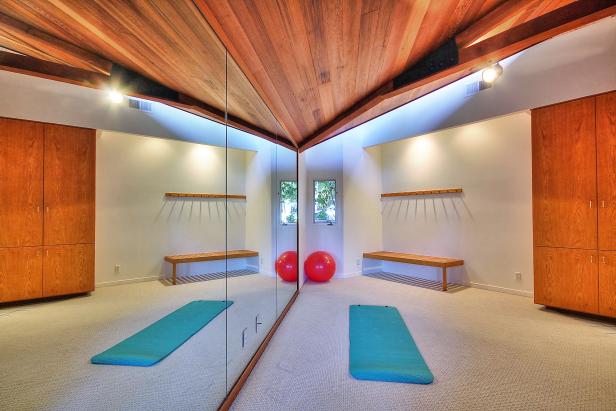 Exercise Room: Clifftop Mansion in Santa Barbara, Calif.
No need to run out to the gym. A stylish exercise room with a beautiful mahogany ceiling awaits the chance to get occupants in tip-top shape.
Village Properties, a member of Luxury Portfolio International
If acoustics are important to your workout routine (calling all ballerinas and dancers!), then a wood-paneled space might fit the bill. Not only does the wood bring in a great deal of warmth, but it also adds some insulation. It helps the space to feel a bit more calm and serene, too.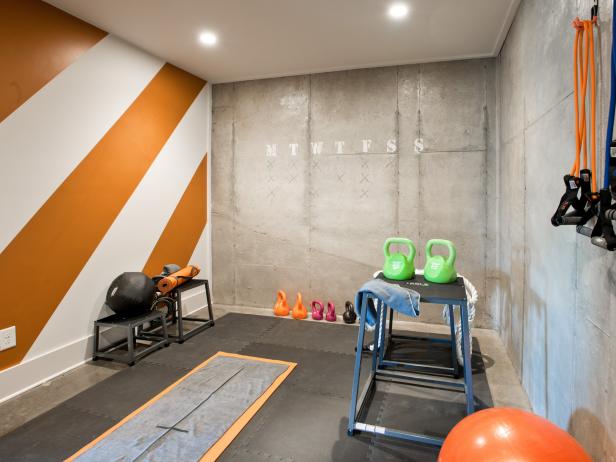 Basement Rec Room With Orange and White Stripe Wall
This simple basement design is perfect for a home gym. The concrete walls are softened by an accent wall of orange and white painted diagonal stripes. Rubber floor matts soften the floor for working out, and letters painted on the wall allow for an easy way to keep track of workout sessions.
Eric Perry, 2014, Scripps Networks, LLC. All Rights Reserved
If you have some room in your basement, a basement gym/rec room might work for you. You don't even need to go to the expense of finishing the floors and walls, as concrete feels modern and fresh. Add some floor mats, a mirror and a few pieces of equipment, and you can have a fab, functional space in no time.
Don't be afraid to go all in on whatever type of exercise you love most in your home gym. If that happens to be wrestling, create a wrestling gym. You can design a space that works with your own fitness plan, no matter what that might be. Some other ideas: a yoga studio, a zumba dance room or even your own small indoor cycling studio.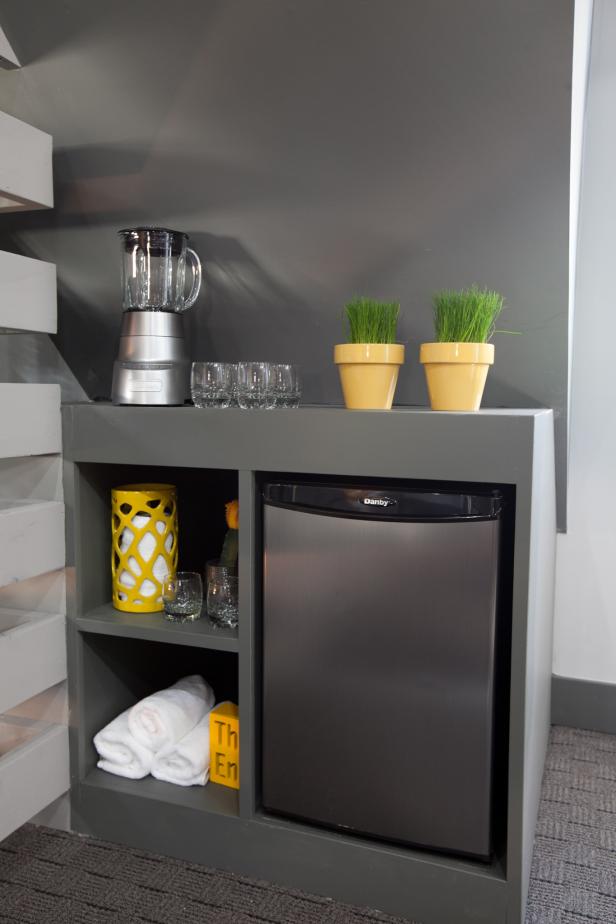 Beverage Station in Home Gym
As seen on HGTV's hit show Elbow Room, Chip and his team of designers created an attic home gym for the Perez family who felt they missed out on time with each other while they all were exercising. This room will bring the whole family together with something for everyone. To keep the family cool, Chip and his team installed a giant fan. They also installed this beverage cart to keep the gym rats hydrated as they exercise.
If you're a smoothie lover or you're obsessed with fresh juice, maybe your home gym needs it's own beverage station. Stock it with everything you need to make your protein shakes, smoothies or even fruit-infused water. You can house a blender, a juicer or any other drinks you want to grab after your workout.
If you'd like your home gym to feel more like a gym/lounge (and you have the space for it), add some comfy furniture and a TV or two. You can keep the TVs on during your workout, or use them to watch a favorite exercise DVD.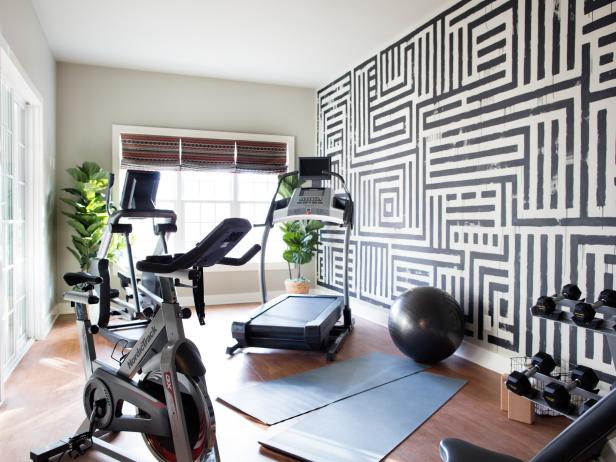 Energetic Space
Located off the covered porch in the home's lower level, the energetic exercise room offers state-of-the-art equipment and lots of natural light.
Sarah Dorio/Flynnside Out Productions, 2016, HGTV/Scripps Networks, LLC. All Rights Reserved
Another great design trick in a gym is to use one main wall as your focal point. You could add a fun wallpaper to bring in some color or pattern, paint an inspiring quote in a large-scale format or blow up some favorite family photos. Make sure that whatever you choose to do, you go in a direction that will keep you motivated and inspired.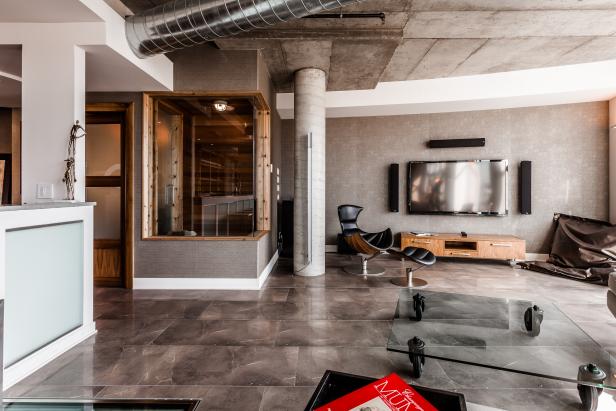 Living Area: Glass-Encased Penthouse in Montreal, Quebec, Canada
Gray walls, gray tile floors and a gray concrete ceiling create a tone-on-tone color palette in the living room. The sauna is visible through a large corner window, enhancing the penthouse's open concept design.
Profusion Realty, a member of Luxury Portfolio International
If you really want to take the home gym concept to the next level, a home sauna system might be for you. The heat from a sauna is amazing for your skin, but also helps your tired muscles relax after a workout. It's definitely a bit of a splurge, but could be the perfect addition to a more luxe home gym setup.