10 Design Trends to Get Obsessed With in 2016 (According to Pinterest)
Pinterest's 100 for 2016 board showed us what's coming down the interior-design pipeline this year. From geometric tiles to a resurgence in neutrals, we're ready for a slew of new trends.
While their predictions are not necessarily foolproof, our friends at Pinterest do have a pretty solid idea of brewing trends in the design world.
As we get into the swing of 2016, Pinterest has released their 100 board, which highlights 100 trends for the year across a number of categories based on popular pins, picks from influential pinners and staff predictions.
I've rounded up the 10 design trends that Pinterest thinks will get the most pins in 2016. What do you think about their picks?
Geometric Tile Pattern Adds Extra Dimension to Powder Room
Geometric tile in varying color stretches from wall to floor to play a fun game with dimension and shape in this trend-forward Brooklyn powder room. A sleek, white floating vanity and simple mirror keep the attention focused on the dramatic tile.
Tiles seem to be getting bolder and bolder, and graphic geometric tiles are very much on the trend radar this year. We're seeing these statement tiles used for kitchen backsplashes, in guest bathrooms and even in outdoor spaces in the form of cement tiles. They're a great choice when you're really looking for that wow factor.
Scandanavian-Inspired Design
White Modern Bedroom With Rocking Chair
Sparse but sophisticated, this modern bedroom allows every item in it to have significant design impact.
On the opposite end of the spectrum is sparse, Scandanavian-inspired design. This style of design is characterized by neutral, white and cream color palettes, natural wood elements, simple lines and a vibe that somehow manages to feel both Old World and modern. Light floors, dual-purpose furniture, eco-friendly materials and fireplaces are also common elements in spaces with a Scandanavian-inspired look.
If you'd like to try this design style at home, start by ruthlessly editing your home. Scandanavian styles don't include much in the way of decor or accessories.
Blue Contemporary Home Office
This cool-toned contemporary home office spices up the workspace by adding fun pendant lights, a floating desk and comfy leather chairs.
The obsession with home design hacks lives on, and Pinterest predicts that 2016 will be all about hiding those wires. Concealing wires and cords is especially challenging with wall-mounted TVs and in home offices, which often serve as the hub for printers, computers, scanners and the like. But the trend is moving toward spaces in which you can't see a single wire anywhere, and luckily there are lots of tips and tricks you can follow, many of which don't require you making a hole in your walls.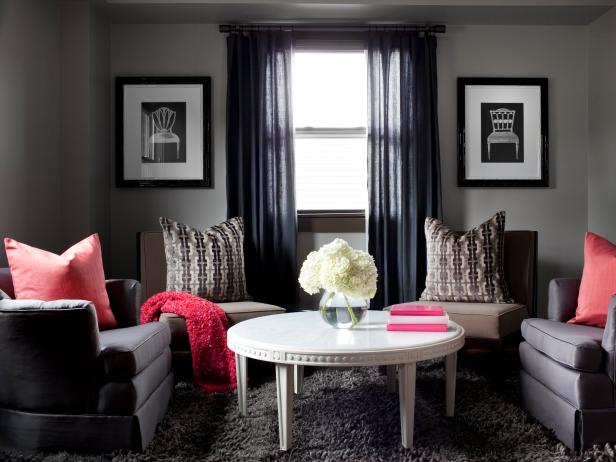 Contemporary Gray Living Room
Pink pillows and a pink plush throw add color to a room that is made up primarily of grey tones, from the light grey walls and chairs, to the dark grey drapes. A round white coffee table sits in the middle of the room on top of a gray-fringe area rug, creating a stark contrast.
"Gunmetal is the new copper…" so embrace the grays. And not just lighter grays. Darker grays, like charcoal gray, are also very trendy and are showing up in a big way in home design. As gray grows in popularity, we see it showing up more as a paint color in living rooms, bedrooms and powder rooms. It's a great option if you've been drawn to black but don't quite want to make the leap.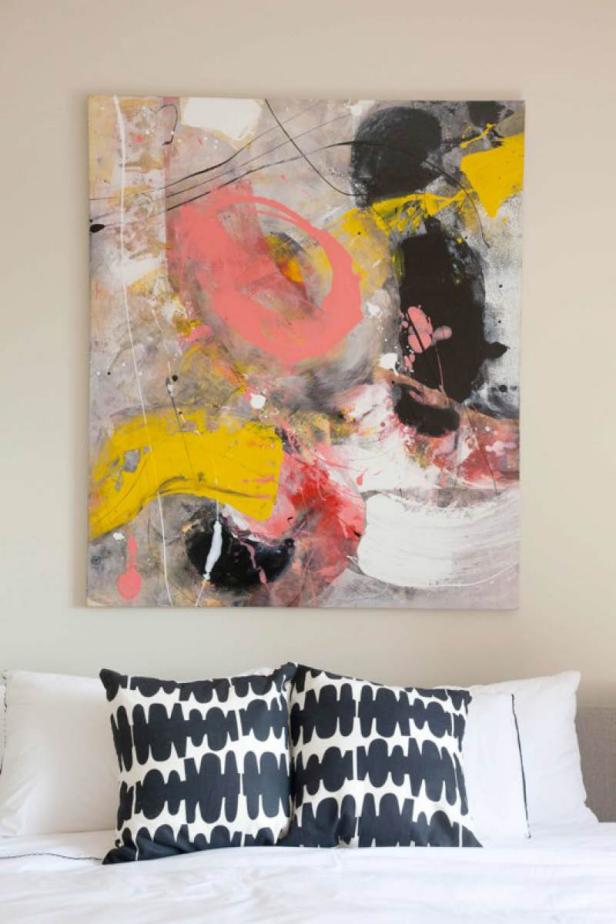 Abstract Art Wows in Bedroom
Abstract art and punchy throw pillows are a dynamic duo in the bedroom.
Much like artwork, throw pillows are an amazing way to add some color or interest to a space. And apparently bold, graphic pillows are all the rage this year. Pillows are great because they're so easy to switch in and out, and are really surprisingly versatile. I like to keep extra pillows on hand, as it allows me to "makeover" a space every once in a while and give it a completely fresh look.
If you want to experiment with pillow but are unsure how to mix them, try sticking to one color but choosing different patterns and textures.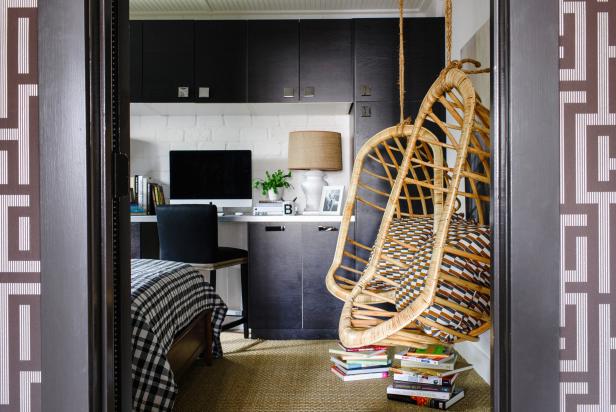 Rattan Chairs Hanging in Guest Bedroom Entryway
These hanging rattan chairs add a sculptural element to a black-and-white guest bedroom with office workspace.
© Rustic White Photography
While tile and throw pillows are all moving toward the bold and graphic, calm neutral color palettes are also trending. There seems to be a movement back toward these understated, simple color schemes that manage to feel very classic and modern. Does this mean beige is back? According to Pinterest, we kinda think it is (and also white, gray, cream and brown).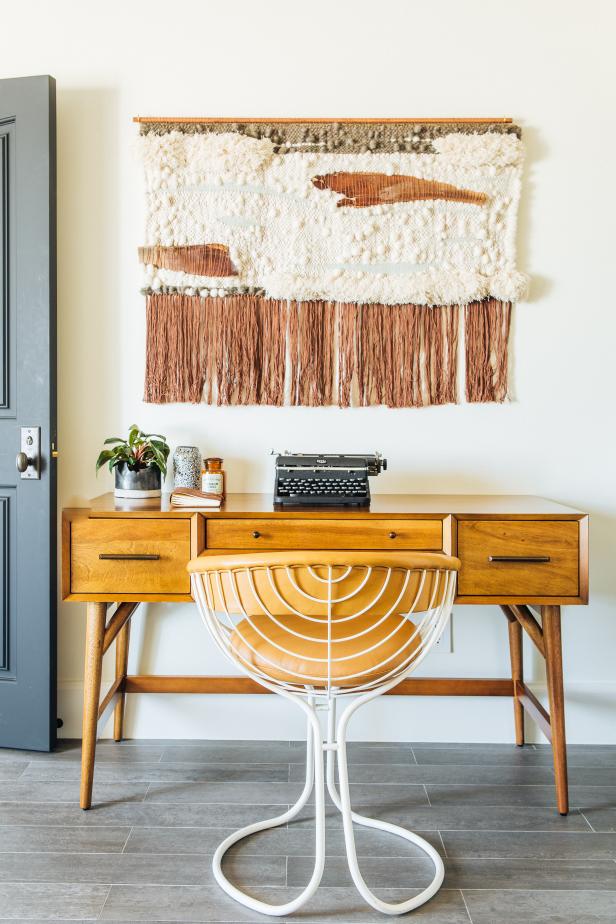 Funky Home Office Space
This fun home office features a funky office chair with pop of color. Unique wall art adds a touch of texture, next to an antique wood desk creating the perfect work space.
This trend has been going strong for several years now and it doesn't seem to be slowing down at all in 2016. Woven wall hangings of all shapes and sizes are literally everywhere you look in design magazines and on design blogs. Both vintage and new wall hangings are popular, while both macramé and traditionally woven pieces seem to be the rage. You can often find these pieces in vintage or thrift stores, as well as on sites like Etsy. Target is even venturing into the wall hanging decor category.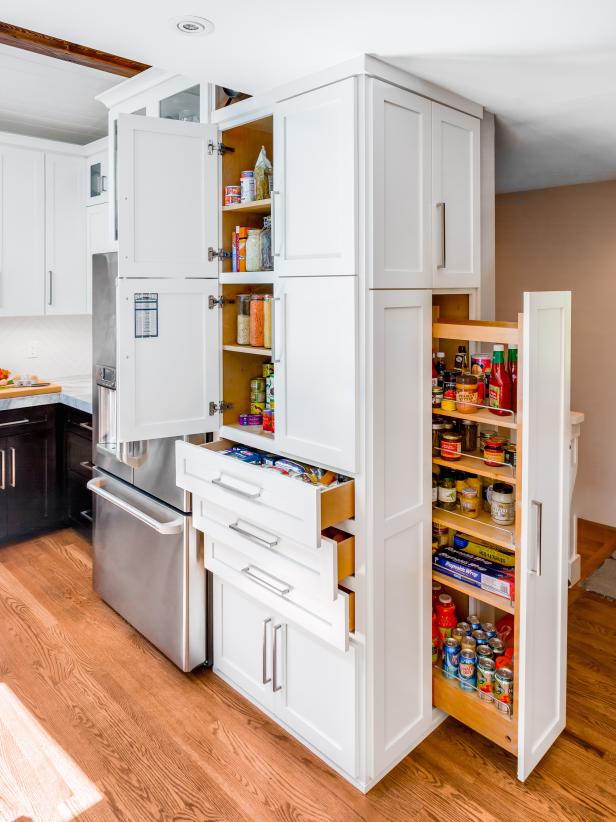 Contemporary Kitchen Storage and Pullout Pantry
A custom pullout pantry creates extra storage space in this contemporary kitchen. Plentiful drawers and cabinets help stow away other essentials while keeping them close at hand.
Again, people are still loving space-saving hacks, especially in closets and kitchens. With an increase in small space living (and tiny house love!), it's more important than ever to make use of every square inch in your home. If you want to get in on this trend, you might want to take a walk around your space and see if there are any upgrades you could focus on in the new year (i.e. pull-out drawers in cabinets, built-ins in closets, etc).
Artisan World-Inspired Decor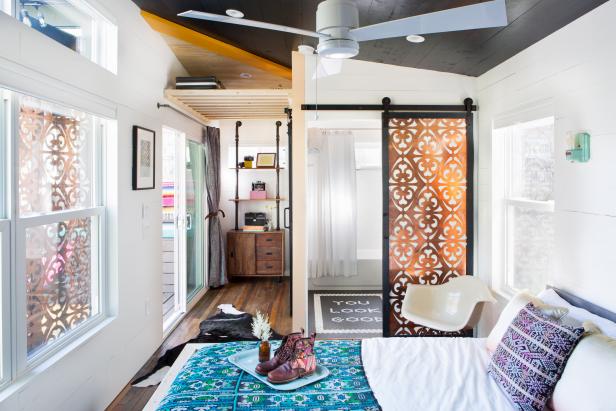 Small Bedroom With Eclectic Flair
The tiny house is made up of two trailers. One serves as a bedroom, and a porch connects to another trailer. A storage rack built down from the ceiling houses the clients' fishing poles and camping gear. For tiny homes, you must use every square inch of storage!
Molly Winters Photography
Artisan decor, which is sort of code word for boho as far as I'm concerned, is also still on the super trendy spectrum. This look includes native and tribal-inspired items, baskets and ethnic fabrics. Basically anything that looks like you could have picked it up at market in Morocco, Mexico or Turkey.
This is an easy trend to jump in on if you want to give it a try. You could pick up some rattan baskets, pillows covered in indigo or mud cloth or even some small pottery to use around the house.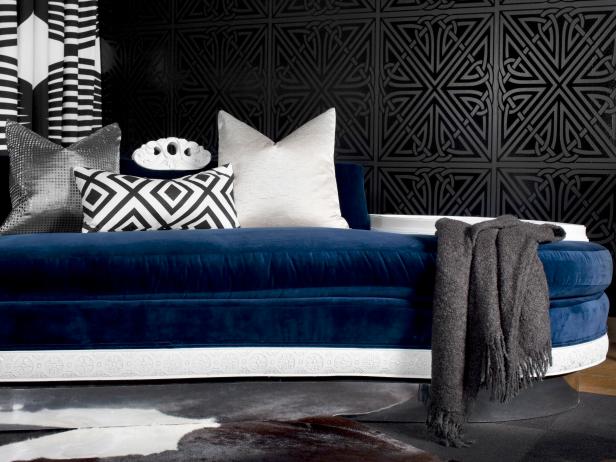 Contemporary Blue Settee and Graphic Black Wallpaper
This bold, blue velvet settee offers sophisticated and comfortable lounging. The masculine lines and colors are softened by the sofa's feminine curve.
Wallpaper is another trend that's still going strong in 2016, but lately it seems to be all about the metallic wallpaper. Silver, gold and copper is finding its way in to a variety of wallpaper collections, and it really brings some sparkle and interest into a space. If you're gun shy about experimenting with a metallic wallpaper, try it in a smaller spot like a walk-in closet or a small entryway.