The Small-Space Craft Room You Didn't Know You Needed
Get crafty with your craft room. 
All this week, we're sharing simple ways you can live better in 2017. We're swapping unrealistic resolutions for quick, doable solutions to all your home hang-ups, from organizing to tech to a healthier kitchen. You won't believe how easy it is to start small!
Resolutions can be a good thing, but sometimes they feel a little too serious. And when that unfortunate day comes when you break your resolution (for me it's usually within the first week if I bother to come up with one at all), all you feel is disappointment, shame and total defeat. That's why we're skipping the resolutions and instead focusing on small, simple ways to make this year a better year than the last.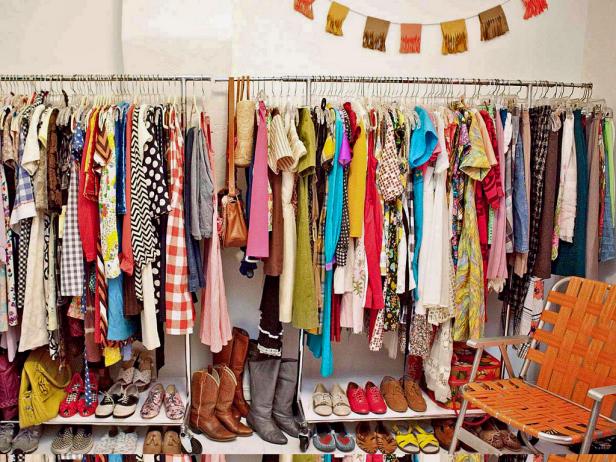 Cluttered, Full Closet With Hanging Clothes and Shoe Shelves
A great way to declutter your home is to get rid of clothing you're not wearing. Donate or sell any items of clothing you've had for more than a year without wearing. You'll clear out much needed space in your closet allowing you to be better organized and have easier access to the items you do use.
Or maybe you feel like electronics are taking over your life, and it's time for a tech turn off. Instead, simply clean up your phone. Keep the apps to a minimum (only what you really need and actually use). Try to limit and be more aware of the amount of time you spend on your phone instead of feeling bad every time you start browsing.
And if your big plan this year involves unleashing your creative side, you don't have to spend a fortune remodeling an entire room into the craft space of your dreams. Though if that's an option, consider me jealous! All it really takes is a flat work surface, your favorite crafting supplies and a little wall space. Check it out!
Picture Frame Organization
01:13
Optimize craft station organization by going vertical with picture frames.
It's really that easy, folks. That's why this project is so ideal for the new year. It's inexpensive to get started, would take less than a day to accomplish, and you'll be ready to craft in no time. Bonus? If in six months, you decide crafting isn't the passion you'd hoped it would be, you can quickly transform your crafting space into whatever new activity your heart desires (totally guilt free). So here's to a happier, healthier and less demanding New Year!
Looking for more craft room inspo?