Get a Dreamy, Organized Closet With These 8 Tips
Could your closet be charged with disorderly conduct? No need to fear! Expert Melanie Charlton provides tips to declutter, maximize storage and reorganize your closet.
Closet organizer to the stars, Melanie Charlton, shares how to declutter, maximize storage space and organize your favorite items efficiently just in time for fall shopping. Ready to conquer?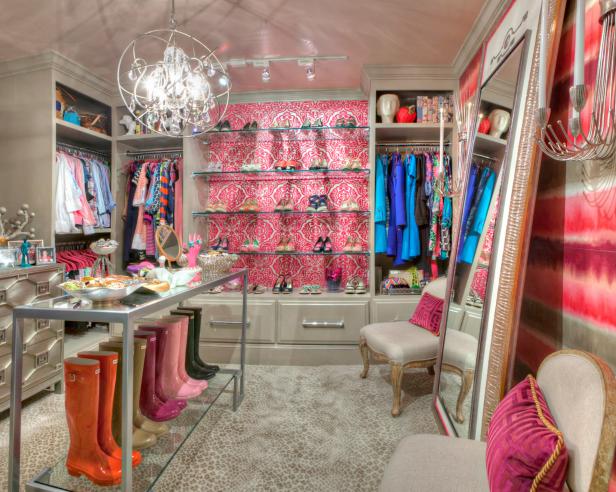 Luxurious Walk-In Closet With Pink Accents
You would never know that this fabulous walk-in closet was created from an outdoor storage room. An exterior door and window were closed and removed to allow space for custom built-in shelving, providing ample room for clothing, shoes and jewelry. The light from the sparkling hanging fixture bounces off a shimmery petal pink ceiling, while glass shoe shelves mounted in front of pink damask wallpaper provide a beautiful focal point. The custom-designed full-length mirror and the sconces flanking it stand out in front of the horizontal striped wallpaper. Nicole Norris, ASID, NCIDQ, is responsible for the dressing room design in this North Carolina home.
Ask: Would you buy it today?
The first step to getting your closet organized is to go through and edit. Ask yourself if you'd buy this item today or if it has a sentimental factor that warrants storage. If you haven't worn an item in more than two years or if it's two sizes too small or two sizes too big, it's time to say goodbye. Melanie's greatest tip: Don't go through this process alone! Pick a friend whose style you admire and invite them into your closet to share an honest opinion.
No matter the size or shape of your closet, you can easily transform it into an effective and organized space. The key is to make every inch count by using shallow wall space. Use wall hooks to hang handbags and scarves to make more room for clothes. The closet door is also a prime place for hanging items such as mirrors and storage racks. To kick-start your organization mission, check out stores like T.J.Maxx and Marshalls for a variety of budget-friendly space-saving solutions, from drawer organizers to over-the-door racks.
You don't have to be confined to the configuration of your closet. There are simple ways to make the most out of your space by getting creative and thinking outside the box — and by actually using boxes! Create shelves out of boxes or bins, bring in portable drawers and stack them in the back of your closet.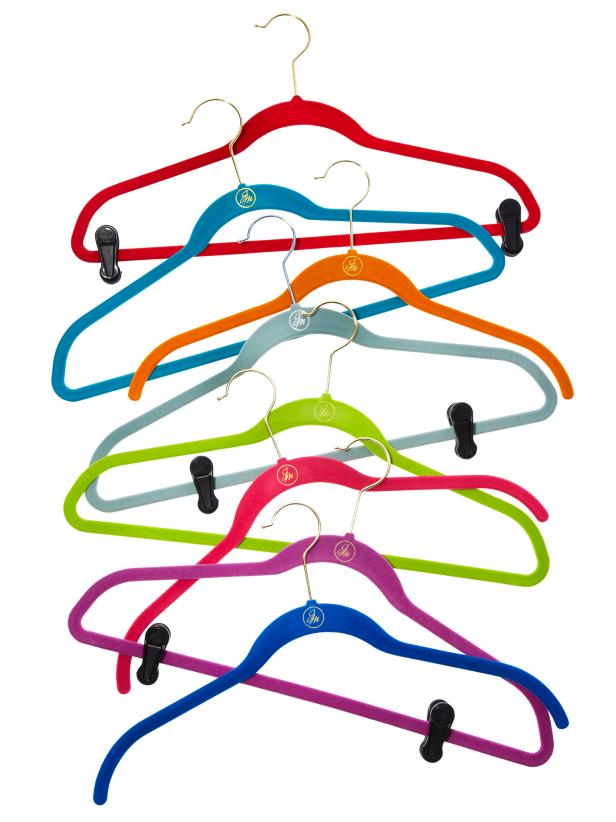 Skinny Velvet Hangers
Lisa Adams, owner of LA Closet Design in Los Angeles, creates custom closets for celebrities and pro athletes. Her first must-have: skinny hangers. "These take up way less room than wooden hangers. Plus, the velvet finish prevents garments from sliding off," says Adams. Joy Mangano Huggable Hangers, $39 for a set of 48 (in one color), and Huggable Hanger finger clips, $10 for a set of 20, both hsn.com
Courtesy of the Manufacturer for HGTV Magazine
There are basic guidelines that everyone should follow when it comes to hanging your clothes. (You had no idea, did you?) First, try to avoid wire hangers that can damage and warp your clothing. Second, create a wrinkle-free environment for your clothing by leaving at least one inch between each hanger. And if you really want a Cher-like closet, purchase matching, no-slip velvet hangers to make your closet look neat and well-arranged.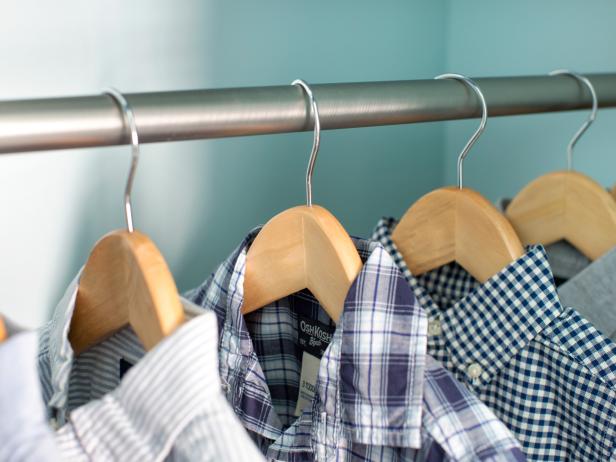 BPF_original_boys-bedroom-to-grow-into_wooden-hangers_4x3
To help keep the structural integrity of dress shirts and pants intact, wooden hangers were used rather than plastic styles. By switching plastic or wire hangers out for wooden or aluminum styles, the overall look of a closet can instantly be given high-end appeal.
Sort your clothing by type, color and season. Streamline your closet system even more by organizing each section by shade from light to dark. Remember that eye follows pattern, so this makes it easier when picking out what to wear. Melanie recommends color coding your garments into separates which will help you visualize the contents of your closet and mix and match pieces more quickly. This will also help you get out of your comfort zone and condition you to pull together different outfits instead of wearing the same pairings over and over again.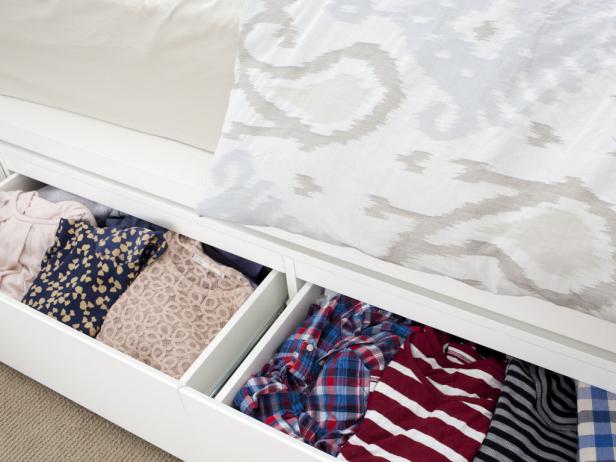 Under-Bed Clothing Drawers
Under-bed storage, like these built-in drawers, is a great space-saver and a fantastic way to maximize the use of every square foot of your bedroom. If exposed under-bed storage boxes or bins are creating visual clutter, add a bedskirt to streamline the look.
There are certain types of clothing that should be folded rather than hung so that they don't lose their shape. Sweaters, for example, are best folded and stored on shelves or in drawers. If you're tight on space, a great alternative is to fold your sweater in half, shoulder to shoulder and position it over the bar of your hanger with a piece of tissue in between. Jeans can also be folded and stacked on shelves.
Showcase your precious pieces on a pegboard to sort, store and prevent entanglements, all while transforming your gems into a beautiful display.
Looking towards fall or winter, it's probably time to swap out your summer fashion. If you don't have additional storage space, keep current seasonal items most accessible and pack up those you won't wear for a while in natural fabric storage bins. For those with limited closet storage, use airtight containers, trunks or even ottomans and benches in your living space. Before you put your clothes away for the season, be sure to wash or steam them with lavender water to keep your garments fresh until next year.