10 Dollar Store Items You Can Use to Organize Your Home This Weekend
Spend $10 or less to get your home in tip-top shape.
It's not difficult to get organized if you have an unlimited budget for all of the bins, trays and containers you need to get your place looking in tip-top shape. But for the rest of us, we've got the dollar store. There are all sorts of clever storage solutions that you might be overlooking while you're busy filling up your cart with cleaning, office and party supplies.
The next time you hit up the dollar store, be on the lookout for these smart, penny-pinching organizing solutions for your home, car and more.
Shower Caddy = Kids' Meal Caddy
This plastic caddy is the perfect solution for kids who turn car meals into messes. In fact, you might even want to purchase one for each member of your family. Keep a small pack of wipes in each caddy for even quicker clean-up.
Cosmetic Bag = On-the-Go Emergency Kit
Use an inexpensive cosmetic bag to create a portable emergency kit to keep in your purse, diaper bag or car. Include items like bandages, scissors, antibacterial spray, hand sanitizer, pain relievers, bobby pins, tweezers, floss, one-time use toothbrushes and an extra copy of your health insurance cards.
Tiny Jars = Contain Tiny Supplies
James Angus and Jamie Bolton, The Cavender Diary
Jars are an easy, attractive storage solution and work for a number of different items. Small jars are a great solution for nails, screws, craft supplies, hair ties, spare change and small toys.
Over-the-Door Organizer = Finally Organizes That Junk Drawer
An inexpensive over-the-door shoe organizer is a great way to finally get rid of your junk drawer. Set it up inside your pantry or kitchen cabinet and use it to store scissors, notepads, pens, extra batteries, a flashlight, lint rollers, glue sticks, business cards, wipes and anything else that might be "junking" up your junk drawer. If you happen to have a lot of different items, you can even try this set-up in several cabinets.
Ice Tray = Jewelry Organizer
Ice-cube trays are another great option for storage. Use them to hold small jewelry. If you love to craft, they also work great for storing beads, glitter or rhinestones. They're also perfect for small toys, sewing supplies or small erasers.
Construction Paper = Chic Labels for All the Things
Whether you're using baskets or bins to store things in your kid's room, pantry or linen closet, labeling them is a nice, extra step to take. Dollar stores often have packs of labels you can use and attach to your baskets with string. Or you can even use pads of construction paper to make your own. If you want to get extra fancy, you can try to print out labels using your printer to bring a more uniform look to your space.
Tin Cans = Drawer Organizers
Desk drawers are typically a spot in our homes that can quickly get out of control. A simple solution like these small, inexpensive tins are a great way to get a handle on your mess. Measure your drawer before shopping to see how many you can fit, and purchase as many as you need. Then you can use them for all of your smaller office supplies.
Simple Hooks = Smart Kitchen Storage
Hooks are one of the most versatile solutions you can use in your organization toolkit. You can find a variety of hooks at the dollar store, and choose the ones that work best for your current needs. In this example, we see how five simple hooks have greatly expanded the storage on this kitchen island, creating extra space for oven gloves, measuring cups and other cooking tools.
Plastic Bins = Kids' Toy Organization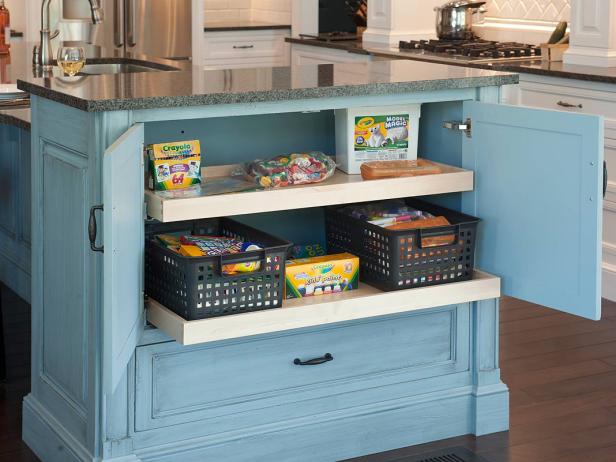 Kitchen Toy Drawer
Keep little ones busy while you finish up dinner prep with hideaway kitchen storage for art supplies. Roll-out shelves make the most of the storage space at the end of this colorful island and make it easy for kids to access crayons and paper then neatly put everything away again. Photo courtesy of Mullet Cabinets, Inc.
Plastic bins work for a variety of storage challenges. In this case, they're helping to wrangle a variety of kids' art supplies. They work great either in a cabinet like this one, out in the open on a shelf or on top of a table in a kid's room.
More Tin Cans = Stylish Cutlery Storage
Even simple food cans can work great for storage and organizing. These tin cans were decorated and used for utensil storage in the kitchen. Cans could also work in a garage for storage or in an art studio for paintbrushes.