8 Ways to Tackle Storage in a Tiny Bathroom
We've got your top-to-bottom organization game plan. Ready?
If you're in the tiny bathroom club like I am, then you've likely already faced some space and storage dilemmas head on. (Not only do I have a tiny bathroom, I only have one of them.)
I'm not going to lie: small space bathroom challenges can feel overwhelming and insurmountable. But I'm living proof that they can be solved.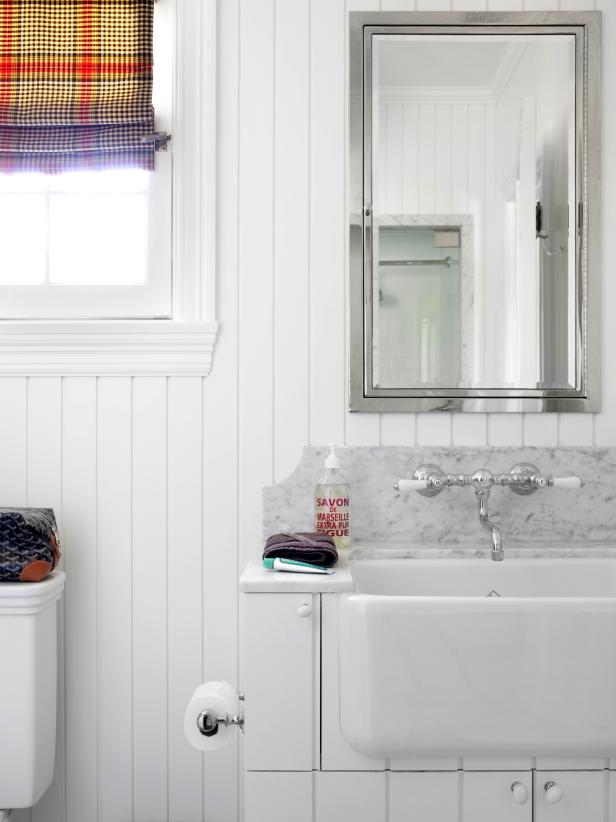 White Country Bathroom with Marble Backsplash
A plaid window shade is a charming accent in this country bathroom featuring white, wood wall panel and a farmhouse sink.
So take a deep breath, light a candle and settle in so we can help you figure out your top-to-bottom tiny bathroom storage game plan.
Get Real About Your Space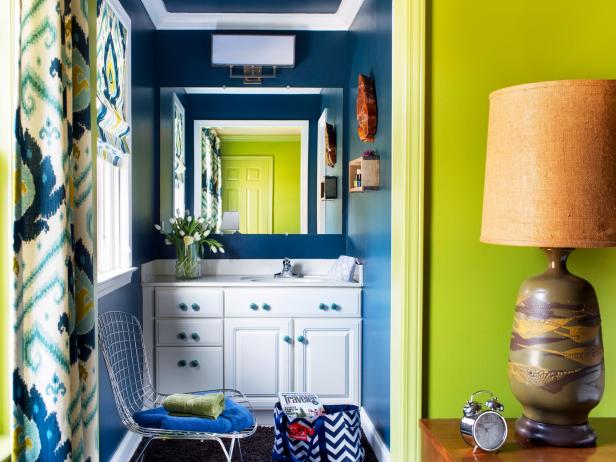 Small Bathroom With Bold Navy Blue Walls
To turn the once-drab powder room into a bold and cheerful space, the walls and ceiling were painted navy blue in a semigloss finish. The dark-colored walls and ceiling help tone down the intense chartreuse paint of the adjacent guest room.
The first thing you have to do is to honestly assess your space, and get real about whatever limitations you might have.
Take some careful measurements of your bathroom, and pay close attention to all the nooks and crannys. For instance, if you think you might be able to fit a shelf in between the sink and the toilet, carefully measure that space so you can try to find something that fits perfectly.
Even if you're not great at sketching (I'm not either!), I would recommend that you draw out your space and include the measurements of each area so you have that as a reference when you're researching possible solutions. I would even measure the inside of your vanity, if you have one.
I would suggest emptying out every drawer and cabinet and making three piles: "must-have items," "only-need-sometimes items" and "don't-need-at-all items." Once you see what you're dealing with, you'll be able to easily make decisions in terms of any new storage containers or organizers needed.
You can ditch or donate the "don't-need-at-all items," and think about the "only-need-sometimes items" in terms of alternative locations. For example, if you have a number of medications that you only need to access every once in awhile, you might want to think about organizing them in a nice basket and locating them someplace else (like a linen closet or in an unused spot in your kitchen). This could potentially free up some space for your "must-have items."
Identify Any Unused Spaces
Now it's time to take a look around your bathroom and search for any spots that are currently underutilized:
Questions to Ask Yourself
Can you add a shelf underneath your vanity to create another level of storage?
Do you have any unused spots on the walls that some shelves would work on?
Are you making the most of any niche space you have in your shower?
Is there an over-the-toilet storage solution that might work for you?
Is there space on the wall for some additional towel racks?
Do you have room for any additional storage cabinets or shelves in your space?
Is there an over-the-door rack solution that might work?
Take a look around using a critical eye and see if there are areas of your bathroom that might be due for a storage upgrade.
Get Creative With Storage...
Once you've identified the spots in your small bathroom that are being underutilized, you can start getting creative about how you will best make use of them.
Don't limit yourself to strictly bathroom solutions either. Kitchen and closet storage options often work great in the bathroom, as well. For example, this IKEA rail system (above) works great for storing utensils in your kitchen, but when you switch it up and think of the bathroom storage possibilities, a whole new world opens up. If you're lacking a vanity and have a pedestal sink, wall storage could be your ticket.
In my bathroom, we don't have room for toilet paper storage, so I use a large glass bowl vase to keep rolls of toilet paper easily accessible.
...But Not Too Creative. Basics Work, Too!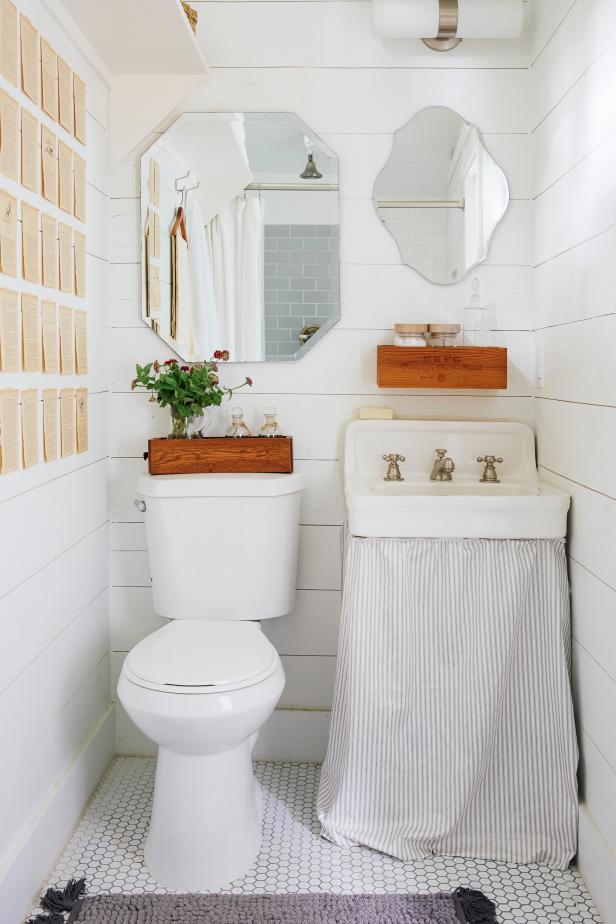 Bright Country Bathroom With Book-Page Wall Decor & Skirted Sink
Careful attention to design ensured that this already-small bathroom would not feel closed in. Wine boxes add beautiful, warm color and create easy storage. A skirt for the sink provides extra storage underneath, and the pages of an old book are taped to the wall for inexpensive and effective decoration.
While it's fun to be creative, sometimes it makes sense to get back to basics if that's what works best for your space. In especially tiny spaces, standard towel racks might take up too much space. But a hook can always do the trick.
Don't be afraid of saying no to creative options if there is a tried-and-true option that might work better for you.
Use Matching Storage Containers
When you have visible storage containers in a small space, I prefer to create unity and symmetry by using one color or style of container.
Small bathrooms tend to have a lack of cabinet options, so your items often need to be on display. When choosing your storage containers, going with one type will create a more calm and pulled together look.
Tiny bathrooms often serve as a great spot to take some design chances in your home and really make a statement.
Once you have your storage sorted, consider doing something to amp up the design factor of your space, like painting your door with chalk paint, adding a bold shower curtain or even wallpapering the space.
Even if you're not ready to go quite so bold, you could do something simpler like adding a fun, poppy piece of art.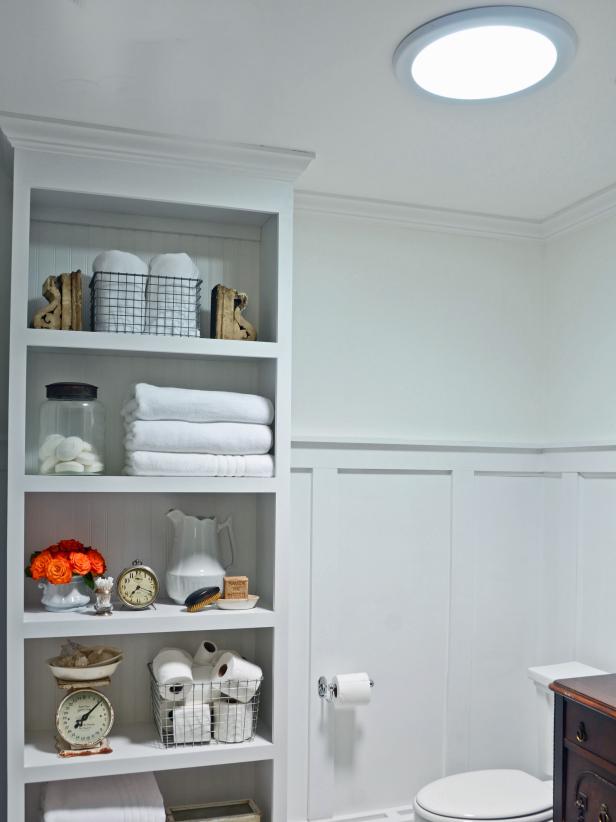 Bathroom With Skylight and Built-In Shelving
Bring loads of natural light into an interior space with a skylight tube, as seen in this bright, white bathroom. The idea of cutting a hole in a roof may be intimidating, but this project can be completed in a few hours with midlevel DIY skills.
If you own your own home and have more of a budget, a luxe solution to a tiny bathroom would be to create some custom or built-in storage for your space.
This would allow you to incorporate shelving or cabinetry that perfectly fits whatever tiny dimensions you might be dealing with. Even if you're unsure about how to best make use of your space, meeting with a carpenter might help give you some ideas of custom options that could work for you. And because your bathroom is small to begin with, building out a custom solution might not be quite as expensive as you think.