7 Things You're Forgetting to Clean
Even if you're a neat freak, you may be neglecting these spots.
Winter is undeniably one of my favorite seasons, but I've checked out early this year. In an attempt to coax spring into coming early, I've started the long and grueling process of cleaning my house.
Whether it's deep cleaning or just tidying up, there are a few ways to go the extra mile and keep your home sparkling. During my spree, I uncovered dirty items around my home that I didn't even realize were in need of my care. I cannot confirm or deny that I spent 30 minutes vacuuming a loveseat.
1. The upholstery. Vacuum couches, chairs, love seats, rugs and mattresses; then spot clean with a rag and warm water. Depending on the fabric, curtains and slipcovers can be tossed in the washing machine.
2. The walls. If you have kids or pets, this might be a no-brainer – those handprints (or pawprints!) add up. Wipe off any loose dust with a soft cloth, and then gently scrub off any dirt with an all-purpose cleaner that's safe for your walls. (Test in an inconspicuous area first if you're unsure.) Don't forget the molding!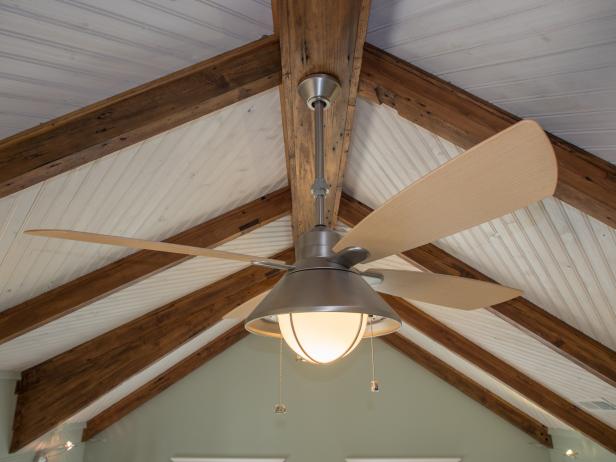 diy_bc13_media-room_22_ceiling-fan-detail_h
DIY Network's Blog Cabin 2013 is a circa-1892 coastal cottage located along the Crystal Coast in North Carolina. The home has been remodeled, based on online voters' selections, and will be given away to one lucky winner in a home sweepstakes in Fall 2013. Pictured is the media room.
3. The top of _______. That means the refrigerator, cabinets, ceiling fan blades, doorways, bookcases, light fixtures and anything else tall that you might be neglecting. Dusters with expandable arms are great for this task.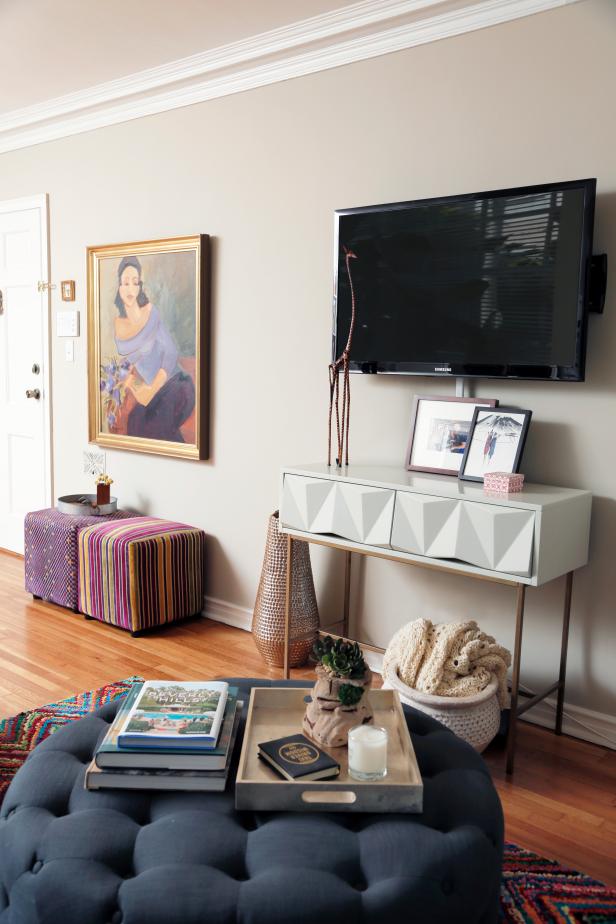 Living Area With Ottoman/Table Combinations & White Geometric Table
A large tufted coffee table tops a colorful striped rug in the center of this living room. Cube ottomans double as extra table space and add to the mix of bright, colorful stripes. A geometric table below the mounted television brings a modern component to the room and blends with the light wall color.
Nick O'Neill for Laurel & Wolf; Designer: Dustin Webb
4. The back of the television. When was the last time you even looked back there? Electronics are quick to collect dust, so clean behind the television as well as the front of it. This is also a good time to reorganize all those loose cords.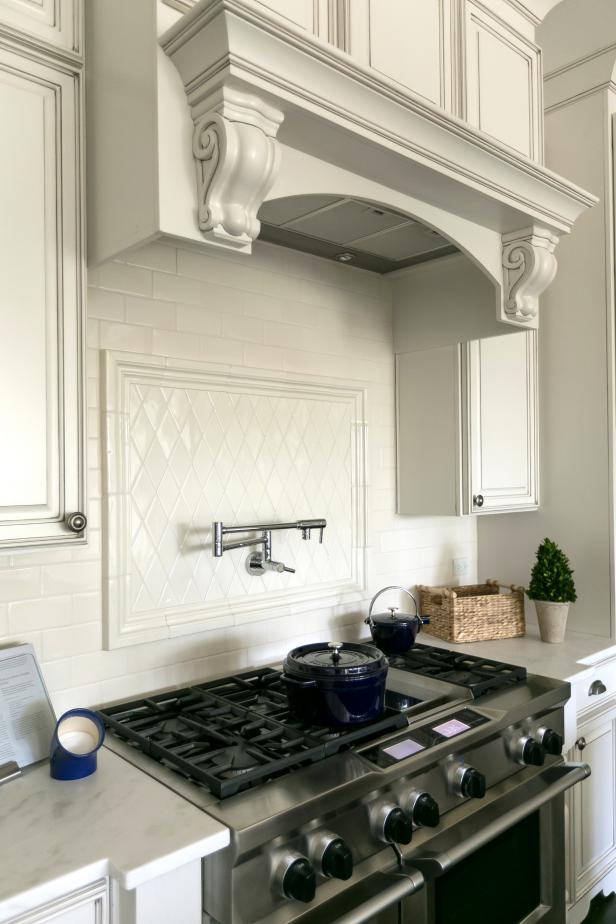 Custom Cabinets and Backsplash Add Elegance While Double Ovens and Gas Stove Ensure Functionality
This beautiful country kitchen is both elegant and functional. There are custom cabinet that extend all the way to the ceiling, heightening the space, making it feel larger. The cabinets are lightly distressed to help facilitate the country look. The white tile backsplash also adds elegance to the space, but the double oven and gas stove make the space functional. Without a need for electricity, this stove will be useful even when the power is out, and the double ovens will help the family prepare for large gatherings as well as nightly meals.
5. The appliances. All those savory winter soups can do a number on your stove, and the season's cold weather might have you running to your coffeemaker more often, so give your appliances a good scrub.
Soak oven pans and rings in dishwasher detergent overnight to remove stubborn grease.
Brewing a vinegar-water solution through your coffeemaker can improve the taste of your coffee and remove grime.
The same idea can be used to clean the dishwasher; place a glass cup or bowl full of vinegar on the top rack and run on the highest setting.
For microwaves, heat a bowl of water three minutes – the steam makes it easy to rid the inside of caked-on food.
6. The trash can. If you have a rancid smell lingering in your kitchen that you can't seem to get rid of, your trash can may be to blame. Wash the sides and insides using an all-purpose cleaner. Let it dry completely before putting in a new bag or the trapped water could cause mildew.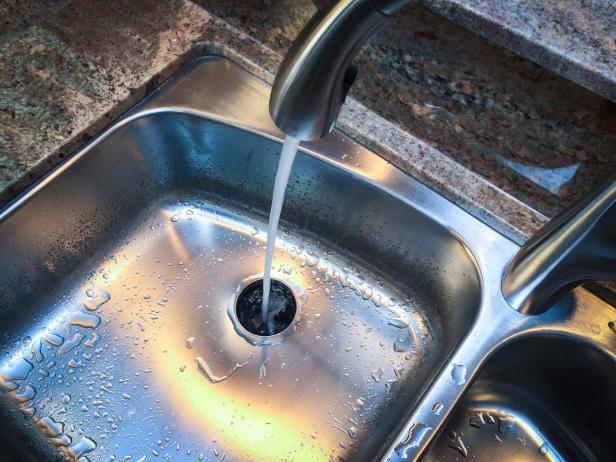 Cleaning a Garbage Disposal
If you've cleaned your sink and it still smells like something died in there, your garbage disposal is the most likely culprit. While your disposal is off, dump a cup or two of ice into it. Then turn on the water and run the disposal. This should dislodge gunk that has stuck to the blades. After the ice has disintegrated, turn the disposal back off and turn off the water. Then dump half a cup of baking soda into the disposal and follow with a cup of vinegar. You should absolutely get the "science project effect," but that pop and fizz will help clear out any remaining particulates in the disposal. Finally, after the science project has been washed down the drain by some nice hot water, grind a cut-up citrus fruit down the disposal (if you want to eat the fruit, even just the rind will do). The citrus acidity will chew away anything that dared remain, but the real upside is how nice a smell-turnaround your disposal will have made!
©iStockphoto.com/-Oxford-
7. The garbage disposal. Like your trash can, the garbage disposal can also cause a foul odor if not cleaned regularly. Pour half a cup of baking soda down the drain followed by a cup of vinegar. Let the mixture bubble for a few minutes; then pour a bucket of hot water down the drain to rinse. Grind half a lemon in the disposal for extra cleaning power and a fresh scent.
Natural Cleaning in 5 Minutes
02:31
Clean your home the easy and natural way.