10 Things to Get Rid of Now
You'll be surprised at how much you won't miss these items.
Clutter in your home is probably affecting you more than you think. A clean home means less stress for you and your family. So what better time to start the decluttering process than now? To begin, we suggest you get rid of the 10 items below to get on track to a happier home.
Even if your sheets are nicely folded, keeping linens you don't use will take up precious storage space in your closet. Keep it to two sets of sheets per bed.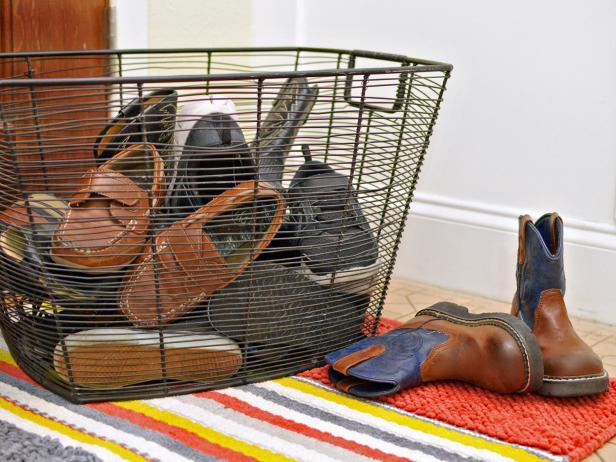 Black Wire Basket for Dirty Shoes on Striped Matt
Place a wire basket next to the door where family members can place their dirty shoes. Using a wire basket prevents buildup of dirt and mold — just place a mat under the basket for easy cleanup. Shoes won't take over the floor if there's a designated bin to put them in, plus you'll always know where you left them.
It's time to leave your shoe addiction behind. They take up a ton of valuable storage space, so toss them if you don't wear them anymore. This goes for clothing and lone socks, too.
Refrigerator Message Center
Your family most likely ignores schedules and notes on the fridge when all they really want is that ham sandwich. Designate a separate area for important memos.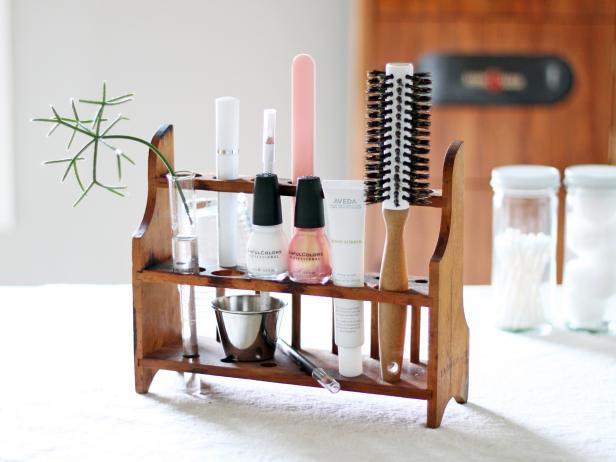 Vintage Wood Rack Holds and Organizes Grooming Accessories
A vintage test-tube rack keeps all your grooming tools neatly in one place. Brushes, nail polish and nail files fit perfectly in the test-tube compartments, giving your bathroom an organized look and keeping everything conveniently at your fingertips.
Photo courtesy of Melissa Hruska
Expiration dates on makeup aren't just a ploy to get you to buy products more frequently. The active ingredients in your favorite brands become compromised after some time which can damage your skin. Replace mascara every three months, foundation and concealer every year and lipstick, eyeshadow and blush every two years.
Sniff your old spices to see if they're fragrant. If not, they don't have any flavor either, so it's probably time to throw them out.
It's tempting to throw your mail on the countertop when you have a million other things to take care of. If you spend just five minutes a day as soon you walk in the door to sort through the mail, you'll save the hassle later. To help reduce the amount of junk mail, sign up for online bill pay and research online to see how to opt out of mail service at certain companies.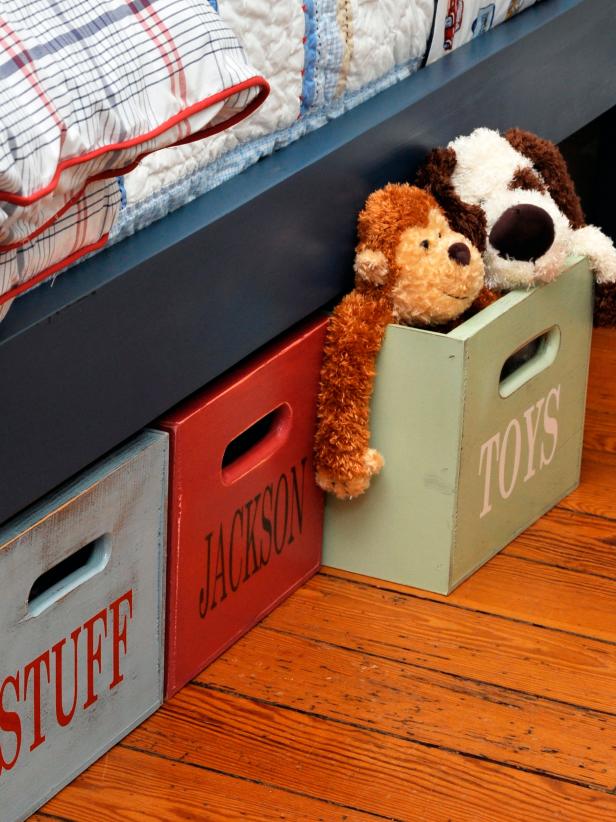 Boy's Room Under Bed Storage Boxes
Portable storage containers such as painted wooden crates or metal bins that can be personalized are a stylish option for children's rooms. With an endless array of colors, patterns, fonts and shapes to choose from, these storage containers are a cool and decorative addition to any room.
Don't keep toys your kids have outgrown. Sanitize and donate them, then put away their newer toys in labeled storage bins for a clutter-free look.
We're all guilty of it — using the nightstand as a catchall. Stuff accumulates quickly, so use the tray trick. If your stuff doesn't fit into a small tray, get rid of it or find another place for it. Your bedroom is a place for relaxation, so keeping it free of mess is essential for a good night's sleep.