10 Ways to Organize Your Makeup + Beauty Supplies With Items Around the House
Before you buy expensive organizers to sort out your stash of makeup and beauty products, raid your home for items you can repurpose.
Shadows, sprays, gels, powders, lipsticks, polishes. With the huge selection of makeup and beauty products available these days, even a modest collection can quickly get out of hand and take over an entire bathroom. Luckily, the right organizers can help tame the mess — and you may be able to get them for free. Tidy up your beauty supplies by upcycling these items you may already have around the house.
Marko Metzinger/Studio D (styled by Karin Olsen)
Keep your entire supply of nail polishes handy by storing them on a lazy Susan, as seen in HGTV Magazine. You can display it on the countertop for a splash of color, or stash it under a cabinet and still easily find any shade you want.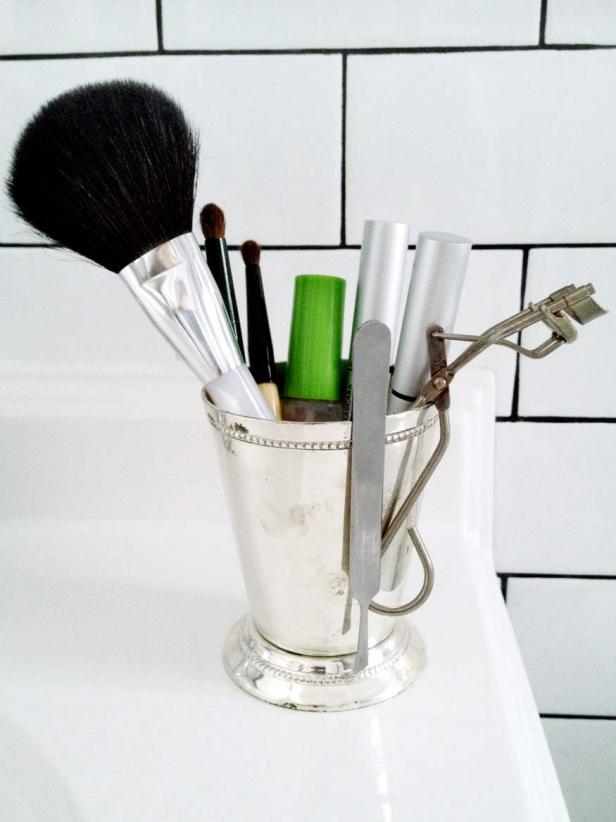 The Makeup Julep Cup
Any cup-shaped vessel can hold your stash of makeup brushes. But not every cup will be the right height so you can see what's inside or sturdy enough to handle a blush brush without toppling over. A silver plated julep cup is just right. Try a julep cup in the bathroom as a shiny storage solution for the top of your vanity. Design by Laura Fenton
Photo courtesy of Laura Fenton
If your kitchen cabinets are overflowing with drinkware you hardly ever use, put some of it to work on your bathroom countertop. Here, a pretty julep cup holds makeup brushes, lip glosses, an eyelash curler and more. It's the perfect height so you can see everything inside, and it's heavy enough to handle a blush brush without toppling over.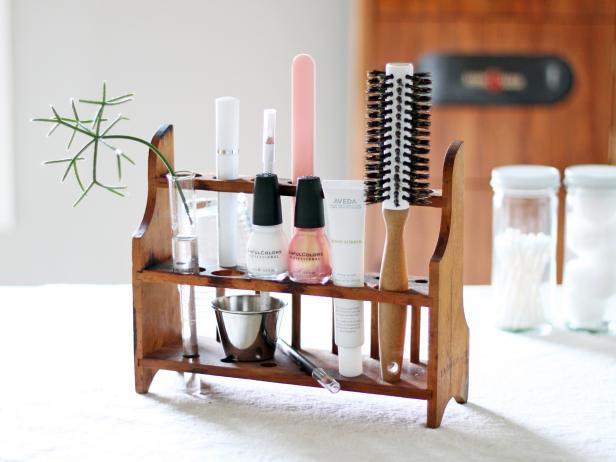 Vintage Wood Rack Holds and Organizes Grooming Accessories
A vintage test-tube rack keeps all your grooming tools neatly in one place. Brushes, nail polish and nail files fit perfectly in the test-tube compartments, giving your bathroom an organized look and keeping everything conveniently at your fingertips.
Photo courtesy of Melissa Hruska
Okay, so you may not have a vintage test tube rack lying around the house, but it shows how you can get creative with storage in the bathroom. Scour your home (as well as vintage/antique stores, thrift shops and estate sales) for unexpected containers that can beautifully corral your beauty supplies. Here, brushes, nail polishes and nail files fit perfectly in the test tube compartments, keeping everything neat and easily accessible.
Use a tiered spice rack to organize beauty supplies under your bathroom sink. You'll easily be able to see what's in each row, so you'll never have to hunt for hairspray again.
Marko Metzinger/Studio D (styled by Karin Olsen)
Separate a mess of hair accessories by color and style using a muffin tin, as HGTV Magazine did here.
Or, store hair accessories in one compact spot with a binder ring.
Vanity Organizing 101
02:58
Stop digging through messy drawers with these easy organizational hacks.
If unused desk organizers are taking up space in your home office, tuck them in a vanity drawer to sort lipsticks, eyeshadows, makeup brushes and more. Watch the video above for even more tips on taming a messy vanity.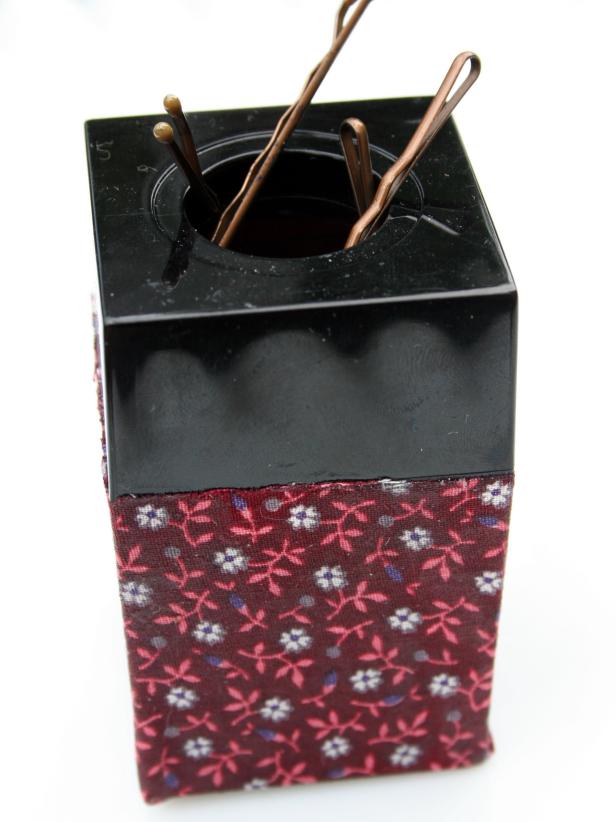 From the Office to Your Hair
Raid your desk for an everyday office supply that will make it easy to have hairpins on hand for your next updo. A paper clip holder makes a clever magnetic container for storing bobby pins. Add fabric to the outside of the paper clip holder using Mod Podge. Then, simply wrap the fabric around the container like and cut to fit.
Photo courtesy of Kitty Vogt
With its magnetic top, a paper clip holder can also be used to keep bobby pins organized and accessible. You can even pretty up the container up by coating it with Mod Podge and wrapping it with fabric.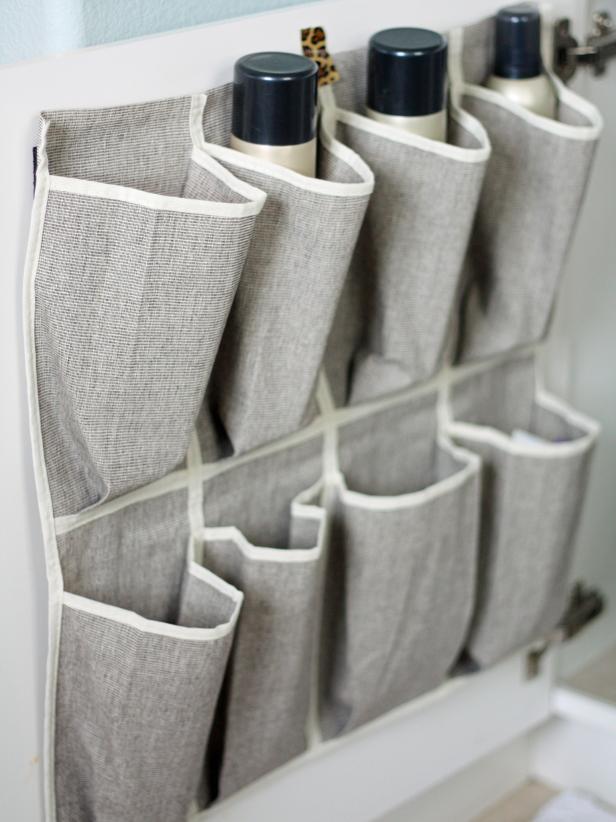 Shoe Caddy Provides Storage for Toiletries
"Hang a shoe organizer on the bathroom cabinet door," suggests Courtney Fernan of A Thoughtful Place. It's more convenient to open the door and easily find everything from nail polish remover and bronzer, to new razors, hair spray and more. "I got in a habit of keeping things on the counter, but now it is all tucked away."
Keep your bathroom counters clear by stashing extra supplies in an over-the-door shoe organizer. The pockets are the perfect size for everything from nail polish remover to hairspray to shampoo bottles.
How to Remove Candle Wax
00:58
Learn how to remove old candle wax, plus how to reuse the votive or jar.
Have a pretty candle jar with a little wax still stuck inside? Watch the video above to learn how to remove the wax, then see five ways you can repurpose the container (including as a handy makeup brush holder).