How to Tell the Difference Between a Sofa and Couch + 3 Things to Consider Before You Buy
At the end of the day, we all love to relax on our favorite piece of furniture and scroll on our phones or catch up on our shows, but do you want a couch or a sofa? Does it matter?
The first time I thought about whether or not there was a difference between a sofa and a couch, I concluded that sofas are just couches from a higher tax bracket. Reader, I was wrong — there is a definite difference in the two pieces of furniture, and there's a fascinating story behind the distinction, as well as all their other cushiony cousins.
In the case of Sofa vs. Couch
No, that is not the latest lawsuit filed in "The People's Court." It's the question that we at HGTV have set out to solve. We tend to use the words interchangeably, but the distinction in the two dates back to the time of the Renaissance. The Old French word "couche" meant "a bed, lair." There was a similar word in Latin — "collocare" meaning "a long seat upon which one rests at full length." That definitely sounds like a couch to me.
Sofa, however, is a more recent word dating back to the 1600s and is inspired by an Arabic word, "suffah," which is a "bench of stone or wood."
It's a safe bet that the difference between a sofa and couch by definition is that a sofa is more formal and not as inviting for a nap or a "House Hunters" binge like the overstuffed couch in your basement.
Restoration Hardware's upscale Cloud Sofa commands a high price, but you can get your own dupe of the popular sofa for a fraction of the price.
See Our Picks
Do I ask for a Sofa or a Couch at the Furniture Store?
Despite the linguistic differences, "sofa" is definitely the preferred industry term. You can search big box stores for "couch," but all of the search results are going to come back with products described as "sofas." My favorite local furniture store doesn't even have "couch" as an option when shopping online — it's all sofa all the time, and the use of the word has nothing to do with the price point. Everything from basic big-box sofas for a college apartment to custom-designed Chesterfields are known as sofas.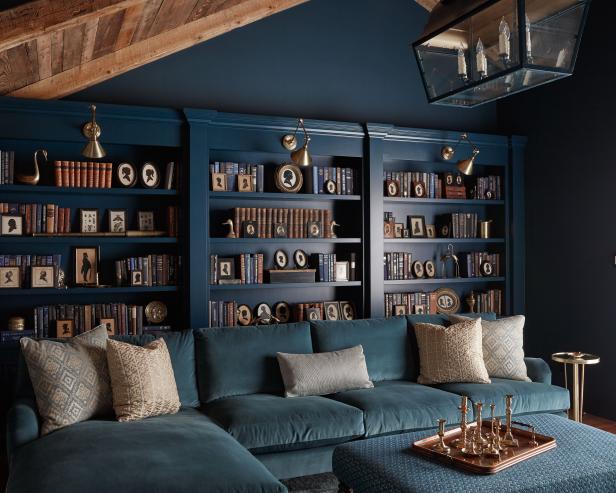 Blue Transitional Library With Built-In Bookcases
This large sectional adds comfort to a library.
Victoria Pearson, Builder: Brian Glenn Construction, Architect: Jeremy Oury at Kibo Architects
This large sectional adds comfort to a library.
What Kind of Sofas Are There?
Sofa possibilities are endless, especially when you consider you can custom order a sofa and choose your preferred arm type, legs and upholstery material.
Sofas, which generally seat three people, can have arms or no arms, high backs or low backs, and attached or removable cushions. Upholstery choices run the gamut from faux leather to microfiber to velvet. You can get reclining sofas with either mechanical levers or electronic power to help you settle. You can go with high end leather, microfiber or even linen.
Stretch out in style with these comfy L-shaped, U-shaped and modular sectionals.
See Our Picks
And, of course, don't forget the reliable sectional sofa that can seat more than six people depending on the configuration. Some sectionals are modular and can fit together in a variety of ways, making them a good option if you like to rearrange frequently.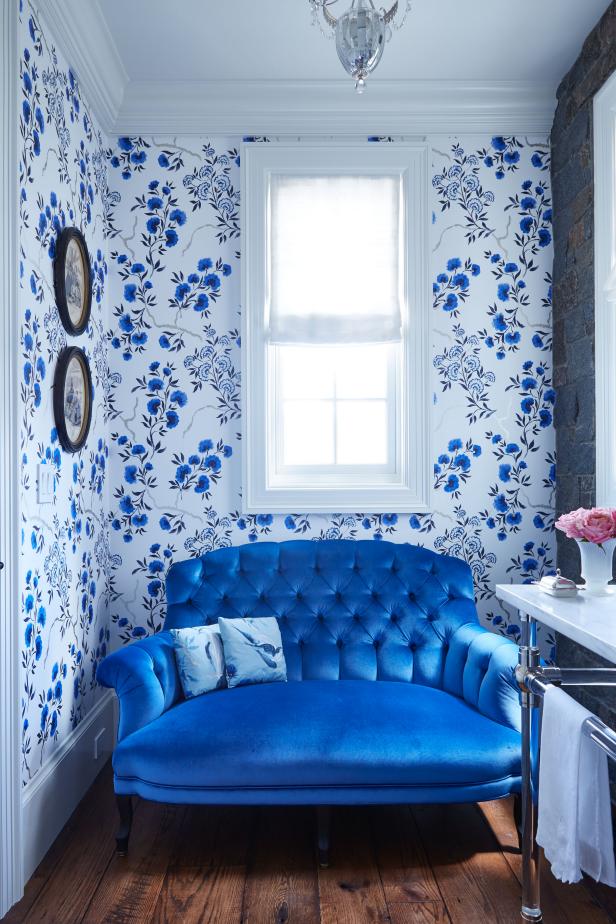 Blue-and-White Traditional Powder Room With Antique Loveseat
A loveseat such as this can add an elegant touch to a functional room.
Victoria Pearson, Builder: Brian Glenn Construction, Architect: Jeremy Oury at Kibo Architects
A loveseat such as this can add an elegant touch to a functional room.
Furniture Similar to a Sofa
Beyond figuring out the difference between a sofa and a couch, there are several other pieces of similar furniture you may choose for your home.
Loveseats typically seat two people and come in all the same variations as a sofa
A divan is a kind of sofa that is low to the floor with tufted cushions, and it doesn't have a back. Instead, it is placed against a wall and pillows are used for back support. Pillows can be removed from the divan so it can be used as a bed at night.
Think of a settee like an upholstered bench that seats two people. They are not as deep as a couch and are not intended for settling in for a movie. A settee can be a great option as seating in an entryway.
What Should I Think About Before Purchasing a Sofa or Couch?
1. How much space do you have for a sofa?
A piece of furniture that's too big or small will make the room feel crowded or strangely empty, so first figure out how much space you're working with. If your current sofa or couch is the right size and you're just ready for a new one, measure its current footprint in your room to check against prospective sofas as you shop. You can also check the measurements of the sofa you are considering and mark the footprint on your floor with painter's tape to see if the new sofa will fit.
Maximize your space by purchasing a sleeper sofa that can double as a comfortable bed for your overnight guests.
See Top-Rated Pullouts
2. What do you need from your sofa?
Will the sofa pull double duty as a guest bed? Consider a pull-out sofa or at least be sure you choose a sofa that will be comfortable for a guest to sleep on. Divans are a great option if you're going to place your sofa against the wall and also want a comfy guest bed.
Also think about what you use your couch for. Do you want to recline? Would it be nice to have some built-in plugs for charging phones and tablets? Some sofas even have built-in reading lights, cup holders and in-arm storage.
3. Do you have pets and/or children?
Kids and pets can be rough on a sofa, so choose your upholstery wisely. Think about fabrics that will be less like to puncture or scratch, and choose something that can be wiped clean. This is also a parameter you can think about when you set your budget; if your kids are small or your dog is a chewer, now is probably not the time to purchase a custom leather sofa. A less expensive microfiber sofa will be easy to clean and it won't be as heart wrenching or difficult to clean when something is spilled on it.
Find the perfect couch for you and your furry friends to snuggle on.
Choose Wisely