Rugs That Bring the Indoors Out
All-weather rugs make any outdoor space feel more like an extension of your home.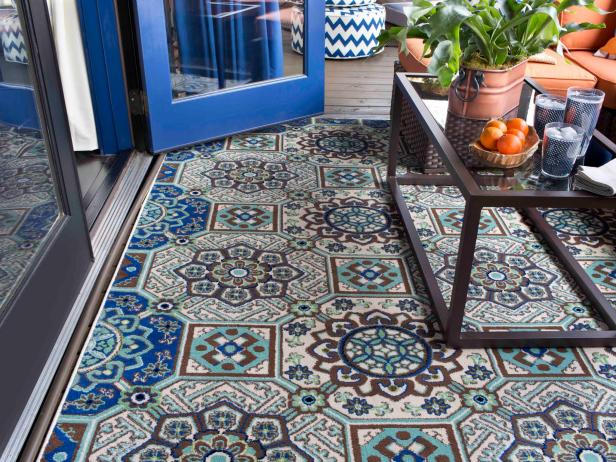 Create a Colorful, Comfortable Spot Outside That's Fun for the W
SOFTNESS One of the most important elements to incorporate when creating a family-friendly outdoor space is softness. Help tone down any hard edges of your outdoor space with lots of soft elements such as drapery panels, comfy upholstery and underfoot surfaces such as area rugs or throw rugs.
Outdoor spaces for living, cooking and entertaining are in vogue like never before, attracting attention to outdoor furniture and decor for livable outdoor "rooms." Stylish rugs that beat the elements are popular embellishments to these spaces. Thanks to fiber technology advancements in durability, this new generation of rugs truly "lives" outdoors.
Today's all-weather rugs not only rival their indoor counterparts in looks and texture, but they also create a nonskid surface and maintain floor temperature (i.e., a cool surface in summer or warm surface during winter). Like indoor rugs, they can be custom-designed, hand-woven or machine-hooked and come in a variety of colors. Bland beige and boring brown have been replaced with colors like scarlet, rich chocolate, turquoise and more.
However, before you scout the perfect all-weather rug for your patio or deck, here are some tips for selecting a quality outdoor rug that's resilient, attractive and fits your lifestyle.
Fabrication and Durability

Think about how you'll use the rug. Will the rug be a permanent outdoor fixture or will you store the piece indoors during the winter season? Will it dwell under a covered porch, in a sunroom or in an exposed area like a deck or patio?
While traditional rugs made from natural fibers like jute, bamboo and cork can be used outdoors, "they're not good for an outdoor rug that is exposed all of the time," says Chris Davis, president of the World Floor Covering Association.
If a rug will be a permanent outdoor fixture, the entire rug — including the backing and trim — should be 100 percent polypropylene to withstand harsh outdoor weather, resist mold and mildew, and maintain its size and color. Polypropylene, a plastic, is usually manufactured under a brand name like Olefin or DuraCord.
DuraCord, first manufactured in 2003, was developed for The HammockSource, a North Carolina-based company that specializes in outdoor furniture and accessories. Unlike traditional polypropylene, DuraCord has a "cottonlike texture and feel" says Laurie Rudd, HammockSource creative director. DuraCord also has an ultraviolet resistance, which means it can withstand up to 2,000 hours of sunlight. Plus, a moisture regain of 0.01, means the rug dries quickly. Moisture regain refers to the amount of water a rug will absorb: the lower the number the less water a rug retains. Most polypropylene products have a 0.05 moisture regain.
One of the best things about polypropylene rugs is they maintain their size and shape, even after a cleaning using mild detergent, a scrub brush and a water hose. DuraCord products can also be cleaned with a diluted bleach wash.
Another durability factor to consider with outdoor rugs is color fading. Mohawk Industries, a Georgia-based company and one of the largest rug manufacturers in the world, processes their rugs to retain color. "The rugs are solution dried and (the fibers) are extruded with color pigment. That means the color is part of the fiber, not separate, so it's colorfast," explains Pat Douglass, general manager of tufted rugs at Mohawk Homes, a division of Mohawk Industries. A quality rug will not stain or fade.
Do you prefer contemporary or traditional motifs? Outdoor rug manufacturers offer a wide variety of styles and prices and each adds new designs yearly. Outdoor rugs are also available at most major home retail and online stores and floor cover retailers. Here are a few companies worth looking at:

The HammockSource (www.thehammocksource.com) offers mostly contemporary styles and custom designs that are "true works of art," Laurie says.


North Carolina-based Capel Rugs (www.capelrugs.com) has more than 90 designs with a wide range of motifs including Persian and Native American designs.


Mohawk Industries (www.mohawk-flooring.com) also has a wide variety of designs from traditional patterns in earth tones to bright geometric shapes in contemporary designs.